---
Fast Food Plavi Bik is a chain of restaurants with a 25-year tradition from Kragujevac. We specialize in fried food. We are especially known for Karadjordj's steak, wings, crispy chicken and fried burger. The service is high quality and fast. Come and see for yourself.
We have recently been in Belgrade, at the address Dragoslava Srejovića 1, so you can come for your portion of happiness, order by phone or through the application, and we will do our best to keep you coming back to us.
Delivery area: Viline vode, Ada Huja, Karaburma, Bogoslovija, to Zvezdara forest, Dorcol, Vuk's monument, Djeram, Krnjaca, Kotez.
With the PLAVI BIK Loyalty program you will be even more satisfied. Visit us and pay at lower prices, collect points and enjoy our specialties. Be informed about our promotions and discounts.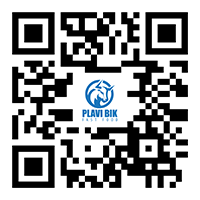 Scan QR code, download       Scan QR code and order
application PLAVI BIK            via Wolt application.
and a surprise coupon!