As the old saying goes: "Cleanliness is next to godliness". This is why if you need cleaning and disinfection services for your apartment or business space, you have to select an experienced, reliable cleaning crew to do the job efficiently. In that case, your best choice is Elite Shine, a professional cleaning company that takes care of business and home hygiene for hundreds of clients.
When he was starting his company, Milan Antic was thinking only of his clientsć needs and wanted to offer them personalized services that they needed.
The way you got into this line of work was a little bit unusual.
I came to Belgrade from Smederevo in 2014 when I enlisted in Traffic Law college. Like most students, I was supported by my parents while I helped out by taking on small jobs through the Students' Union.
Still my dream was to own a business of my own. I had many ideas but I lacked the funds so I could never realize any of them.
But I eventually got lucky.
It so happened that during a vacation I went to visit a friend in Graz. He had been running a cleaning company in Austria for years by that point and had a great cooperation with various companies. It was from him that I learned how everything worked at the highest level of the cleaning business and was intrigued by it. I loved working with people and having a work dynamic where every day was filled with new challenges to overcome.
In fact, most of my vacation with him I spent accompanying him to his work and I saw how it all went. I absorbed all that knowledge and my friend was kind enough to explain everything and answer a thousand questions for me.
When I returned home, I knew what I wanted to do. I spent some time planning and thinking of the best way to pull it off, while saving money I needed to start up my business. Then, on 16th of April 2018, I started my company "Elite Shine".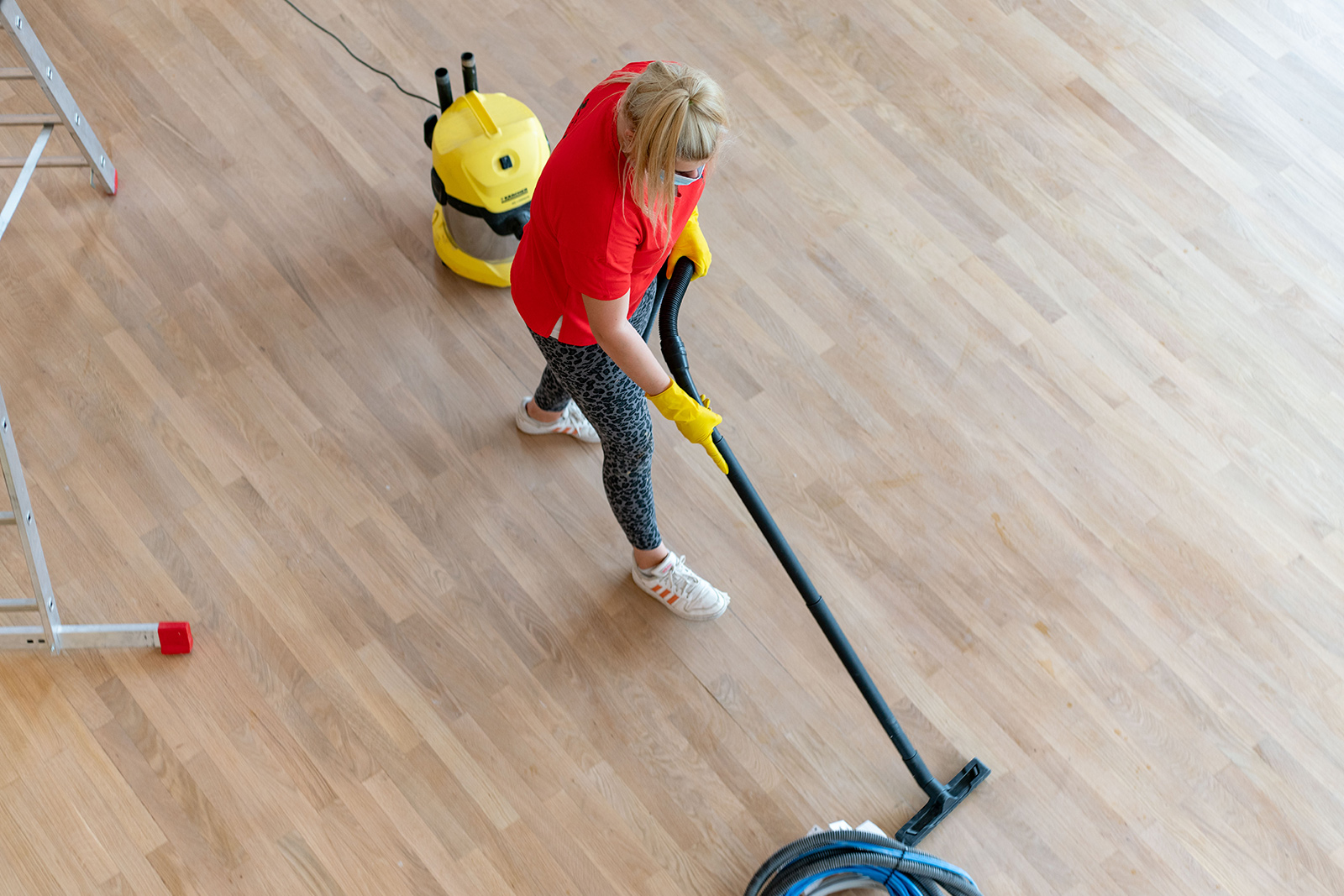 What was it like in the beginning? How did you get your first client?
It was a tough start, like pretty much any beginning in life. I worried if it would take off and was getting some suggestion that maybe some marketing would be good to spread our name. But I had entered the business with modest funds and had to take it all one step at a time. My friends and family helped me a lot during that time.
A friend of mine made a website for me, and my family and friends helped me hand out flyers for my business. We distributed over 6000 flyers in the first three days which meant a lot to me.
A few days later, the first call came. It was from a woman who needed a small 30m2 apartment cleaned. I didn't have the professional equipment that I have today back then. I just had some rags, a vacuum cleaner and a lot of will to work and dedication.
After we finished that job, the client was overjoyed and I earned the sweetest first 1500 dinars.
A few days later we got a few more calls and bit by bit the business grew from there.
Soon after you started cleaning offices as well.
It happened very quickly that I got a few calls from some smaller companies who needed their offices maintained. That's how we expanded our activities almost as soon as we started working and began cooperating with various companies.
The market made Elite Shine focus on general cleaning and maintenance for all kinds of office and home spaces, which is what we love to do and enjoy immensely.
Just recently, thanks to our dedication, we began cooperating with various companies that opened in newly constructed Belgrade on the water and also with Turkish airlines, cleaning their offices. There are also McDonalds restaurants with whom we have a lovely cooperation.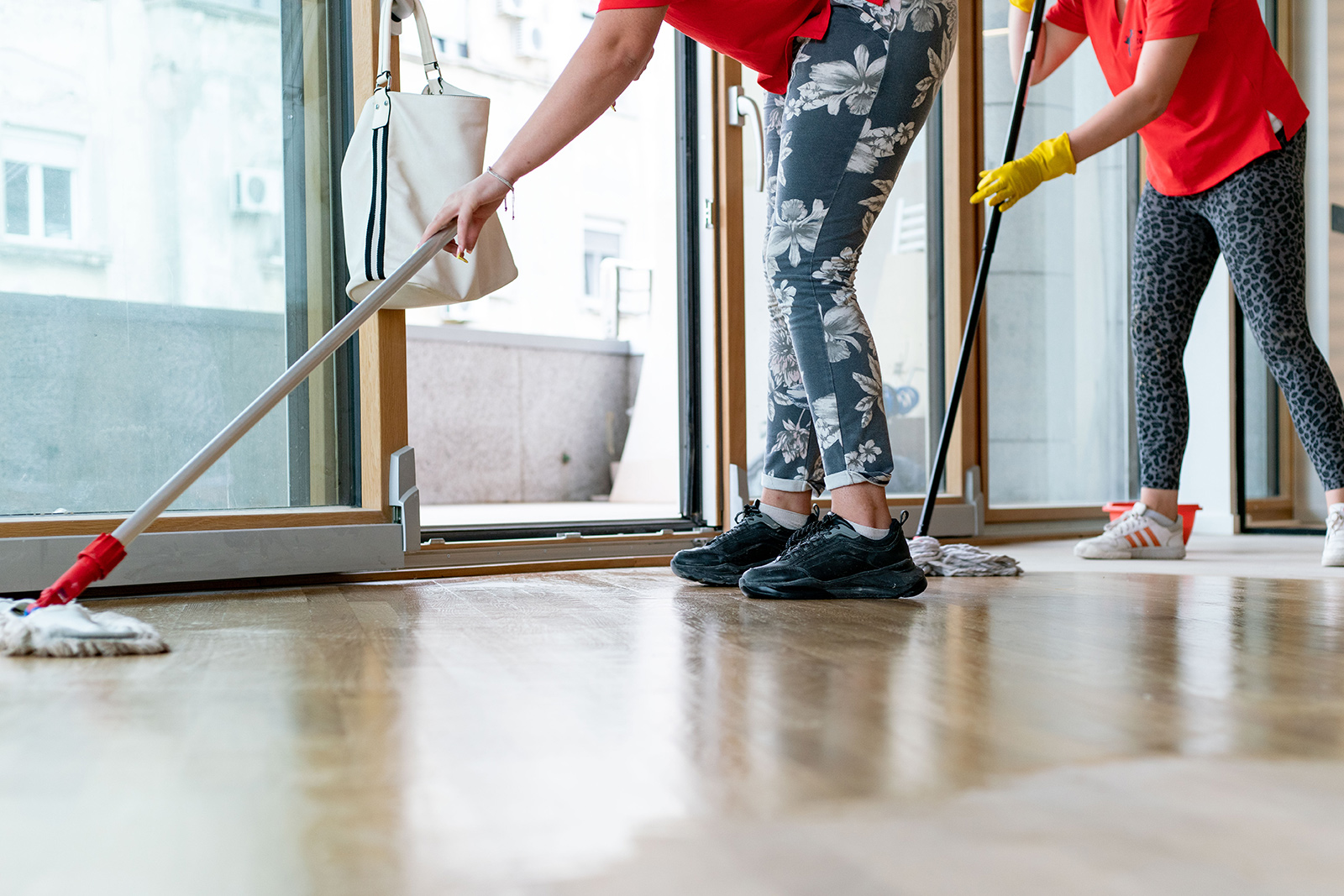 There's an interesting story behind your cooperation with Turkish airlines.
The owner of their office building wanted his own apartment cleaned. He was so satisfied with our services that he also hired us to clean his office as well as recommend us to some of his friends and business associates. Among others, the director of Turkish Airlines who was so delighted with our work that he wanted to hire us. And that's how we came to have a successful cooperation that continues today.
How do you reach new clients nowadays?
Usually it happens through various forms of marketing on different websites and channels, but of course my favorite way is by word of mouth. It's always a treat when our satisfied clients recommend us to their family, friends and colleagues.
We are a young company that focuses on quality services and client satisfaction. Elite Shine isn't based on the idea of making a quick profit. We don't want to just finish a big job, get the payment and leave it at that. Our goal is to do our utmost to satisfy every client and maintain the highest quality levels of service.
This is something that the clients can sense and see for themselves and the main reason why we are always recommended by anyone we work with.
I have to say that most of our work with bigger companies came from a good recommendation, which is a huge point of pride for us.
For example, when it comes to companies in Belgrade on water, it all started with the Milenijum company. They found us through our website, gave us a call and it went from there. After them, various other companies began contacting us in the same area like the Picaroti, Agar, Milani Longhi - all companies working on Belgrade on water construction.
Our clientele also includes the companies who work in the finished buildings in that area like Akvelon and various smaller companies who are equally important to us as clients. We treat all our clients with equal respect and strive to give them our best quality services.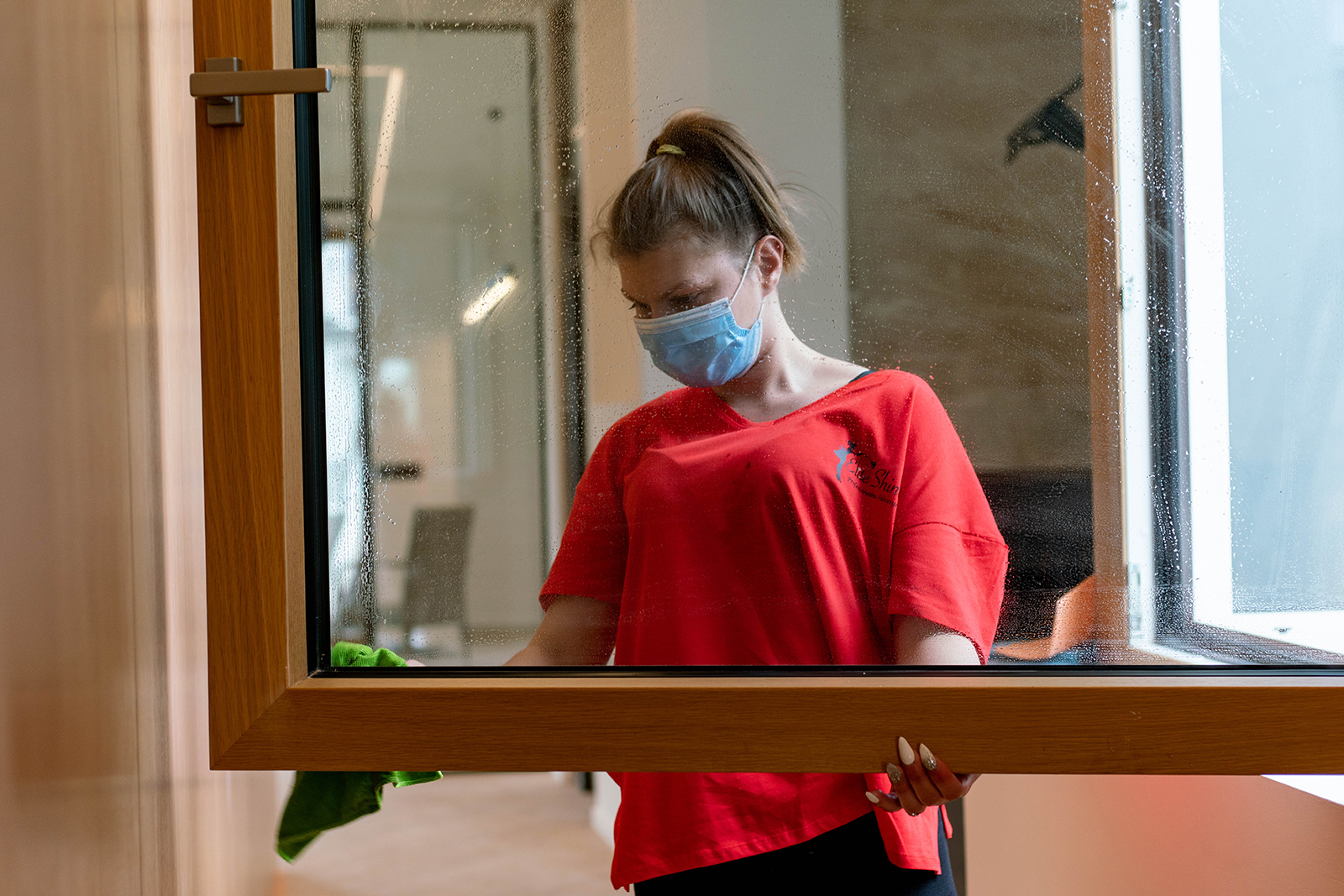 How many people are on your team?
Currently the core of our crew consists of six workers who all maintain their own assigned office spaces. In addition to them there are a number of workers that we employ depending on the amount of work. We get new applications every day and we're always on the lookouts for workers seeing how we often give one-time services to companies, periodic maintenance or regular maintenance. There is always work to be done.
What does your cleaning and disinfection process look like and what do you offer your clients?
We don't offer any rigid packages to our clients because everyone has their own needs. This is why we focus on conversation with our clients and form an agreement on what they need. Whether it's furniture deep cleaning which we do using special vacuums and steam-cleaners, machine parquet washing, terrace, marble and other hard surface cleaning and more. We also deep-clean carpets and upholstery on the spot and when needed we take them away for cleaning and return them. We also clean large glass areas such as window screen displays and detailing on ceilings up to 6m tall.
What I feel I should point out is that in the process of cleaning and disinfection we use only eco-friendly chemical products that don't pollute the environment and aren't harmful to children and pets. We feel that preserving the environment is our obligation and that ecology is something we all need to keep in mind in order to save our planet for our children and grandchildren.
The products we use for cleaning all come from our own Serbian company that makes products for a Swedish company and they are fully certified in what they do.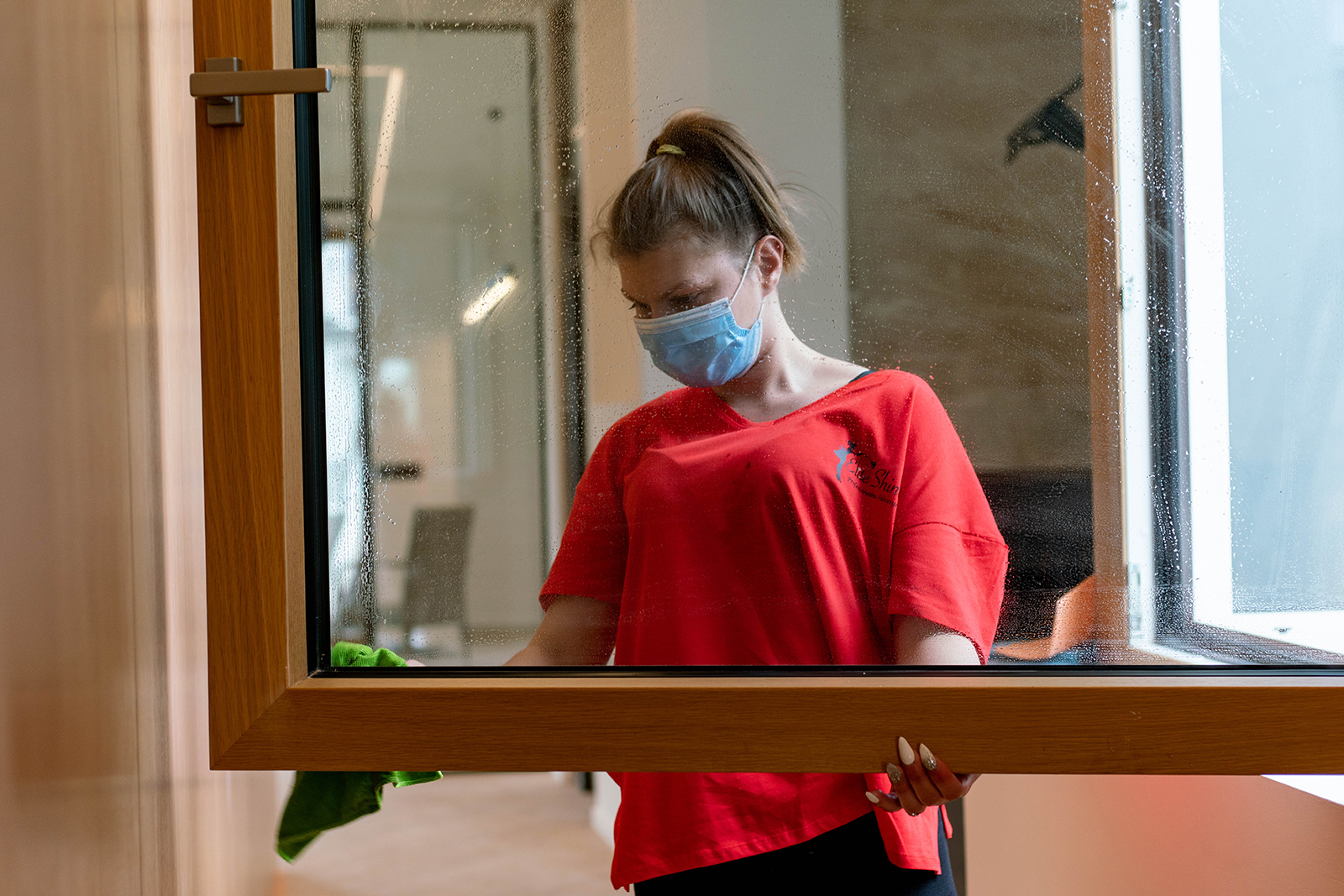 Do you ever uncover long-lost items during your cleaning sessions?
We always find a ton of stuff in both residential and office spaces - ranging from money to golden jewelry and forgotten pictures. We of course guarantee confidentiality and turn over everything we found to the client.  
For example, one time one of our workers vacuumed a golden earring that the client thought she had lost a long time ago. Seeing how it was a treasured memory, the client was incredibly happy when we returned her earring to her and was even generous enough to tip the worker.
We put utmost value on our clients' trust in us and it's important to us that they know that they are entrusting their office and living space to trustworthy people. We know that a good reputation is hard to attain but very easy to lose, which is why we insist on nurturing the trust of our clients.
What are the biggest problems you face in your line of work?
It can be difficult to find workers who are really dedicated to this line of work. That's why you could say that this field is lacking in quality workforce. Usually people think that cleaning and maintaining office and home spaces are an afterthought or something that's simple to do. But it isn't like that at all. You have to have a system, to know how to handle certain technologies and have an eye for detail as well as be a perfectionist to an extent.
Currently you are focused on clients from Belgrade but you've done work in other cities as well. Are you planning to expand your activities?
To begin with, we're focusing on having an office in every Belgrade district where the clients can find us and tell us what they need. Later, we plan to expand to other - at first only bigger - cities where we'd have at least one office at first.
We've done general cleaning in other cities such as in Jagodina and Smederevo. This is currently the only offer we can give to our clients in other cities, which is why we are planning to expand. It requires a lot of investment though and a ton of planning so we are putting a lot of work into it while doing our best to maintain our current high levels of quality service.