15.08.2023
Dejan Avramovic: The man we listen for on the radio
He played as a soccer gem for Borac from Čačak, however, life had different plans for him. When the time came for him to choose a career, the rocky path led him straight to a radio microphone. Today, his voice is known throughout the country, and the shows he hosts are among the favorites. Radio host Dejan Avramović, in an interview with 011info, recalls how he became known as Robert on the radio waves of Čačak and the various jobs he did before joining Naxi radio. He also reveals whom he regrets not being able to host on the iconic show "My 50". 
What are your first memories related to your childhood? 
Definitely, those about my hometown Čačak. It was indescribably wonderful to grow up in that town. We lived in a dead-end street where, even today, there are 40-50 houses. We all loved each other, hung out, and helped each other. Yes, socialization was at a high level then. There were no computers, not even televisions, especially not like today. We had two TV channels, so there was nothing to distract us from socializing." 
Did you have any hobbies? 
I didn't have hobbies, but I had a passion for sports, especially soccer. At 10, I started training soccer at Borac, where it turned out I was one of the biggest talents in former Yugoslavia. I even played for the Serbian youth national team, achieving our biggest success in Šabac where we won the competition of republics and provinces, getting the gold medal.
However, I faced a problem. I loved soccer so much that I neglected all other responsibilities. Carried away by my talent, I wrongly assumed school wasn't needed since I believed I would be the world's best soccer player, which, evidently, I didn't become." (laughs)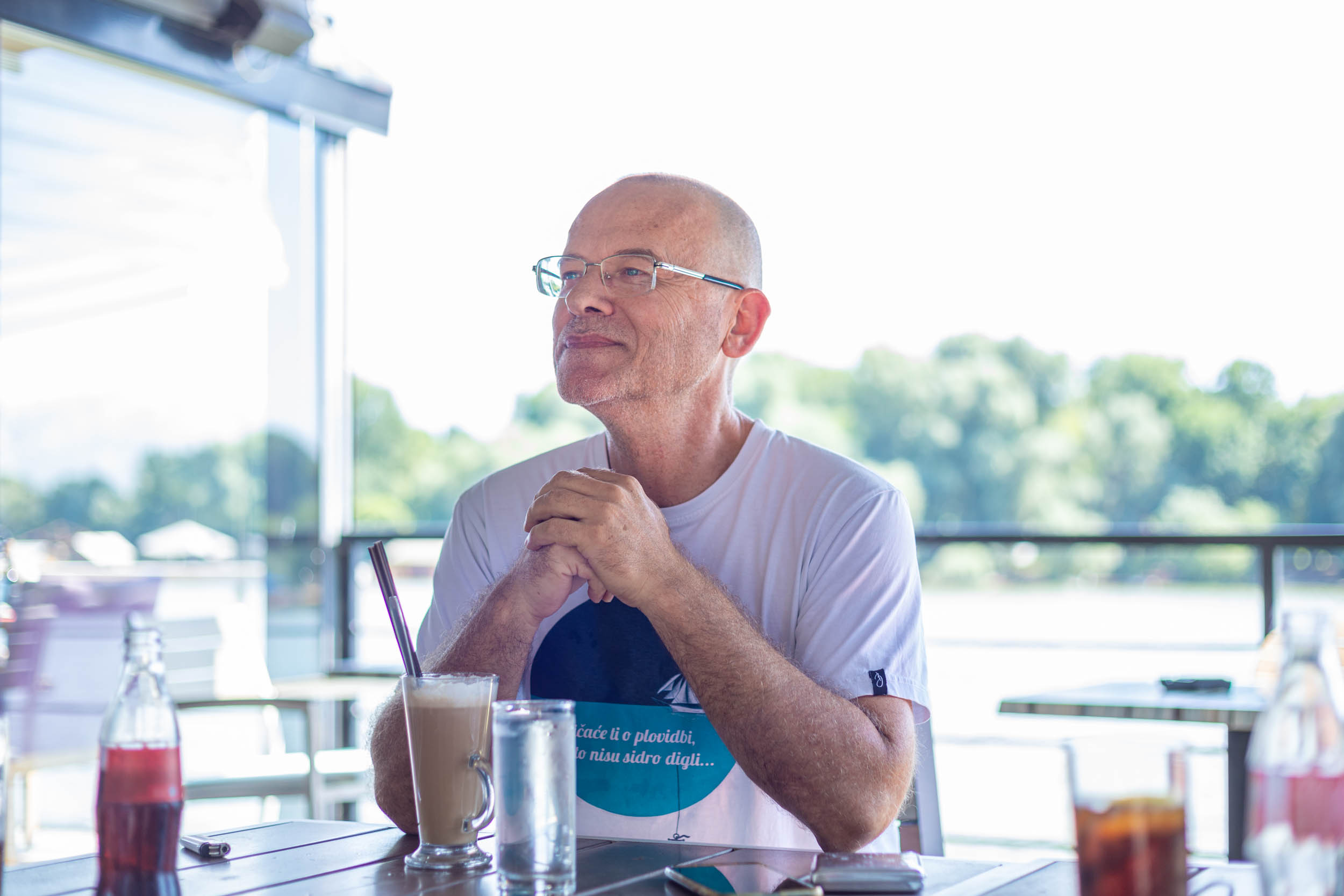 What did you end up doing? 
I simply had to pick up a trade. My neighbor opened a carpentry shop and offered me a job, which I accepted after returning from the military. In that workshop, I made parquet edgings and lamella parquet. I loved the job, but later realized it wasn't my future.
Around the early '90s in Yugoslavia, the first private radio stations began to appear, which I regularly listened to. Radio M, under which Radio Dženerika operated in Čačak, was one of the first, if not the first private radio station in the country.
The person responsible for getting me on air was a host who came from Radio Vrnjačka Banja at the time. He had a talk show on Radio M where people would call in to talk about love, friendship, secrets... about all aspects of life. Once, he unintentionally lit a cigarette on air. I don't know why, but that sound painted a picture of me as a radio man to my non-smoking, sports-loving self. 
What was your first radio performance like? 
Initially, I wanted to participate as a listener. Although I was 23-24 years old, I was nervous about calling in. However, my passion to express my opinion and hear my own voice pulled me. When I finally mustered the courage and got through, they asked for my name. Fearing embarrassment, I quickly made up a pseudonym. Everyone used to tell me I looked a lot like Robert Redford, so I introduced myself as Robert. 
To be honest, I was very nervous, but I eased into it after the first sentence. I don't remember what we discussed, but I vividly remember the pleasure I felt after hanging up. The next day, people started addressing me as Robert, (laughs) commenting positively on what they had heard, and many had listened. Evidently, I had a distinct voice. 
Later, with some experience, I called into another talk show hosted by Bojana Mosurović, who later became Mrs. Ikodinović and also a good friend of mine. Of course, I introduced myself as Robert. It turned out that listeners liked what I had to say, resonating with my thoughts. This went to the extent that Bojana arranged for me to call in as the last listener every month to "close" the show. Thus, I became a radio man, but from the other side of the airwaves.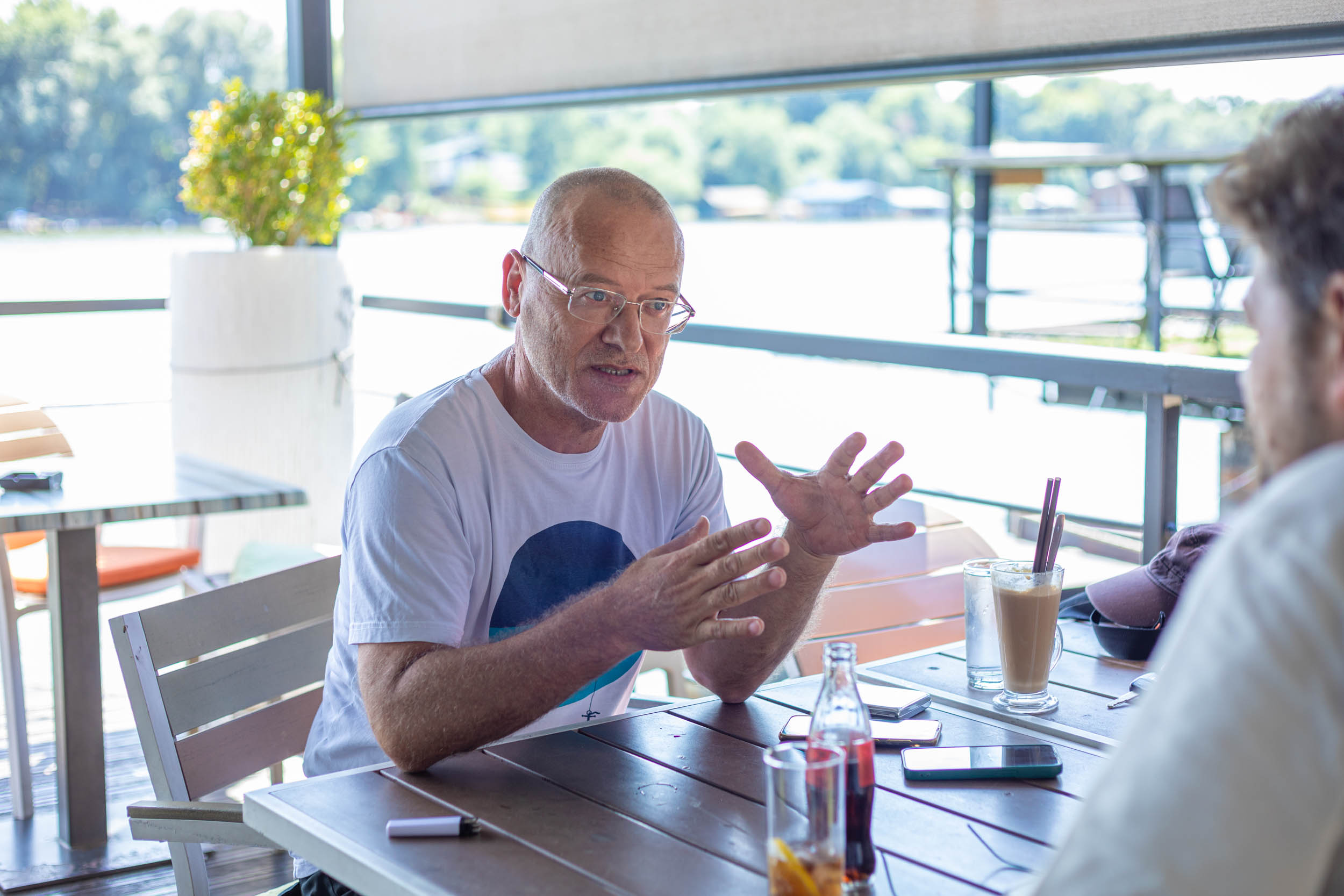 When did you decide to be behind the microphone? 
It happened in 1996. I decided to try and find myself in a radio studio. By chance, the European soccer championship was taking place, and the aforementioned Radio M was looking for a sports journalist. The owner, during my job interview, asked me to write a match report and read it the next day. Not knowing the ropes, I wrote two reports: a long and a short one. When I read them, I was nervous, but after the first sentence, I pulled myself together. 
I was sure the job wasn't mine, but then the owner spoke, recounting an anecdote about his first time on his own radio when he was very nervous, even though realistically he had nothing to worry about, especially not criticism or getting fired" (laughs). In short, the owner of Radio M told me that afternoon, "Go let Dejan give you a task" (referring to Dejan Kolarević, who at that time excellently managed the Sports section of Radio M). I got the job." 
Was that your springboard? 
Of course. Not long after, I sought engagement at another radio station because I wasn't interested in sports journalism. As Dejan Avramović, I tried to get a gig at Radio 96, but its owner, Dragan Milunović Brzi, didn't have a job for me.
However, a few weeks later, the said person met me in town and asked me for my name. I introduced myself by my full name, and he just shook his head and said, "No, you're not Dejan, you're Robert! Were you looking for a job? You have one with me!" And so, on 10.10.1996, I started working at Radio 96.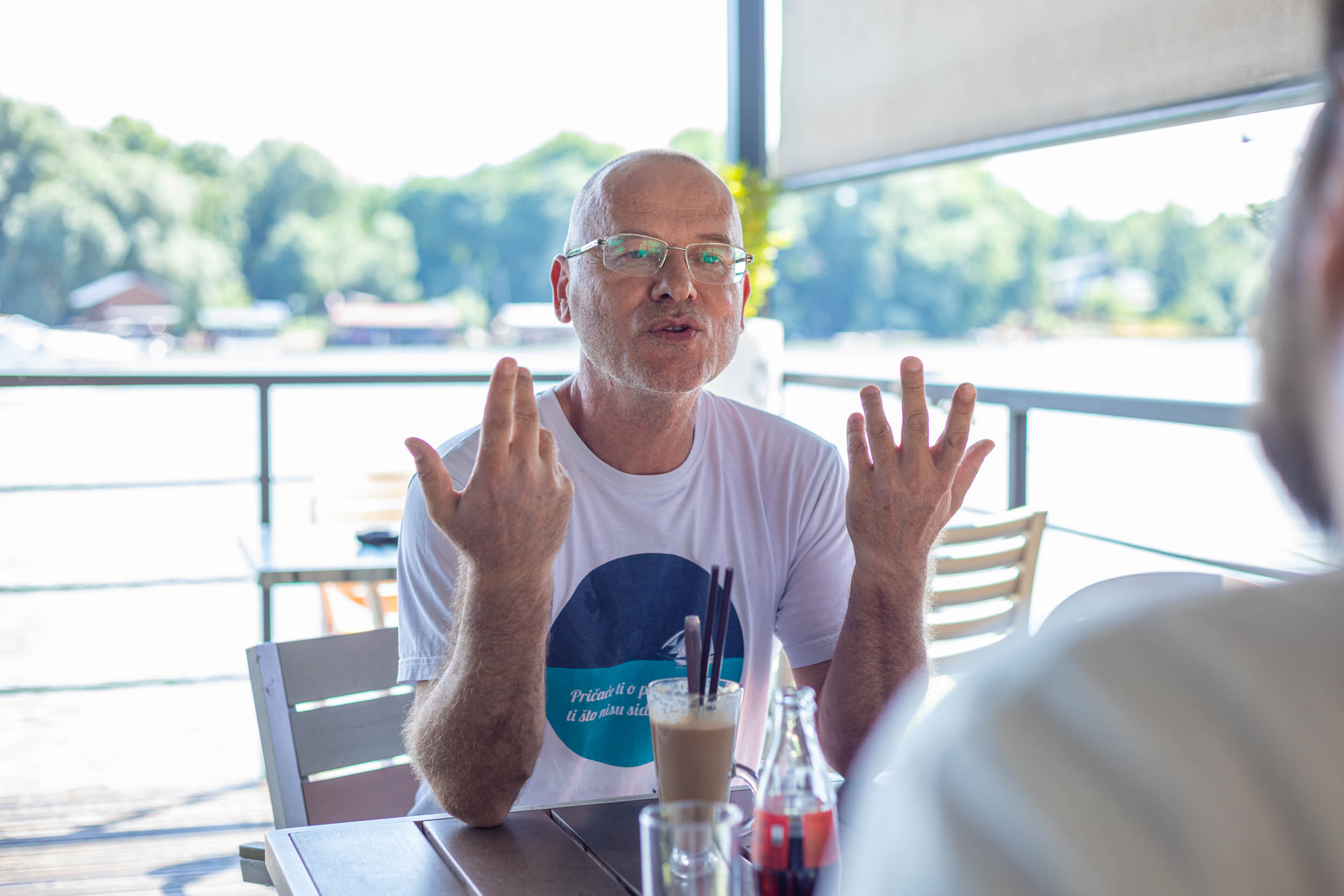 What was the first shift like? 
A lot of pressure, as young people would say, I had to smash it. But I had almost no experience on the microphone. At my previous job, I was perhaps only a few times, for a few minutes each, behind one. So, I decided to write an introduction for myself. The first, second sentence… I couldn't go beyond that. I told myself I would speak from the heart, whatever happens.
I remember, at 19 hours and a few seconds, the instrumental of the song "Kalipso" started, as a musical backdrop, and it was my turn to speak. I wished the listeners a good evening and swallowed hard. However, as soon as I did that, my tongue loosened. I started talking and never stopped (laughs), so later on, the radio owner Brzi often told me: Play a song sometimes in your show (laughs). 
How do you remember that period on the radio waves? 
Wonderful memories. It was a modest radio story. A shabby little house on Vojvode Stepe in Čačak, with a mixer, records, and a tape recorder. CDs were just "coming into fashion". But we enjoyed and socialized. I even made friends on that radio with whom I still hang out today. All in all, a lovely story about the radio days and nights in Čačak. (laughs)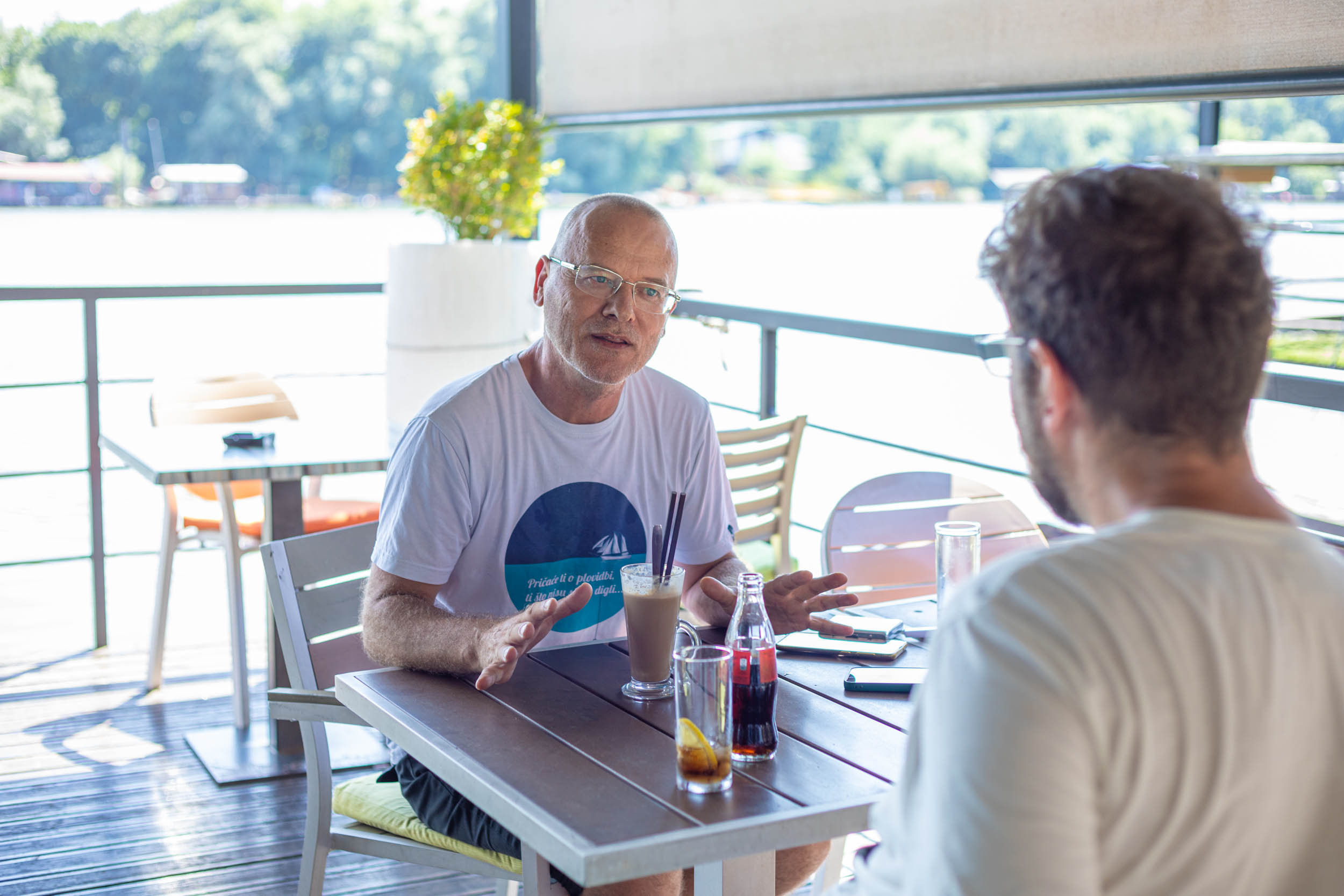 Did you have your own authored shows? 
Yes. In fact, at the end of '96, being a big quiz fan, I came up with a yet-unnamed quiz. It consisted of questions from what I called general culture and non-culture. The quiz was "baptized" by a friend and neighbor, Zoki Bojović, who produced really extraordinary clothespins. Their slogan was: "When you're pinning, pin with the best." And so the quiz was named KVŠŠN. The first prize was these indestructible, stainless, inseparable, unbreakable clothespins! (laughs) 
At its peak, the quiz had 40-50 regular participants. So that people wouldn't complain about not being able to get through, we set up a schedule for when each would call in every Monday evening. But, we didn't go from 1 to 50; we started from the negatives since some registered as listener -1, -2 (laughs). 
The group known as Četvorka, calling from Ulica 4. juli, mostly dominated. They had two speed-dial phones in the company and were always getting through but never collected the prize. In fact, they became donors, so other participants would go to them for prizes, and I made another great friend, the owner of "Inter Bela", Zoran Ljujić aka Džujo. 
Also, I've always loved having some romantic shows. So, I devised a wish list show of sorts. Listeners didn't participate live but sent letters, which I would read. This lasted a few years. I also had my "chat show" because I wanted to try that too - to participate from the other side of the airwaves. Actually, from the front side. And it was a great pleasure. When that ended, a, as it will turn out temporary, full stop was put on my radio story. 
What was the reason for that? 
I felt that I had achieved my full potential concerning local radio life and needed a bigger challenge. I decided to try my luck on television. At that moment, there were three TV stations: Spektrum, Čačak, and Galaksija. I went to TV Spektrum, on the recommendation of my son-in-law Velizar, known as Rus. It turned out I didn't even need that recommendation since the Spektrum directors and I already knew each other. In our meeting, I proposed hosting a quiz show, and we agreed in literally three minutes. 
The quiz was made with minimal resources. It aired live every Friday. Before that, we would physically lower a telephone from the building's second or third floor in the center of Čačak to involve the viewers. The quiz was named "QUIZ, QUIZ, QUIZ," which is an abbreviation for a longer phrase that played on words about knowledge, fun, and earnings. Honestly, it sounded awkward, but I love wordplays. 
Without any rehearsals, we started the quiz, which is unimaginable for any time. As soon as I greeted and provided the phone number, people started calling. They were calling from all over the coverage area of TV Spektrum. It especially delighted me when I recognized the voices and names of those who used to call during the KVŠŠN show on Radio 96. 
Although it was a delightful experience, it didn't last long. The TV station didn't take great care of its employees, leading to dissatisfaction among the team. When a dispute erupted among the technicians, I tried to calm them down but couldn't solve their problems. It was easier for me to leave and have coffee with friends who awaited me every Friday after the quiz. This time, it was after... my short career at TV Spektrum. I never returned there. 
I later realized that sometimes you have to work under ungrateful conditions, but I absolutely didn't want to do that at that time.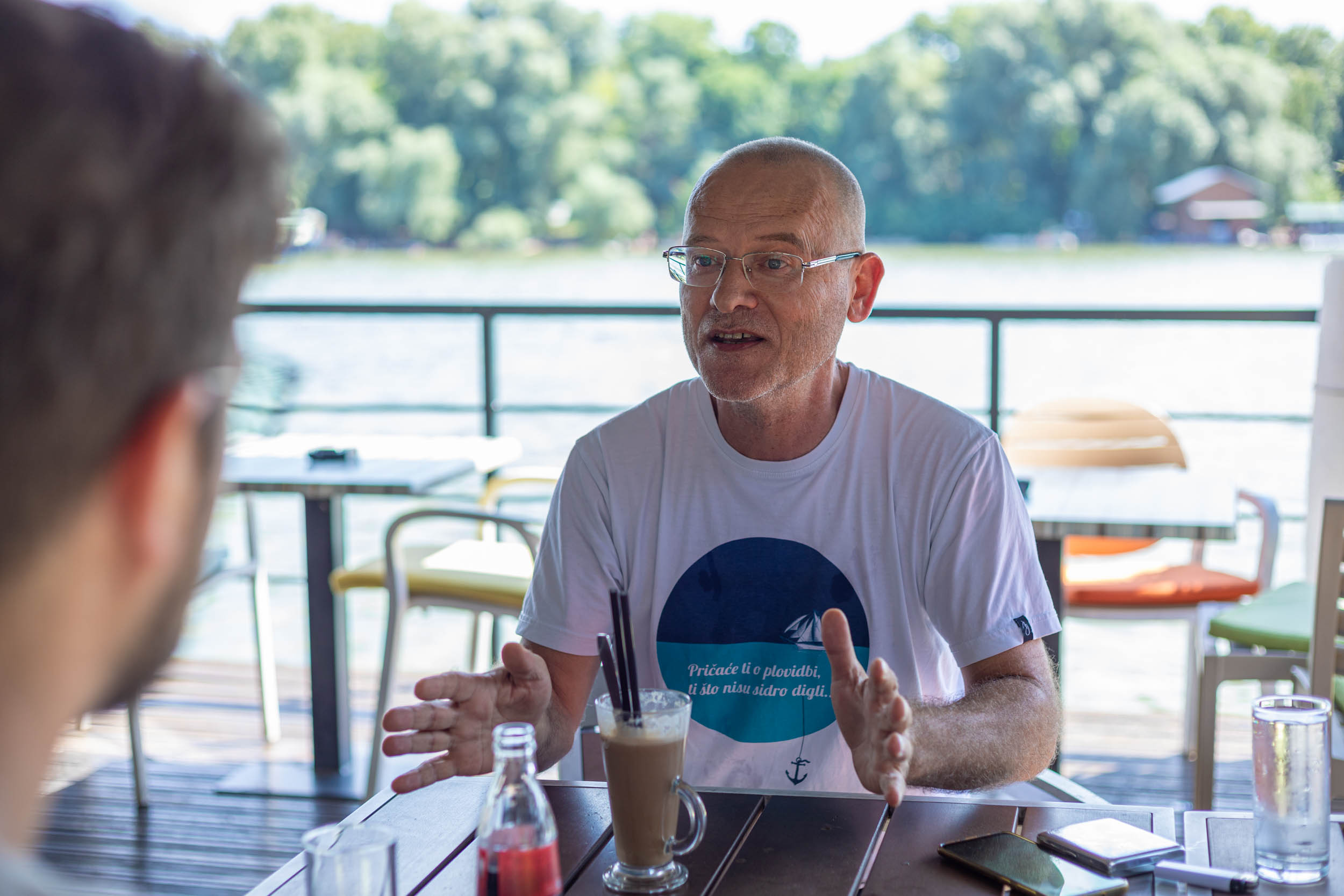 What was next for Dejan Avramović? 
Belgrade, in one word. Long before that, my sound engineer from the KVŠŠN quiz, and later my best man, Aleksandar Mijailović, known as Saša Padrino, would always invite me to join him in Belgrade, where he had moved a year earlier. Anyway, when I left the TV station, to his surprise, I accepted his invitation. We headed to the capital on February 9, 2003. We lived together for about ten months in his house near the Belgrade Drama Theatre. 
What was your first impression of Belgrade? 
Dark, since we arrived at night (laughs). However, the next day, as the locals would say, I ventured out. As soon as I stepped onto the sidewalk, I felt like I belonged here. No disrespect to my Čačak, which will always be my city, but Belgrade charmed me to the point I didn't feel any nostalgia for my hometown. Even without a job and living in someone else's house, I felt at home. And Belgrade became my city. 
I got to know the capital better by wandering around. I had watched the movie "Bulevar revolucije," and now I was walking that street. I observed people in cafes, shops, bus stops, and soaked in all the novelties. I knew I had thousands of hectares of this beautiful city left to explore, and the thought thrilled me. All in all, it was love at first step.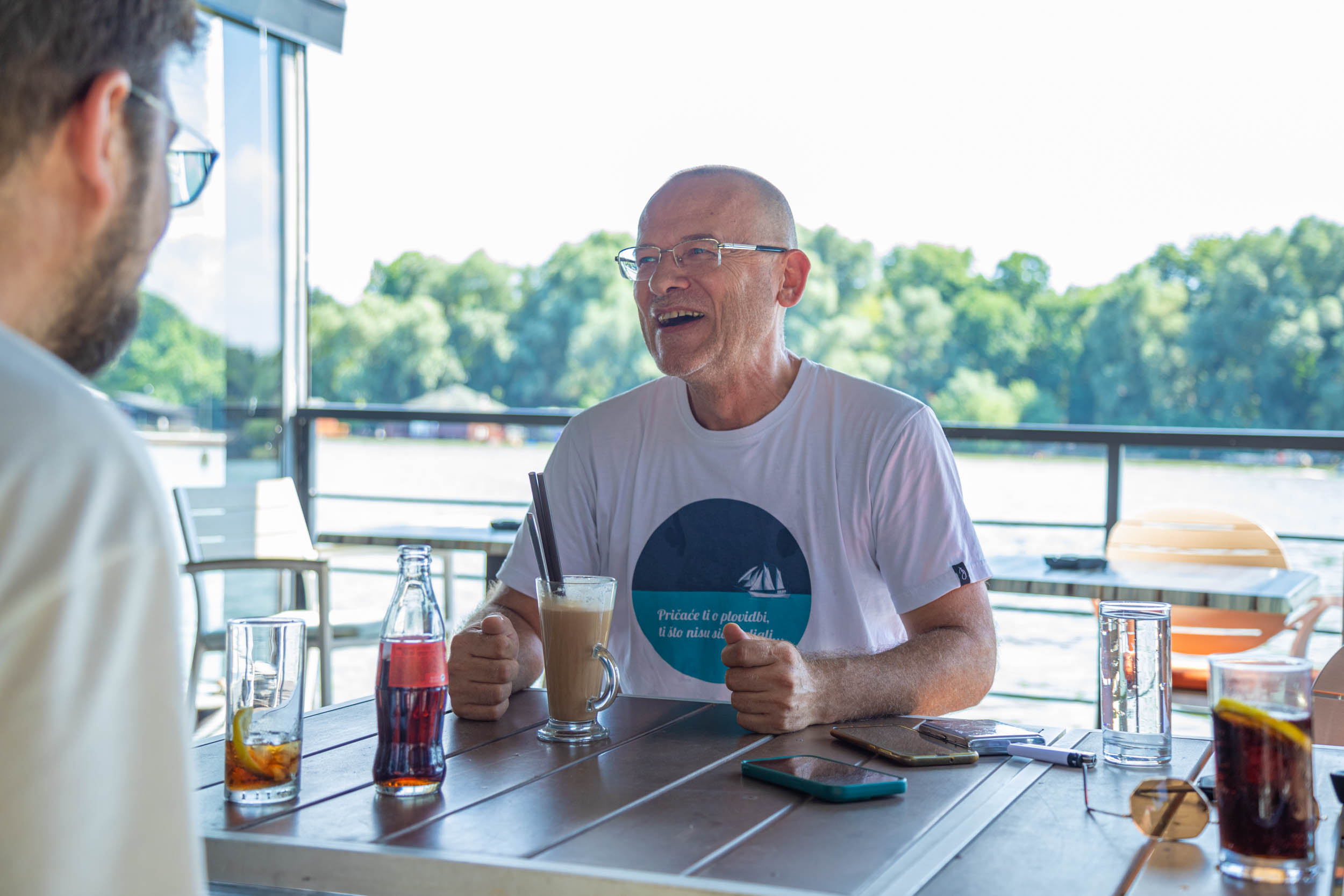 What was the business plan upon arriving in Belgrade? 
There was no plan. I fantasized that I would stumble upon Ivan Zeljković somewhere and ask him to let me host the quiz show "Do you want to become a millionaire", but I knew that wouldn't happen. There was no chance I would meet him by accident, and I didn't have the guts to look for him. Unfortunately, I just didn't have that much confidence. 
It didn't happen, but luckily my friend Goca Urošević called me. When she heard I was in Belgrade without a job plan except wanting to work on a radio, she connected me with her godfather, Miki Perazanović, who worked in the marketing department at B92. After a few days of correspondence, he invited me to B92, which was then located on Svetozara Markovića Street. As soon as I entered, I "ran into" "Anđelo" from the cult movie - Uroš Đurić. Miki gave me a tour of the building and introduced me to the station, but it turned out they had no job openings for hosts. 
However, the good thing was that Miki introduced me to Stevo Vuletić, who was the chief editor at Radio Akademac, located on Ruzveltova Street, part of the Auto-moto association. When I arrived there, I saw mixing consoles, a dim small studio, young people "buzzing" around, and I liked it. Now it was just left to them to like me (laughs). To cut a long story short, after talking to Stevo Vuletić, they also didn't have a spot for me. However, he offered to record something for the archive and possibly call me later if a hosting spot opened. 
He gave me a newspaper snippet in 7-8 sentences. I studied it briefly, signaled the sound engineer to record, and began reading. After the second or third sentence, I looked up like a TV anchor and saw the editor waving me out. I thought there's no way I messed up so much that he'd cut my audition so quickly. 
When I stepped out, he asked me when I could start working! (laughs) That was March 5th. The next day, March 6th, 2003, marked the beginning of my job at Radio Akademac in Belgrade. 
How long did you stay at Akademac? 
Two to three years. It was wonderful until salaries began to get delayed and a law shutting down over a hundred radio stations in Belgrade was enacted. What to do next? I turned to my friend Vojkan Kostić for a job, whose company sponsored a lower-league soccer club I played for on weekends. He, as a car dealership owner, wasn't convinced that I wanted to work as a car salesman and kept me "on hold" for a while. 
Eventually, he gave in and hired me. It turned out his skepticism was justified, as I stayed there only for four months. But then, to my surprise, my friend Željko called, offering me a position at a radio station in Kruševac. This time I surprised him, as I accepted the invitation to see the offer firsthand. It wasn't bad, and most importantly: I was going back to radio! 
It was a "folk" radio, with listeners calling in from abroad. However, it was short-lived. After six months, I realized not every radio station is a genuine radio, so I left. I also figured out that part of Serbia wasn't for me, so I went back to Belgrade.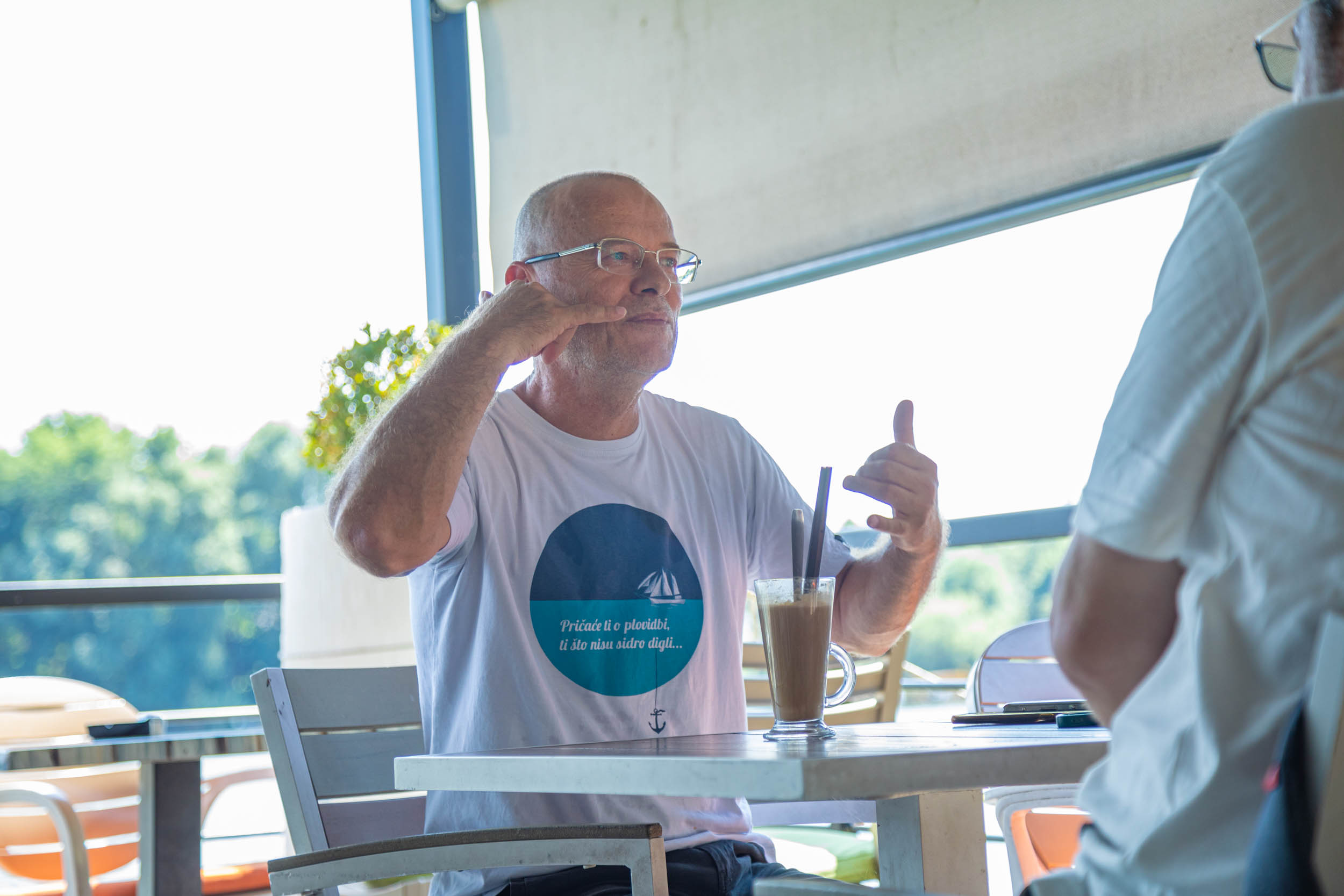 How long did it then take you to return to Belgrade's radio waves? 
A long time. (laughs) Upon returning to Belgrade, I was, therefore, unemployed. In short, through my sister, I found a job in a liquor store, and in terms of earnings, it was the worst job in human history (laughs). I then took an additional job as a pizza delivery guy until my friend Sneža called and said Naxi Radio was looking for a sound engineer. 
Naxi is located in Bežanijska kosa, and I lived in Block 62 at the time. So, about 9 minutes walk away, using those famous stairs. If anyone's curious, there are exactly 106 steps - I counted! Anyway, I arrived for the interview in high spirits, but another guy showed up, and he was more fortunate. But only for a while. 
In the meantime, I started working for a wholesaler in Altina, recommended by my brother-in-law Miroslav. My job was to visit retailers around the city and offer them Chinese goods. It helped me get to know and love Belgrade even more. My wanderings led me to my dentist friend, Bojan Pejović. I told him about my Naxi dream shattering, and he said that Maja Rakovic, the chief editor of Naxi radio, would be coming to him in a few days and to expect a call on Thursday. 
That's what happened. On Thursday, Boki called and asked if I had Maja's phone number. "Of course, I do." - "Call her now," said the great dentist and an equally great person. I listened and arranged a new meeting with Maja about a month after the unsuccessful first one. On November 26th, 2007, she explained how Naxi radio operates and after 15-20 minutes offered me a chance: "You can start working with Jelena Barac today. Her program starts at noon, so you can join her." I was thrilled, but I asked if I could start the next day, as I have a fondness for November 27th, among other things because some people dear to me were born on that date, and also because Radio 96, where I spent several wonderful years, celebrated its anniversary on that date." 
What impression did you leave on Naxi the first time? 
Mind you, the agreement was that if I prove myself by the end of the workweek, the job is mine. Otherwise, we part ways. The next day, I met my colleague Jelena Barac and, without any preparation or written word, we entered the studio and began the program at noon. We worked as if we knew each other for 15 years, not 15 minutes. We clicked so well that the phones were burning from calls and praises... It was one of the happiest days of my life.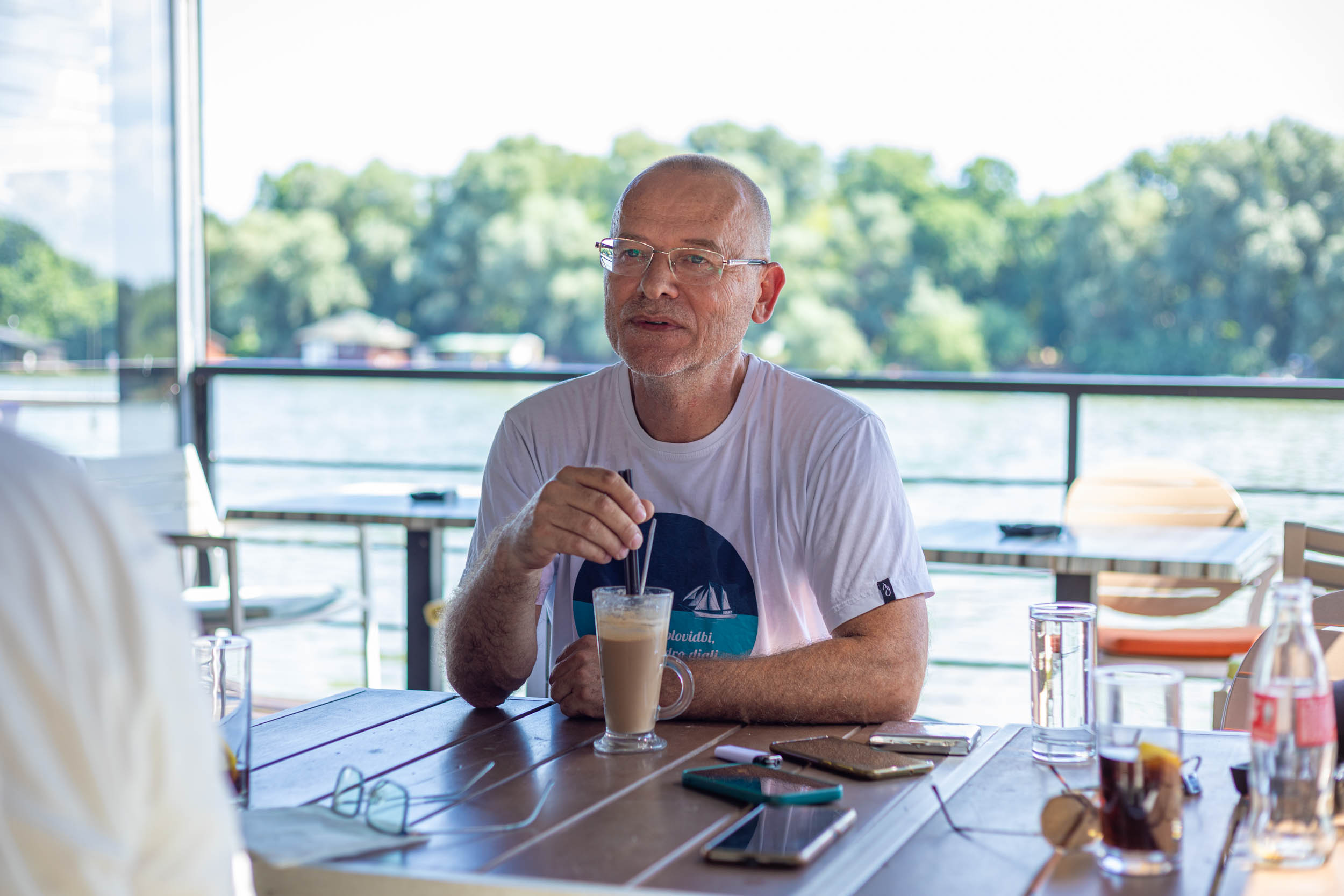 How did you come to host the show "Dodir noći" on Naxi? 
Because of my immense love for Đorđe Balašević and my way of expressing myself, the editors quickly concluded that I'm a very romantic type. This romantic streak led them to offer me to host the evening show where I would comment on love songs. And on March 31, 2008, "Dodir noći" began broadcasting. Initially, the show aired every evening, even on Saturdays and Sundays. But over time, it became much more demanding, and the programming schedule changed, so we decided it was better to air "Dodir noći" on weekdays, from 9 pm to midnight. This is also the case in August 2023, as we approach the 5000th edition. 
What fascinates me is that the show has one single theme - love, and I still, after 15 years, have the inspiration to speak about this most beautiful phenomenon among people, the most wonderful feeling in the world, from a different angle. It is inexhaustible and endless. This is not a revolutionary show concept, but love is universal and cosmic and it will always occupy the number one spot in our lives. Accordingly, we should talk about it and sing love songs, even if we can't sing, which is my case (laughs). Hence, we have listeners who have been with us from the very first days or rather nights, who listened to us during their student years and are now family people, parents. I'm especially thrilled when they write this to me on the "Dodir noći Naxi radio" Facebook page. Then I am particularly sure that all this makes sense. 
"Dodir noći" is not the only show you host. 
That's right, the other is "Mojih 50". Most people know about it, even if they necessarily don't know the name of the host, but that doesn't bother me because it usually turns out that they like how that "unknown host" leads the conversation, which is more than enough for me. Publicity is a good thing but only within limits. My boundaries are perfectly set, not even by my doing, but it just happened, and I absolutely love it. 
As for the show itself, the concept is that celebrities, who respond to our invitation, choose and comment on their 50 favorite domestic pop-rock songs. Most people really like it, and for many, it's their favorite radio show. It's not uncommon for people to "invite themselves", and not just celebrities, but almost all of my friends too. And all claim that their edition would be the most listened to. Maybe someday I'll check if they are right (laughs). Many celebrities have been on this show, and it's always tricky to name names because everyone deserves a kind mention. But soon it will be the 1000th edition, so it's too many people to mention in even multiple interviews, let alone one. But for the sake of interest, I'll mention one. Peđa Bjelac, statistically our most-watched actor, primarily because of his role in the Harry Potter film series. Somehow, I managed to get his phone number and arrange a guest appearance. When we started the show, I welcomed him and thanked him for the time he would devote to the show's listeners, to which he told me he would've invited himself if I hadn't because he really likes the show and listens whenever he can. You can't get a bigger compliment than that. 
In that show, a plethora of famous personalities have been guests. Is there any regret about someone you didn't host? 
Definitely, it would be Đole Balašević, who was for me the greatest artist in the world. Emphasis on artist, as he was an excellent singer-songwriter, writer, and stand-up comedian. In his performances, he would first bring you to tears from laughter, and then sing, for example, "Provincijalka," or "Nedostaje mi naša ljubav," or something similar, and then shake you from a different angle - and again tears... I had the immense privilege of meeting him and socializing with him. A few perfect anecdotes with him will remain in my memory forever. I even named my son after him, that's how deep the love and respect is. 
By the way, to be clear, there was an opportunity for him to be a guest on "My 50". In fact, we were on the verge of an agreement, but at the same time, an associate of Ivana Ivanović contacted me, asking for Đole's contact. So I called him to ask if I should share his number and when he approved, I suggested he definitely go to that show so that many more young people could hear and see him. The youth need such a role model, and some don't even know what kind of artistic giant lives in their country. 
He did just that. That episode, of course, was spectacular, as Đole himself hosted it. "An Evening Without Ivana Ivanović." 
After that, I didn't want to insist on his appearance, thinking "there will be time and opportunity," but there wasn't. The last time I saw him was at his penultimate concert, in Novi Sad, on the Epiphany night, in 2020. Exactly 13 months later, on February 19, 2021, came the news that I still don't want to believe: Đole Balašević "left us"?! No, he didn't! Long live Đole! 
What are your plans for the future? 
Absolutely all future plans are tied to my two-year-old son Đorđe, who represents my life and my happiness. As for the radio, I'm very pleased with Naxi and hope everything will stay as it is. In the meantime, I write a verse here and there that someone will "someday" sing, or it will be included in a poetry collection, we'll see... Life shouldn't be planned too much. It should be lived.