15.02.2020
Milan Caci Mihailovic: Legendary actor who keeps the secrets of Belgrade's theatre stage
The bard of Serbia's acting scene, the name linked to legendary theatre plays and the calming radio voice that brings us back to old days. Milan Caci Mihailovic talks about his growing up, unusual family that countered misfortune and injustice with smiles on their faces and his career, featuring amazing people and events that blessed his life.
You and your family's stories are very unusual. Starting from your grandfather Trajko who, we can freely say, can be credited for many developments in the history of Belgrade's theatre, and up to your parents who got married very young.
It all came together that way under the circumstances. It was wartime and my mother was from a lovely family in well social standing. Her father was a high officer but war brought chaos. He disappeared in 1944 and on that same year her 12 year old brother passed away.
That's how my mother's life suddenly turned from wonderful to utter hell. As a high-school kid she was left alone with only her mother who was 36.
It just so happened that she met my father who lived at the Red cross in Zicka street with grandpa Trajko who came up with the idea of building the Belgrade drama theatre.
Namely, my grandfather initiated this idea and since he was a respected person in the Red cross, people flocked to support him. They held work actions in order to build the home of culture that would eventually become the theatre. Even famous actresses such as Tanja Lukjanova and Nada Kasapic participated in those work efforts, adding one brick at a time.
Anyways, the story of my parents is quite romantic. One evening they were out for a walk. He was escorting her from Zicka street to the corner of Maksima Gorkog and then Pristinska streets, across the way from the old Kikevac tavern which is long gone. He sort of half-jokingly asked her "Want to marry me?"
And my mother, only 15 years old at a time said "Yes, I just have to ask my mom."
She went inside and my father waited out front. Then she came out into the window and just nodded to him - mom had approved.
Tomorrow, the rascal came to pick up the bride. There was only one notary in Belgrade back then. They 'accosted' two witnesses on their way to him and got married in 1946, without even realizing they did in on Valentine's day.
And that was how they started their life together. They had four children together, but the little girl died as an infant because in those 50's there was some kind of infection outbreak in the city hospital and around thirty babies died. Including, sadly, my sister.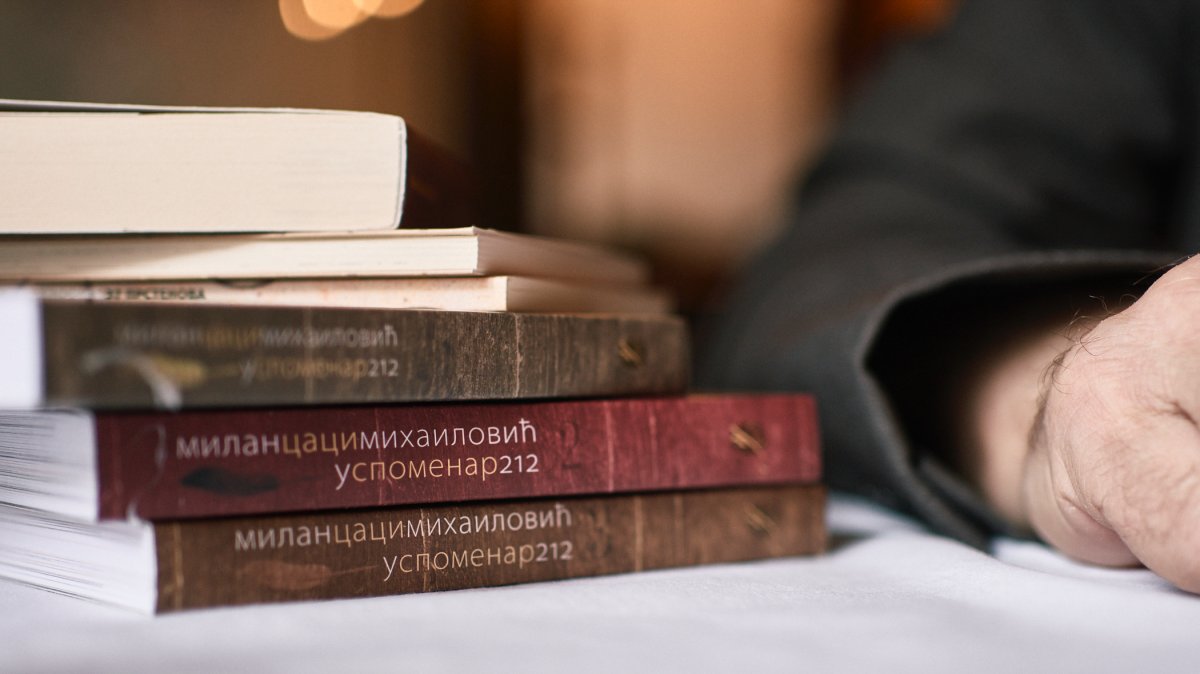 Another interesting thing about your father is that he used to play jazz when in the days when it was prohibited in our country.
He graduated from trading school, worked as an accountant and later chief of accounting, which made him well-known around the city. But he loved jazz a lot.
After the war jazz, as a perceived expression of capitalism, was banned in our country. That's why my father was even arrested once, when they caught him listening to Jazz in an American reading room. He spent the night in a cell because of it.
However, once jazz was unbanned, my father Branislav formed the Bis jazz trio with Dusan Kandic - a humorist who worked closely with director Lola Djukic - and Boza Miletic, a cameraman and husband to Tamara Miletic.
Were they any good?
The fact that they held a concert in Kolarac speaks more than words. My mother told me how she could barely get in from the crowd when she went to attend.
And then you were born.
I was born in 1949, a second child to my parents. I published a story called "Sincina" about it in the latest third part of my book "Uspomenar 212". The book came to be after I was asked to write a little story for the Radio Belgrade show "Dobro jutro deco".
The gist of the story is that I was born on Christmas, but on the second day, rather than the first, after midnight came and the guests had left.
My granddaughters love listening about that story because I tell them about my mother who had chestnut-colored hair. They love that.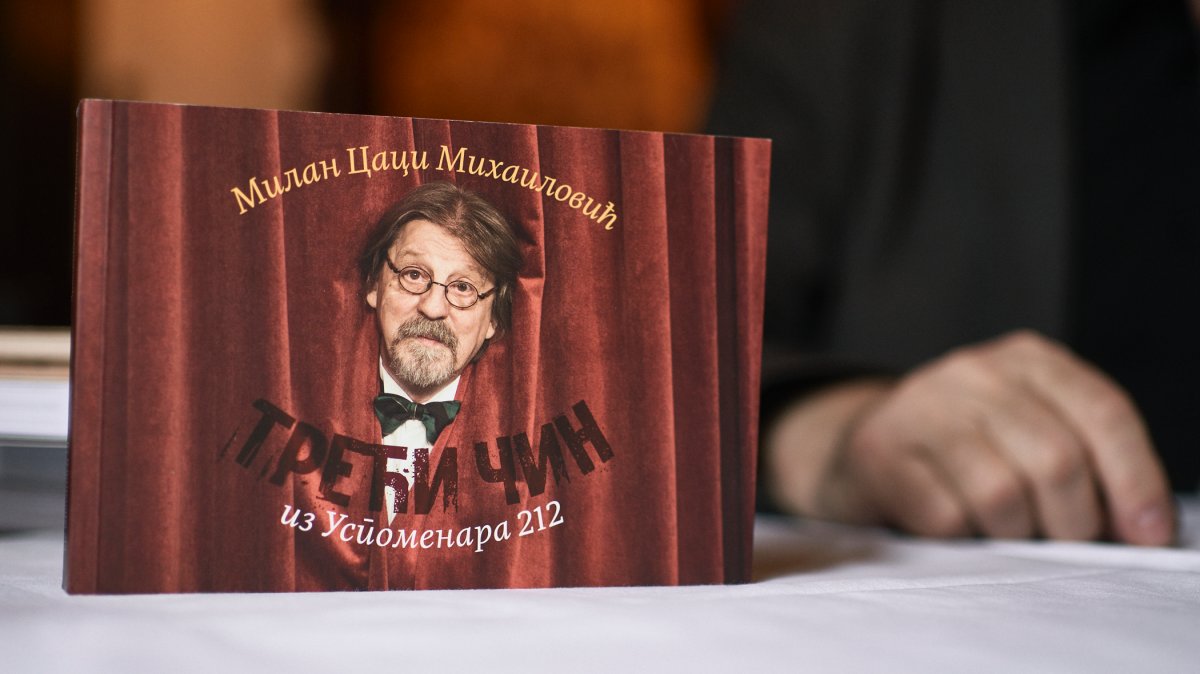 Can you tell us about your earliest memories from childhood?
Those were somewhat sad days. My father worked and there were five of us to support back then - we had to live very modestly. My first memories were sad ones. I'd wake up to the sound of my mother snapping wooden coat hangers to light the fire with.
We lived in Silvio Kranjcevic street - it's a small bend at the end of Kajmakcalanska. We got there again, because of certain circumstances. My parents lived inside a villa in International brigades before, but a minister got his eye on the villa and moved out all its residents. My parents were relocated to the house where I was born.
This house had an owner of course but half of their property was taken in order to move in my parents. We got two rooms, a bathroom and one corridor. We didn't have a kitchen.
To this day my favorite place to hang out is the kitchen - I guess because we didn't have that space when I was a child.
The rooms were about 25m2 big each and impossible to keep warm in the winter. My father had just managed to get coal - which was hard to obtain back then - and brought it to our apartment in Internacionalnih brigada street, when we got evicted. The minister said he'd transfer our coal, but that never happened. That's what the 50's were like - those in power and authority positions were always right.
That's how breaking coat hangers or chopping up wardrobe drawers for kindle was something we woke up to every day. I can almost see it now - it was this ugly dark-pink wardrobe with some hideous decorations.
Still, I feel like we had a good childhood, we didn't mind the poverty that much.
For example, sometimes there was not much to eat in the house but my mother would warm up some cooking oil, salt it and then we'd get a loaf of bread and dip into it for breakfast.
You had to save everywhere you could.
One day my grandmother showed up holding something caked in mud. She'd found a 10-dinar paper bill. It was muddy outside, the snow was melting so it was all mixed up in dirt and mud. She found it by chance and brought it in.
My mother washed and ironed that bill then sent me to buy 25 grams of coffee and five non-filter cigarettes for her and grandma. That was how the two of them celebrated finding that bill.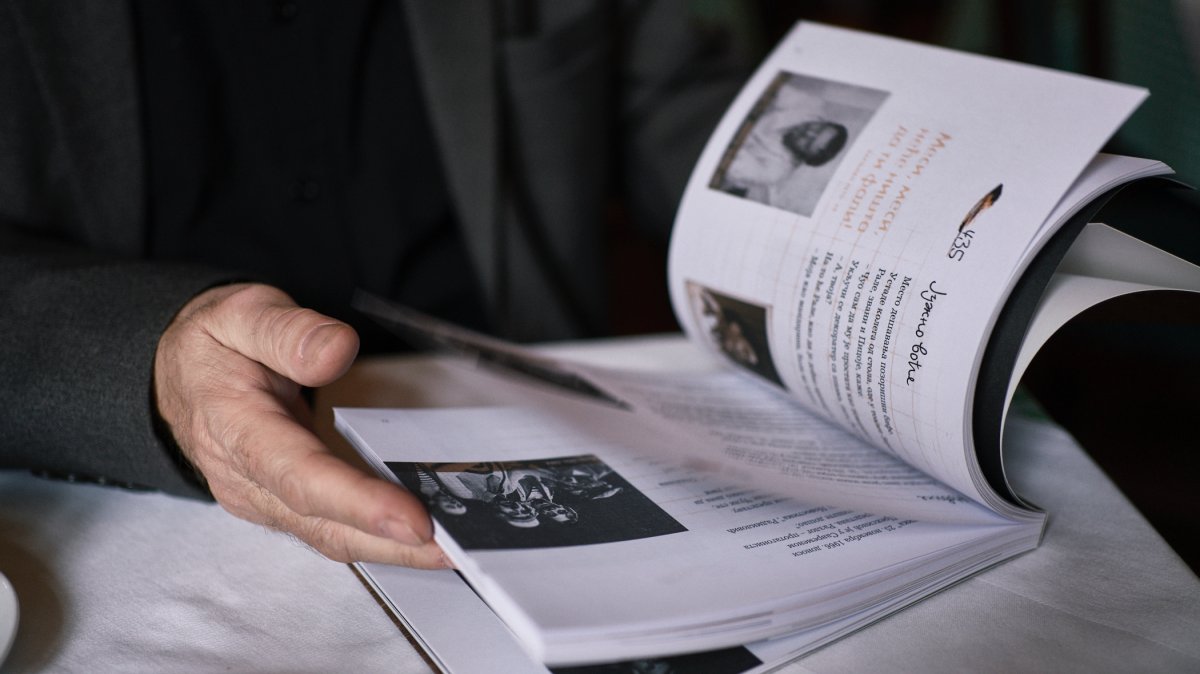 What did kids do for fun back then?
I remember later, when I'd grown up a bit, my father went to Italy and brought me back a pair of roller skates. It was amazing. Back then there was this beautiful young girl who'd roller skate all around my neighborhood - it was Staka Novovic, RT Belgrade speaker.
Before that was a thing, people made these little wheel carts. I talked about it with Dragan Nikolic who lived in Pozarevacka street which runs slightly downhill. Someone would make that cart - a steering wheel in the front with one wheel and two wheels in the back with a board connecting them. Then they push someone down the street and those things make a terrible racket. Well, an elderly lady lived there and whenever someone would wheel down the street she'd rush out to hit them with a broom. Then Gaga somehow managed to snatch away her broom and throw it up onto the roof. A bunch of brooms ended up there. That's how the kids played.
On an unrelated note, I went to Filip Visnjic school in Jagiceva street, same as my father and where my grandmother used to teach. This is where to this day there are several large chestnut trees and one of our games involved collecting them as they drop and throwing them at each other.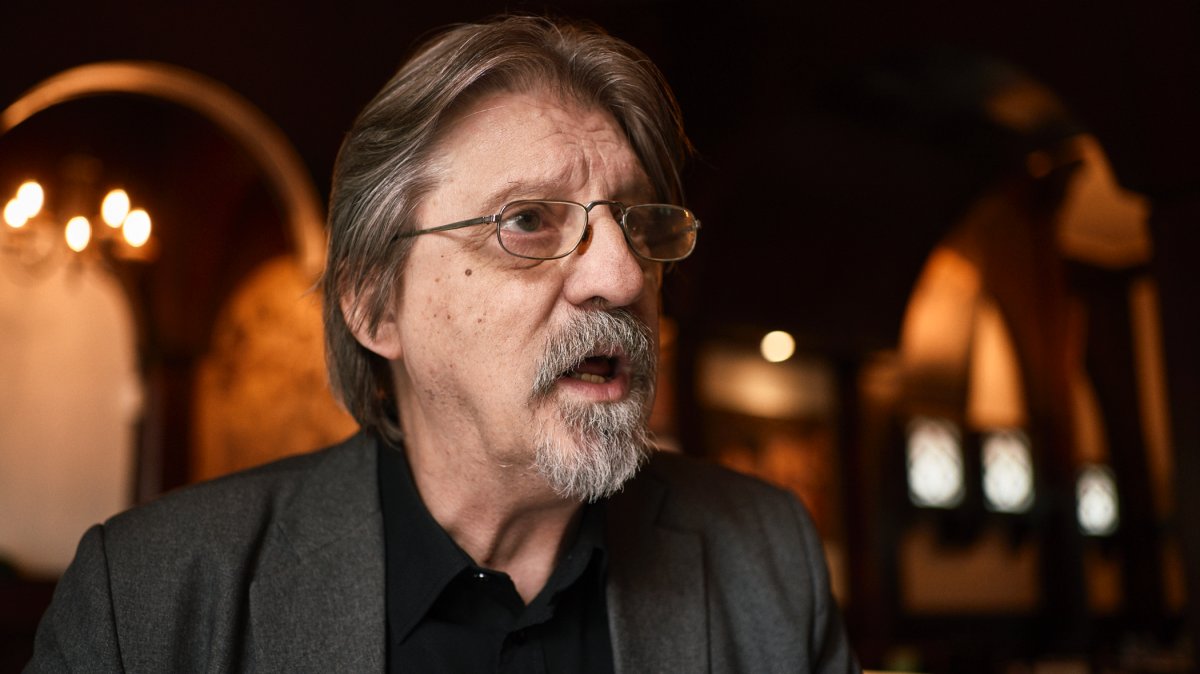 But a lot of attention was given to education too.
Despite our poverty there was always time for a book. We got a book in French from our aunt which we used to learn French. Through a single-verse poem you learn two words.
One of our traditions included family poetry readings. My mother got from someone an anthology of works by Bogdan Popovic from the 30's that was almost falling apart from use. We learned a ton of poems by reading it.
Later, my father brought in a "Collection of African poetry" that was translated masterfully by Dragoslav Andric. It was something we read and re-read ad-nauseum to the point where I almost know the whole thing by heart to this day. Poetry has always been something present and loved in our household.
They also took us kids to the theatre. I remember one time in particular, when I was about five years old. The curtains drew and this amazing set appeared with fantastic lighting. I don't remember who all was in the play, but I remember the set reveal as a fantastical moment where I peered into a different world.
That's what theatre had been and still is to me - a whole new world. It was my fascination with the unknown.
Later, as we grew older, we would wander around the theatre that our grandfather Trajko helped start. We collected autographs and watched the actors arrive for their rehearsals - we weren't allowed to approach them...
Later on, your situation stabilized.
Our father worked and played music and that's how he made a living for us. An example of how our family employed democracy comes to mind. One day we had the chance to buy a big Hohner accordion with two lines. Dad came home, sat us all down at the table and asked "What should we do? Buy the accordion or winter clothing?"
We all voted for the accordion and it kept us fed.
It cost 18.000 dinars - my dad's entire paycheck. I still keep it today, though I don't play. I used to play a little with my father, but I wasn't even close to his skill - he was like a virtuoso.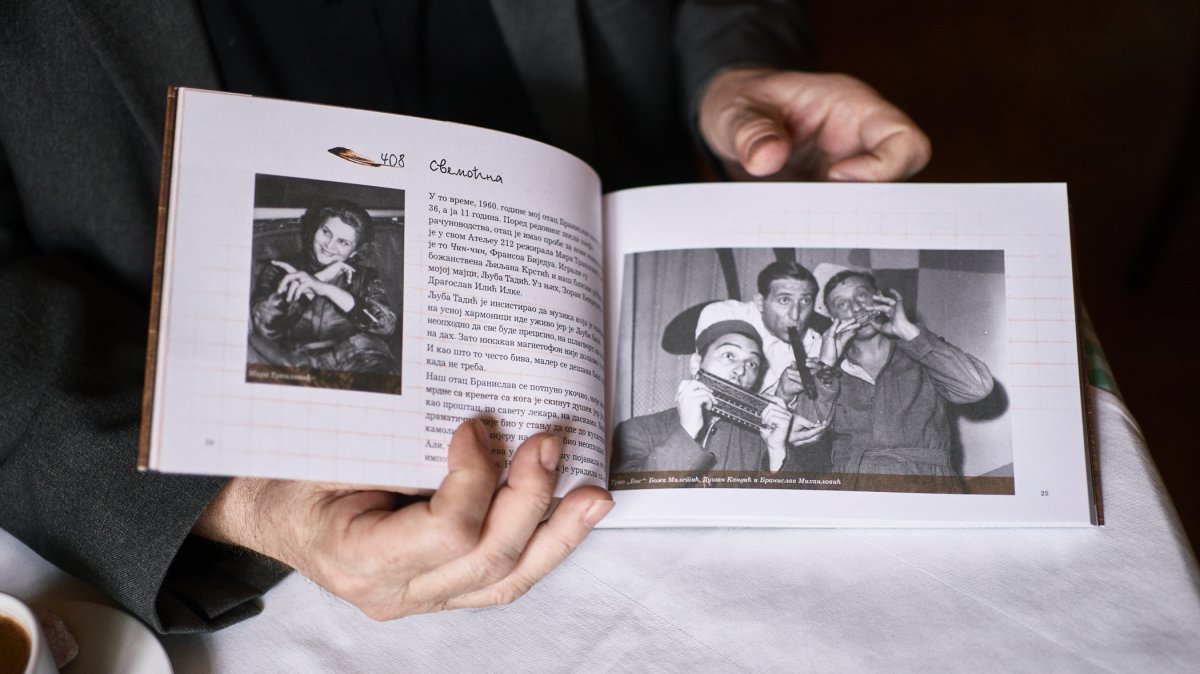 Thanks to his skills, your father soon entered the world of theatre.
In the 60's Mira Trailovic directed a piece called "Cin cin" at the Atelier 212, then a young theatre. It was a play by Francois Bideau that featured the fantastic Ljilja Krstic and Ljuba Tadic.
Incidentally Ljuba is my close relative on my mother's side and he insisted that my father plays live. This took place in the Borba building where there was a small scene with 212 seats and that's how the Atelier got its name.
This is where my father would stand in a small gallery and watch Ljuba, waiting for a cue from him - a look or a breath - to start playing. This is why Ljuba wanted live music which is not possible to pull off at a press of a button.
My father played before that for some plays at the Yugoslavian drama theatre in Brechtov play "Beggar's opera" directed by Bojan Stupica. Jova Milicevic also sang in it and Mira Stupica starred along with a huge cast of actors. For example, Nikola Simic played some random soldier. He loved my father a lot and we acted together later. Even my sons acted with him. I found a poster for "Beggar's opera" from 1959 and copied it to remind him of his beginnings.
Anyway, my father's back locked up terribly on the day of the premiere and he couldn't even get up to go to the bathroom.
We thought that was it, but suddenly a majestically grand woman appeared at our house and somehow got my father to the theatre. It was Mira Trailovic, who was mighty indeed, and we learned from her that the show must go on no matter what and that the audience and play are sacred.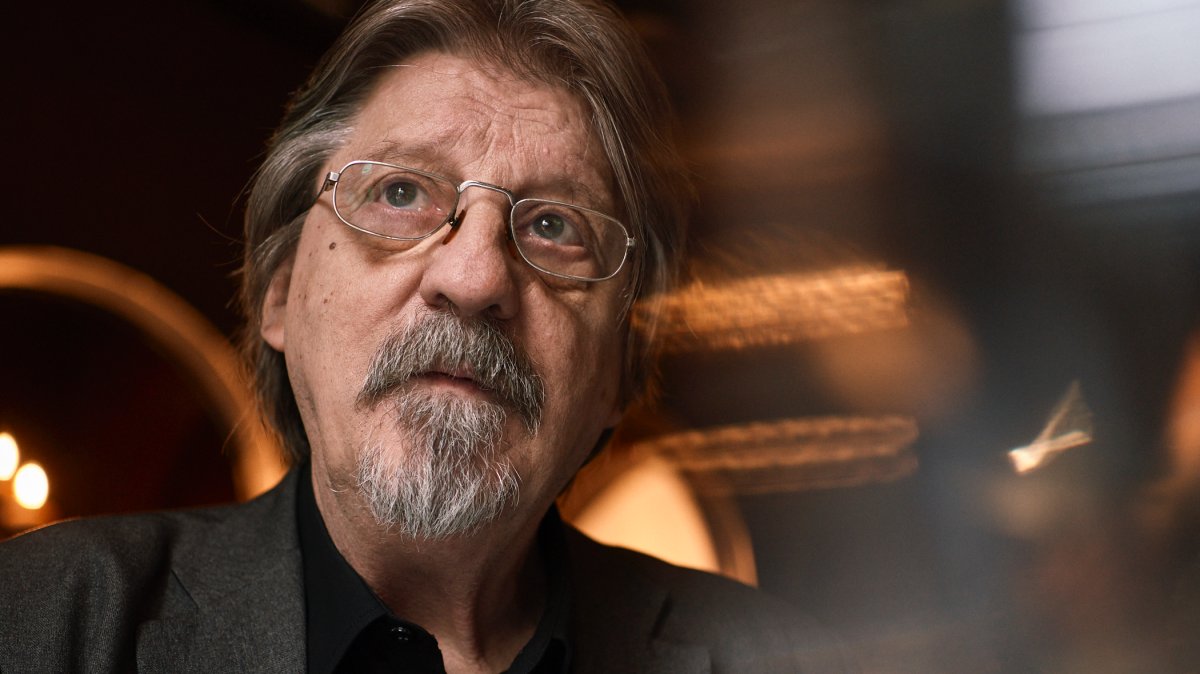 When did you know you would become an actor?
That's a difficult question.
When we were kids, a man came up to my younger brother and me and asked us if we wanted to be extras for a play. To us, it was like winning a medal and we participated in a play called "Andora" in 1962, directed by Soja Jovanovic and starring Sima Janicijevic, Pavle Bogatincevic, Bosiljka Boci, Zoran Radmilovic and others.
After that they asked me to be an extra for the Yugoslavian drama theatre. It was a big step for me since I was moving towards the center of the city. :)
And that's how I found myself in the play "Richard III" that starred Jova Milicevic. Today not many remember him, but he was an outstanding actor who played all the main roles.
Then, I jumped into the "Prokleta avlija" that starred Ljubisa Jovanovic, Zoran Ristanovic and the adorable uncle Milan Ajvaz. I remember when Ajvaz would gather us kids around and tell us about a lady he saw "People, she had her breasts in front of her like two pillows and those two blasted moons just kept grinding and grinding..." :)
In high school I would put on recitals, plays, invite actors to make guest appearances at my VI high school that had a lovely scene. For example, I brought in Steva Zigon who recited Robespierre, then Radmila Andric and Mika Viktorovic with their long-lived play "My dear liar".
I wrote and published my work in our school newspaper and that's how I prepared for the Academy.
I'll never forget how I would skip lessons in high school so that I could sit in the courtyard, pop my coat collar, sit in the rain and wait for inspiration to write a verse or two.
However, when I graduated from high school, I spent too long on my summer vacation and was late for my entrance exam. That's how I started studying literature and graduated first year.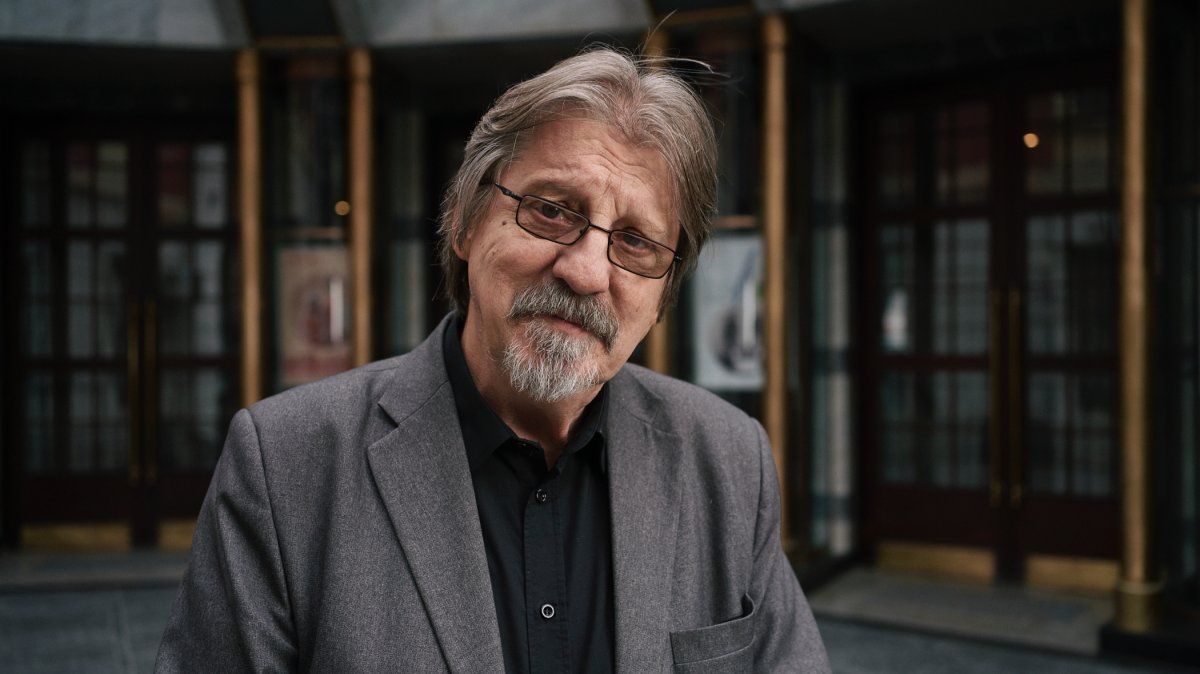 Studying literature also brought you a very important friend.
The famous professor of world literature Rasko Dimitrijevic. The first time I attended his class, there were so many students there that I thought some kind of riot was taking place. Then he spoke and I realized what the fuss was about. From then on, I'd come up to 90 minutes early for class in order to grab a seat.
After several classes he came up to me and my wife - then my girlfriend - and asked where I was from.
I said I was from Belgrade.
He said he'd been mistaken "I thought you weren't from Belgrade because Belgrade kids don't listen as well as you do. Why don't you come by my office for coffee in spring?"
I didn't know at the time that 'coffee with the professor' was a famous honor. It was the ultimate treat to be invited to his office for coffee. Spring rolled around, but how was I supposed to ask him when I could come? I just waited.
One day he came over and said "Feel free to come on Friday if it suits you, I take visits between 5 and 7PM.
For a full twenty years I visited him at his home next to Atelier 212. I took Zoran Radmilovic and Butkovic to see him, Petar Kralj, Baja Bacic...that's where I met Dobrica Cosic and a whole slew of literature authors who greatly valued all of his opinions on their works.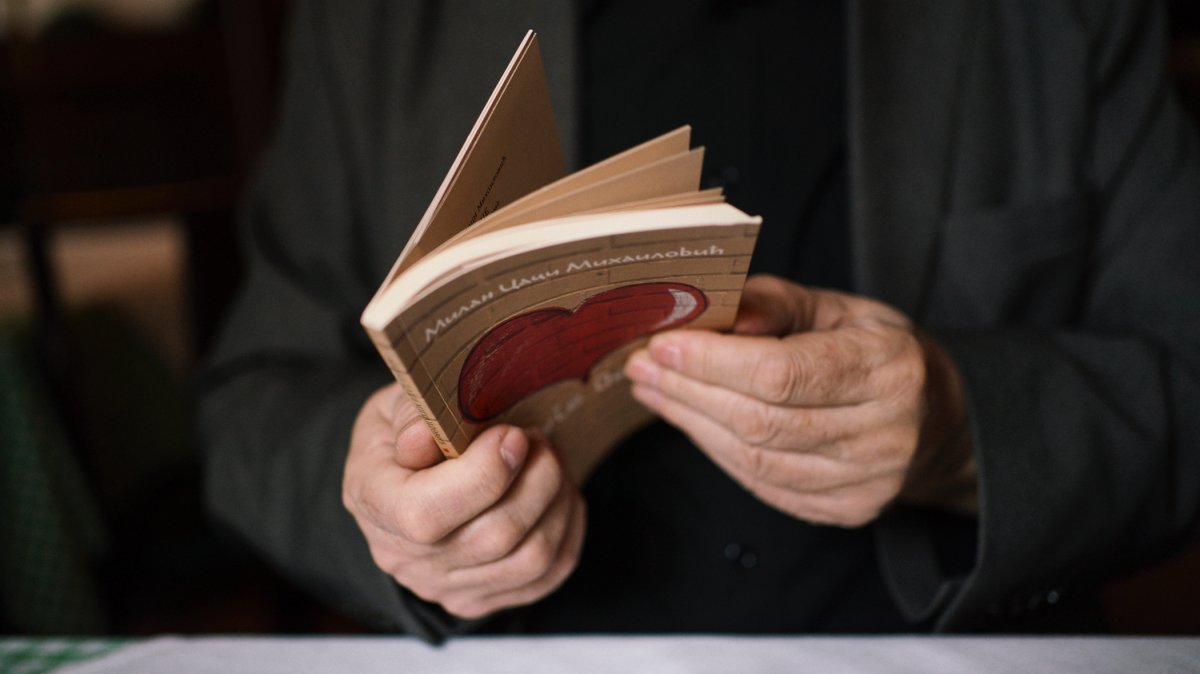 To this day I stop whenever I pass his house.
He and I were very saddened by Zoran Radmilovic's death back in the day and had the idea of erecting a monument dedicated to him in front of the Atelier.
Muci Draskic had it done straight away. First there was the bust which now located in the foier and later they set up Ibi.
When the bust was revealed, Rasko wrote a letter because he couldn't leave his apartment anymore and I read it in honor of Zoran Radmilovic.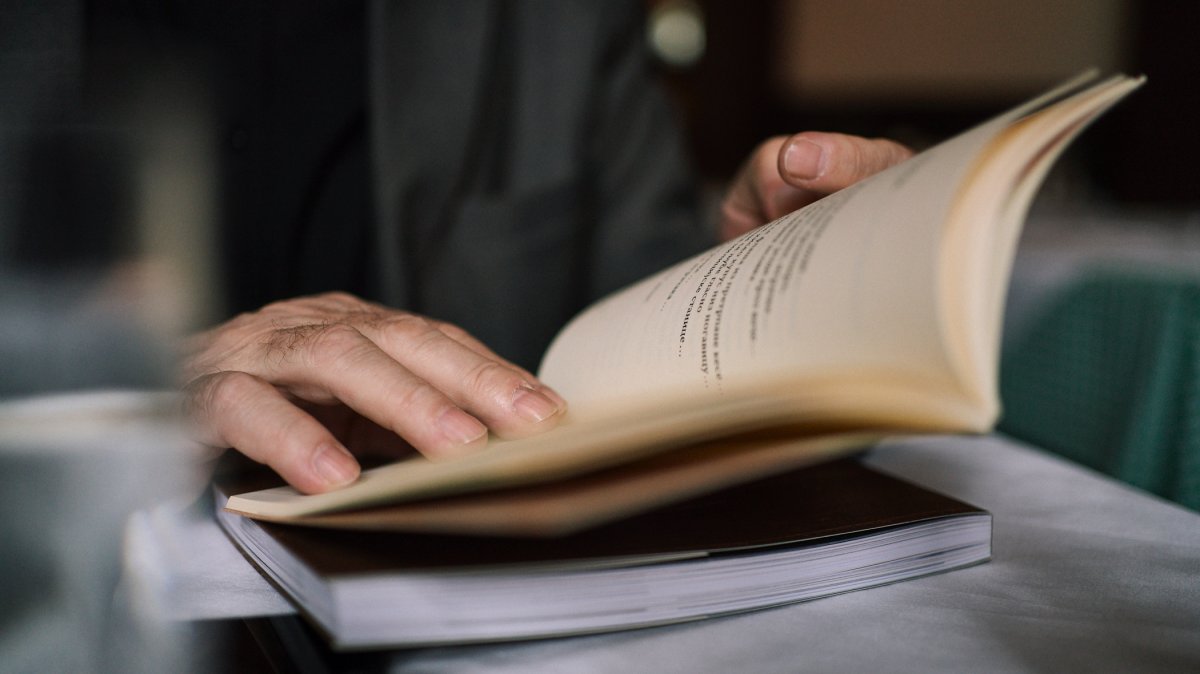 Still, you sailed into the acting world.
After my first year of literature studies, I enlisted in the Academy on my first try. Back then I thought that I wouldn't have re-taken the test if I hadn't passed on the first try, which was wrong.
That year we had a lot of actors' children at the entrance exam. There was Branko Plesa's son, Ckalja's son and Miki Micovic who was already famous enough by that point.
When I saw that some famous names had failed the exam, I was pretty nervous. But I ended up passing.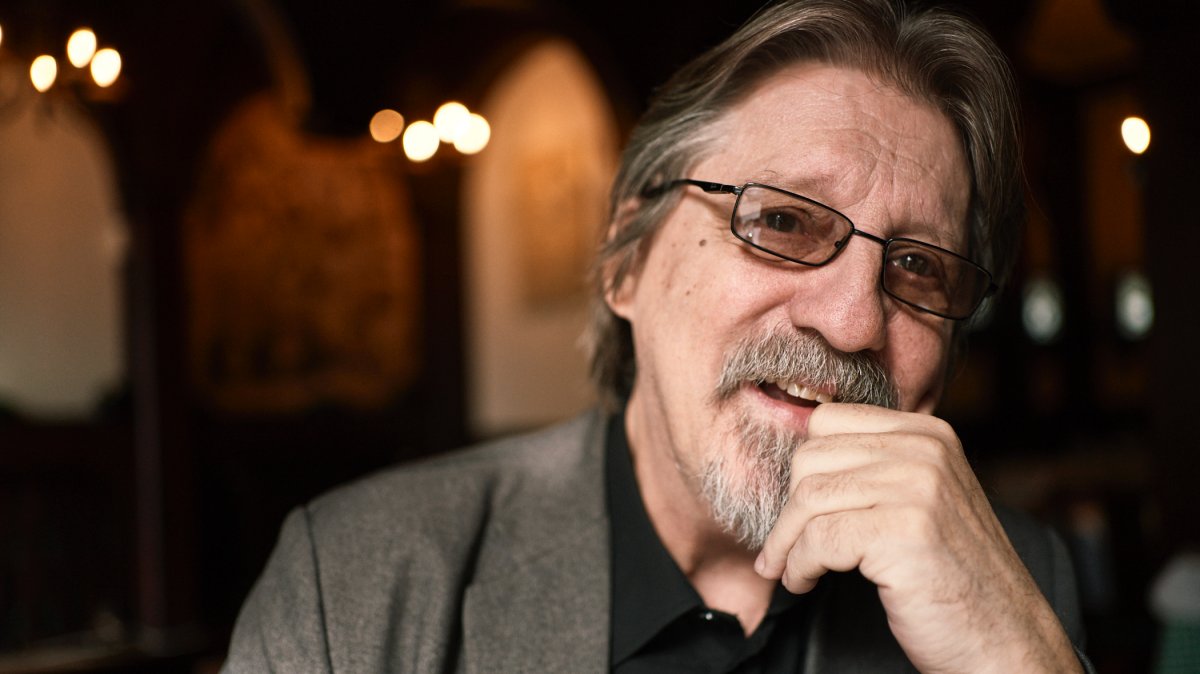 There's an interesting story from that period.
There was a rule that you weren't allowed to work anywhere during your first two years at the Academy. However, I don't remember if it was Ejdus or Marko Nikolic who came one day when we were second-years and told us they were making a radio show and they wanted us to come work on it.
I said don't, we'll be expelled, we aren't allowed. Minja Dedic was chief of Academy board and he'd already expelled some people from the first year. Beba Zugic, later Kapicic, was expelled from the first year because she had gone to Italy for a few days and couldn't attend class.
They told us "Oh, it's just radio - nobody is going to see that."
So somehow, they convinced me and we started making the show "Tip-top cabaret". As it happens, the newspaper publishes in huge letters "Show recording began", listing our names in full view. We thought that was it for us.
Luckily, nobody saw it.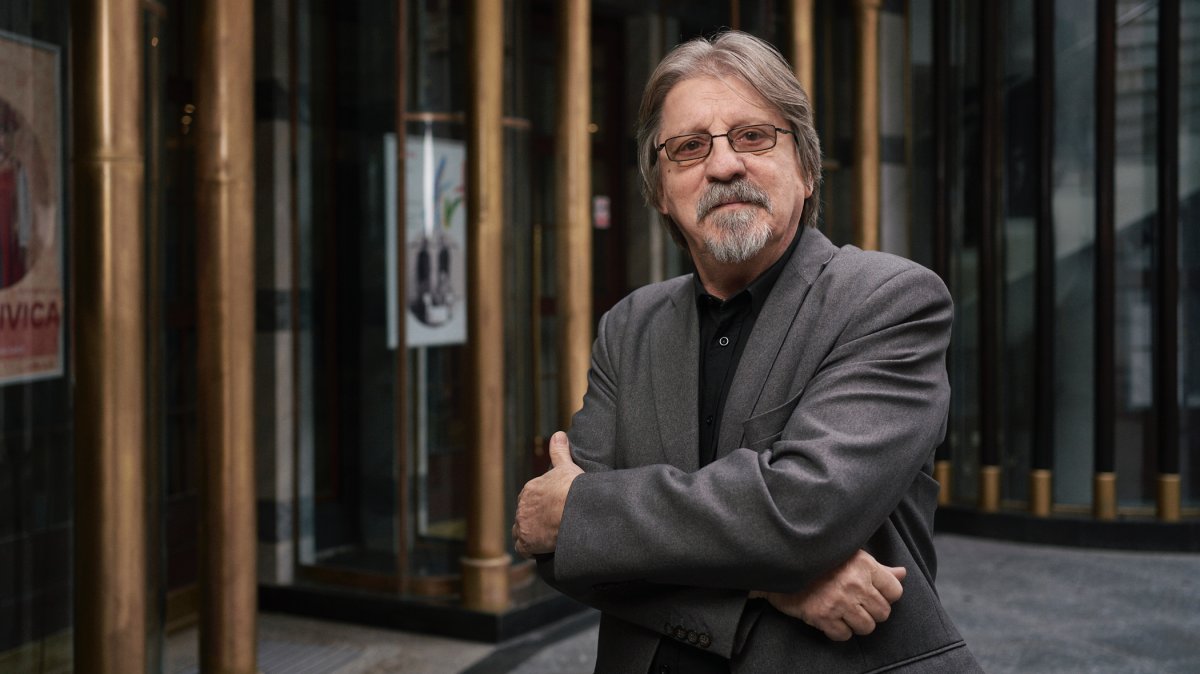 You also had a stipend from the National theatre, but your goals lay elsewhere.
One day in first year a professor came to us and said that the National theatre grants a stipend every year to the best student in class. We had no idea what we were doing, let alone how good we were.
The professor says my name and that was how I got the stipend for three years and immediately after graduating from second year I landed a role at the National theatre. I played Gavrilo Princip in a play called "Sarajevo assassination" directed by Arsa Jovanovic.
You can't imagine how a young man feels marching through the employee entrance of the national theatre for the first time. For the first time I got to sit at the same table with names like Pera Banicevic, Jovan Milicevic, Mika Viktorovic, Predrag Tasovac...
And that's how it all began.
It made sense for me to stay with the National theatre, which was where I graduated. Our graduation plays were aired on TV and directors, actors and theatre managers would come and watch. It's different nowadays. Back then we took greater care of each of these young people's futures.
Anyway, my heart was set on Atelier 212. And imagine, I graduated on 5th of June 1972 and only a few days after, on the steps of the Academy, I was stopped by Mira Trailovic who said to me "Milan, Jovan Cirilov and myself watched you, you have to come to the Atelier".
I told her I was a stipend holder for the National theatre and that I'd have to think about it, but on the inside, I was thinking "There is a god!". And that was how I got my wish.
After 42 years at the Atelier and two years with the National theatre, I retired in 2014.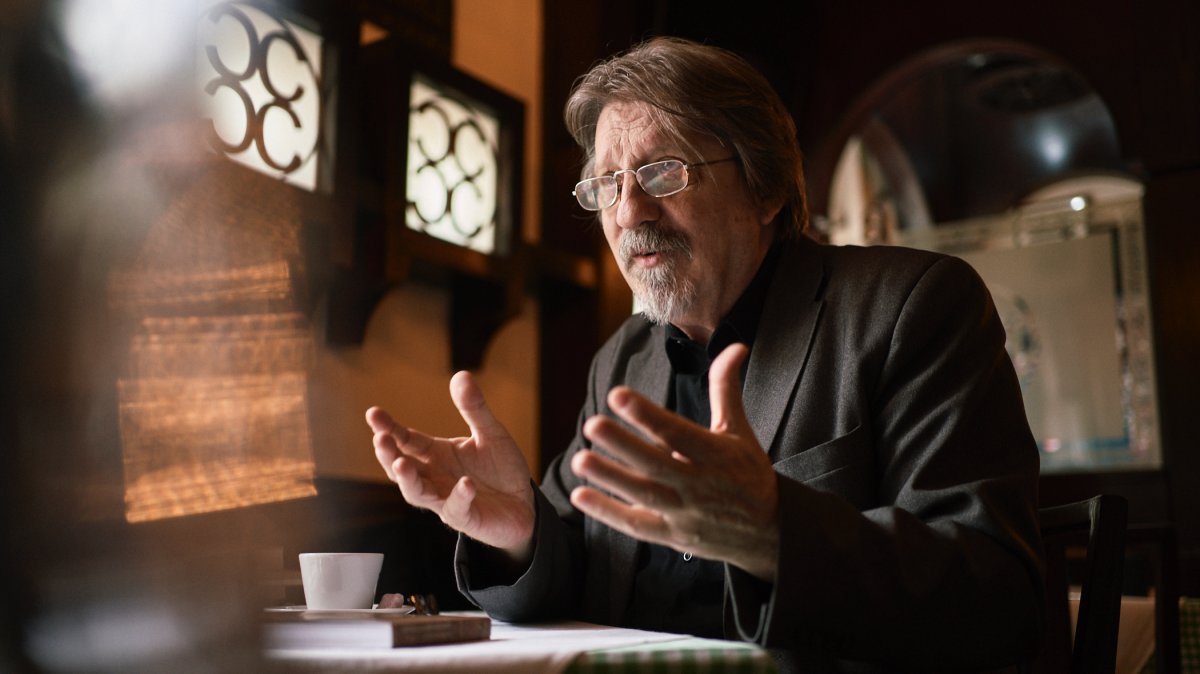 But you continue to work on.
I'm very fortunate to not feel as though I've retired. I play for four theatres and have been working on the radio show "Kod dva bela goluba" for over 35 years now. I also record for the drama program when called. It's important to keep working. A person should work it out with themselves what they'll do on any given day and I stick to it.
Just recently I did a show with Vlasta Vlaisavljevic and we were talking. I asked him "Vlasta, how long have you been driving". He replies "My license number is 4."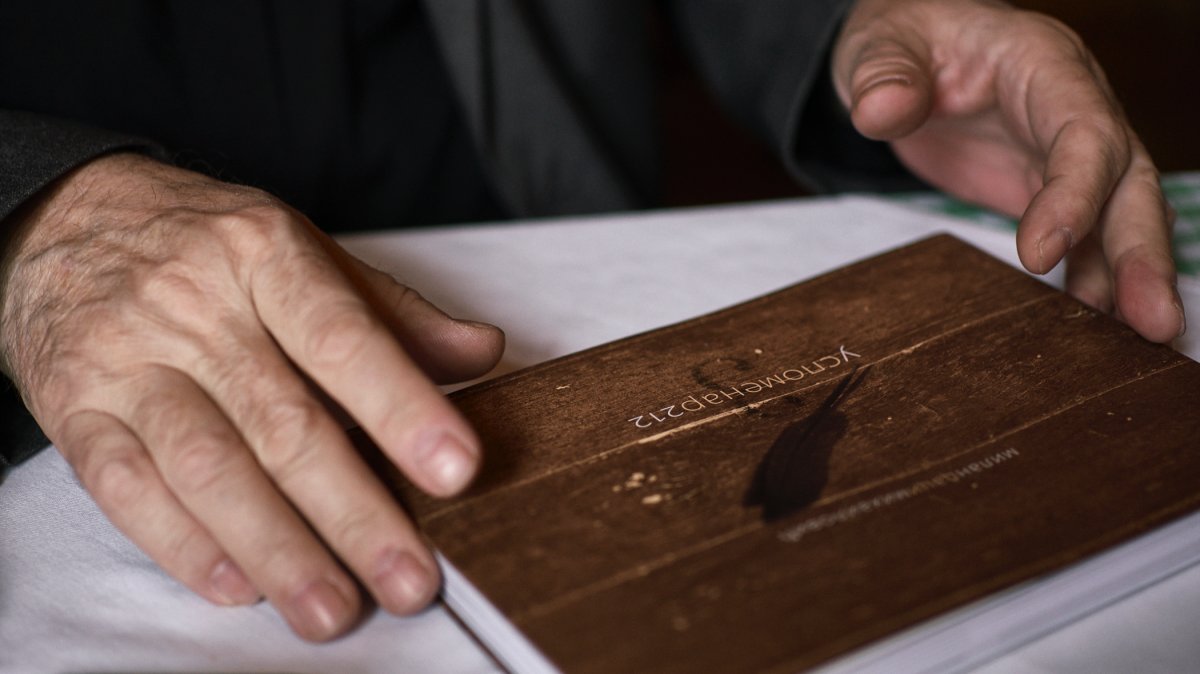 In addition to everything else, you've also written "Uspomenar 212", a collection of anecdotes from Atelier 212 everyday life.
Ever since I joined the theatre and having spent time with the people there, I've considered it a shame that all those funny and interesting moments would be forgotten. That's why I took notes on everything I could - a piece of paper, napkin, margins of a document, knowing that these things are forgotten quickly.
That's how I collected those notes, not really intending to make a book out of it. They just piled up.
Still, it was perhaps thanks to this wonderful feeling I had after the first title that I decided to turn all of my notes into a book in which every detail matters. From the cover to illustrations and data - everything has its meaning.
Even many of my friends and family doubted anyone would be interested, but they were wrong. These three books under the "Uspomenar" title preserve a small part of that spirit of the 70's and 80's in theatre. Back then we had so many big and important names that it's hard to imagine so many greats in one place. Mira Trailovic, Cirilov, Mihiz, Cica Petrovic, Zoran Radmilovic, Ruza Sokic, Renata Ulmanski, Ljuba Moljac, Pera Kralj, Gaga Nikolic, Aljosa Vuckovic...
It was an incredible environment.
For example, I was scheduled to play an minor role in a play directed by Muci Draksic. But I got drafted into the army and management called in the star actor Zoran Radmilovic to replace me. And he said yes. Today, that type of thing is hard to imagine. But it shows that there was a good working atmosphere.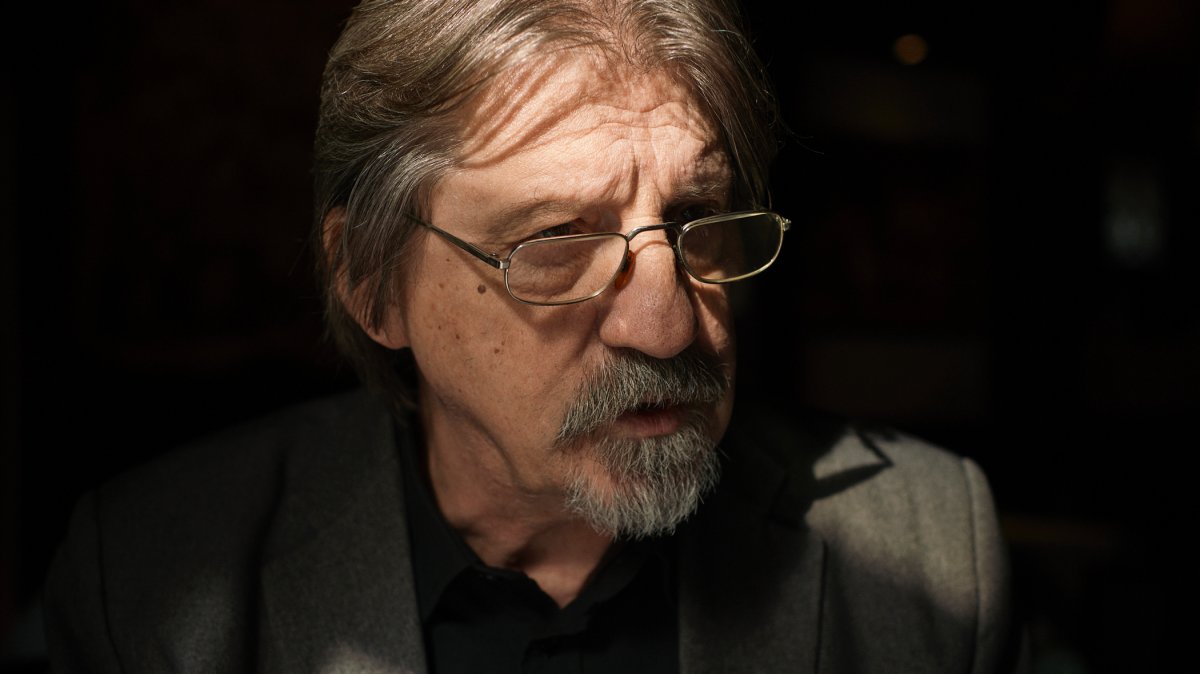 You've worked with Zoran Radmilovic for years.
I was lucky to have him as my director too. He used to direct. He turned the play "Sumnjivo lice" into one called "Nesumnjivo lice" in which I played the role of Djoka Promincla. It was an amazing experience. He was so gentle and protective of his acting crew.
At the time, Ellen Stuart would often make guest appearances with Mira Trailovic at Bitef and everyone called her La Mama. As a play on words on that, I christened Zoki La Tata.
I got to act alongside him for 13 years and that was a big fortune for me. Everyone always talks about Radovan and Ibi, but there were many other roles he shined in - "Psece srce", "Santa Maria della Salute" where he played Laza Kostic, "Korespodencija" where he played my father...a whole slew of characters and plays we brought to life together.
We also lived near one another and since Zoki stopped driving a few years before his death, I often drove him places and had various interesting adventures with him. There are probably around 40 or so stories in my book related to him.
In addition to Radmilovic, who else would you say has influenced you?
Probably one of my father's closest friends who I also worked with at Atelier 212, Ljubisa Baja Bacic. Wonderful man, versatile and multi-talented. He was primarily a star singer in the 50's and 60's but also a translator and drama writer. When he retired, he published a fantastic poetry collection "Stena gologlava" that featured poems about the elderly.
One of those poems was about my grandfather Trajko.
I told him how my grandfather was born in 1884 in a time when male babies died often, so they named him "Trajko" to make him last, and also gave him an earring against bad luck. Baja wrote a poem called 'Trajko' inspired by that story and included it in his poetry collection that was later given the Milos Crnjanski award.
When we celebrated my grandfather's 100th birthday, Baja Bacic attended and brought that poem as a gift to him. Baja was 63 at the time.
My grandfather Trajko, as you do, read the poem on his 100th birthday without glasses, looks at Bacic and says "Young man, you should keep writing." :)
I was also very close friends with Milutin Butkovic, the man from 17 Palmoticeva street. An old-school Belgrade gentleman with whom I had a wonderful understanding. Ljubomir Muci Draksic, the director, used to call us "The Devil and his disciple".
Muci was a great guy. He directed 32 plays at the Atelier, of which I played in 15. I also worked with him to make an interview for the show "Kod dva bela goluba". Muci left us in 2004 and I still miss him dearly. To this day I sometimes go inside the Atelier and expect to see his head poking out where he used to sit. He was one of the few people who knew how to give you good directions with just a single word. 
Ljuba Moljac was another close friend of mine. Sadly, he left us far too young, falling over in the middle of his performance in Glina. He got an applause, everyone thought he was goofing around, but he left us in 1989.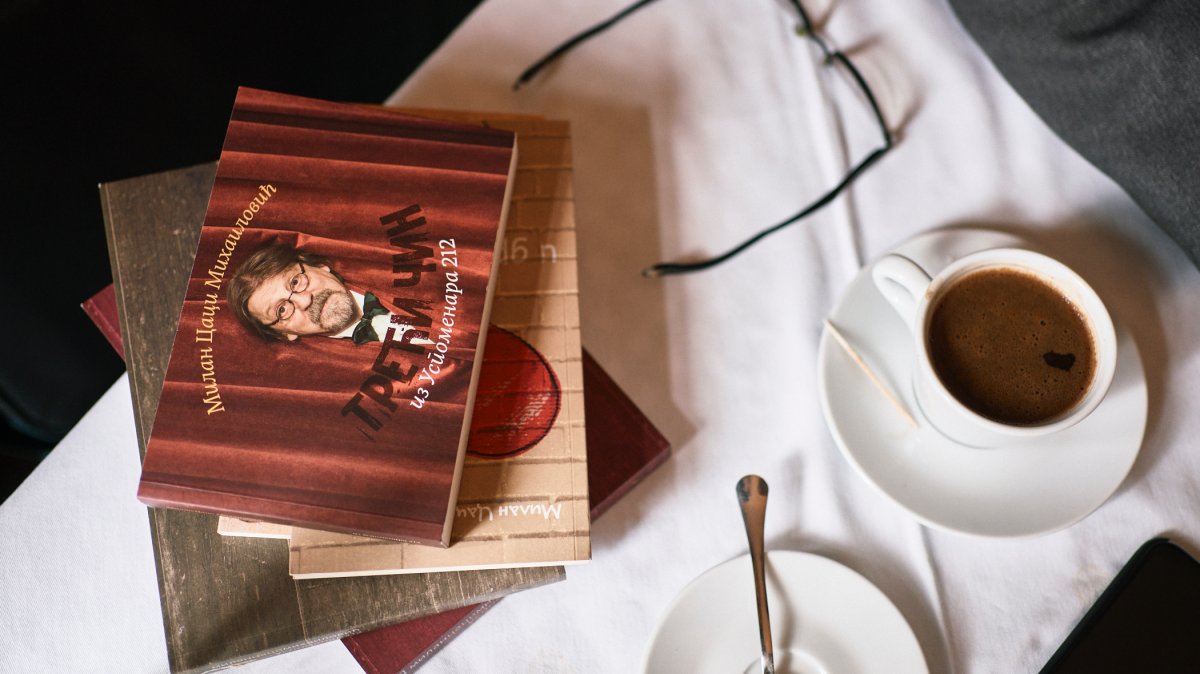 Theatre and literature have marked your life. Were there any other interests you didn't get to pursue?
I regret not learning to play an instrument. They enlisted me in music school to learn the violin, but I had this nasty professor and I wasn't doing well. I wanted to avoid it at all cost and was miraculously saved by scarlatina. That was the end of violin.
It means a lot to have a good person for a professor if you need someone to motivate you.
When I was a baby, my father brought me out in front of our gate. A shipping cart was passing by, pulled by horses. The carriage driver stopped and came down to see the baby. He took one look at me and said to my father "This one is going to be a writer".
I remembered that story when I became a member of the writers' association of Serbia. I got my membership card and had a good laugh about it. My name was on it and under it was stated 'writer'. 
You've also written two poetry collections.
I have one collection of poetry for children that I published first. I renewed the edition when my older granddaughter started school and dedicated it to her.
When my second granddaughter was born, I wrote the poem "Nov covek" which accidentally showed up in a competition issued by a magazine called "Akt" from Valjevo which awarded the first place to three authors. I split the first place with Pera Zubac and Baja Dzakovic.
I also published a love poetry book with a collection of poems I'd written from highschool days until now.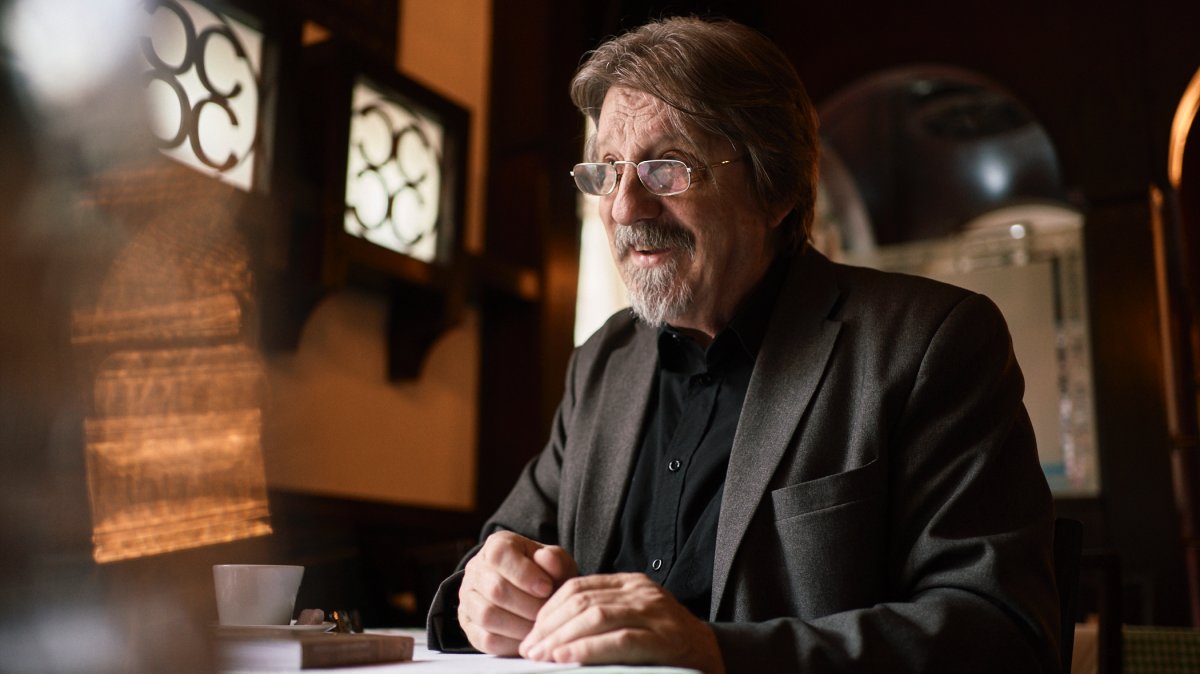 What are your plans for the future? Will you maybe write a play?
Who knows, it might happen. But that takes time and every time I look at my schedule it's always full. Something is always happening.
I respect the agreement I made with myself that I take everything that happens as positive. It's rude to be a grouch.