15.02.2022
Nela Buncic Vukomanovic: Yugoslovenka from Tasmajdan
You train with her through your TV screens every day, while she is also on Instagram under the handle Yugoslovenka, where she provides her followers with their daily dose of exercise motivation. Nela Buncic Vukomanovic, journalist, influencer and above all a woman who is in love with sports, talks for 011info about interesting things from her life, her incredible love of ballet and running and about how she began her journey of promoting healthy lifestyles online. 
What were your earliest memories of Belgrade? 
Popcorn from Tas that my grandfather used to buy for me. I was born and raised in that neighborhood. First in 27. marta street and then Ilije Garasanina street. Back then, Tasmajdan was the center of the world for me. My late grandfather often took me there - he was a general in the JNA. As such, he never showed too many emotions towards his grandchildren. But we had a special relationship, probably because I was the youngest. I remember clearly those days when I was only four years old and my grandpa took me to Tas and bought me popcorn. 
To this day I love popcorn and the Tasmajdan park. 
Tas and sports naturally go hand in hand. Did your love of physical activity originate from your love for Tasmajdan?
Something like that. When I was almost four years old, I started practicing contemporary ballet, mostly to straighten my spine. I fixed my problem very quickly and grew to love ballet along the way. 
As it goes, I had a sudden growth spurt and had to take some exercises in order to develop properly. With all of that, my love for sports was born. I have never stopped doing sports since. Usually some type of dancing, until I turned 18 and started turning towards fitness and running. 
What was your favorite sport to train? 
Ballet is still very dear to my heart. It comes from this pure and innocent childhood memory. I'd give anything to be with my old friends and company from those days. Our late instructor Olga Vuckovic took us on all sorts of competitions like the "Joy of Europe" and those were really wonderful days. 
I danced under Mrs. Olga for a full 10 years, after which I went to an older group and then other clubs after that. But it just wasn't the same. The Children's culture center left a mark on my life, it was truly a wonderful period of my growing up. 
Though I'd like to return to ballet today, it's sadly not feasible anymore. I suffered a severe knee injury while skiing so that would just be an unnecessary risk. That's why I turned completely to running. 
How difficult was it, physically and psychologically, to recover from that injury?
Honestly it took a much bigger toll physcologically than it did physically. You can push through physical strain, but your psyche will pull you down and not let you rest. Sports are a lifestyle for me, they make me energetic and happy. When I'm injured or sick and can't train, I am literally not myself. I miss the endorphins that my body produces when I do sports every day. 
This knee injury happened on 3rd of January 2019. Previously I ran the New York marathon in November. So I was in top shape. But I made a stupid mistake skiing and ended up on crutches for the next three months. That would all be fine if I didn't have problems with inaccurate diagnoses. I was constantly psychologically dropping during that time. Shortly before that, I could've ran 42km with no problems, and after getting injured I couldn't even walk 10km. But my friends and family kept me going and I could still do some basic exercise despite everything. 
Still, you managed to recover. 
In the end, I was fortunate enough to have an elite surgeon perform surgery on me in Banjica, after which I recovered with a phenomenal physical therapist. There was visible progress after every therapy session. I also met some people with far more tragic life stories than mine during that time, so I learned to be grateful for my own life. I realized that nothing in life should be taken for granted and I should appreciate what I have. From that moment, I've been full of motivation and always up for anything.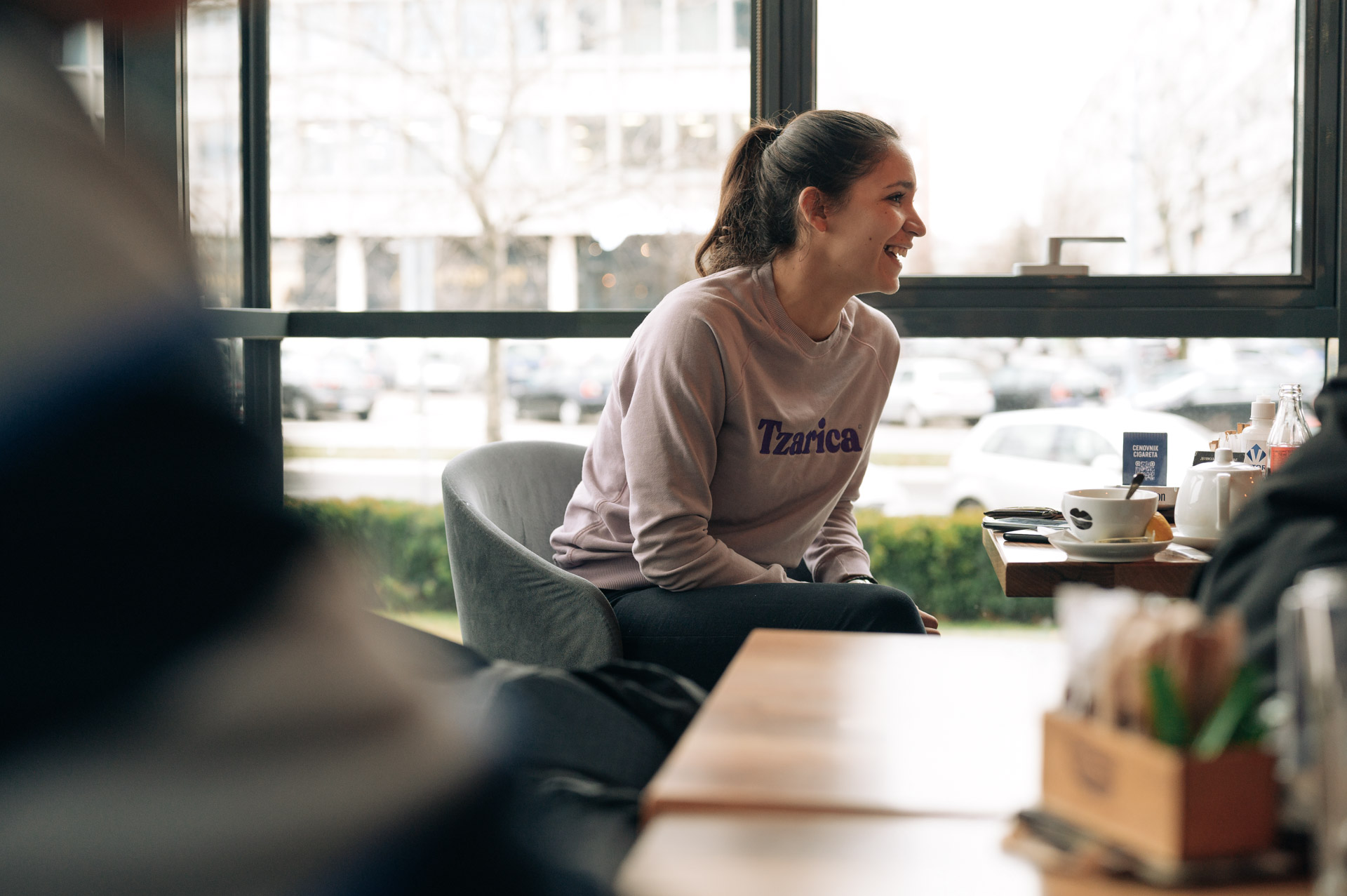 So this traumatic experience has made you stronger going forward? 
Exactly. That was by far the hardest period of my life, especially because during that time my father became ill with cancer. We got the bad news right when I was about to have my surgery and I had no outlet for my emotions during that time. But once you find the strength to deal with that kind of situation, it will make you stronger in life. 
For example, the marathons I ran in the past helped me deal with many such crises. In those kinds of races, you usually hit a wall around the 17th kilometer, where your spirit is willing to go on but your body can't. Then again at 35km where both the spirit and the body start to fail. When you overcome those physical and emotional obstacles, you'll be stronger in every possible way and everything is easier after that. 
What was the first competition you were in? 
It was ballet, of course. I've been in countless competitions, but the one I especially remember was our guest performance in Sanremo. Our fellow competitors gave us some plastic rings they bought somewhere to congratulate us for our won third place. We were so happy. When we got back, we performed for the RTS morning program. It was quite the spectacle. 
By the way, in those days they really invested a lot into children and sports, it wasn't just fads like it is today. It just all carried more weight than today. 
Have you experienced a similarly thrilling competition since then? 
Yes, for sure the New York marathon. Although I'm not known to be an emotional person, I was crying by the end of it. It was a huge life goal for me that I managed to achieve. At the same time, it was the best event I ever attended in my life, although I don't really like New York as a city. 
What makes the New York marathon so special? 
When it comes to the race itself, there are thousands of people in the street from all walks of life, all races and ethnicities - all cheering from all sides. Homeless people on crutches are handing out gummy bears to help you elevate your blood sugar level. You feel like you're in heaven for the entire 42km. The atmosphere is just unreal. 
My plan is to participate in all the marathons and then do the New York marathon again.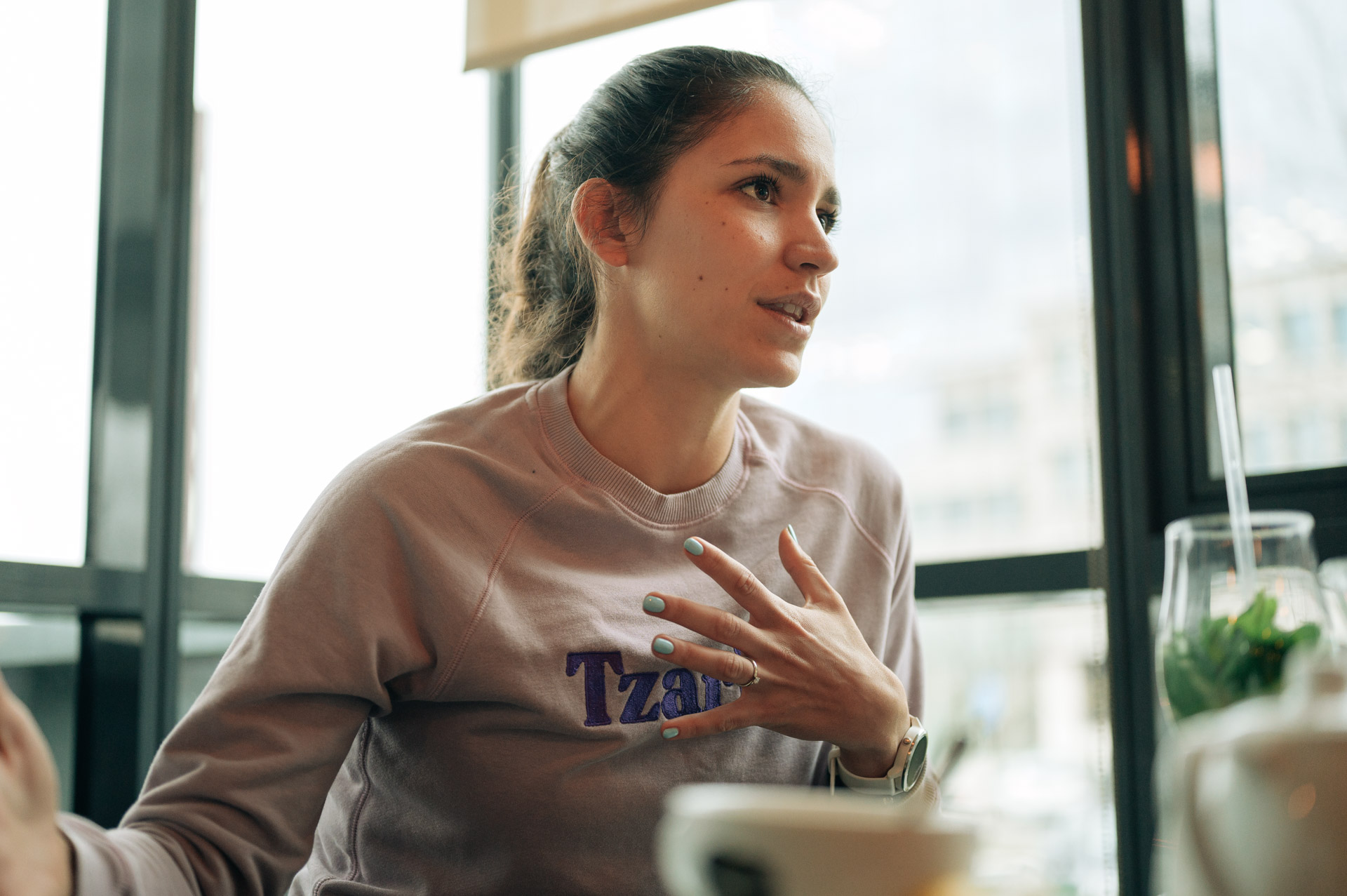 What about the Belgrade marathon?
That's definitely a big favorite of mine. I always try not to miss it for anything. The New York marathon aside, I love the Belgrade marathon and have run it countless times. You run in your home city with your friends and acquaintances - it's priceless to me. 
The one time I missed it was the year of my leg injury. I just couldn't recover in time so I ended up leading the competition instead while my then boyfriend - now husband - ran in my place. 
Previously I used to run free online preparations for anyone who wanted to participate in the race. By the end of the marathon, so many people came over for a hug and to say thanks for my help. So even though I didn't run, I still feel like I won that year. All my hard work in social networks has paid off, promoting exercise and a healthy lifestyle. That meant a lot to me in life. 
How runner-friendly is Belgrade? 
First of all it isn't, because of pollution. That's the main and biggest issue. When air pollution is that high, it's not advisable to run at all. 
But in terms of running in Belgrade in general, it's in style right now. More and more people run. There aren't enough running tracks, but we make do. There's the tartan track in New Belgrade, there are quays. On the other side of Sava river there's Ada Ciganlija, Tasmajdan, Hyde park, Zvezdara and Banjica forests. I'm not sure where you can run in the suburbs other than the concrete areas. So it would be good if more options were made available and every part of the city got one or two parks for sports activities. But then again, I love Belgrade too much to be too mad about it. 
How did you begin your journey as an influencer and sports promoter? 
I just started an Instagram account back in the early days of the platform. At first, I just boasted my completed races and swollen feet. Bear in mind, back then it wasn't the money-making advertisement machine that it is today. The so-called 'influencers' didn't appear until later. 
I got my first sponsorship by applying to a call issued by a sports brand. I was selected and signed a contract for several years. As part of my contract, I took pictures, promoted them on social networks and in return got the latest running gear from them. I didn't even have more than 1000 followers at the time. 
I earned my first bit of money from this when I was at around 3000 followers. It was a 100 or 150 EUR. My household was in disbelief (laughter). But it continued to grow on its own and in time I became more famous. My followers are mainly people - mostly ladies - who are into running and fitness. 
My profile is focused on motivation with emphasis on healthy lifestyles and thinking, which I feel is very important seeing how everything is so readily available to us from our armchairs, so to speak, just a click away. I like to say that humans are animals that are made for moving, not sitting. For example, I myself sit a lot during my working hours, but then I make sure to take the long way walking everywhere to keep moving as much as possible. Secondly, people forget that there are healthy substitutes for many foods. For example, instead of chocolate, you can have a banana, honey and peanuts and you're good. I try to remind them of this. 
In addition to sports, you are also dedicated to the media and journalism. When did your love for these professions start? 
Since an early age. I've always known I wanted to be in some kind of public profession. It was only a question of what it would be. In my 3-4th year of highschool I went to our school psychologist for business orientation because I wasn't sure where I wanted to go from there. My options were DIF, Security college and the Academy. 
When I did that test, which I would recommend to everyone, the psychologist told me "You should work in the media". Per her recommendation, I enlisted in the Faculty for media and communications. And that was the right choice because that educational institution really keeps up with the times. Among other things, Lazar Dzamic and Voja Zanetic were my professors. I learned so much from them, from montage to writing. Those are all skills I still use in my professional life. 
You really wanted to try your hand on television. 
True, when I was 18 or 19 years old, I applied to a competition for a TV personality issued by RTS. There were several selection stages, ranging from a general awareness test at Sava centar, to a group interview, to a practical segment with presenters. I did well and entered the final stage. Around 10 of us made it to the shooting studio and that was it. I was impatient to see the results, but for some reason they never published them. 
After that I attended journalism schools and later got a stipend for TV Mreza. They had their own journalism school led by Olja Beckovic and Maja Zezelj. In the meantime, I graduated from officina under Sanja Marinkovic and Vesna Dedic. After all of that, I knew I wanted to be in front of a camera. 
After another failed competition for a weathercaster on TV Happy, I decided to focus on my faculty studies more seriously. I knew that I could work in journalism, PR or marketing as a graduated communications expert. 
Still, I got another opportunity to try my luck on television. My father saw a public announcement for a TV personality contest for Prva TV and talked me into sending my CV. I applied, got through all those rounds of judging and finally got accepted. That was my first professional engagement in the media. I soon learned it's a merciless industry that grinds you down and it ground me down as a young and enthusiastic person. I held out for a year and then quit, promising myself I'd never do television again. 
How did your professional development proceed? 
I applied myself to my studies and graduated college. I found work in Blic where I spent years. In the meantime Instagram developed a lot and I already had tons of experience making campaigns for clients and creating content. In time, through work and personal development, I got into the gist of things which I still use today as a marketing manager for Nova.rs portal. When it comes to TV, I have my own fitness TV show on Shoppster and that satisfies my passion for working on television. 
On the other hand, I own and lead a private agency which is linked specifically to my instagram account. That way I can be creative and be my own boss. 
I also work for other corporations and their employees, some of their internal activations usually pertaining to sports. People are often surprised when they learn I work for a corporation because I'm normally recognized as a sports personality in social networks where my word carries a certain amount of weight after so many years of working in sports, with people and other projects. 
Your education journey is still ongoing. 
That's true, I'm currently working on furthering my education. I completed one Master and am finalizing the other. The first one was at FON because I intend to be a media counselor in a state service when I get bored of what I'm doing. But for now there's no need for that! (laughter). 
I started my other Master at FDU where I have two more exams to complete - advertisement and media. Through social networks, I've learned to present certain brands to my followers without making it a classic ad. This involves a lot of creativity, familiarity with the brand and your audience and knowing how to package it all. In that sense, this Master's was a logical choice. 
Currently at work I'm renewing my lessons and designing campaigns and advertising for Nova.rs portal and I've just completed a scenario for our birthday advertisement.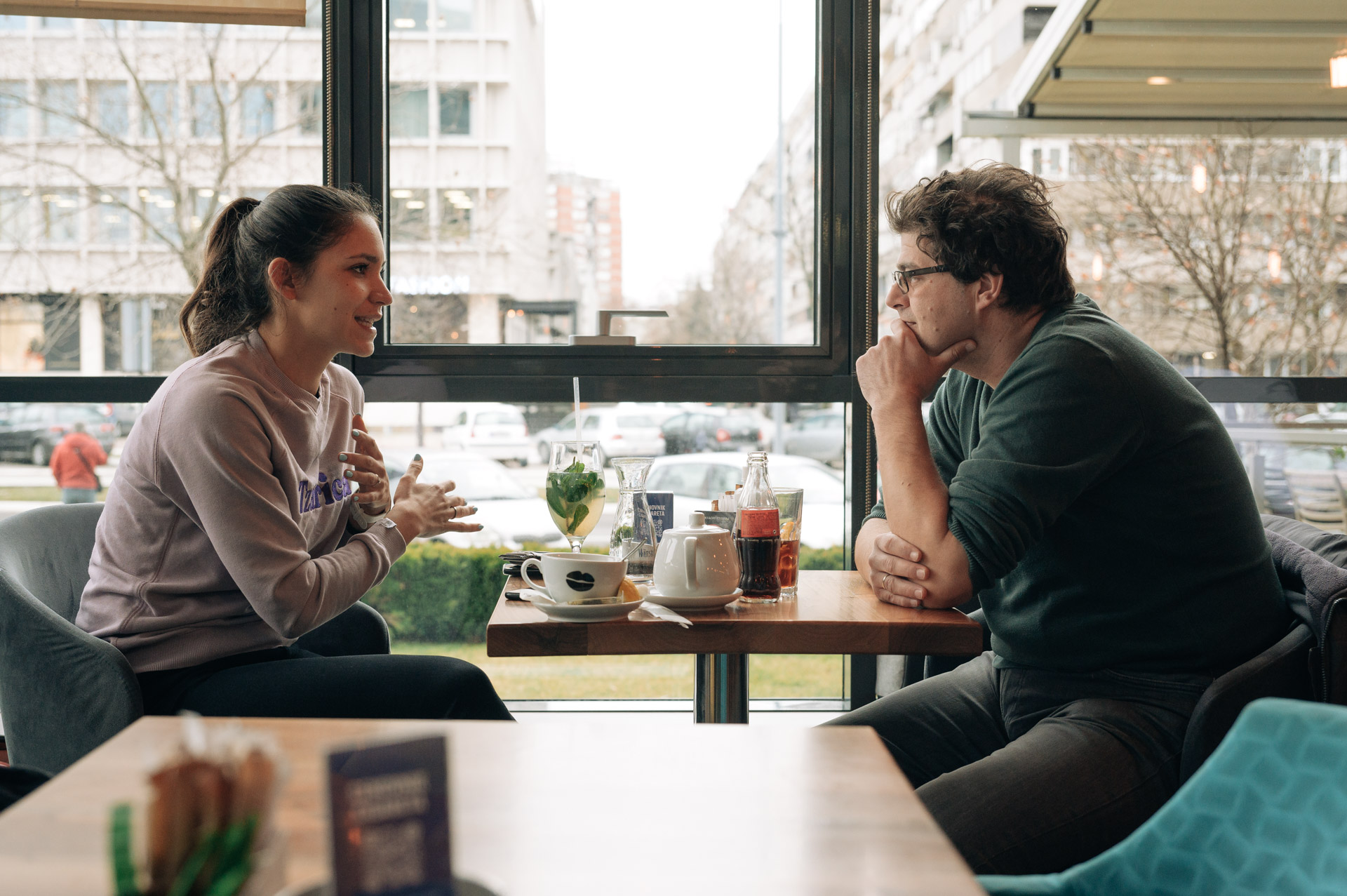 Where did your handle @Yugoslovenka on Instagram come from? 
Because I was born in the time of Yugoslavia. At first, I wanted to name myself "Beogradjanka" (Belgrader) because I was born in Belgrade and this is my city. But I have two passports - Croatian and Serbian and up until recently I kept saying 'lancun' instead of 'carsav' for 'bedsheet'. The reason is that my mom is from Dalmatia and that's where I spent every summer of my life. So I don't really see the difference between the nations of our former country. That's why the name Yugoslovenka (Yugoslavian) reminds me of our old unity. 
I still consider us the same people regardless of religion and I can't be something I'm not. 
I'm not the only one in my family from a mixed marriage, by the way. My puppy Vasi is also from a mixed union - she was born in Serbia but her father is from Croatia and her future partner will be from there too. (laughter)
So yes, I do like to mix it all up. 
It sounds like your puppy is an important part of your life. 
Absolutely. As a child, I had two dogs with my parents. Lea died in 2019, we had to put her to sleep. She suffered a stroke and lost control of all four of her legs. Oscar, who used to run with me, is 14 years old now. 
However, when I left my family home and moved in with my current husband, I left behind two dogs, a rabbit, two parrots and a cat. That's why I quickly started talking my husband Nikola - who is a huge animal lover too - into getting a dog because I don't feel safe running at 25. maj alone.
An opportunity came along when a friend of mine from the dance studio got puppies. She had one little female left with a hernia on her belly. I wanted that dog so badly I didn't even care. When I came to see her, I was moved to tears. At first everyone tried to talk me out of it because of her size. But when I brought her home it was over. Everyone fell in love with her and now she's our family member. (laughter). 
What are your plans moving forward? 
My plan is to start a YouTube channel focusing on health-related topics. The idea is to host various doctors who would give perspectives and analyses from their fields so that our viewers could get an idea of what to expect in different exams. This is an idea that's currently being worked on. 
Secondly, when I was in Africa, on a safari in Kenya, people were delighted by my stories. So I plan to archive all my future travels in a similar way as vlogs and present them to my audience. But there is no rush - whatever happens, happens.