15.07.2021
Nina Radovanovic: Boxer who is making sport history
Likable, modest and poised - this is the first impression when meeting Nina Radovanovic, the best female boxer that Serbia has ever had. Over the course of her career so far, this young champion has won numerous medals and, in 2019, she also won the prestigious IBO World Champion belt in the flyweight category. This year, Nina will be representing Serbia in the Olympic Games, writing new pages in the history of national and international sports. 
You grew up in Labudovo hill. How did a kid from Vidikovac decide to become a fighter?
One of my friends wanted to start practising a sport and he used to train with Red Star. Back then kick-boxing was really popular so we started going together. Our training sessions took place in a basement and there were maybe two other women other than me. But I liked it all a lot. I made lifelong friends there. 
I started competing soon after. I'd come to my training sessions two hours earlier and was really passionate about it all. I won state championship, representative as a high-schooler and I was also the junior champion of the world. 
It was then that women's boxing came up as an interesting story. My late coach Mile noticed I was doing really well and he suggested to a friend of mine and myself to compete in the Women's Boxing State Championship. We went and that was where I won State gold. 
After that I was invited to join our representation and that was during a short period when that women's sport had gotten some funding for the European and World championships and an independent Women's Boxing Union was founded. 
That's how I joined the representation and we travelled to China for the World Championship. Of course, we didn't do anything notable there. But those were my beginnings in boxing. When the Union collapsed, everything stopped. In the meantime I met my now husband who immediately understood how passionate I was about boxing and so we went to Germany and I focused on my professional career. 
It was then that I started training with an Ukrainian and I made my debut on the first match we organized in Serbia. 
Later, I boxed in Germany and got various offers from all sides, so I managed to achieve significant results. That's how the ball started rolling and now I'm going to the Olympic Games.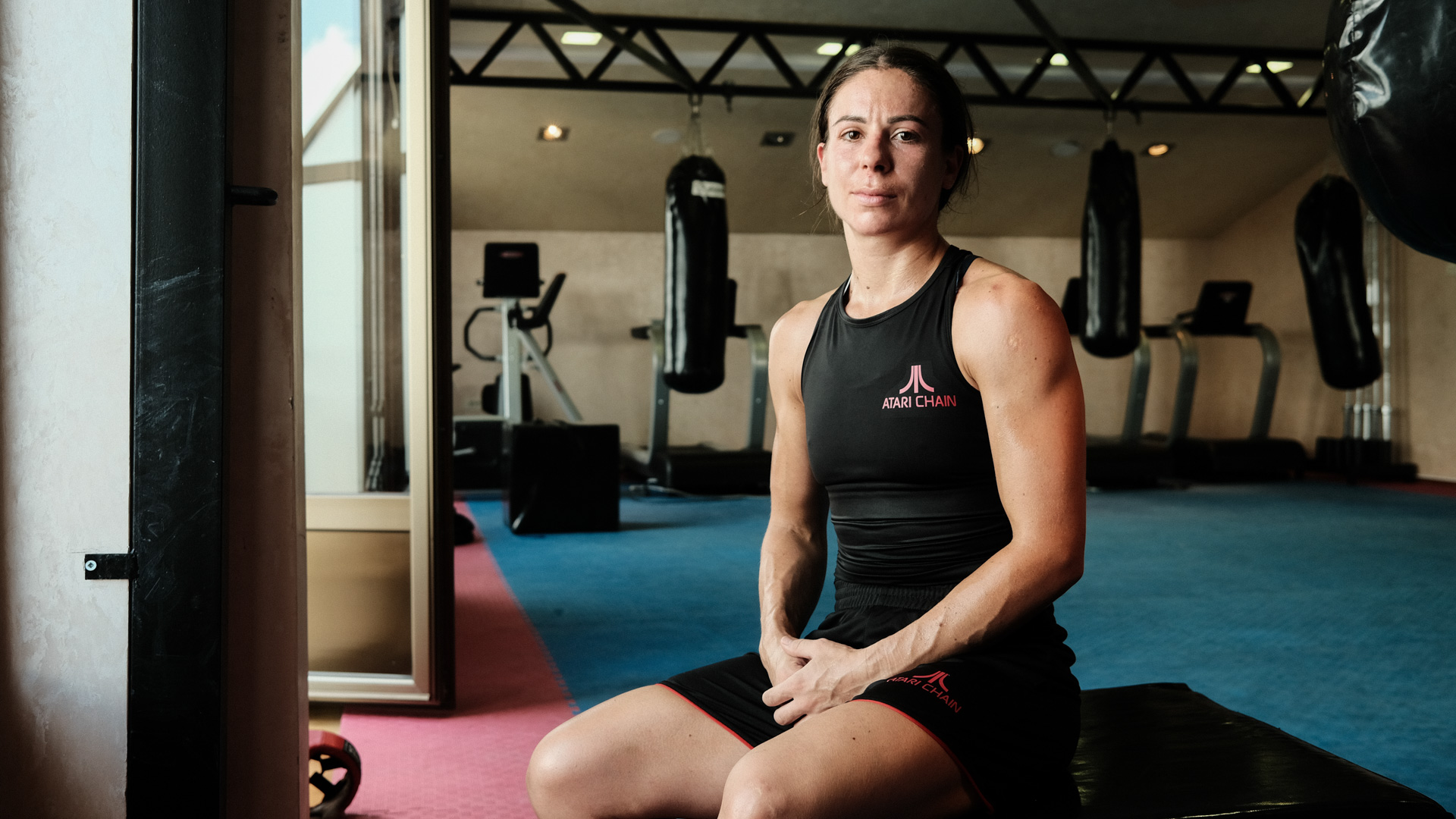 What's interesting is that in the same period when the Olympic Games are taking place, you got another offer for a professional match in London that would've landed you 20.000 pounds and, if you won, the WBA World Champion title. But you turned it down. 
The match was supposed to take place four days after the Olympic Games began, but I turned it down because competing in the Olympics is the pinnacle of any athlete's career. Maybe some will think that I am insane for turning down this opportunity for the sake of something that won't bring me financial gain, but I chose to represent my country and I think the world should know that Serbia also has top boxing talent to offer. 
By the way, many countries have been competing in amateir boxing for 15-20 years and it will be difficult for us to enter that system. If someone has been building up their lobby for two decades and the match is close enough for the judges to have to choose who to give advantage to, usually that advantage will go to the longer-standing participant. 
This match was supposed to happen under the Media Hearn promotion company, in other words at Eddie Hearn's estate - he is the best boxing promoter in Europe. Still, I turned the offer down the moment I got the news that I qualified for the Olympics. 
I hope I can go back to my professional career afterward. 
You did something unprecedented in the history of boxing, which is you went from professional boxing to amateur boxing, which cost you a lot.
Normally, you would build up your Olympic career first and then test the waters in professional boxing. With me, that happened the other way around because when I set off into professional boxing that was a matter of survival. 
Women's boxing only debuted in the Olympics around 10 years ago. In the meanwhile in 2016, professionals were allowed to go back to Olympic boxing, or in other words every country could decide for itself whether they want professional boxers to represent them in the Olympics. That's how I was invited. I was the IBO World Champion and I entered as an Olympic fighter. Then the IBO federation suspended me and took away my belt because I was undermining their reputation according to them. Namely, to them it was unimaginable that someone who was world champion at the IBO federation - like Anthony Joshua and Gennady Golovkin for example - decided to go back to fighting in the Olympics. They saw it as a lower level of boxing. 
Although I personally don't think any of that is true, to them it was unacceptable. That's how I decided to compete in the Olympics even at the cost of losing my belt. Of course, I can still compete professionally but some federations don't allow you to bear a title in that case. That's the case with WBC too, as they will take away the belt of any returning champion.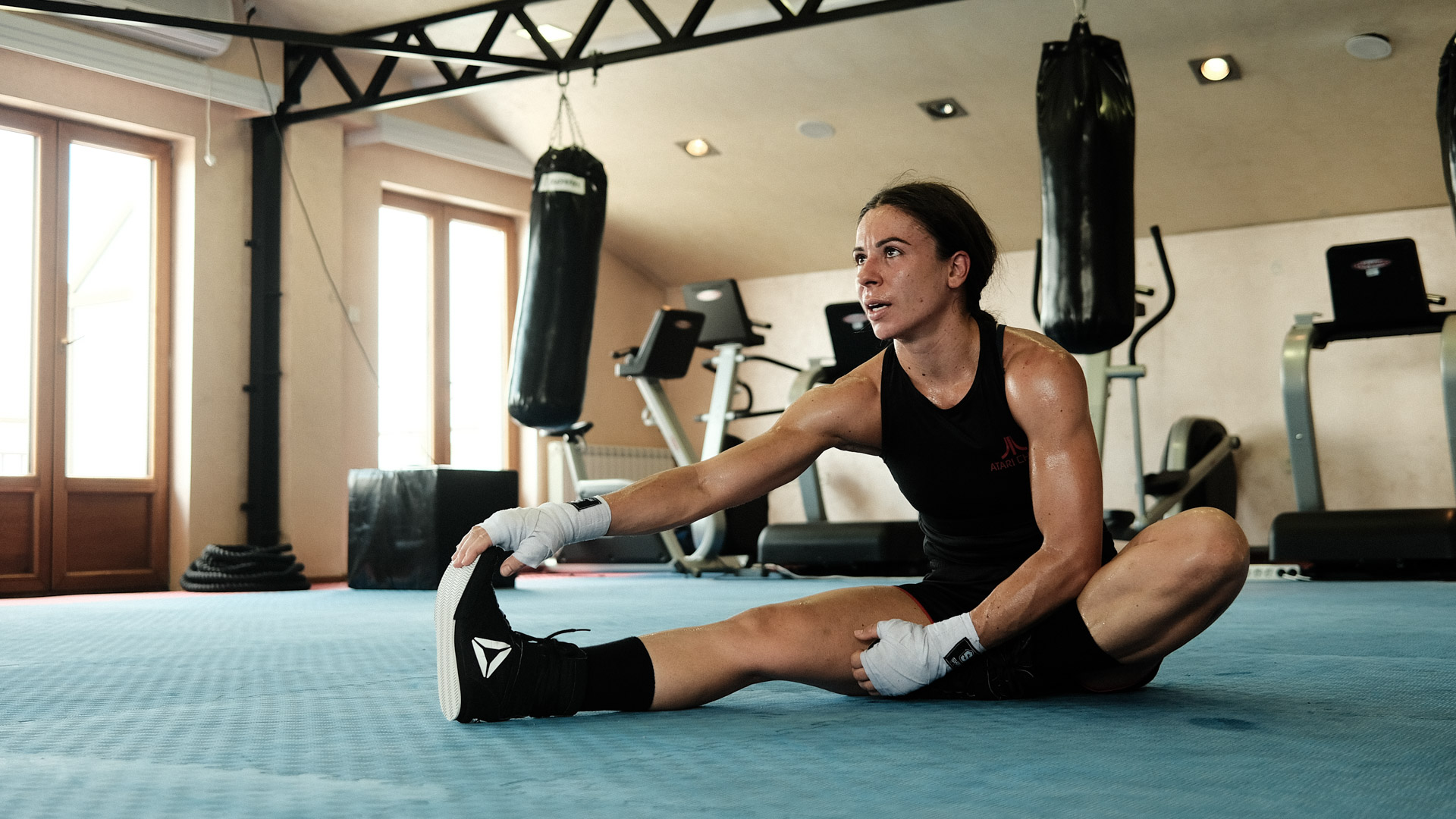 One big difference between professional and amateur boxing is the number of rounds per match. How does that influence you?
While I was boxing professionally, I'd have matches lasting up to 10 rounds which requires maximum preparation. It's a different style of boxing with professionals. There's no protective gear, the gloves are different and the entire ruleset is different than in Olympic boxing. 
There, the boxer represents themselves and their name. 
And yet the fights in the Olympics last for three rounds. It's a pretty short match and it's very hard for me to knock out my opponent in that period, especially since the gloves are thicker and we wear helmets. The fighters are much better protected and the referees often intervene and obstruct the fight. There are many factors that are outside of my own work and boxing skill but I think I can deal with it and that there are some higher forces at work to make sure you get to what realistically belongs to you. 
The fact is that I gained many friends in that world while performing in different camps, tournaments and competitions over the last years and I built a reputation for myself so that referees now recognize me. 
Can the fact that you come from professional boxing be an advantage in the Olympics? 
Amateur boxers view professional boxers like they're the 7th World Wonder. When they hear I box up to 10 rounds they're often terrified because for them even three rounds is a lot. They can't imagine themselves fighting for 10 rounds and I think they have a genuine respect for professional boxers. All of them have other things going on in their lives apart from boxing and live a different life, while we live boxing through and through. 
We are a family that fights with any means necessary and of course with the help of Boxing Association of Serbia we reach a certain level where we can fight boxers who have much more comprehensive logistics behind them and when they enter the ring they don't have to worry about anything other than the match itself, or whether they win or lose. Someone else worries about that. But for me it's different and I have a thousand things on my mind all the time. I'm also investing my own money and I need to justify the funds that my investors put behind me. That's why our story is such that we exhibit a kind of fanatical persistence and dedication and that's why we get results.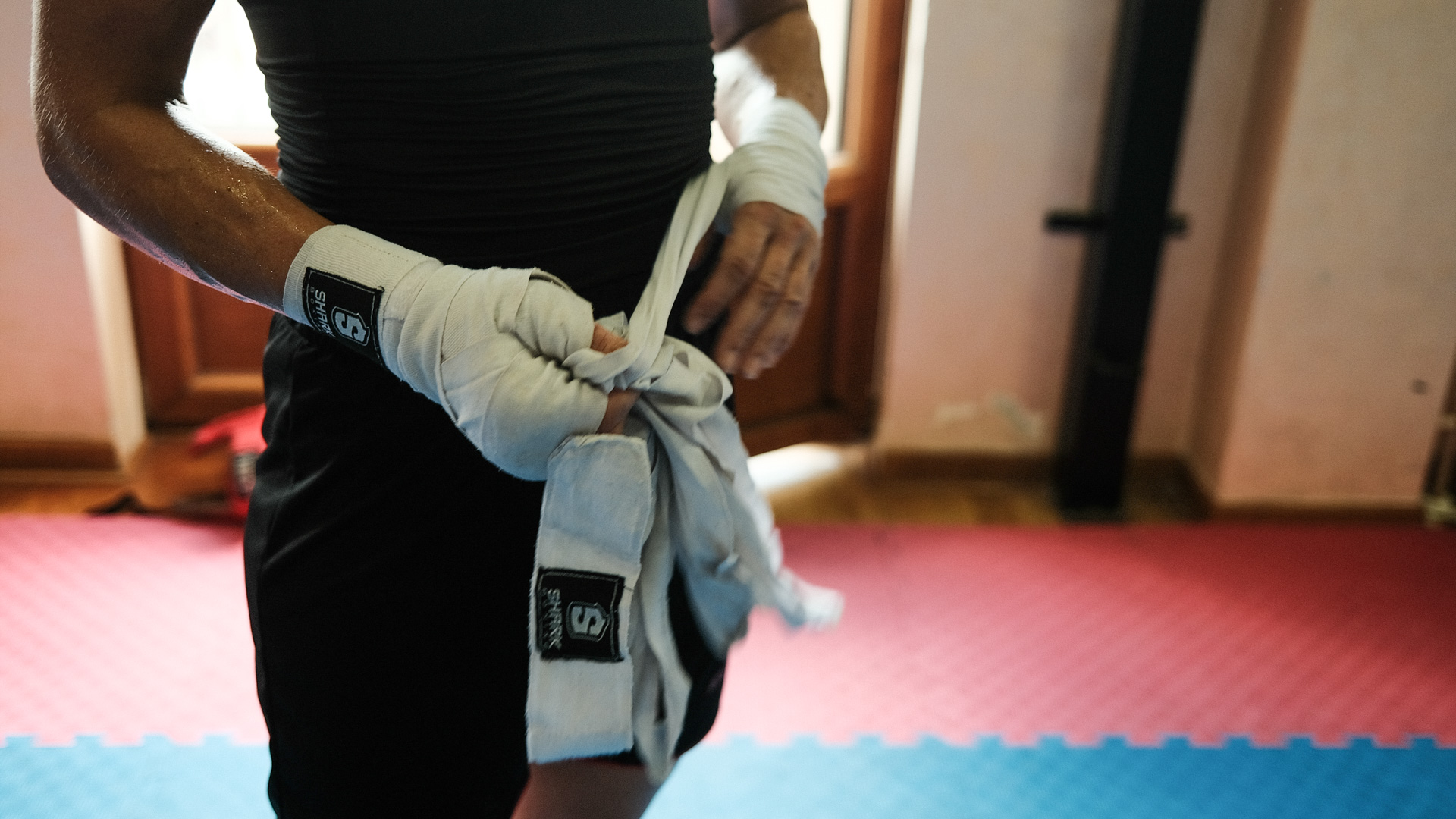 How problematic is it for you to get accustomed to three round matches?
I have adapted to it by now. I don't have a problem anymore with running out of time or getting started later in the match the way I did when starting out. Now I got my tempo and I'm not falling back anymore. 
On the other hand, the matches in the Olympics usually happen with one day of breaks maximum and there isn't a lot of time to rest. But those matches in amateur boxing aren't really that physically taxing for me because I'm well-prepared so I don't get exhausted. The most difficult part of the whole process is balancing my weight, because we have to get weighed every morning and you can't fall outside of the 48-51kg range which is the norm for my category. 
Still, if a woman boxes against me, I'll know that they will do around 30-40% worse in their next match than if they'd boxed with any other opponent in the brackets. 
On the other hand, when it comes to age you are now at the start of your golden period. 
In Olympic boxing, fighters compete up until they turn around 40. I'm turning 30 now so that's maybe the best time to get the best results. Women mature later in boxing and then achieve their best scores. These Olympic Games are a great opportunity for me to experience all these things and see how it all works, so that when the next Olympics come I can be more secure and say yes, this is where I belong and I'm here to get a medal. 
The Olympics are a huge deal. I believe that there are many things that come to focus for the contestants in addition to what they came for. You get to meet people you've only seen on television. Like Novak Djokovic. You want to exchange experiences with those people because nobody is more special than anyone else there and there's definitely a lot of excitement. I hope all of this will have a positive impact on me and give me more motivation. Though I say again, these Olympics are an opportunity for me to scout out the whole story so that in the next ones I can realistically become someone who can bring back home a medal.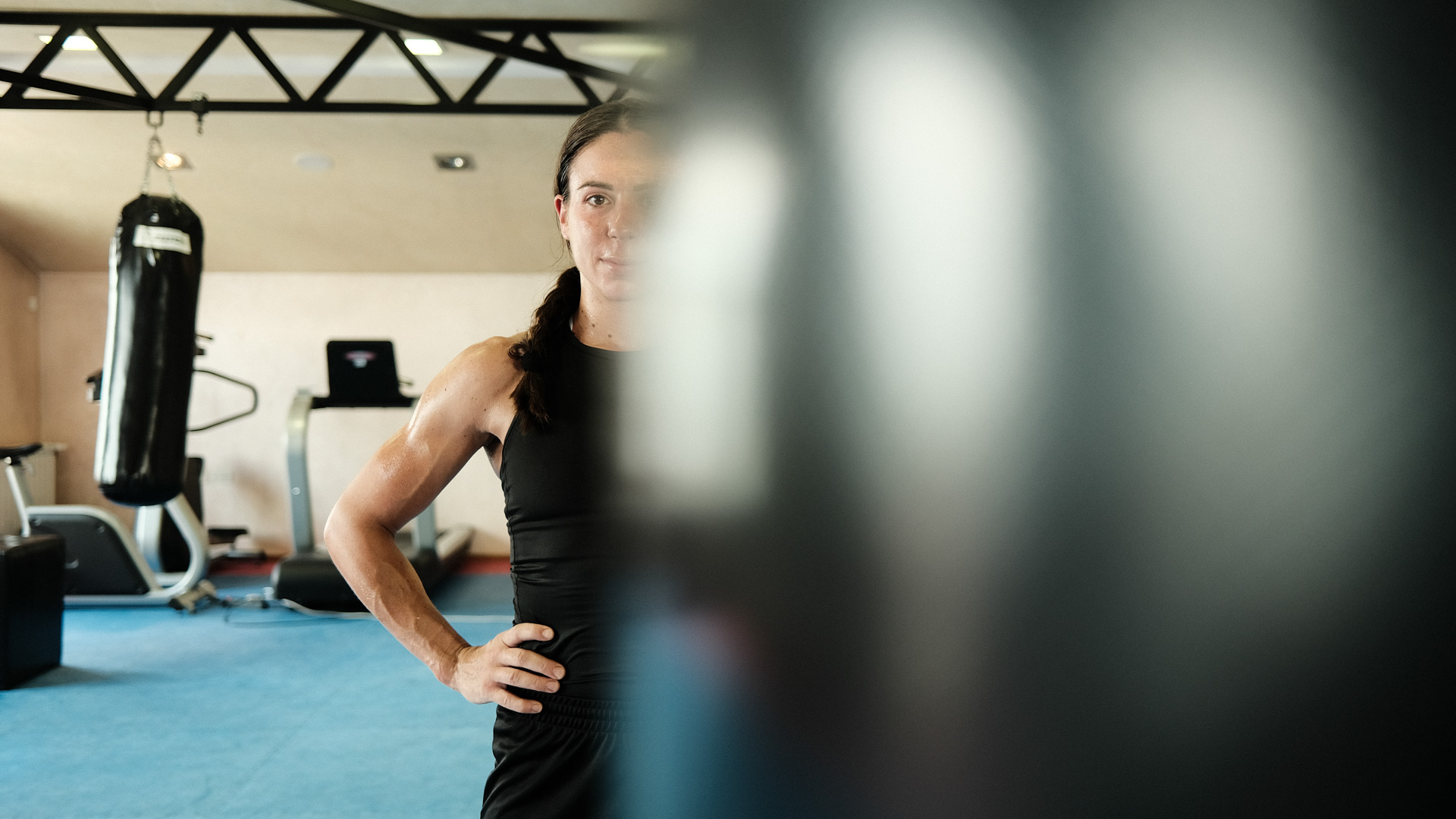 Still, all of us rooting for you are hoping that you'll bring back a medal from these games as well. 
Of course it's possible I'll win a medal. I did graduate from a sports college and I see it all from an athletic point of view and many aspects. I think that first Olympics attendance has a lot of factors and unknowns with the entire period leading up to the qualifications so I can't really explain the feeling. When you see those Olympic rings you're completely bewitched by them. You want it all to work and you do it all with a special kind of energy that's different than when preparing for any other competition. 
Your own qualifications for the Olympics were uncertain to say the least. 
When I lost that last match for the qualifications in Paris against the Italian competitor, I was completely emotionally broken. I thought I'd have to wait three more years. I was rearing to start preparing for the next Olympics immediately. It might be better that my qualifications came from a different route, due to the number of points I gathered by participating in tournaments and ranking first in Europe. Because this way I'll be more rational and think differently. 
It's a good thing that I never stopped training at any point even though I'm in top shape. 
Another problematic aspect is that you'll only have one trainer in your corner even though normally you should have three. 
The quota assigned to me by MOK says that I can only bring one coach with me. The number of quotas is determined based on the number of athletes coming from a single country. Seeing how we will have around 80-90 contestants and over 50% of people going will not be athletes. We were notified that for boxing we can only bring one person. Still, I competed this way before. It might be a handicap but I'll manage. 
The main cause of this all is coronavirus. If the circumstances were normal, I could bring outside associates who'd stay outside the Olympic village regardless of the quotas. They could come in as needed with proper credentials. But now all the athletes will be in a bubble - it won't be possible to enter or leave the village. 
There are many prejudices when it comes to women in boxing - that it leads to broken noses, bruises, mannish builds...but you're living proof that this is all false. What kind of message would you like to send to young women and girls when it comes to boxing? 
It's all just prejudice. People are prone to jumping to conclusions without enough info. How you'll present yourself to the world has nothing to do with boxing. Boxing is a skill that adheres to strict rules. It's a competing game. I was drawn to it because it enables me to progress in various fields, it encourages creativity and quick thinking and that's something that's handy in all parts of life. 
And as for personal appearance, that depends on the person and their boxing style. Someone might have a broken nose. When I fight, my primary concern is protecting myself and being physically so superior that the opponent can't break my block. It all depends on physical preparation. 
On the other hand, there are boxers who are models and are now participating in the Olympics. There are women who are in music, women who have a college education. It all depends on personal attitude. 
I'm much more reserved if my opponent seems let's say 'naive', than when it's someone who's grim-faced and tattooed all over. Solely because I see that this person doesn't feel the need to promote themselves in that way and that makes them potentially more dangerous. 
In addition to your career, you're currently in your Master studies. Do you plan to become a coach in the future?
I don't like to plan a lot. I'm multifaceted and it's possible that I'll work as a coach some day. You never know when an offer might pop up after I retire from fighting. I'm educating for the eventuality and thinking about it. 
What I am sure of is that I'll stay in sports for the rest of my life. How exactly, we shall see. I'd like my experiences to eventually be useful to some future young talents.