14.07.2018
"Prljavi inspektor" Blaza: I am not a surgeon, but I could operate on Belgrade a bit.
Igor Blazevic, better known as "Prljavi Inspektor" (Dirty Inspector) Blaza could've become a famous basketball player or the first hacker of former Yugoslavia. Instead, he said "I want to enjoy life", bought his first bass guitar from a famous rock musician and turned to music, writing and show business, forever changing the national music scene.
As a musician, writer, entertainer, promoter, radio host, comedian, leader of a political party, vinyl record collector, columnist, marketer, friend, Belgrader, Igor Blazevic is in a category of his own – "Prljavi Inspektor" Blaza is an alter-ego that brings together a true Renaissance man in the modern age.  
How did 'baby Blaza' come into this world?
I am the second child. My brother Victor is 10 years older than me, so it can be said that I was an accident of nature. :) In fact, my parents had lost all hope that they could have a second child, but then little Blaza came into the world. That's how we founded the coalition of men in the house. My mom still ended up stronger than all three of us together, seeing how women are the stronger, more dominant and more intelligent gender. She made all the big decisions like when to go to vacationing in the sea, when to renovate the apartment, when to go visiting friends and the like.
Have you always known you wanted to be a musician when you grew up?
My earliest memories around when I was 4-5 years old was when I started banging pots and pans around the house. My grandmother immediately said "He'll be a musician, listen to that great rhythm". However later, when I entered my teenage years and asked my parents about that period, they told me it was just senseless banging and they thought I'd end up a pot-maker.
You were born in 27. Mart street, in the center of Belgrade. What was it like growing up in such a crowded area?
At the time we rarely visited other parts of Belgrade, so most of my memories come from that part of town. The only other place I visited regularly was my aunt's place in Zvezdara.
Even though I grew up in the center, I was lucky. My neighborhood was surrounded by other buildings so we had a small oasis of peace in-between where we loved playing soccer, hide and seek, collectible sticker games and many others which today are sadly a rarity. I have to admit that my childhood was happy and full of beautiful memories, crushes...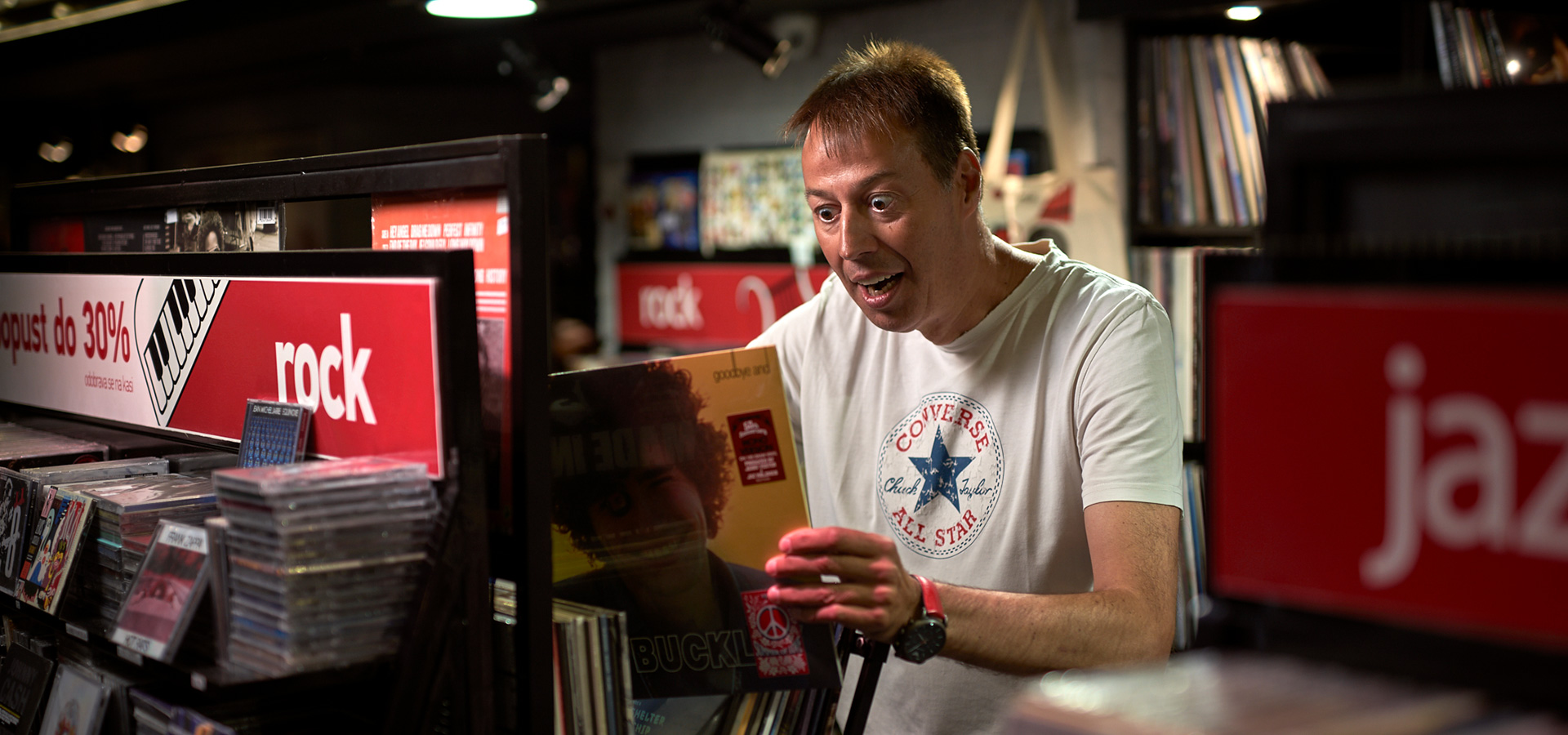 Do you remember your first crush?
Of course. My first crush was called Mina, and she really was 'the bomb', because everyone would explode with happiness when they saw her.
How did you adjust when you started school?
My parents first tried to enroll me when I was six years old, but psychologists said that I was too immature and I was rejected at that 'examination' and had to wait another year. To be honest, on that 'audition' for the first grade, I spent more time goofing around than answering key questions. That was how I started first grade at seven years old and somehow, through hard work, managed to finish all eight grades.
I have to admit that in junior school I met most of my best friends to this day, who were joined by a few new faces in high-school and those are mostly the people I stay in touch today.
What was your life like in high school? Can you compare it to kids these days?
We didn't wander far from our neighborhood. To this day, 'Tas' remains my part of Belgrade, my home, the area where we all know each other. This included the swimming pools and courts in Tasmajdan, which were our sanctuary in the summer, and when we went out, we'd go to 'Sumatovac' tavern because there weren't any cafes back then. This was the key place where famous people from show business gathered, as well as journalists and the like. It was here that I first saw Bora Djordjevic, Bajaga, Vlada Divljan and many other famous faces.
They would play a big role in your life and the lives of many who started off in the music business at the time.
In 1979, Bora held his famous concert in Tasmajdan, attended by 10,000 people. All us kids from the neighborhood went to the concert and we were in shock. At the time, we had our own band called 'Fiskulturno lane' (Exercise fawn) covering foreign music. But Bora's concert – actually, the first performance of 'Riblja corba' and their album 'Kost u grlu' – showed us that it was possible to fill a space that size with original content. This was the new energy that had appeared and was burning inside every city of former Yugoslavia, that would eventually lead to the explosion of New Wave – Azra, "Prljavo Kazaliste", Film, Idols, "Electric Orgasm", "Sarlo acrobats" and many others.
Who else influenced your musical development?
I'm not sure if it was year '79 or '80, but the courts of OKK Belgrade held the finals of the first Palilula Olympics in Culture, featuring a guest appearance by Azra. That moment stayed burned into my memories forever. Stulic and Azra showed up at just the right time with their socially-aware and poignant lyrics and their romantic lyrics which were original because they insinuated that women are the ones who are dominant. Johnny was our teacher and we his students.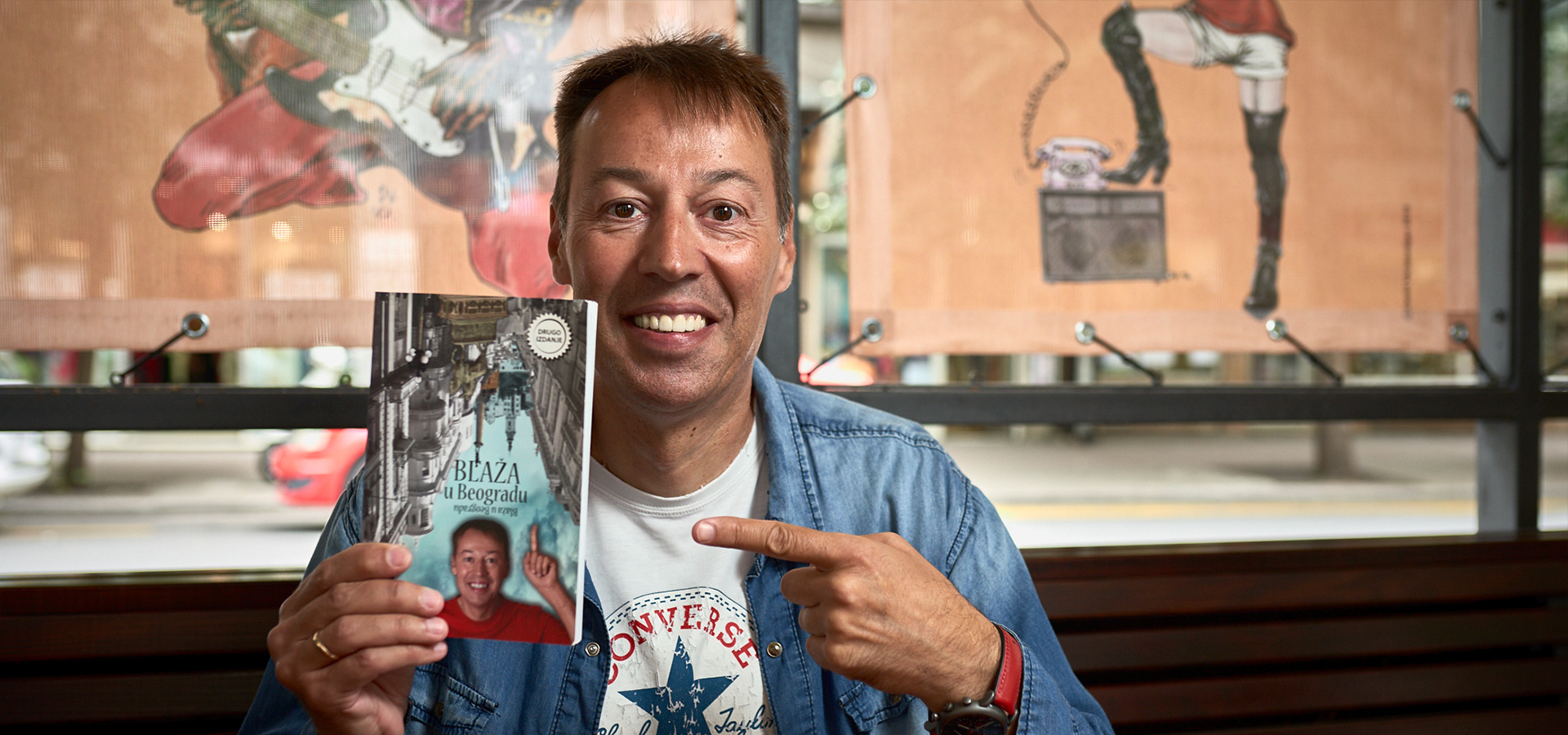 How did your music career begin, really?
It all started when I bought a bass guitar from Ivica Vdovic Vd, the legendary drummer of "Sarlo akrobata" band. Someone in the neighborhood got wind that Vd was selling his guitar and I went to visit him in Dalmatinska street, in his basement apartment. I remember being absolutely fascinated just by the fact that I got to meet him, even more than the fact that I'd just bought my first bass guitar.
After that the "Fiskulturno lane" band came into being, consisting of three of my friends from the neighborhood – Bole, Pop, Mima – and myself. We did pretty well. Bole had to ask the tenant council of his building to let us rehearse in the basement. He made it sound like we were good boys and students whose parents are exemplar citizens. That's how we got a room that we padded with egg packaging cardboard to reduce noise. Since the residents didn't mind us, we started making music.
First we covered Santana, Bob Dylan and Free, which we practiced every single day, and then we started working on our own stuff. That feeling when you write your first song is impossible to put into words. It was a song called 'Ne mogu bez nje' (I can't be without her) which has stuck around and aged well for 38 years. The first time we performed it was in 1980 in rehearsal and then in 1996 we recorded it officially as a song by 'Blaza i kljunovi' and once again in 2002. Even today we regularly perform it in concerts and it's the only love song we play, except for 'Pamela', of course. :)
That period in the life of Belgrade is something I don't think can happen again. Every street had its own band and nobody was doing covers anymore – everyone were making their own music. There was a kind of freedom that we didn't fully understand but that had a huge impact on young people. Around that time Tito also died and it seemed that not only would the saying 'After Tito, Tito' would still apply for a long time, but also that young people would have more opportunities to work in rock 'n' roll and art and actually have a media presence with it.
'Fiskulturno lane' made it so far that we played as warm-up for Film, "Bijelo dugme" and the Idols and we even came close to making an album in just a year.
What stopped you?
Back in the day, young men served in the military right after high-school. Petar Janatovic, the author of "YU Rock Encyclopedia", wrote a great article about how the military slowed the development of the rock scene in '81 and '82.
After we finished serving, everything changed for those of us who came back from the military. In those days it was known – either you went to college, or you started looking for a job you'd spend the next 40 years working, after which you'd get a gift watch and retire. Of course the events that occurred in the 90's are horrifying and they changed everything, sending our lives in different directions. Still, before they happened, we had all lived lives with very clear-cut paths.
Someone did stray away from those predetermined paths and that was you.
It was an incredible turn of events and maybe a bit of courage I didn't even know I had. I graduated from the Higher Economy school (today known as Higher Business School) and got a job at the National Executive Council in 1989 as one of the first hackers in Yugoslavia. :) Actually, I knew how to press a few keys including Esc-Enter-Space which I still use today. However, in the 90's I made the decision to start making music again, even though I was over 30 years old and a bit too old for that. I left my job and embarked on the stormy waves of rock 'n' roll in which only few could swim and live on music alone.
That's how the band "Prljavi inspektor Blaza i kljunovi" came to be in 1994. In addition to myself, the band included Aleksandar Karadzic – Arigo Saki, Vojin Djurasinovic – Voja, Sasa Babic – Sale Sofer, Ljuba Tomanovic – Bale, Dejan Resanovic – Deki and Milutin Petrovic – Gazda Milutin, the guitarist and the guru of our band who smiles down on us today from heaven, while performing with Hendrix and Jim Morrison there.
We recorded our first album "Plagijati i obrade" and I got back into the thrill and magic of entering the scene.
My mom cried when I told her I quit my job and my dad wouldn't talk to me for months. I'll never forget the day I quit. I came home and my dad was reading 'Politika' – the obituaries, to be precise. I said 'Hi dad' and he just looked at me, lifted his newspaper and kept reading. It was the end of the world in his eyes that I had left a safe workplace in a government institution, a good paycheck  and all that so I could pursue something he considered frivolous.
Still, I never regretted that decision and I think that's what matters the most. The freedom I've enjoyed has no price.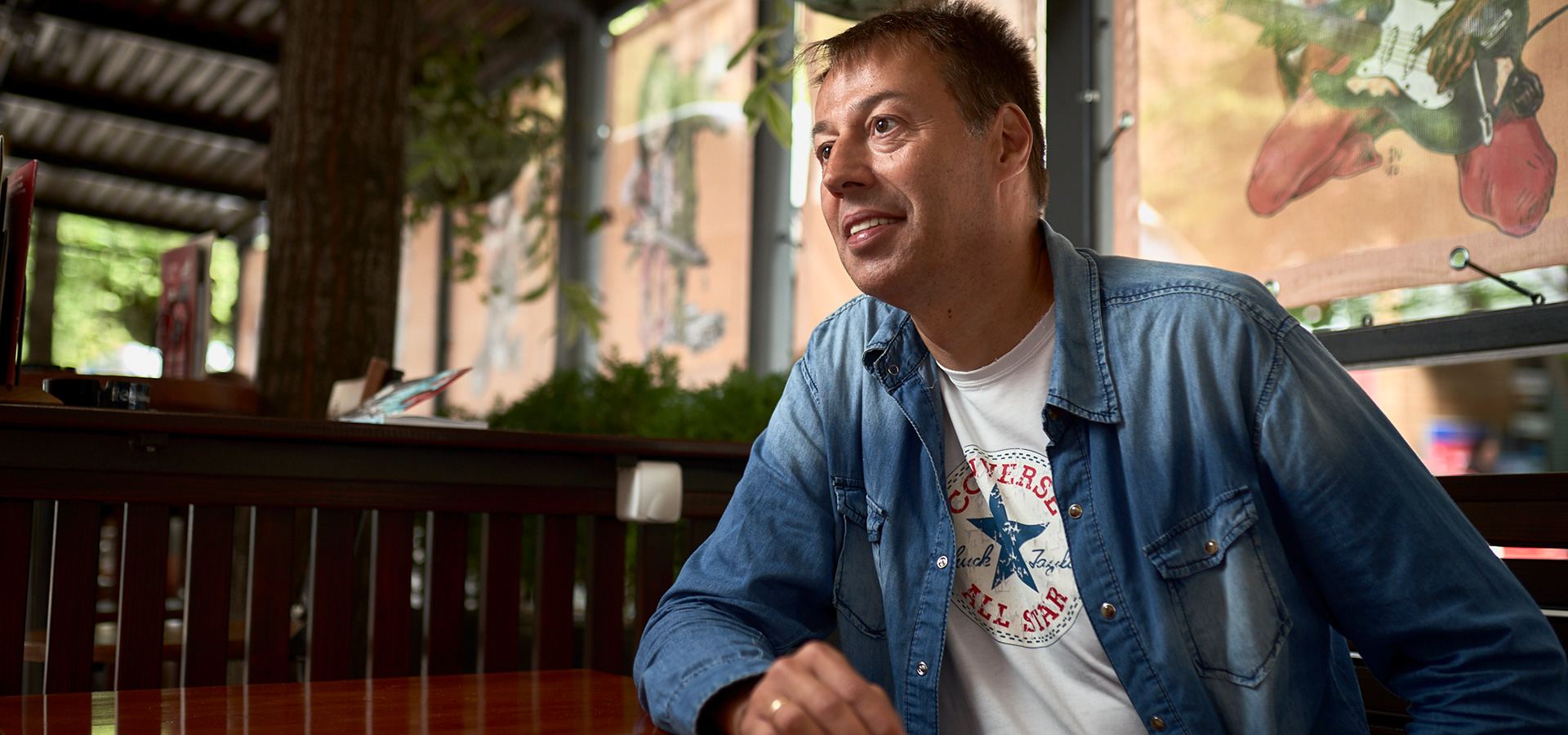 Most people don't know that you sacrificed a potentially brilliant career in sports to pursue music.
Eh. When I was 14 years old, the then famous basketball ace of OKK Beograd, Ristanovic, saw me at Tasmajdan swimming pool, called me over and told me I've got a great build for basketball since I was tall and had lanky limbs. Today I'm around 201cm tall, which is about the same as back then. He asked me if I played basketball and I said I did, with friends sometimes in Postara court. He said it would be great if I came to OKK...
Then I said to him, "Ristanovic, you want me to sweat two trainings a day and not have time to play rock 'n' roll and flirt with girls? No way. I want to enjoy life." Ristanovic would go on to retell this encounter to friends in disbelief for years.
The band "Prljavi inspektor Blaza i kljunovi" is definitely original and unmatched to this day. How did you come up with the concept?
It's probably that a lot of the band's personality comes out through my own persona, which can be good and bad. My famous motto 'I want to enjoy life' has often damaged the group. I didn't write enough songs sometimes because I was busy enjoying other things. I work for various marketing agencies, travel a lot. It's much like performing with a band. I have to communicate with people, animate them in the city square and above all entertain them. This has been hard on the band because we haven't recorded a new song for 11 years, since the song "Nisam dijamant" (I am not a diamond) which was published as a bonus song in our live album "Samo Supermen Srbiju Spasava".
I'm a mixture of many different interests and this gives the group a strange tone and energy. However, what's a key fact is that we have existed and worked like this, in the same ensemble, for a long time. Even though the five of us are completely different from each other, we work as one living entity which is the group "Blaza i kljunovi" and every time we enter the scene, magic happens.
How did Pamela Anderson join this magic?
The 90's in Serbia were years of hopeless darkness and gloom. Occasional spots of light came from a theatre play here and there, a few concerts and Pamela, in Baywatch. She was the dream of a place somewhere far away where people are running around on a beach, the sun is always shining and everybody is happy. At the same time Pamela in that red swimsuit was the dream of every teenager and pensioner alike and she still is today. When we play the song 'Lepa si Pamela' in concerts, the entire audience regardless of age knows the lyrics. For this song but also the hits like 'Bodiroga' and 'Mnogo volim pivo' I can say they belong to the second and most successful stage of our band, for which Arigo Saki is most responsible. It was him and his fantastic skill as a composer who created the music and made it much easier to write lyrics for these songs.
In addition to music, as you mentioned, you also have a lot of experience working as a radio host, columnist, writer, promoter...what would you say is actually your profession?
That's a good question. I often get ask how I want to be signed and if it's okay to put down 'Inspektor Blaza'. The name has become a brand of its own and is completely recognizable, but the problem is when we have to put something down for occupation. That's when I wonder what am I. The simplest answer is 'musician', but often they put down 'musician and showman', although I prefer 'entertainer'. This is something I recognize within myself and an energy that I've tried to express for the last five years as a host on Radio Laguna, but in private as well. I need to cheer people up and share with them my positive energy.
On the other hand, you are also an accomplished writer, which the media doesn't cover as much as they should. You've penned four books, among which "Blaza in Belgrade" is something that every Belgrader – or anyone just passing through the city – should read. What would you say is more difficult – writing or performing?
Scribblemania is a form of obsession. I started writing songs in my teens and in 1996 when I was working for "Nasa krmaca" magazine I realized after my second article that I would never be able to stop writing. This is why I always try to be a part of some daily newspaper or magazine where I could publish my columns and for 22 years I've done just that. After "Krmaca" I've written for "Bre", then for "Blic" where I've written a movie-related column for 20 years and I've also worked for many others, including the Mozzart betting house for which I wrote a humorous sports column. I also consider the city guide "Singidunum Weekly" important for my work, where I wrote about Belgrade. "Blaza in Belgrade" is an amalgamation of those texts and my maximum in writing, which allowed me to communicate to an entire new generation what Belgrade is to me, in a humorous and ironical way. Belgrade is one of those things that will outlive us all no matter what we say or think about it.
What is your biggest peeve with Belgrade?
Possibly that it doesn't live up to its name – it isn't white. No matter how much they construct, what fountains they make and streets they renovate, it bothers me that Bel-grade (white city) isn't white (and I know that sounds racist, but that's not what I mean :) ). You can go through many streets from beginning to end and not see a single building facade that lives up to that name or has the beauty that Belgrade deserves.
And what's your favorite thing about our capitol?
The girls and women of Belgrade. The ladies of Belgrade are unsurpassed in beauty, which is something that anyone who was lucky enough to travel the world can confirm. Literally from the age of 20 to the age of 70, the ladies of Belgrade are beautiful – even past the age of 70. That's something you can't see in any other place of the world. One of these beautiful ladies – the best and most beautiful one – I ended up marrying.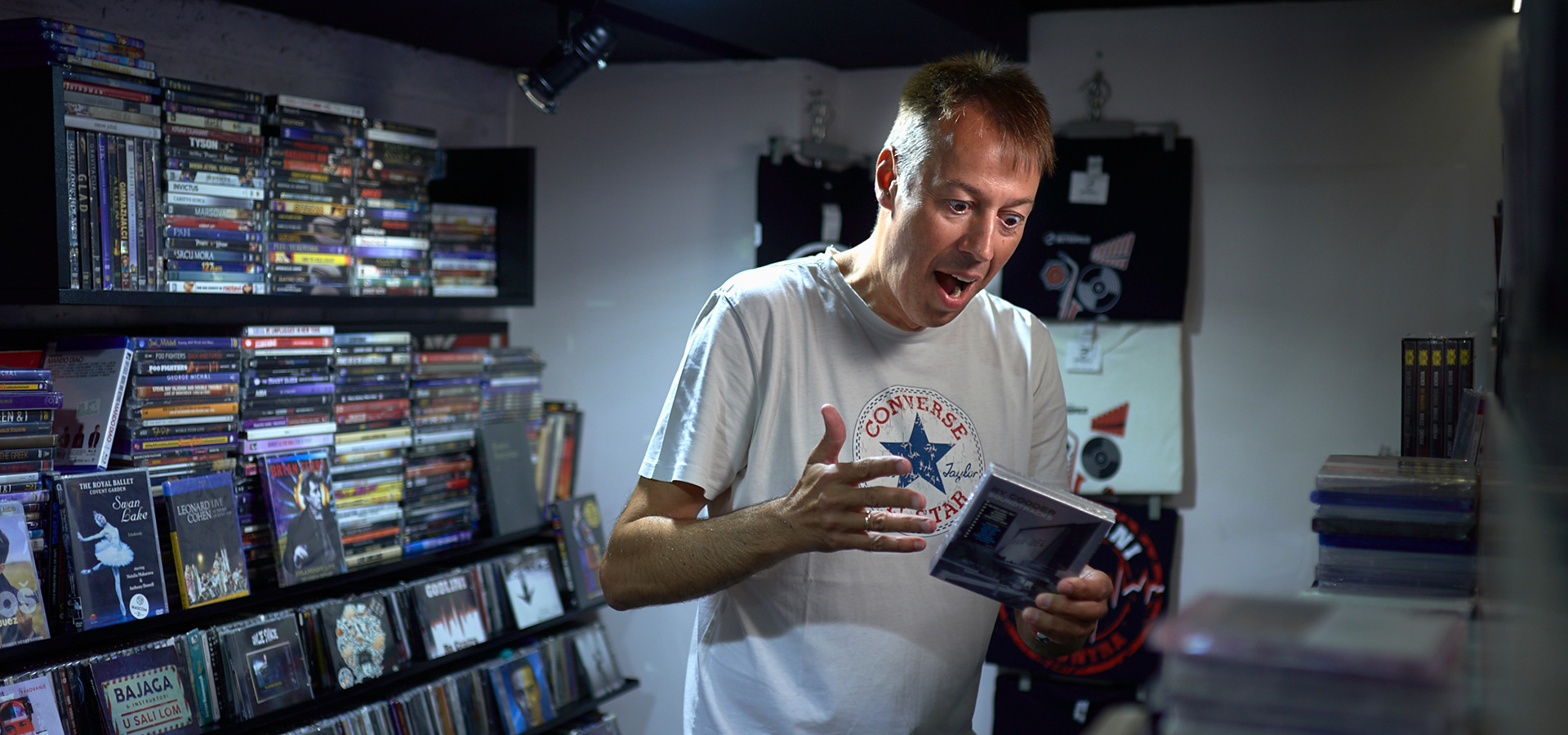 What's happening with Blaza as a politician and the Serbian Pamelistic Bloc?
SPB came into being in the 90's as a response to the regiment of that time. Sale Andric, one of the editors at "Nasa krmaca" magazine suggested we start a political party and became the self-proclaimed president. However, I surpassed him in that position and made him my deputy, and so we set off to new victories.
When the regiment of that time ended, I thought that the existence of SPB would lose its meaning, but I was wrong. Today, I feel that SPB is the only hope we have and we must re-animate it and try to pick up where we left off. This time, however, Sale Andric should come back as the president because he had better results than me. 
You could then run for mayor of Belgrade?
Of course. I am not a surgeon, but I think I could operate on Belgrade a bit and bring it back to life, seeing how it's on life support right now. I'd immediately assign a huge salary to myself since I never had one in my life. I'd have a secretary – a pretty girl from the neighborhood that I normally wouldn't dare approach and this way I'd see her every day and I'd proclaim myself the president of my building's tenant council so that I could transfer some more finances to myself when ordering light bulbs for elevators and arranging paintwork for the hallways.
What are Inspector Blaza's plans for the future?
In age, I am closer to retirement than to a career. Behind everything that's happened and the incredible turn of events, there has been a lot of work and dreams. I was lucky because many people who walked a similar paths never made it to their dreams. So I hope to continue as I was, until retirement.
Out of all the rumors ever spread about you, which one is your favorite?
The one that said I worked for the police as an inspector. One of my wife's colleagues even swore up and down she used to see me at the local police station at 29. Novembar street and that I was one of the key inspectors there. When my wife told her that it was just a nickname and not my real profession, the colleague replied 'Well then you don't know what he really does for a living". That's the power of the media and the illusion they build.
Is it true that while working for the National Executive Council you gathered a lot of sensitive information about important people and you blackmailed your way into a successful career?
That sounds amazing. If I still possess that information, then even the biggest names fear me. Granted, I can neither confirm nor deny this, so I'll choose not to answer this question. I can only say that you are also in my records and it is up to you whether you want to continue questioning.