15.06.2022
Stefan Milenkovic: The Ninja Violinist
An incredible artist and famous violinist Stefan Milenkovic reveals for 011info how he got interested in string instruments and how torn he had been between two different lifestyles. He recalls playing the violin in front of a full auditorium in pitch darkness and jumping with a parachute from incredible heights and he announces a spectacle in Tasmajdan called "Rock El Clasico". 
What does Belgrade represent for you and what are your earliest memories of it?
To me, Belgrade is a living organism, woven out of memories, scents and flavors, families and friends. My earliest memories are of Zemun, where I grew up and went to school until I was 13 years old. My entire childhood was like a medal - two faced. On the one hand there was a lot of work and effort - practicing and performances. On the other hand there were carefree days full of friendship and adventures by the Danube, soccer in the streets and skateboarding. 
When we moved to the center of the city, skateboarding was my centerpoint again, so I'd ride the skateboard with my brother Teofil and we would explore the streets of Belgrade. The main hangouts back then were Plato and at the "Konj". 
What was your childhood like and when did you start learning the violin? 
I was a completely ordinary kid with some unusual interests. So my entire life was full of contrasts and my growing up was both mundane and unusual. On the one hand, I went to school, had friends, loved to play. On the other hand, I had a three week tour in Australia. So even though everything seemed chaotic, it was still balanced in some way. 
When it comes to the violin, I picked it up when I was only 3 years old. My father gave me my first lessons and kept teaching me until I turned 18. In addition to my father, my growth and development as a violinist was also impacted by my family and surroundings.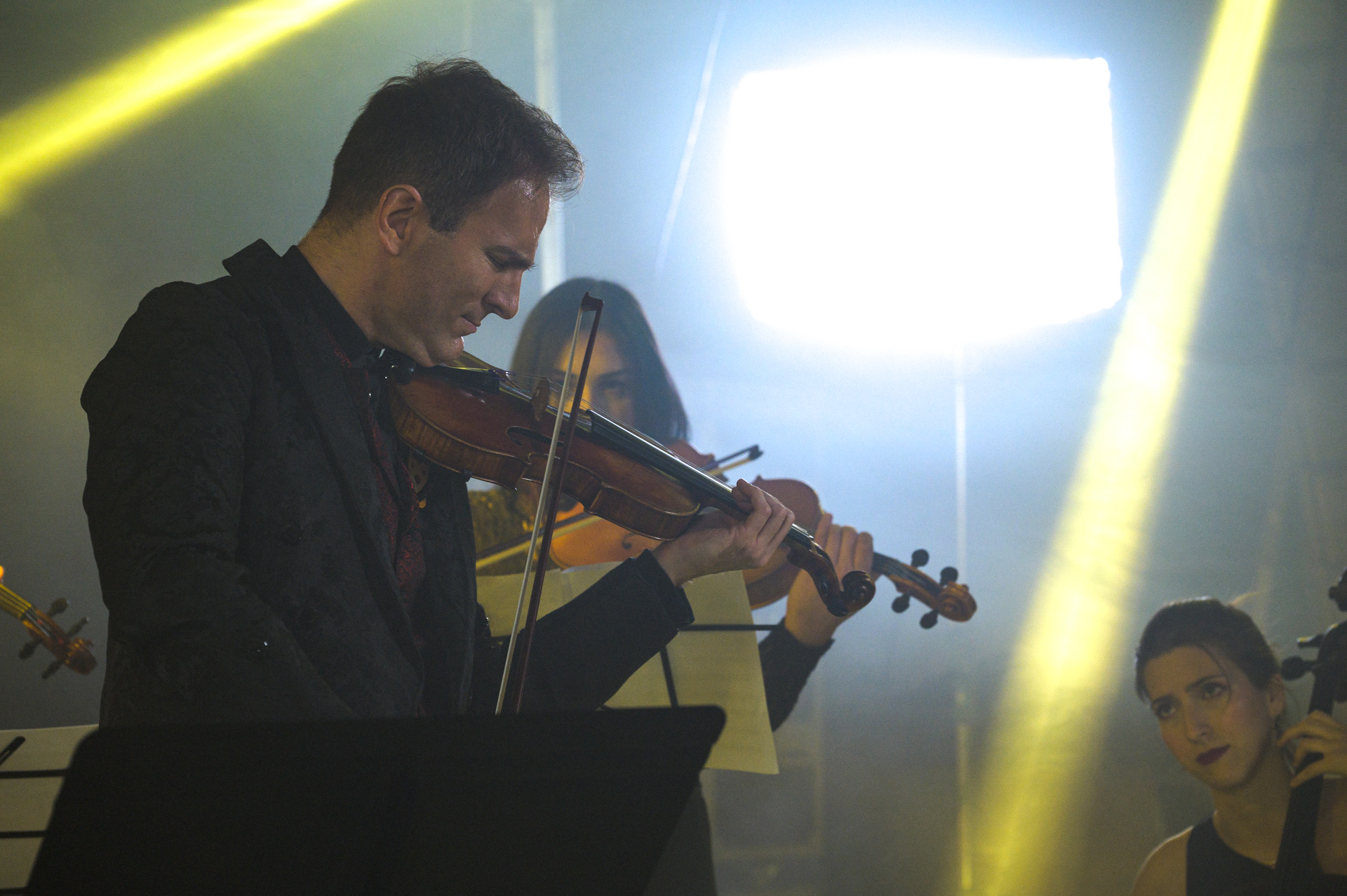 What were your days like back then?
I'd say that most of my days were ordinary. I'd go to school, do homework and after that I'd practice. And that's how it's always been. I don't actually remember a time in my life when I wasn't playing the violin. 
This everyday life was also interspersed with unusual activities like travels and tours. As years went by, it became more and more complicated. I had a life without a routine. Always on the move, every day there was a performance in a new city and a new hall. Soon, that became my routine - to be without a routine. So it isn't easy do describe an average day in my life, because there were no two that were the same. 
Did you have any other interests aside from music and how did you find the time for that?
Yes, I've always loved video games, skateboarding, toys, ninjas. My brother and I dreamed of becoming ninjas and that was my unfulfilled wish. Today, ninjas and toys are not my focus anymore, it's more on parachutes and motorcycles. 
Fitting your interests with your career is a matter of organization. When you love and want something, you find the time for it. For me, coordinating my professional and other obligations always came first, so whenever there's some free time you plan extracurricular activities. I genuinely believe it's possible to find the time for everything. All of my hobbies, as bizarre and dangerous as they might be, contribute to my main interests - the violin and music. 
But it's very important not to allow your leisure to harm your life calling. If that happens, then it's time to put an end to them. In the end, if you are well-organized, you can manage everything. 
You said that being "in the clouds" is one of your passions? 
That's right. I've loved flying ever since I can remember, but I was afraid of heights, which is very interesting. My grandfather was a pilot so to me becoming one was an amazing accomplishment. 
So I had this love for the sky and the clouds, but not ladders or high places - which is still the case. Later I realized that this fear was more about the ground, but as long as there's no contact with the surface it's all good! 
Parachuting came into my life just at the right time, without me even looking for it. Actually, I was a bit wary of the sport at first, but my curiosity won over. It manifested in California when I jumped with a parachute twice in one day. After successful tandem jumps it became clear to me that if I could just face my fears, this would be the best sport for me. In the following month, I went through all possible books, gathered information on procedures, risks and statistics. Eventually I enlisted in a training course with "Skydive Chicago" and, as they say, the rest is history. Today, 13 years and 600 jumps later, I'm still as excited about it as I was on the first day. 
Jumping with a parachute is a lot like a concert. It all comes down to the same factors: control, focus, paying attention to those around you. Then, you jump into the unknown, step out on the stage and there's no turning back. From there on, you live in the moment. It's just like a performance with a lot of preparation involved but after a certain point the time for tactics is over and you have to be spontaneous and free. In the end, you open your parachute and there's a romantic relaxation and so it goes over and over.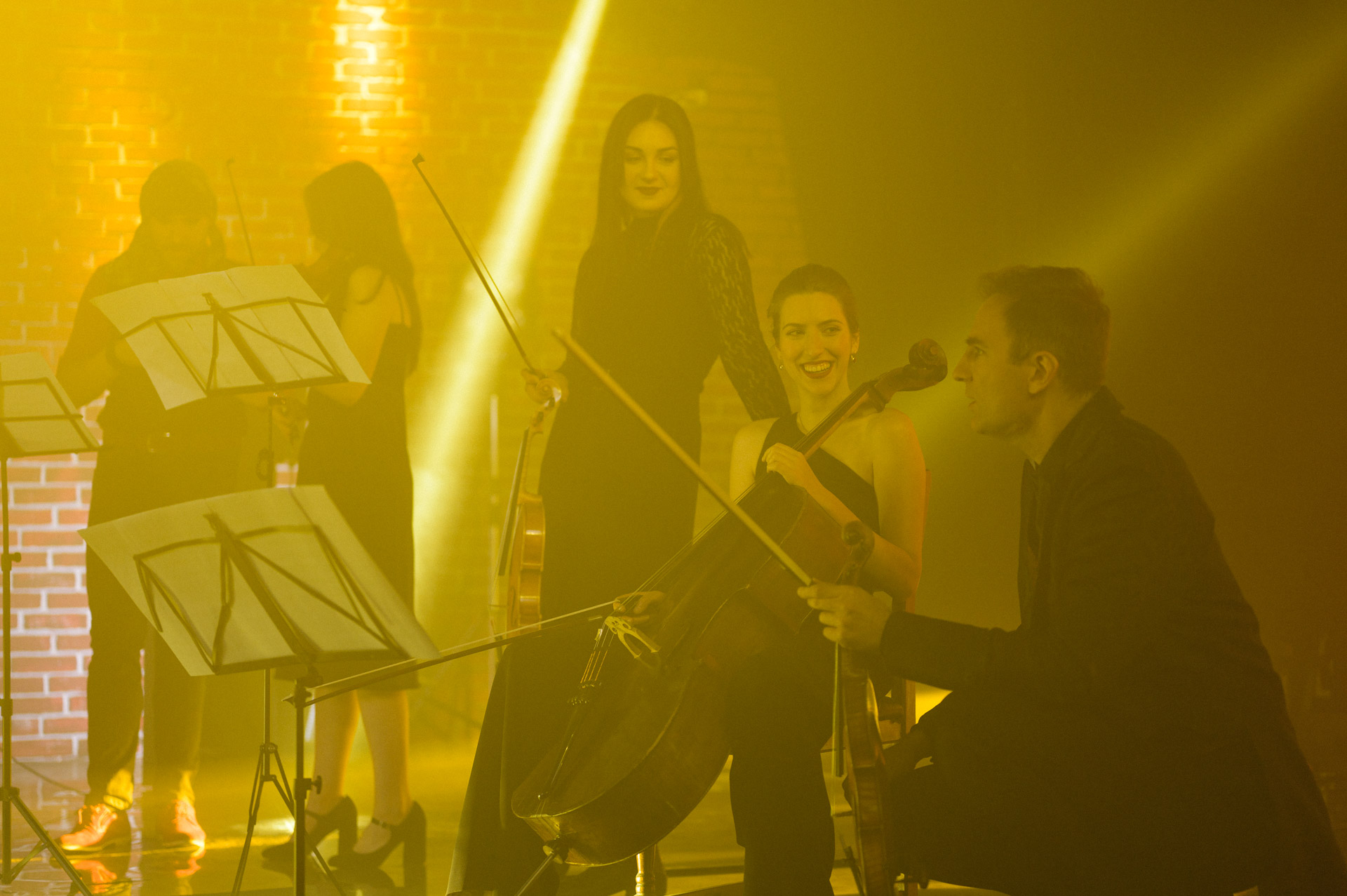 How has parachuting affected your life?
It's definitely a confidence boost. If you've had confidence before, you'll have even more. If you didn't have enough, now you will. Do you know why? Because every time you go through the process of saving your own life, it requires a certain amount of composure which will eventually give you confidence for any other activity. In the end, you become self-confident and mindful of others, which is so useful everywhere in life. Those are the virtues appreciated in any profession. 
Have you ever experienced stage fright before a concert? 
Absolutely! It still follows me to this day, it's the nature of this work. It's up to you to get out there in front of the audience and perform perfectly. Sometimes it's an auditorium with just a few people, but other times it's an audience of millions - if the performance is being broadcast, of course. 
If anyone ever tells me they never get stage fright, I'm inclined to think they're exaggerating. The jitters are completely normal. But it's important to know yourself and know how you can react when you're experiencing stage fright and how to channel it. 
For example, I asked a friend of mine once - he is a parachuting instructor with 8.000 jumps behind him - if he feels nervous before jumping. He said to me "I get butterflies in my stomach every single time, except now those butterflies fly in formation.". It's the same thing before any of my performances, even after all these years. 
Are there any performances you would like to highlight?
That's a very difficult question. I always perform the same way - with maximum dedication, whether it's a small hall or a huge one. It doesn't make a difference. It's up to me to do my very best every single time, so in a way every concert is special. 
Although to be honest, there have been various happenings over the years. I'd like to tell you about a concert that was unique in many ways. Some years ago, I had a performance at the Institute for the Blind in Trieste where the entire hall was completely pitch dark. They made it that way in order to simulate the world in which the blind people live. Everything was taped up so that there wasn't even a shred of light. The audience had to leave all reflecting items outside while the blind members of the audience led them into the pitch-dark hall. The same went for me. It was both strange and exciting. There were markers set up for me on the stage that I could use for orientation. I played the violin solo in the darkness for an entire hour. What was unique is that the program was printed in Braille. It was really an incredible experience.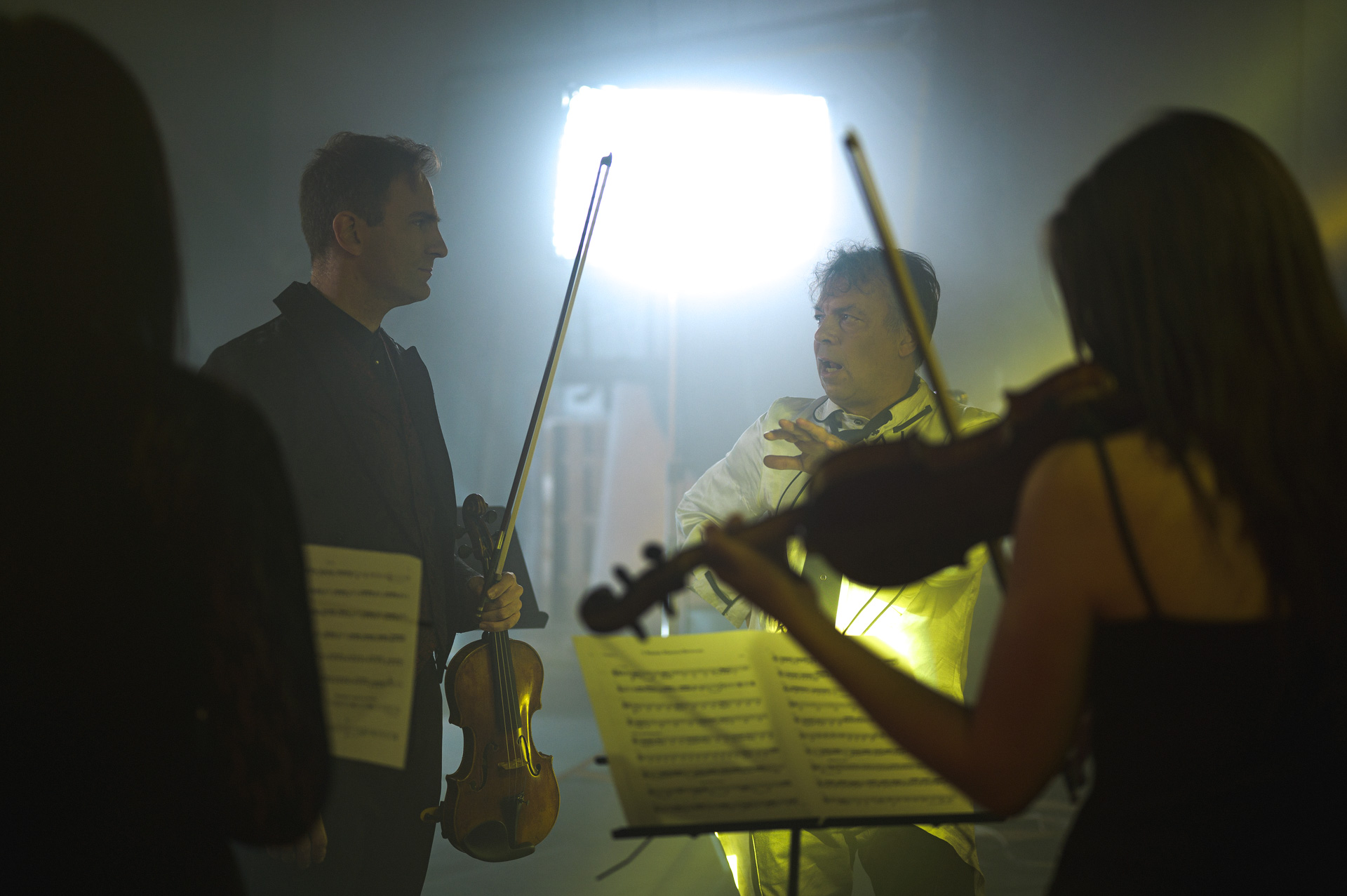 Who was responsible for your affirmation and how did your development go? 
Mostly it was the environment and in my case also time. The 90's were a nightmare for us all. At the start of those times I went to Italy where I participated in big competitions and won awards in every one of them. It was a huge success for me. On the other hand, by immersing myself in my work, I managed to get through those terrible times. 
I went to New York in 1997 where I studied first. I studied for two years with Mrs. Dorothy DeLay, who was one of the most eminent pedagogues in the world. She then asked me if I would like to teach for her, which I eagerly accepted. I took over her class of ten students where I was the youngest by far. 
Thanks to her, I met Itzhak Perlman who gave me lessons and eventually I started teaching in his summer camp in Long Island, in the "Perlman Music Program". After my first year, he offered me the position of an assistant in Julliard which I of course accepted. At the same time I worked at Julliard as his assistant and developed my own class and taught at his camp - all with my concert activities. 
After that, my development as an artist was impacted by various hobbies, life in New York and America, meeting some great names. That all enriches you and contextualizes a lot of things. I really wouldn't have made it as far as I have without all those role models, meetings, rises and falls. All of those things help shape you in some ways. 
How do you define the career of a classical musician? 
A career is a process, not a destination. I am very proud of the fact that I am still motivated and inspired by music, art, and young talents. Now it seems to me that I appreciate my career more  because it's not a fashion trend but rather a tradition. To be honest, I am very happy about it. 
Seeing how the world changes very quickly nowadays, primarily due to technology and everything is lost in a noise of value or lack thereof, you get the impression that nothing matters. But some things do matter. We, as humans, have existed on this planet for a very long time and we didn't come up with certain things yesterday. Certain principles and tendencies have existed in us for hundreds, thousands of years. It's important to be aware of this history. We, classical musicians, are guardians of that history and tradition, not only in terms of music but also performance. 
In order to become a musician, instrumentalist, it takes years and years of work and dedication and you take on a historical responsibility. That's why I am happy to still carry that torch, transfer it to others and that I am still motivated to continue. It's required at a time when things change so quickly. 
Could you imagine yourself doing something else, unrelated to music? 
If I am interested in something, I try to become my best at it. Whether it's a profession or hobby, I don't do things halfway. For example, I work on every musical piece until I become completely spontaneous and free with it. Some take less time than others. The same goes for tango, martial arts, parachuting, yoga and so on. It's very important to me to reach my maximum in all of those activities so I can use them on command. That's not a hardship for me, it's a part of my personality which can be a bit obsessive. 
I can't imagine life without music, though. Can anyone? Even if we imagine a person living in a world without music, it's still not deprived of sound. If you are out in nature, you'll hear the whisper of the wind, the sound of birds and animals. That's music too. 
Can you tell us more about your project "Rock El Clasico" which you are working on with Nele Karajlic? 
Yes, the big concert in Tas will take place on 21st of June. It is the fruit of a long and creative process that's been going for three years now. After two postponements due to Covid, we are now finally close to our goal. Nele and I were brought together by Dejan Grastic who is the producer of this project, because he thought that we can create something amazing together. 
Already after our first meeting, it became clear we have a lot in common: we are curios, uninhibited when it comes to creativity and pushing boundaries. We started working together and distilled what is now "Rock El Clasico".
Ana Krstajic helped us a lot in that process as a musical translator of sorts, because "Zabranjeno pusenje" is still a punk band and I am a classical musician. Although we were worried on how we would find a common language, it turns out that music is a bit universal in some ways that are shared by all human beings. When you recognize it in every genre, you can bring it together in a composition that beats with a single heartbeat. Ana, whom we mentioned before, worked hard to bring it all together while making sure it's not classical music in a rock style or rock music in a classical style, but rather a new composition with no visible seams.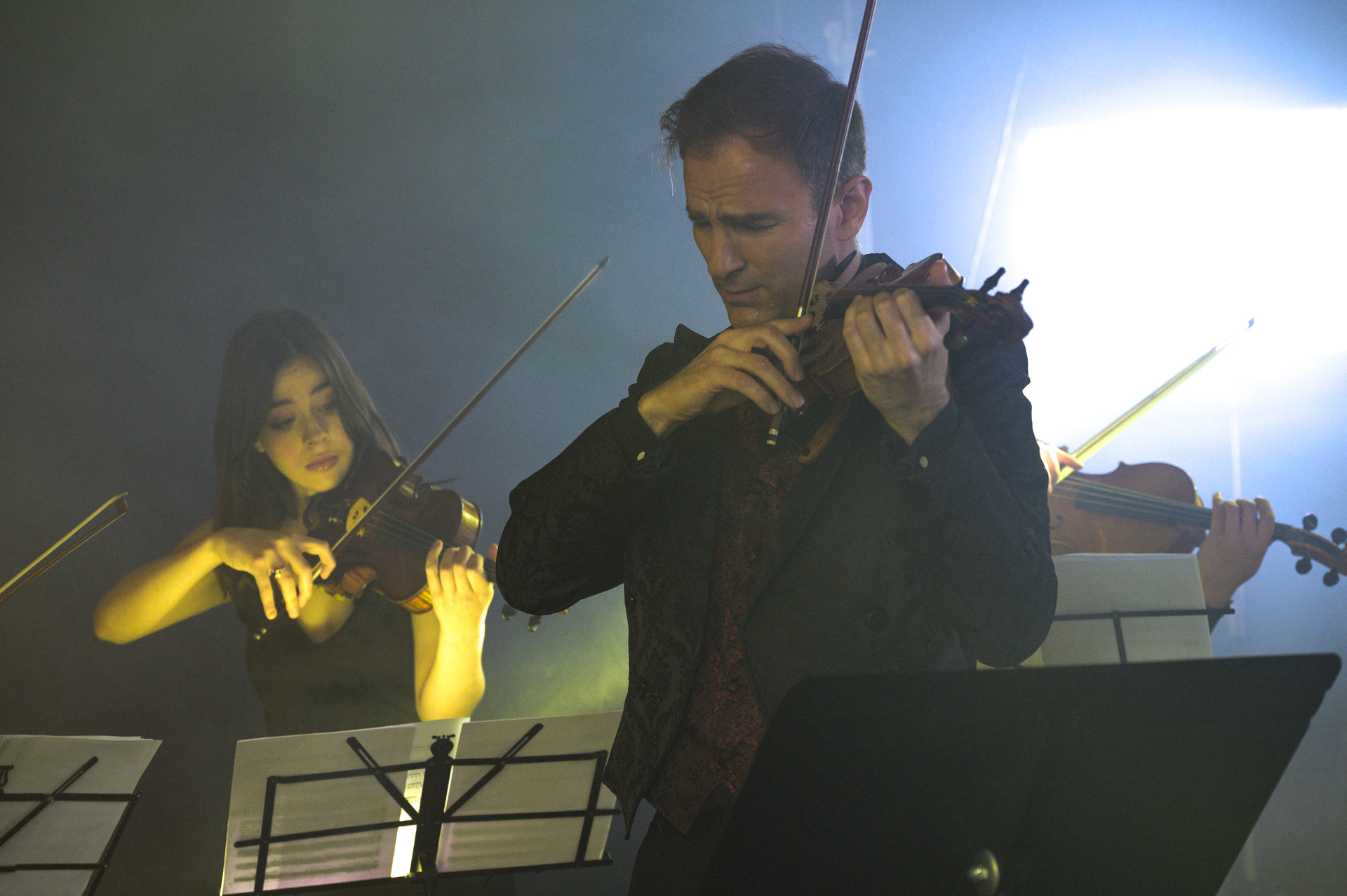 What can the audience expect from "Rock El Clasico"? 
Basically our goal is to make the experience natural, organic, authentic, entertaining, interesting, explosive, energetic. Honestly, we can't wait to get on the stage and show this multimedia theater and spectacle with this unusual blend of rock and classical music. 
I am sure that the audience will enjoy every single minute of it. Moreso due to the fact that we've had the opportunity to present the entire project in Dubai in February this year. We were more than pleasantly surprised by the international audience showing up in such numbers at our concert, danced to the music and even sang along even though they couldn't understand the words. That's further proof that music is universal. It's exactly what we were hoping to achieve and we have, so we can't wait to present "Rock El Clasico" in Tas as well. 
What are your plans moving forward? 
The next concert with "Rock El Clasico" will take place in Arsenal Fest in Kragujevac and we are looking forward to it. Of course, both Nele and myself have a plethora of other obligations and concerts. You can see all my upcoming concerts, projects and violin workshops big and small at my website.