15.07.2022
Vladimir Vlada Kuzmanovic: the MVP from Karaburma
Once the oldest MVP of the Eurocup challenge, today a podcast host and professional commentator for Euro league on the Sport Club channel and forever a truly proud Karaburma native. Vladimir Vlada Kuzmanovic speaks openly in his interview for 011info about his growing up, childhood friends who have made an impact on his life, the first basketball steps he took in Harlem, the title he won with Red Star and his potential 'bench warming' in the NBA league. 
You have grown up in Karaburma. How do you remember it?
Everyone would say that their neighborhood was the best for growing up, but I'll try to make a compelling argument on why that was actually the case with Karaburma. I was born near Vuk's monument and lived there until I turned 4 years old and my parents moved to Karaburma in 1975. Our new home was an apartment inside a newly constructed building made of facade bricks. A total of seven buildings made up our neighborhood and we were surrounded by nature. On the one side, there was a green hill and on the other were the streets Marijane Gregoran and Danteova. We never would've asked for more. 
Not far from there was the factory "Radulaska" whose workers were given the other apartments in those buildings and we were friends with their kids. From there grew a sort of integral city culture. I don't remember anyone throwing trash out their window. We could never be rude to any of our elders, because word would get out fast. And when the now late granny Smilja would warn us we were being loud during rest time, we'd immediately leave the playground and stop making noise. 
We had a number of incredible schools in our neighborhood too: "Stjepan Stevo Filipovic", "Stevan Dukic", "Jovan Popovic", "Jovan Cvijic" and "Filip Visnjic". I went to the junior school "Stjepan Stepo Filipovic" which is now called "Archibald Reiss". By the way, I still don't understand why they had to rename it - Stjepan Stepo Filipovic is synonymous for the anti-fascist fight. 
Either way, I still dream of Karaburma to this day and in those dreams I feel completely safe. I believe the reason for this is that we were truly safe there. During the 15 years I lived there, there were a total of three fights. Not a shred of crime. You could leave your apartment door wide open and nothing in your home would be disturbed. 
It was a different time?
Yes, a whole different system of values. We didn't have wealthy people there. Nobody stood out in terms of property from anyone else. I think that was the key to our idyllic everyday life. There were only a few cars - two "ficas", one "lada" and one old "ford taunus" that our neighbor Ljuba drove. When he would drive up, we could hear parts falling off of his car. (laughter) Later a "ford escort" would park there and it belonged to the son of the famous soccer referee Cajic. When he'd roll up, we'd stare at his care like we were seeing a spaceship. 
For example, our neighbors were from Ivanjica and they would roast a heap of peppers here every summer. Before they'd start their three days of roasting, they would ask the tenants to not dry their laundry outside in order to avoid it smelling of smoke. But that didn't bother us kids. What's more, the neighbors would invite us over during breaks and we'd all get a slice of bread with a roasted pepper and sausage. 
That was just the system of values back then. Whenever someone got hungry, all we had to do was knock at any door and they could share a slice of bread with a kid from the block. It was the same in my family. We lived on the ground floor and when my friends and I would barge in to have water, my mom would offer each of us a slice of buttered bread with sugar. That's why this area was the best for growing up.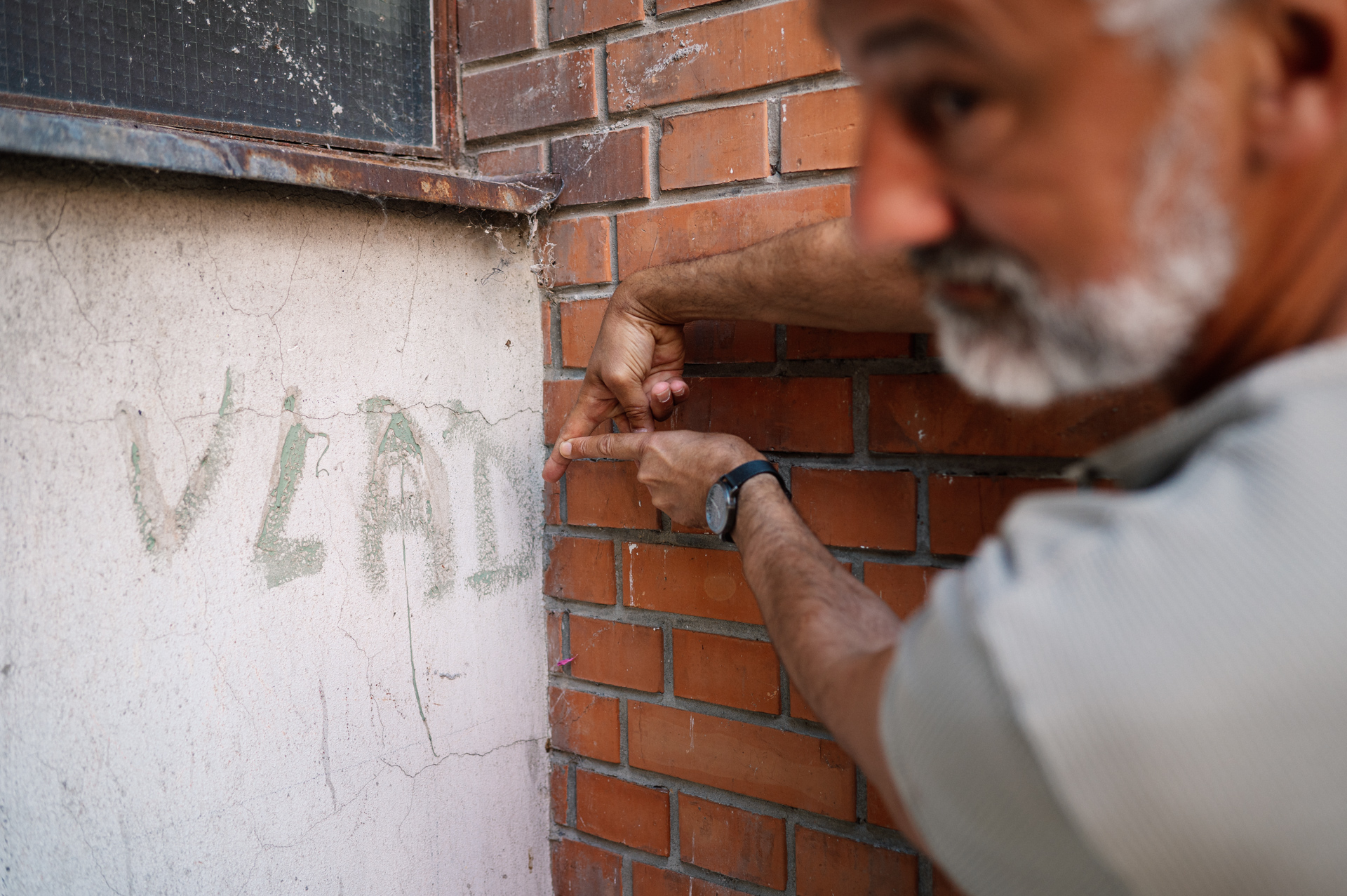 You didn't feel like you were growing up in the city?
Not even slightly. In the winter, Pedja Musurinski and I would get up early in the morning to clear paths through the snow. In the end, we'd clear up  three fantastic paths where we'd spend all day and all night. We'd stay until we were half-frozen, meaning until our parents started calling. And then tomorrow we'd do it all again. 
Soccer in the winter was a story in itself. We'd play using a basketball and we'd be all cut up from the frozen stitching. It was nonstop fun with good people. At the same time, our parents had full peace of mind, knowing we were never further than a whistle away. And the moment they'd call, we'd rush back to them. 
Almost everyone went traveling for their summer vacation - either to the seaside or the countryside. So those who stayed would have a big problem - nobody to talk to around. For example, I could never celebrate my birthday with my friends because everyone would be away on their summer holiday trips on 31st of July. (laughter). 
To this day there are many people dear to me who still live here. I couldn't tell you for sure where each of them are, but Cvija and Vasa are here, Kira moved away and Vedza is still here - I still remember how much his mom used to annoy him! (laughter)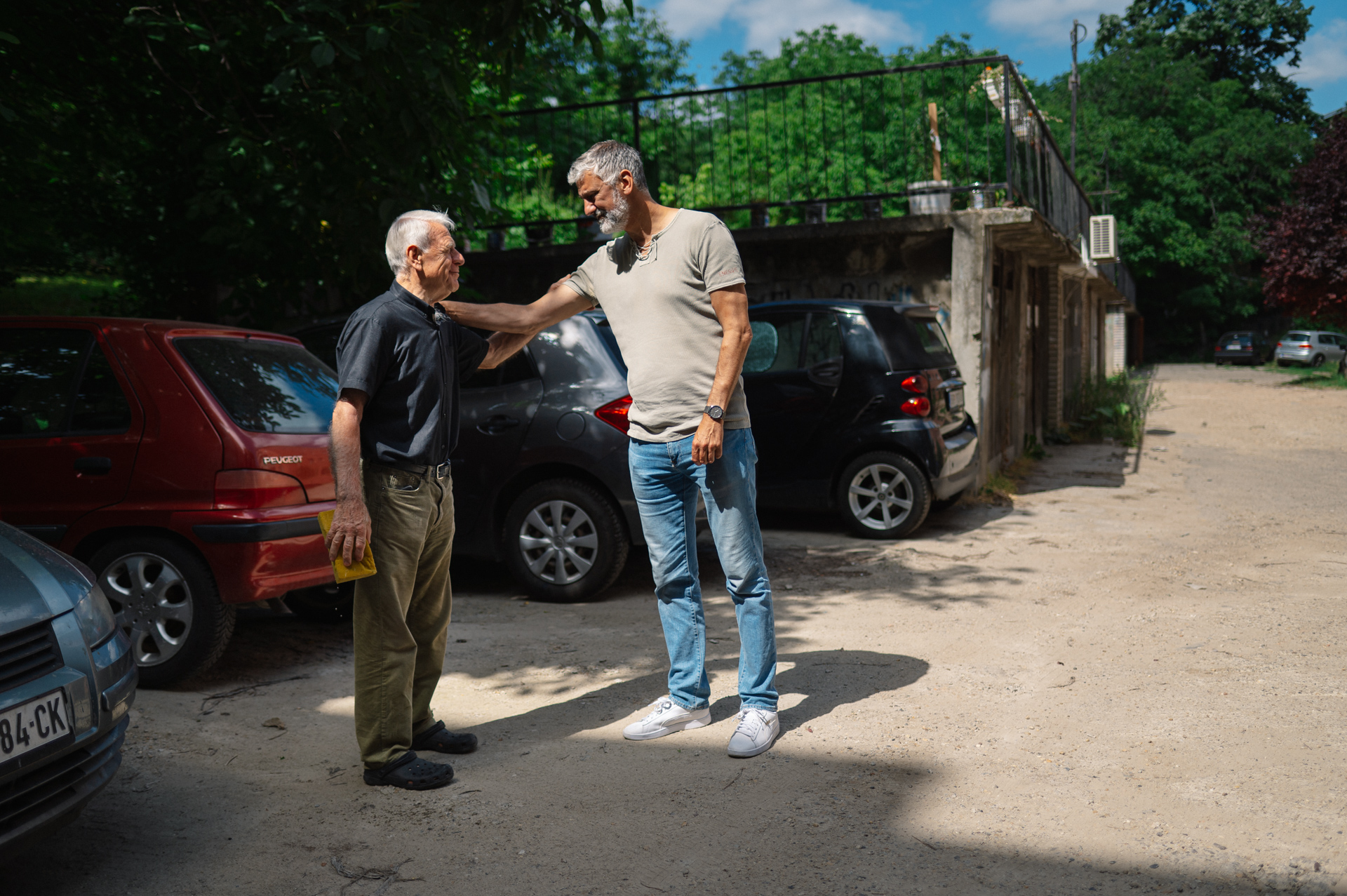 What were the most popular gathering spots? 
We had four main hangouts: the court, the circles, on the garage and on the staircase. Down the street there used to be - and still is - the famous "Slavica" cinema that was always chock full when there was anything premiering. It was almost impossible to get tickets. I remember we couldn't get tickets for a certain movie for a whole week. And when we went, we'd always go together. If we watched Burce Lee, we'd yell from the bottom of our lungs on the way back. (laughter) If we wanted a more formal cinema experience, we'd take the bus and head to "Kozara" or "Odeon". 
Anyway, Karaburma has always been an ill-regarded suburb, which I could never understand. Only four stops away from SUP in 29th November street and six stops away from the center. What do you say about New Belgrade, then? My brother used to live in Block 70 and back then there was nothing there but a few buildings. If you got on a tram there, it was like taking the train to Novi Sad (laughter). 
Anyway, it was the bus lines 16, 23 and 25 that connected us to all parts of the city except Slavija. No matter what bus we entered, we could never catch a direct ride to Slavija (laughter). Back then, the bus line 27 was divided into A, B, V and G. A went across Karaburma, B went to Mirijevo, V headed to Visnjica and G around the cemetery. Even when Marijane Gregoran street was closed due to a landslide, we were still connected to the city. 
Aside from "Slavica", we also had the "Topola" tavern where we, of course, were not allowed to go. (laughter) Only when we turned 15-16 years old could we sneak in there. The regular menagerie over there back then were the bohemians of Karaburma. But we never felt any need to spend our time there. I know that sounds surreal today, when we're always seeing cafes full of young people, but that just wasn't in our sphere of interest back then. We were happier roaming the city, looking for sports courts and new opponents to play against. Everything came down to sports for us.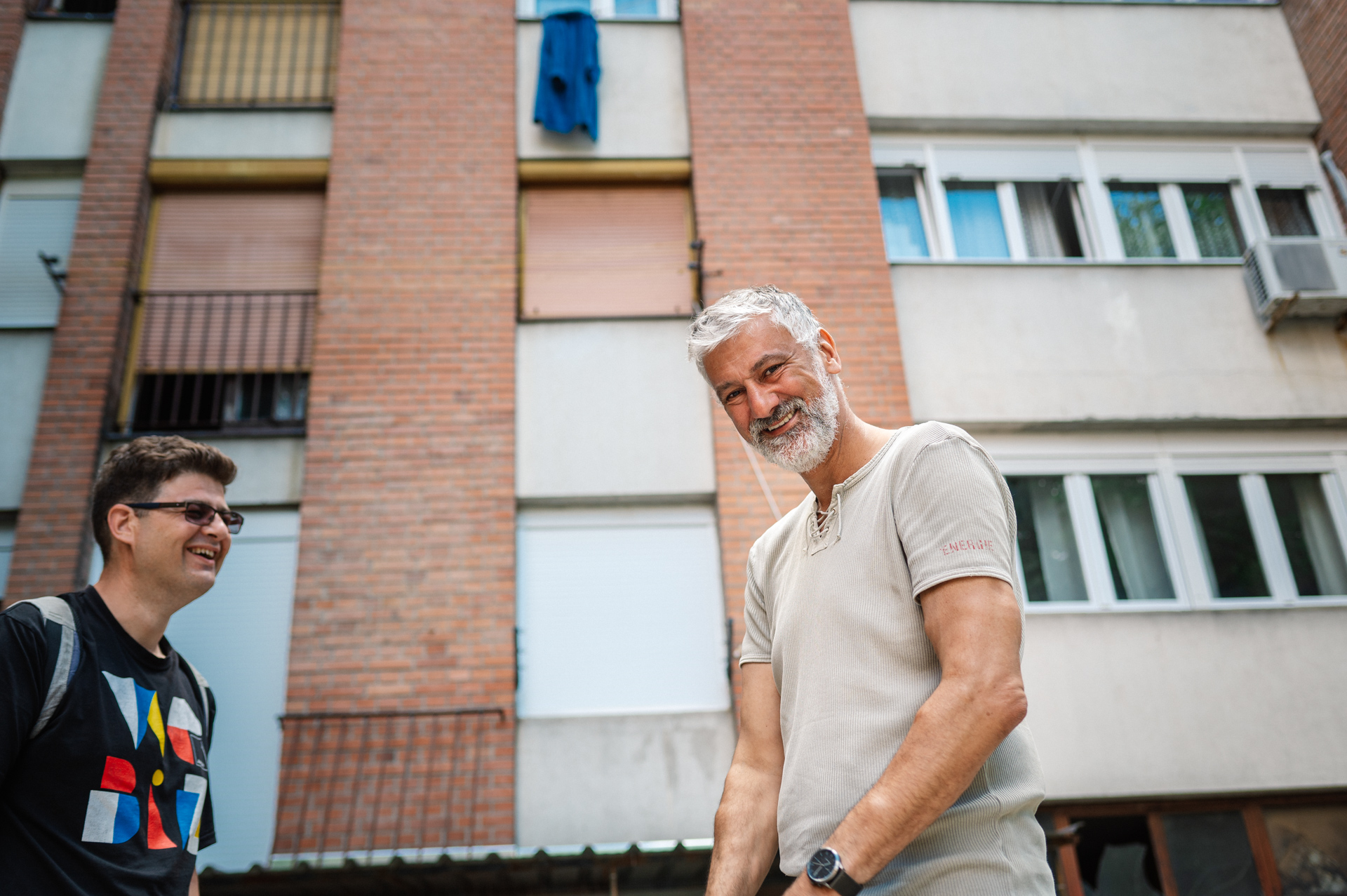 So this was a sports-oriented neighborhood? 
Absolutely. Real magic happened in our courts here. The goals were made in the factory I mentioned earlier, including the nets. When we played soccer, we'd carry them out from one of the nearby buildings. It was divine. Later they set up a basketball hoop near the garages which we "nicked" from somewhere. I think we jumped over the fence at "Sport" and stole their panel and hoop so we can have our own. That was the hoop where I made my first shots. 
Back then, the courts followed the sporting competitions. When the soccer championship was on, we all played soccer. When a basketball competition was happening, we played basketball. Most of us back then knew how to play both. Nowadays, nobody plays soccer and there are almost no hoops around the city. Not many bother with sports in the city, while back in the day it was a whole lifestyle for us. 
In every apartment you had at least one person who played soccer, basketball or a third sport. It was only a question of how many we could round up: two, three or four teams. We equally enjoyed ourselves in the summer and the winter. When the snow fell, we would sleigh down the nearby hill. Unlike today, back then the winter season lasted between a month to a month and a half. In the summer, our days didn't end until 11PM-12AM and always in the same spot - in this neighborhood. 
However, not everything was always ideal. We were sorely lacking in the girl department. In all those apartments, we only had five girls our age: Zeljka, Stasa, Tanja, Marina and Goca. (laughter). 
Before basketball you practiced soccer?
I played soccer at FC Belgrade Karaburma with my friends from the neighborhood so there was no need to move on to OFC. We had all the soccer players here: Cuka, Pedja, Buca, Miki, Gane and the others. All you had to do was whistle and the first eight guys to poke their heads in could play - the others missed their chance! (laughter) 
Of course, I can't forget Pera Prasicevic who was the Alpha and Omega of our neighborhood. He was incredibly funny and came up with the most unbelievable stunts and he was tremendously talented in sports. From badminton to volleyball and everything in between. Once we got him riled up how he could never play soccer for Red Star. The kid got on the bus, went to a Red Star team practice and came back with their membership card. They accepted him on the spot, but he never went back. Why? Because he proved he could, and that was all that ever mattered to him.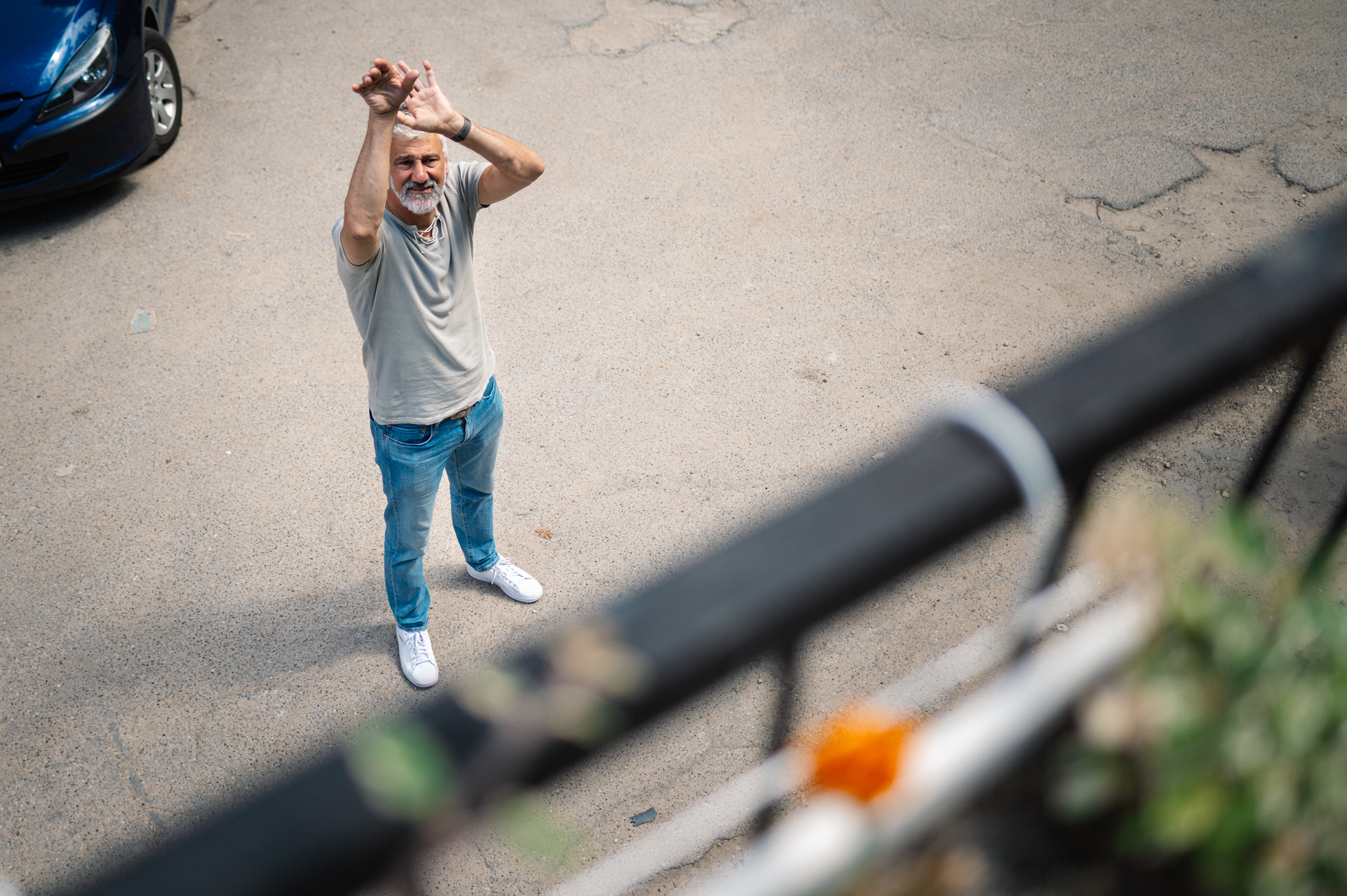 Some famous Belgrade characters used to live here too? 
That's true! I remember we used to get out of the house early morning every Sunday and gather on the nearby staircase to see Dragan Dzajic Dzaja who lived here back then, riding in his mercedes. The bravest among us would yell "Dzaja, do you have a ticket?!" and Dzaja would charmingly roll up to us, lower his windows and hand out a few tickets. We didn't care about the ticket as much as we were ecstatic that Dzaja stopped to say hi to us. (laughter). 
In addition to Dzaja, the famous handball player Jovica Cvetkovic lived here, in Vojvode Micka street. I also believe that the Partizan soccer player Milos Djelmas also lived in Karaburma. 
I don't know any other celebrity Karaburmians, so I was all the more happy to make something of myself in sports. People around here appreciated that a lot, sending me messages through my friends who follow my games, telling me they are proud of me. They saw my successes as the successes of our neighborhood. 
Aside from yourself, is there anyone else from your old crew who "made it" in life? 
You can't really say that people who lived here had such high ambitions. Of course, there's an exception to every rule. For example, Dusan Dule Zivanovic, today the drummer for Orthodox Celts, who was my first neighbor. He managed to get out of that environment. And for another example, Dragan Randjelovic was the only one from our neighborhood who graduated from a university. When we threw him a party to welcome him back, he told us the diploma is worth nothing. It turned out he was right. He spent a long time in dead-end jobs in spite of it. 
What I mean to say, it was hard to expect incredible rises from our environment back then, especially during the 90's. Because so many families had such hard lives, Karaburma in the 90's became synonymous with crime. It was very saddening for me, because I lost many friends. It hit the entire city, but Karaburma was the worst because so many companies shut down, taking jobs away with them.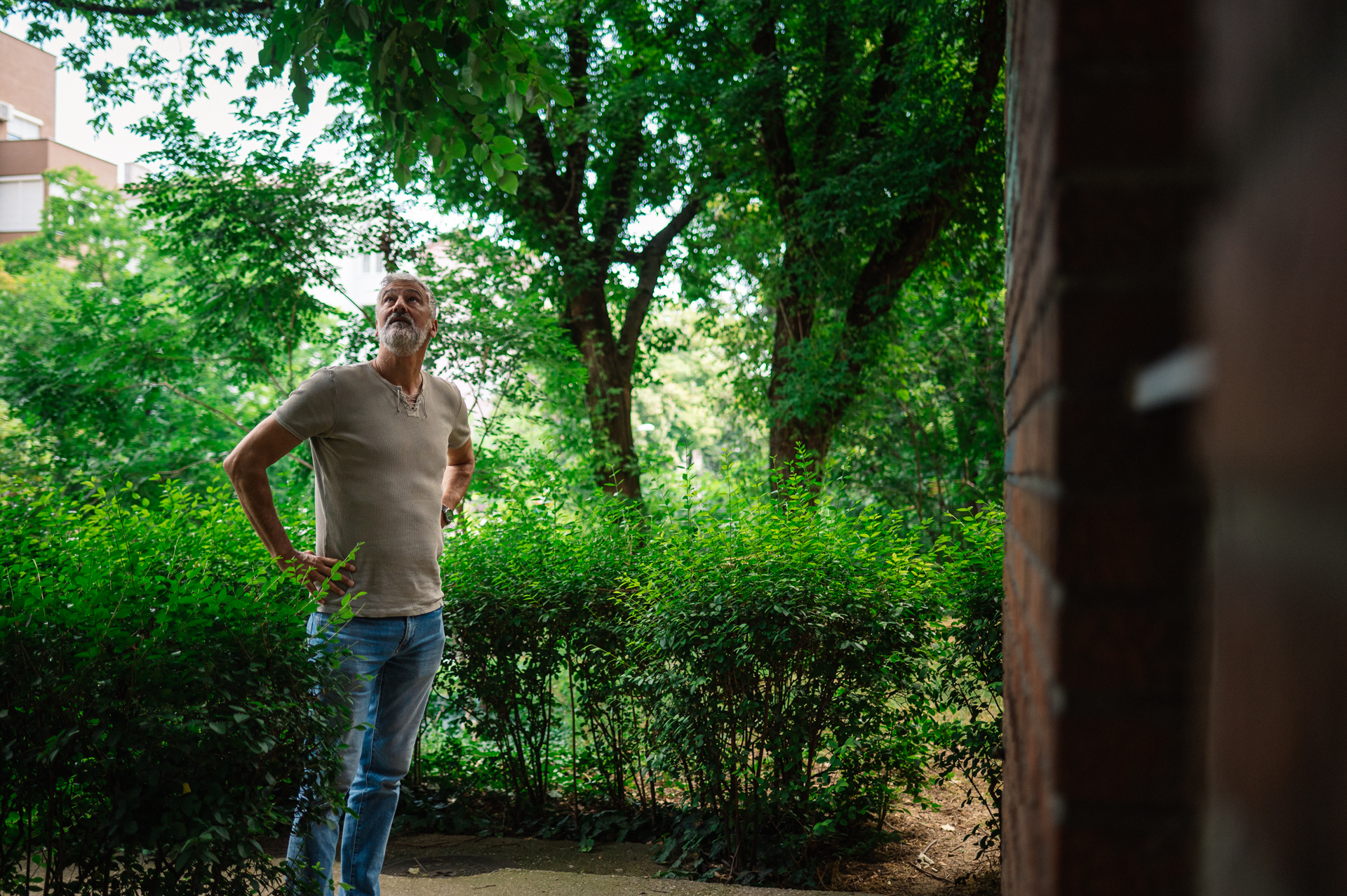 How did you leave Karaburma behind? 
Actually, we traded in our apartment for a larger one near Vuk's monument, and we ended up only one street away from where I was born. By that point, I was already attending the V Belgrade high school which I graduated from despite being busy with sports. The V Belgrade high school has always had a reputation for being extremely demanding and I'm proud of the fact that I graduated from there. It was only there that I met real "city kids" and it was immediately clear to me that we had entirely different childhoods. Unlike the center, where your space is limited, we could play soccer in the middle of the street in Karaburma. We'd only move the bricks when a bus had to pass (laughter). 
Looking back at it now, on the one hand that was the perfect time for me to leave Karaburma. On the other, I had the perfect childhood there. I was surrounded by people who loved me and kept me safe. But I never denied where I grew up. On the contrary, see how proud I still am to talk about it? 
Afterward, you went to America… 
During the winter break in 1987 I went to America for my first basketball game. I remember like it was yesterday, the now late Drasko from Karaburma and I went into the hall and it was all dark-skinned players. This is all happening in a Puertorican part of Harlem, where there's an unwritten rule that you don't go up to someone until they invite you. 
At once, everyone stopped in their tracks and ceased the game. After a moment of contemplation, they tossed the ball to Drasko. We played on the principle of every man for themselves. They had a saying "If you pass six guys here, you'll pass one guy in the NBA easily". Back then, I knew nothing about basketball, only how to bounce the ball. I got beat up so much. Unlike me, Drasko did great. He was a good basketball player. 
It wasn't until I was 17.5 that I started professionally practicing basketball - until then, I was self-thought. The proof of how much I trained lies in the fact that in my second year of high school I didn't play for my own class, while in my third I played for the school team. Despite my shortcomings, I am more than proud of my career.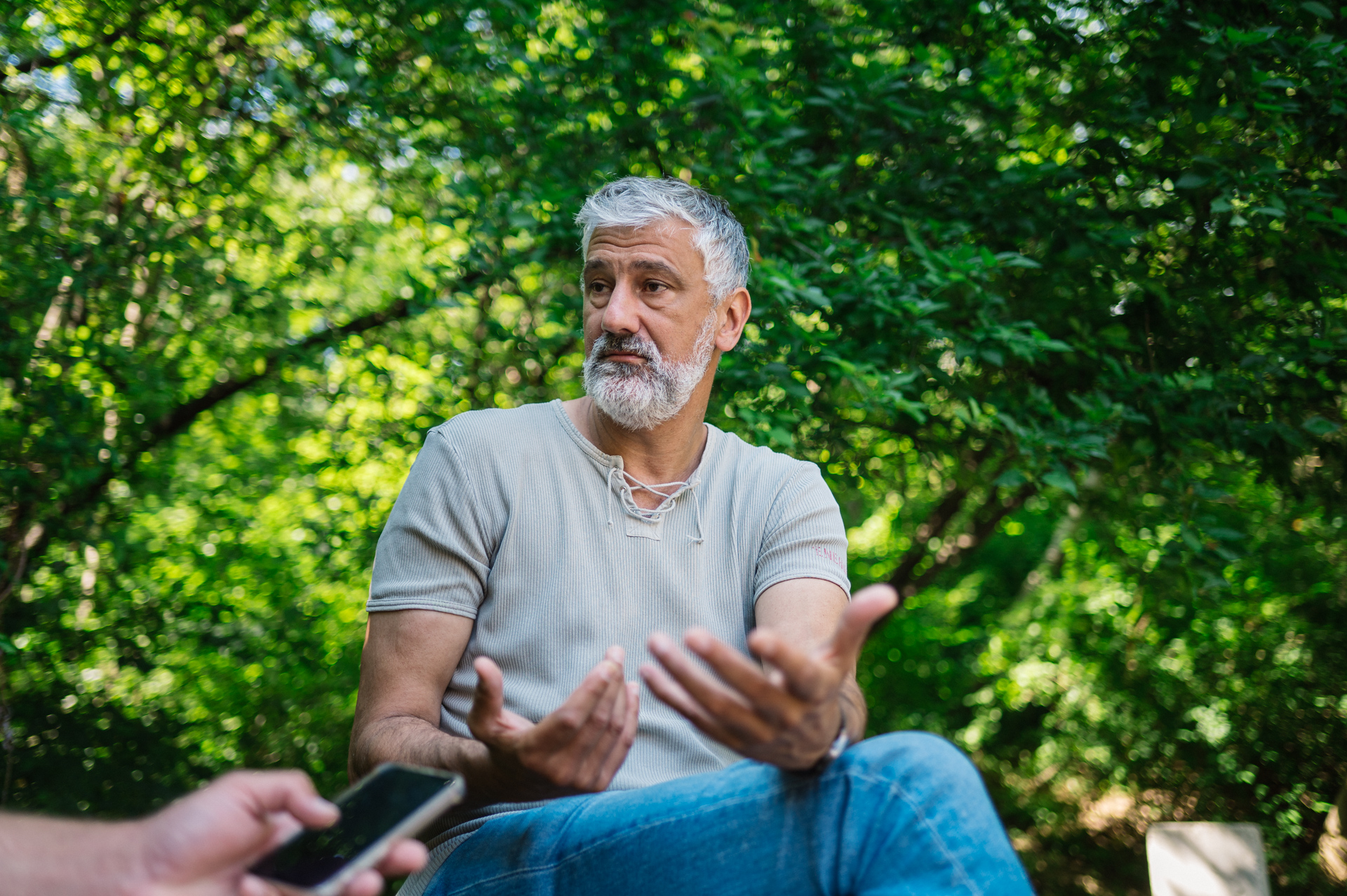 What contributed the most to your basketball success? 
Believing in myself. I had a lot of challenges ahead of me, just like any other kid from Belgrade. Back then, Zvezda and Partizan teams took kids from all around the country, so the competition was hellish. Primarily because players from outside of Belgrade were focused only on their sports, while us from the city were distracted by friends and girls. 
But I believed in myself. I took it all one step at a time. My only motivation is to see how far I could go. At the time, basketball was an amateur sport for me, it never occurred to me I could make a living out of it. I remember my first game wearing the OKK Beograd jersey against Partizan. While everyone was bummed about losing, I couldn't wait for the next one so I could try my hand at it again. Then when you finally win, the feeling is incredible. 
I got on the OKK Beograd first team through tryouts. I was the youngest of 20 muscular lads. Although I only played for a few minutes, I entered the first 12. When I got home, my family was overjoyed. 
I played the strongest ever B league with only 70kg under my belt. After my first year, I started gaining some serious time. In my third year, we played our first league. I was in Cyprus then because I'd almost given up on basketball, but they called me back. Our first game was against Red Star, with only about 20 days of preparation. I bounced my knee on the bench the entire time hoping they'd put me in the game so I can change something. They did in the end. I played a whole 7 minutes and scored 9 points, but that was enough to turn around the game and we won. 
Of course, at the time you expect that kind of thing to be the turning point of your career. But you know what happened? I didn't get on the court for the next seven games. Soon you understand that you're a part of the system that makes it so it has to be that way. This made me reckless enough to pull an unprecedented stunt. As a Belgrader, I went to play for BFC from Beocin and with them I achieved a historic result - we lost to Partizan in the finals with 3:2, although we were leading in our series with 0:2. 
Then, I finally got a call from Red Star who previously thought I wasn't talented enough a year before. We won the title in the first season. Right after lifting the trophy, the then club president Vojislav Voja Stojakovic disbanded the entire team, which technically resulted in the origins of the then strong Buducnost. Zeljko Topalovic, Milenko Topic, myself and Dejan Tomasevic and Haris Brkic all went to Podgorica. The last two would've never joined Buducnost if the team wasn't so strong. In the end, Dejan Milojevic and Zarko Cabarkapa joined too. All of that because a team was disbanded.
All in all, those were the right moves. I think I took the right moves in my career. Many have wondered how I, someone who wasn't even a representation player, ended up in Buducnost. While they bickered among themselves, I played ball. (laughter). 
Later they reprimanded me, saying that Miroslav Muta Nikolic "rigged" my time. When Bogdan Bosa Tanjevic took over, my time went up even more. Nobody talked after that.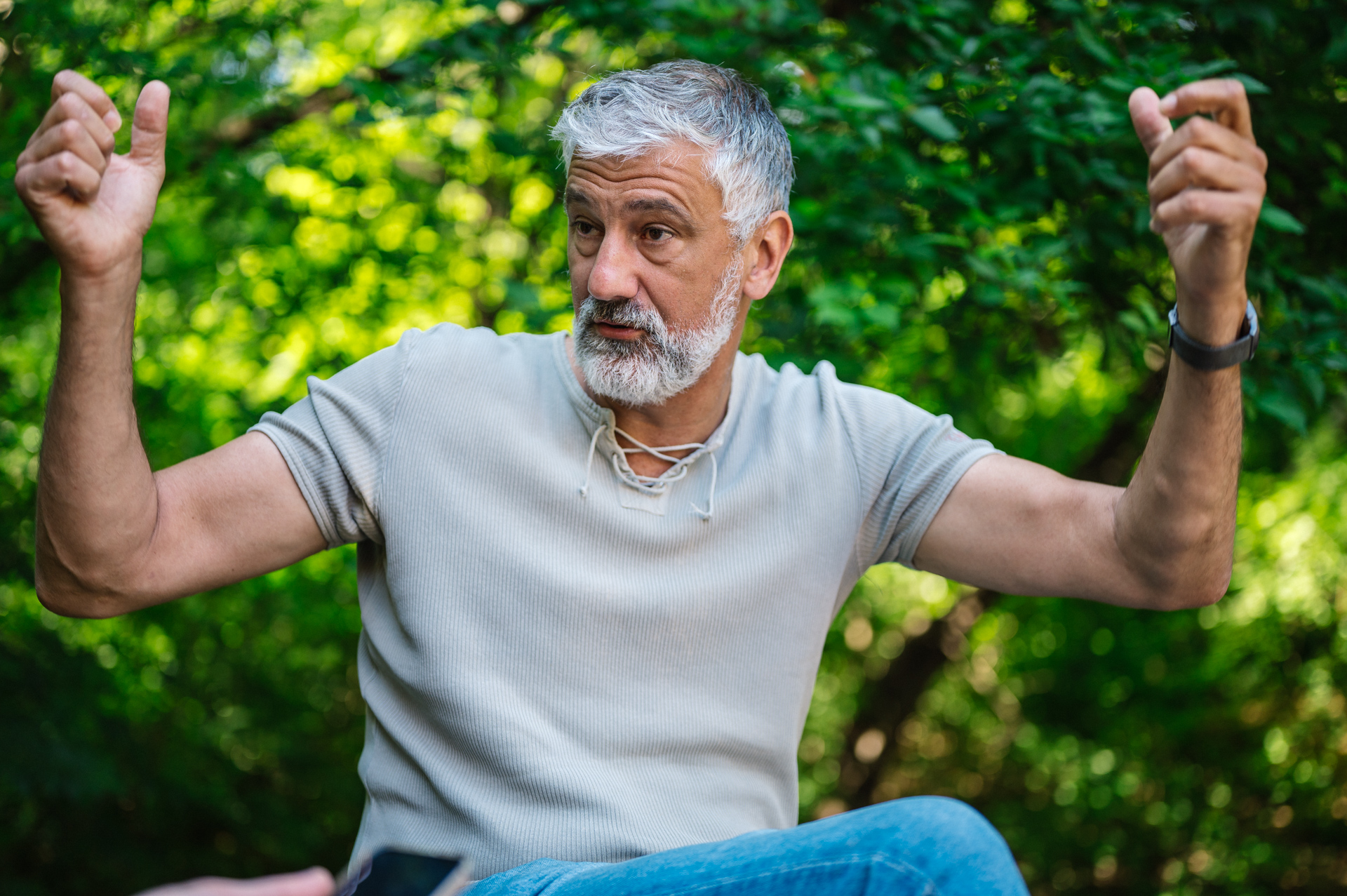 And so you became the oldest MVP of the Eurocup challenge. 
Yes. I achieved that with Romanian Ploesti, and I don't think that will ever happen again. Although we had six of our players on the team, it went down in history as a triumph of Romanian basketball. (laughter) It was definitely the peak of my career and on top of that, my wife became pregnant then. It was the perfect moment to round things up. Already in the next season, I was in the role of a father. 
Much to my pleasure, I am still in basketball as the professional commentator of Euroleague on the Sports Club channel.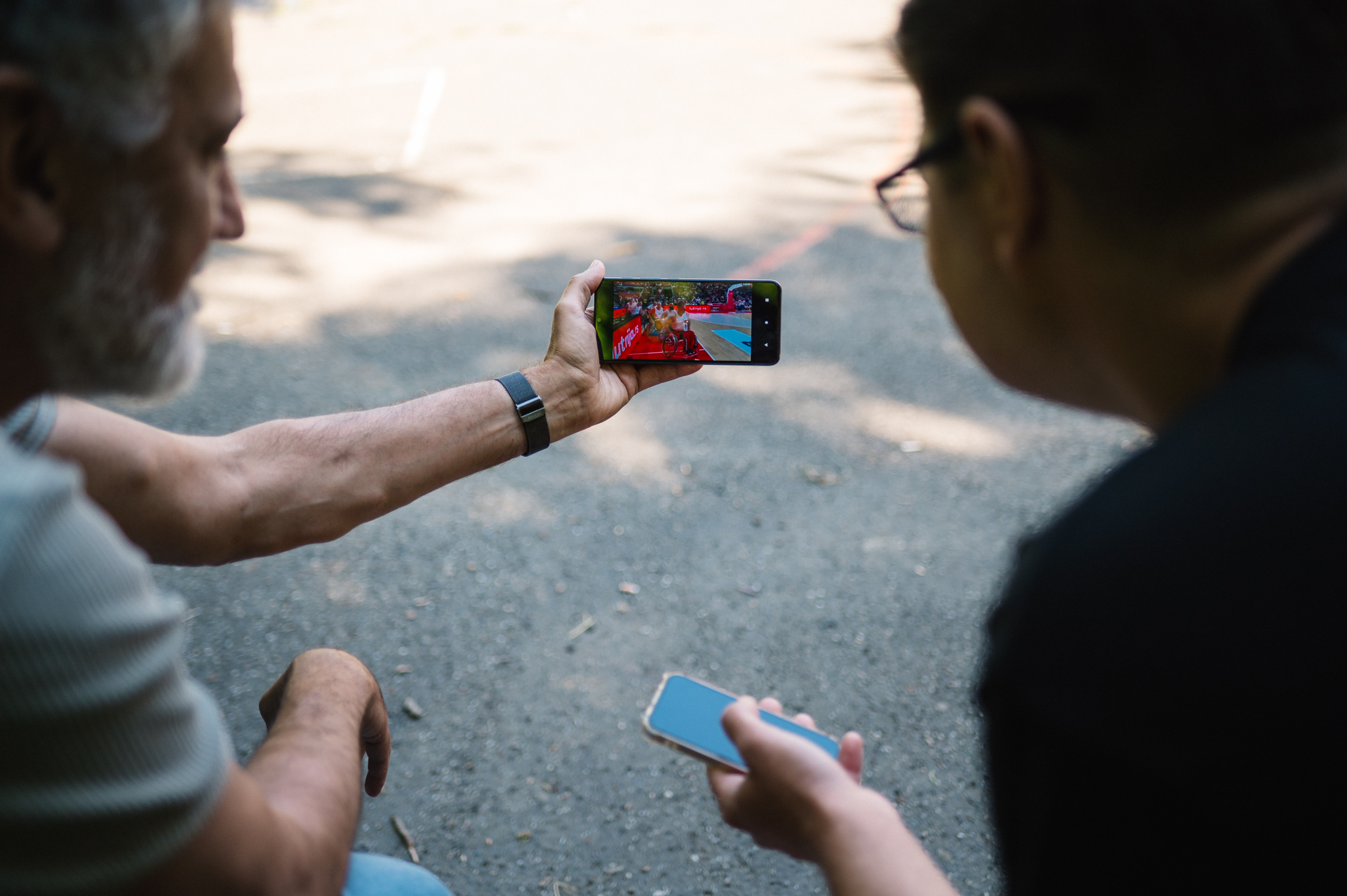 You still made it to the NBA as a scout. How did that happen? 
I worked at the BeoBasket agency, with our most famous agent, Misko Raznatovic. He suggested me to the Houston Rockets, who accepted it without hesitation. Their chief scout, Gianluca Pascucci, was my mentor and I am eternally grateful to him for that.
During that year, I was in charge of players from Serbia and Montenegro. I regularly sent reports that I still stand by to this day. During that time, I "missed" on only one single player, and I "judged" all the others well. This was Luksa Andric, the wing center of Cibona. He was supposed to end up in the Detroit Pistons, which even Igor Kokoshkov himself confirmed to me, because he performed brilliantly at the tryout. However, Joe Dumars, president of basketball operations, opted for another basketball player in the draft.
I had the opportunity to meet Houston's general manager at the time, Daryl Morey. He even came to Belgrade to meet. It was a real privilege.
By the way, there is a nice anecdote hidden there. Namely, while we were sitting in a Belgrade restaurant, he was typing on his phone the whole time. When I politely asked him what he was doing, he said that he was taking notes because he didn't understand what Gianluca and I were talking about. That's the kind of man he was. He has a lot of money, and yet he has no problem saying that he doesn't know something. His whole approach was fascinating to me.
After a year of cooperation, Gianluca leaves his position, and Arturas Karnisovas takes his place, gathering his own team of people. I sent him a message that I was available, but I didn't get a positive response. And so ended my scouting episode. By the way, the importance of scouting today is not what it once was. Today, everything is available to you on the internet. Of course, some scouts kept their positions. I wish I could have continued doing it, but I just didn't have enough contacts and that's it.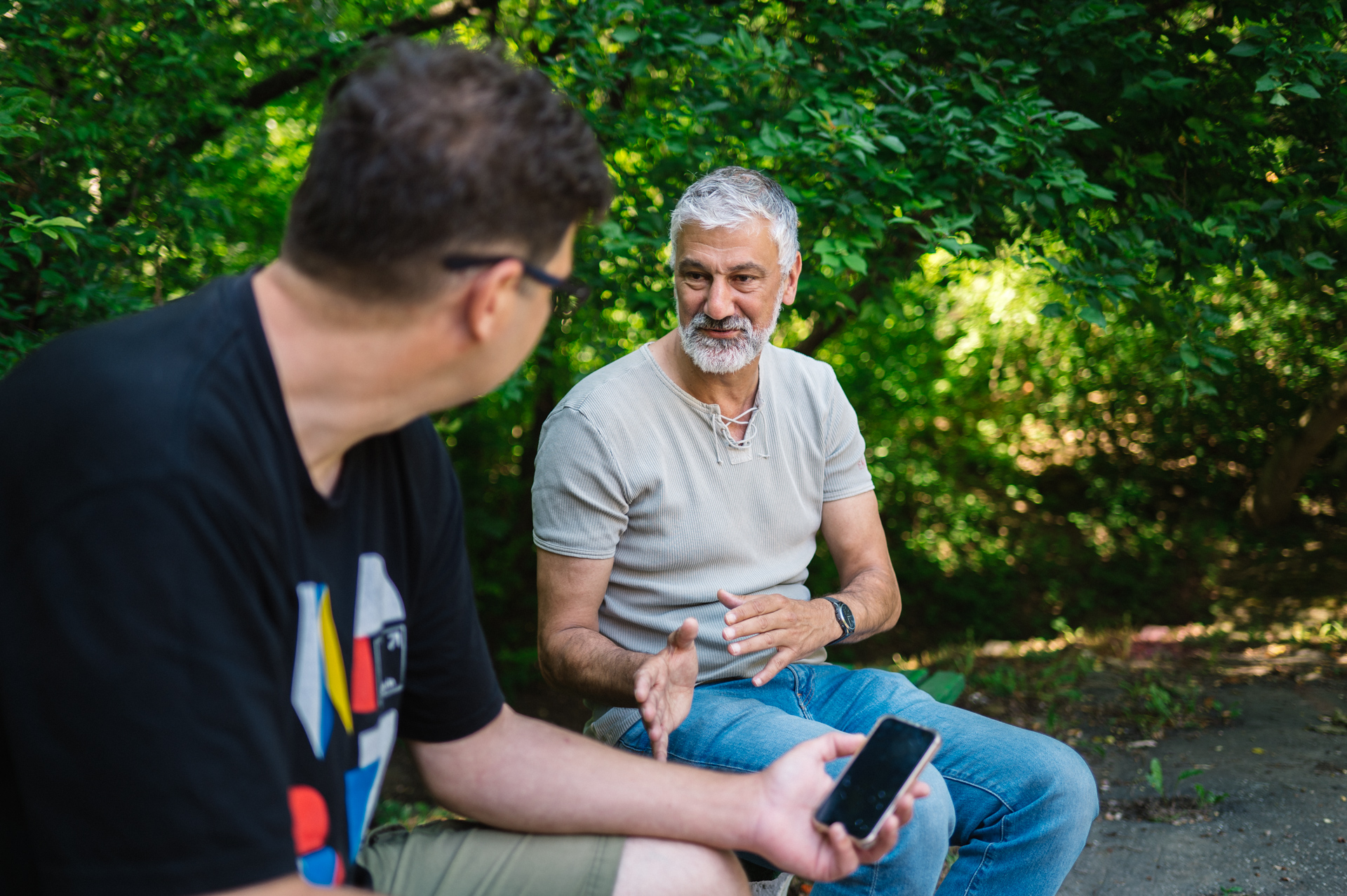 You've worked in many different positions in basketball… 
That's right. I am currently a member of the team council of the Red Star basketball club, but that is more of a protocol function. I am also a member of the Board of Directors of the Paralympic Committee of Serbia, which managed to secure funds for the training of basketball players in wheelchairs in Sarajevo, all for the sake of survival in the B division.
Speaking of basketball players in wheelchairs, I am also connected to the club Singidunum Red Star, for which they perform. They were the guests of honor at the third game between Zvezda and Cedevita in the playoffs of the ABA League. They received an unusual welcome from the audience. Before that, until October 2021, to be more precise, I was the head of the Association of Wheelchair Basketball Players. My interest has always been to elevate these people, to be recognized by the public. But I ran out of strength to fight the windmills.
I also spent two and a half years in KSS. They couldn't wait for me to leave, and the feeling was mutual, because we weren't on the same wavelength. I know I did a great job, which all the coaches I worked with can confirm. I am proud of the fact that I left the position at the top - we were the best nation in the world: we won first, third, fourth and fifth place in four selections, which no one else managed. So the results speak for themselves.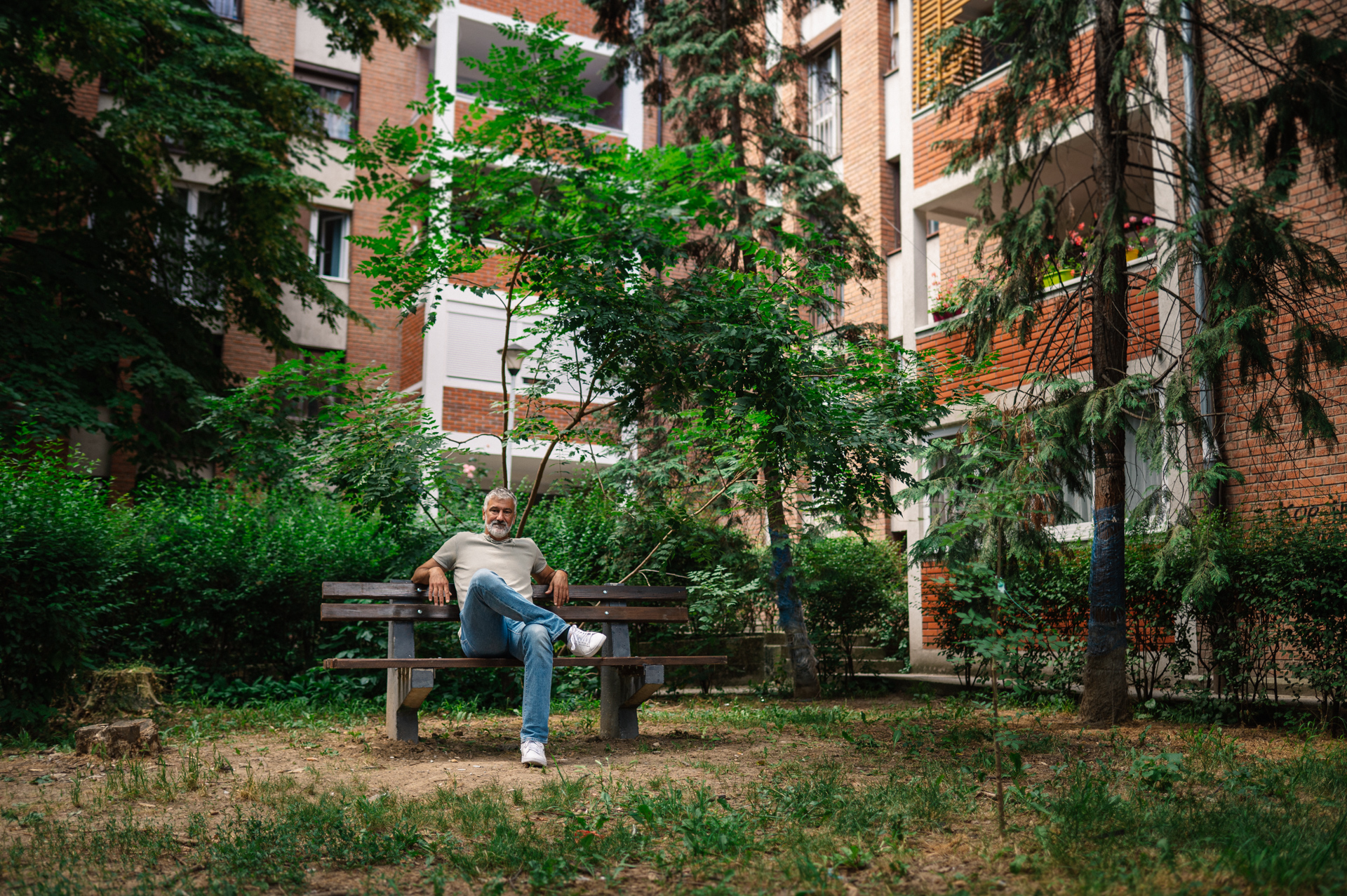 What do you do at the moment? 
In addition to my private business and the mentioned commentary on the Euroleague, I run a podcast with my dear colleague Luka Spasovski under the name "Basketball Podcast with Luka and Kuzma". We have an increasing number of followers, who enjoy an unpretentious story about basketball, without any gossip or drama. We have wonderful guests, and an equally wonderful relationship with the audience. We started in October last year with 1,500 views, without fanfare or announcement. Today we have over 4,000 views on average, 1,700 subscribers, donors, and sponsors in the form of a betting shop. So we are growing day by day.
Basically, the most important thing is to be satisfied with what you do, and I am. At the same time, I enjoy my independence. Over the years, I have earned the respect of people from the basketball world, as well as the misunderstanding of those who do not know me. I try to be the same in my everyday life as I was on the field - discreet.
Do you still play recreationally today?
I used to, but then people started appearing who wanted to prove something to me. I don't need that in my life. Today I exclusively play with my son. We live near Pionir, so sometimes we "peek" in the parking lot across the street from the school "Rade Končar".
What are your plans going forward?
I never made plans, somehow everything ran its course. When an opportunity presents itself, I grab it and don't look back. We do the podcast with a lot of understanding and there is no end in sight. As for the comments, there is both negative and positive criticism, but when I weigh everything, the praise prevails.