15.01.2021
Voja Nedeljkovic: The Duke of Zemun
The show host of the famous "Vojevanje", the radio voice that always makes us smile, the TV personality who has shined for us for over a quarter of a century, the show host of "Zvezde Granda" and above all else a Zemun man. Voja Nedeljkovic talks with us about his first "gig", how hard it can be to quit and how a plate determined his fate. 
What were your earliest memories of Zemun?
Mostly of the "Ulica Bregovita" street in Cukovac. There was a fence there where I'd wait for my mom to come back from work. My grandmother always said it's impossible for me to remember that because I was two and a half years old, but that image is burned into my memory somehow. 
Later we moved close to the Karadjordjev square in the lower town. It's interesting that I spent a good part of my life within a 300m circle around the Zemun park. I was born in the Zemun hospital, we lived near the Economy school, I went to junior high school in today's Majke Jugovica street on the other side of the park and then I enlisted in the Zemun high school. I also married in Zemun. The only thing I'm missing from that magical area was serving in the military there, but instead I served at Aviation Command where soldiers would wave at high school girls from the windows. 
And moving on, my first ever 'gig' was in Pinki, when I was just 16 years old. My friend Nesa who worked for them on something called me up on 31st of December, in the evening, to work the wardrobe and take coats from people who came to celebrate the arrival of that year 1980.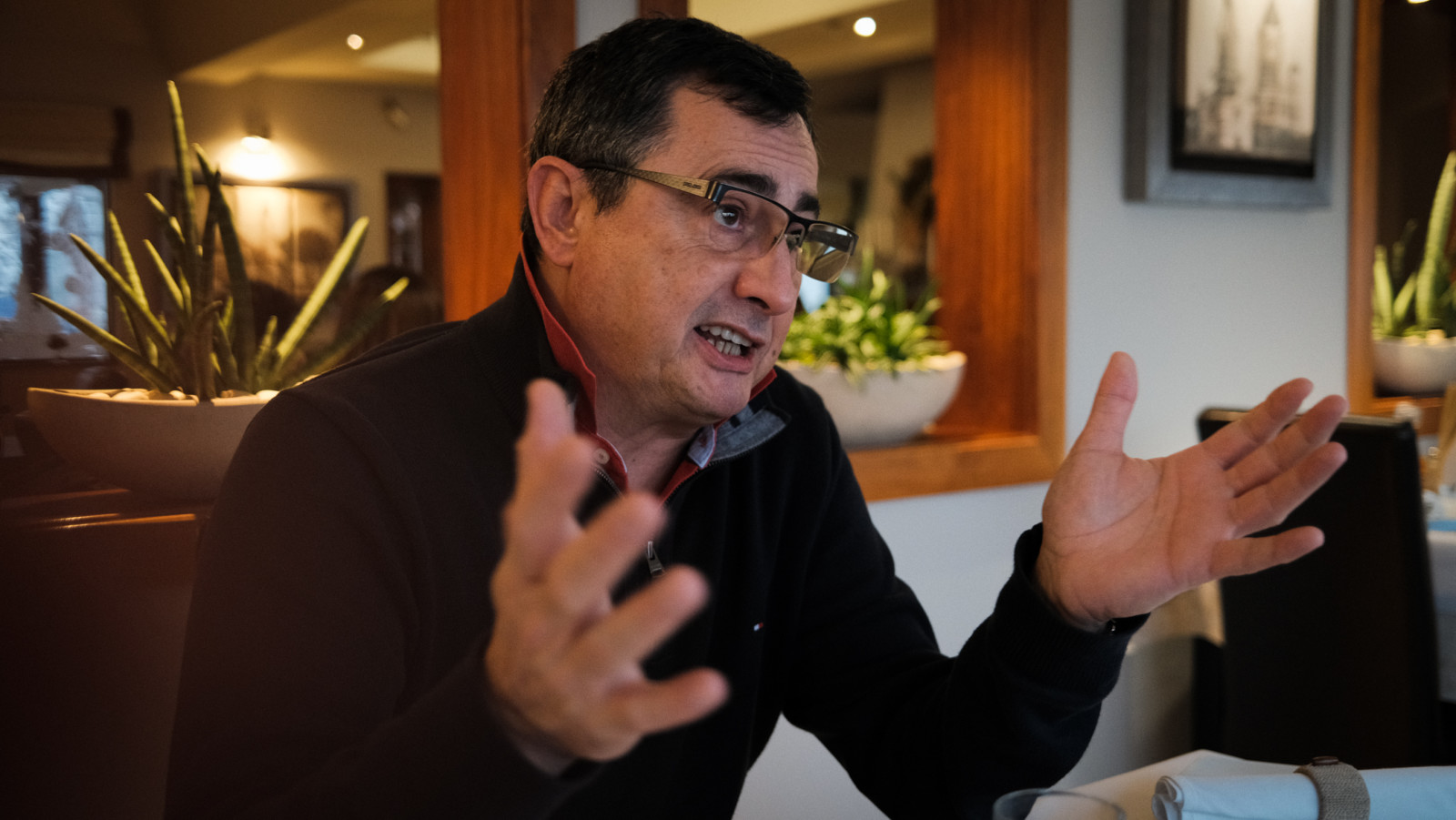 You are in fact a third-generation Zemun local. 
That's right. My mother and father were born in Zemun and their parents were relatively indigenous Zemun locals as well. Like the Duke of Windsor - I also have a 150 years old family tradition in Zemun. 
Zemun is really a unique place, although like many other cities it's a mixture of various peoples and groups. 
One time I was telling my friend from the army some surnames of people I knew and went to school with and he asked me "Where did you grow up? In the United Nations?". There were all sorts of names there - Orthodox and Catholics, Muslims, Jews, Greeks, Aromanians, Croatians, Bosnians and of course Serbs. It was such a multicultural area which I feel is unique in our region. Still, Zemun has been the gateway for many empires over the course of its history. It was home to such studious historical figures as Vuk Karadzic, Dositej obradovic and many others like them. The oldest church of the Belgrade eparchy is located in Zemun, it's the Nikolajevska church. The first hospital - or rather quarantine - in the Balkans was my high-school. Those were historical facts that I found interesting later in life and are very important. 
On the other hand, there were many great names who came from Zemun as well.
That's true. For example, many famous musicians came from my own neighborhood. Recenlty we realized we were missing a drummer. Across the street from me is Dragi Jelic from YU grupa. On the other end is Sasa Lonkar and Zika Jelic, Dragi's brother is also close. Rambo Amadeus lived as a tenant one building entrance over from me and I grew up with Bajaga, who later left Zemun. We also had a writer - David Albahari. 
Recently I was talking with Dragi about August of 1990. It was the day we met. I was walking to a Tina Turner concert that was about to start in Zemun stadium, when a yellow Golf drove past me. Through the open window I saw Dragi who asked me "Hey, kid - where are you headed?". I tell him I was going to the concert and he responded "Get in, we'll go together."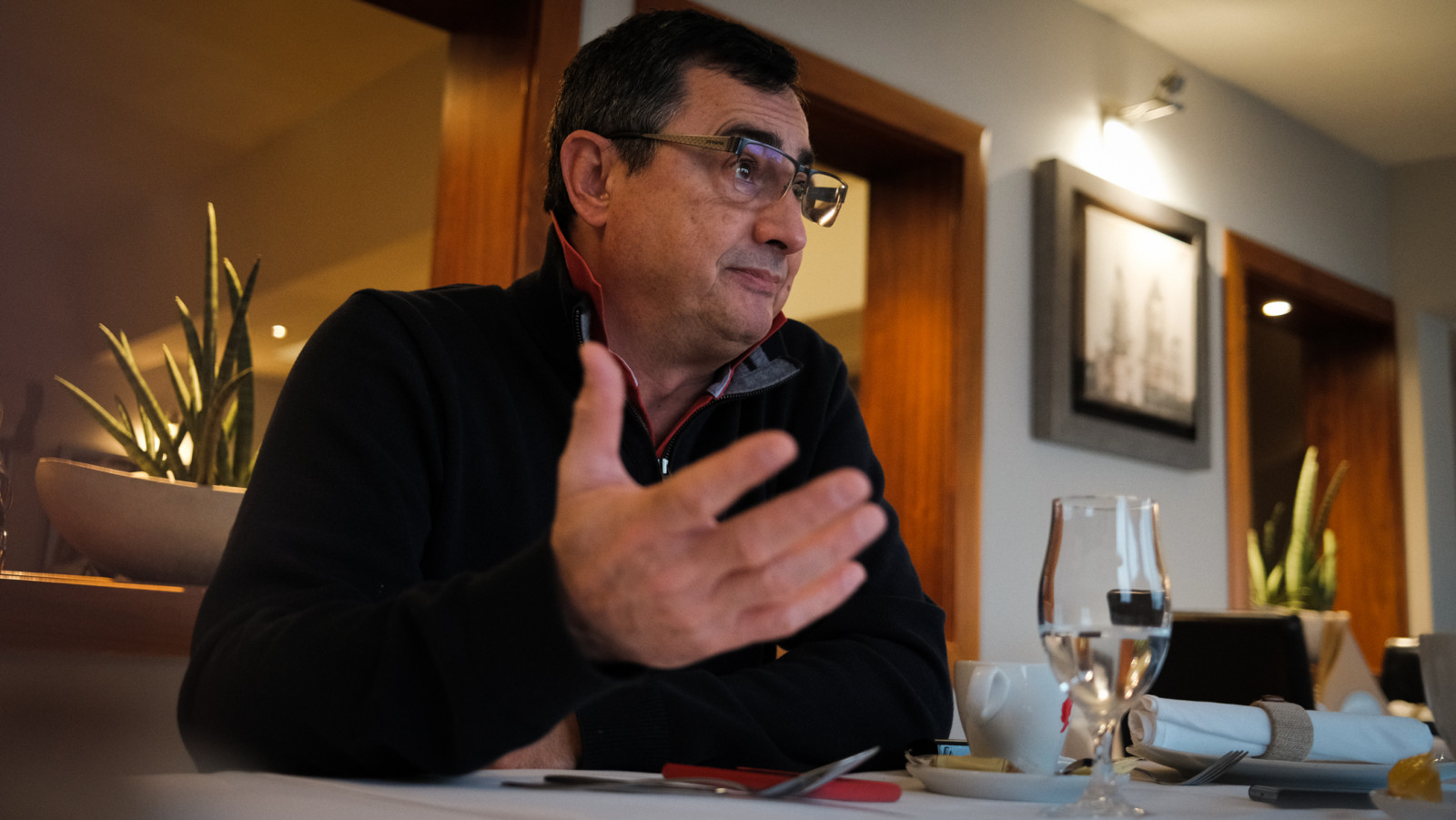 You also went to school with some famous names.
My friends from school include actors such as Goran Radakovic, Branka Pujic, the director Karolina spajic and Sasa Lokner was a generation behind us. But, it was his mother Nada who taught us math in highschool. 
Did you like math?
I didn't like it and it didn't like me. To this day I use a calculator. On the other hand, literature and studying the written word, history, geography, those were my subjects. The word, speech, song, culture, idea, thought - those concepts were attractive to me. 
You've had a love for the written word since you started school - and it nearly led to young Voja meeting Tito himself.
When I was young, I didn't go to kindergarten. My grandmother watched over me instead. That's why by the time I started school I could already read and write. This is why I was bored in the beginning, but then something interesting happened. 
Seeing how I was a bit ahead of other students, my friend Sasha Ceranic and I were selected to write a letter to Tito for the 25th of May in 1971. However, it so happened that his letter was put into an envelope with my name and my letter in the envelope with his name. That's why I believe Tito never wrote me back - he didn't like what Sasha wrote.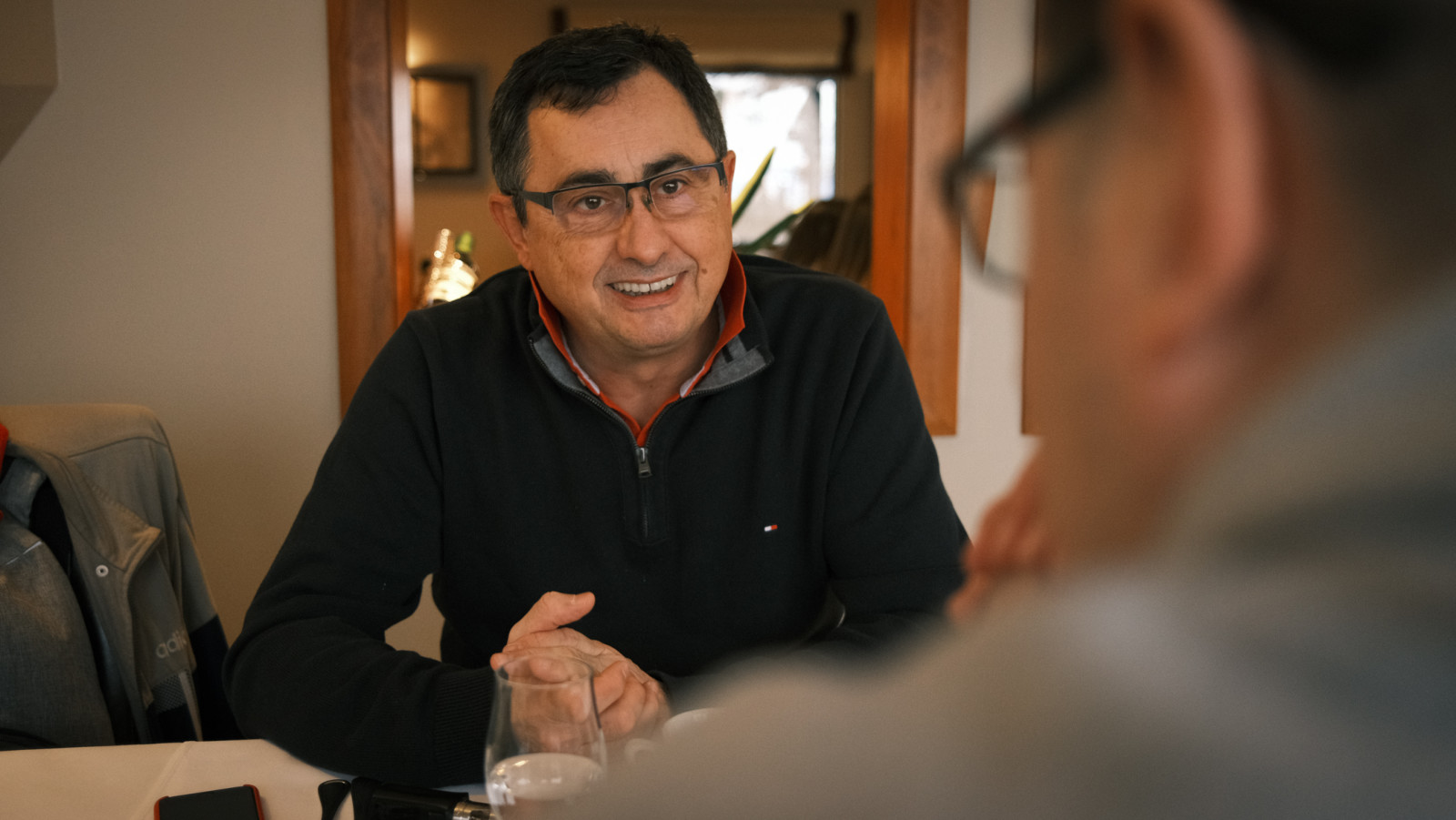 In highschool you wrote for your school newspaper, even though your mother always told you to focus on school and forget that "waste of time". Your love for journalism and show-hosting still prevailed. 
In my second year at the Belgrade Faculty of Philology, I was between a rock and a hard place. It was then I got involved with a programme called "Ritam srca" (Rhythm of the heart) which was part of the Youth Center in Belgrade and it had a slot at Studio B, which was then a cult radio station. That was where they trained and took stock of journalists and show hosts and that was where some great names such as Ivana Zaric Bojic, Srna Lango, Nebojsa Bakocevic, Maja Vlahovic, the late Delca and many others came from. 
Preparing segments and working in radio settled in my blood, but I couldn't handle both the work and my university work. Though I cleared up the first two years pretty quickly. That's how one day at lunch, my father took away my plate and said "You can choose if you want to have a plate at my table and study, or go back to pushing your microphones and feed yourself." 
It was really devastating to hear back then. We didn't talk for months after. Still, I'm grateful for what he did because he forced me to make my decision. If that conversation hadn't happened, I'd never have gone into the work I love in the right moment. 
It was very difficult to get into media back then. There were many people who wanted to get into the industry, but we only had the First and the Second TV Belgrade channels and only four radio stations. So I went into that whole story and 'bit down'. 
It's important to have energy, desire, passion, to believe in yourself but also to get a little bit lucky. 
What was the moment when Voja Nedeljkovic got a little bit lucky?
That would take us back to Karolina Spajic whom I mentioned earlier and whom I went to junior school and high school with. She was staging an alternative theatre called "Zid" whose main purpose was to tear down prejudice and challenge the norms. There, I worked on several plays - for example, I was the lantern man in Little Prince. 
Anyway, she knew a man called Aca Pavic who was working as a redactor for Studio B for the show "Prekobrojni cas". She introduced me to him and fulfilled my dream to come to Studio B. I was at his beck and call for three years - day and night - all I wanted was to somehow climb up. That's how Aca ended up inviting me to come and try my hand at it and see how I'd fare. I took maximum advantage of that opportunity. 
The media scene more or less formed during my youth. It was in that period that B92, radio Pingvin and others came to be. There were experimental programs at the Belgrade Youth Center where you'd go and film something for weeks, only to be seen just by people near the Republic square. But that wasn't important - that was luck too. 
Around that time OK kanal came to be, which was revolutionary at the time and which was why it was removed only a month later. The crew working on it consisted of myself, Jugoslav Cosic, Milorad Vucelic, Rambo Amadeus, Tanja Peternek. They just told us it wasn't going the way the Party wanted it to and bye - that was it. 
And then at Radovic theatre the 3rd channel was made and later on the show 3K dur, for which many remember you. 
I'll tell you one thing - it was that kind of show that I did because it needed to be done, not because I wanted to. My wish was to host a radio show, but somehow all those TV roles went to me. We worked in unbelievable conditions at the 3rd channel. Here's one example. 
The Third channel had existed for less than a year when the editor called in my colleague Maja Milatovic and myself and tasked us with setting up a family quiz to run in prime time in just five days. We had to come up with a name for it, find contestants, gather a crew, props...and that was starting from absolute scratch. That was the birth of "Trik show". On that quiz show, we had a jury and contestants that we sorted by families, professions and such. Our jury consisted of an incredible crew: Nesa Galija, the then director of MTV for Europe who knew about as much Serbian as I did Swahili and Cajger - the bassist from Generacija 5. We did that show for two years.  
Then, the same editor said to me "Hey, there are these two shows - I got tapes from abroad and since we're under sanctions we don't have to pay for author's rights". One show was called "Blind date" and the other "Stupid Cupid" and that's how we came up with "Ko ce koga" - a show where a girl would pick between three guys or a guy would pick between three girls. 
The show "3K dur" came about in pretty much the same way - I was tasked with it. 
There was a certain lady called Danica who wanted to do karaoke. So she pressured the editor to make something of it. I tried to explain that this type of thing would be boring to watch because everyone would sing the songs in the same way. Not to mention that in order to sing karaoke you'd need a good voice and a total lack of inhibitions so you could pull off anything. 
However it was at that time that my friend Nikola Kojo became the co-owner of the "Cinema" club in Gracanicka street. He filled in six days with various programs but was set on having something on Mondays as well, as much as we all told him that would be suicide. Most taverns didn't even work on Mondays, let alone clubs. But he still went and found a trio of people to organize a singing contest. We found some competitors and that's how it happened that a full season took off. 
Based on that experience, the next year - it was year '97-'98 - when the same director pressured me again to make a new show, I came up with an idea that involved live music. It so happened that Danica had gone off to live her life abroad in Switzerland, so we gave up on karaoke and began to create "3K dur". 
We immediately slotted two bands - "Neverne bebe" and "Korto Malteze" who were the alternative. The editor was pulling his hair out because he had to pay for both groups, the studio sound support, the set...but, I told him it would take off and I really believed it. 
It all began in October 1998. 
I remember it like it was yesterday - they were sticking air-strike protocol posters on the entrance doors. We had no idea what would happen - the situation was tense in our country and we were here filming 3K dur. We started to film the first live show. Today, I'd rather operate an airplane than work on a show like that live. You don't know if your contestants would show up, who will show up for the jury, what can go wrong… But anyway, we managed to push out two episodes but we didn't have contestants for the third. What to do? Stage an audition at the Sava centar. 
And at the audition…
The organizer Baki Pavlovic called me up and said "Chief, we're having a riot over here. There's such a rush that I'm sitting in the toilet, guarded by security. People showed up like it's the 9th of March protests!". We had so many people that the police came over to see what was going on.
In the meantime, Baki is tearing out little bits of paper with numbers in the bathroom and poking his hand out the door to give them to candidates one at a time. 
And so "3K dur" took off as a completely self-sufficient show. We had our own games - original copies, if you like - where you'd sing as someone else, then there were duets, trios...and out of it all came an army of really good singers. All the while we kept everything running with strings and sticks behind the scenes. 
I was talking to Sasha Popovic one time and I told him "Buddy, you created over 100 singers from Zvezde Granda, but my two singers were in Eurovision year after year". Marija Serifovic won in Helsinki and the next year Jelena Tomasevic was the host in Belgrade. "3K dur" also gave rise to Ivana Selakov, Ana Milenkovic…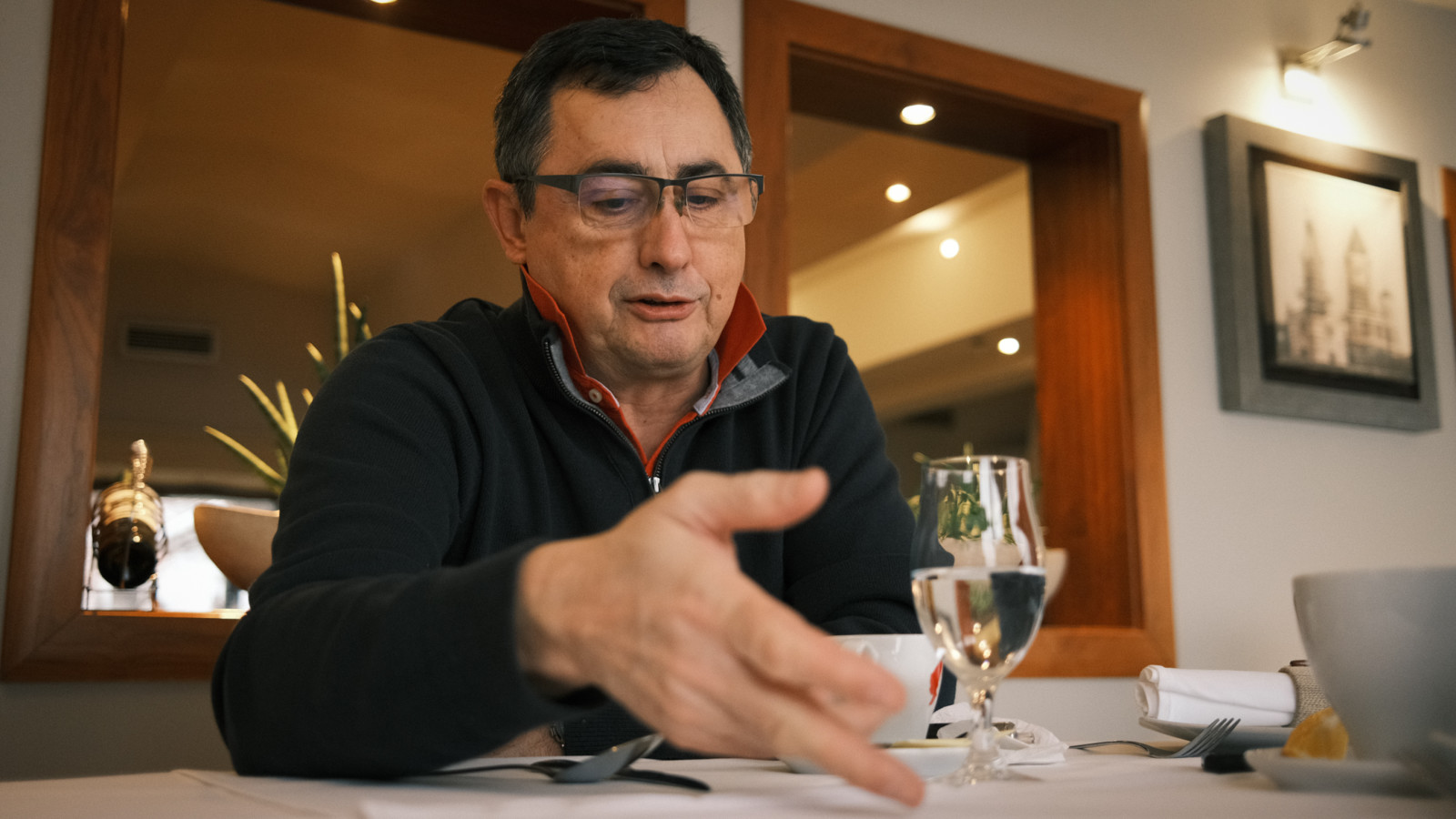 The show was on the rise when 24th of March 1999 happened.
We had to stop filming because of the bombing. As soon as that ended, my father passed away. In the end, we continued in November, but we were having problems because of the gap between March and November. How do we continue through to June? So we started auditioning in various cities. The judges were the late Lola Novakovic, Milan from Bebe and Ana Milicevic, the music editor. 
Those auditions ended up making a hit show. 
Everything had just started heating up and we got candidates for fall. But, because of the elections on the 24th of September in year 2000, we decided to wait a few weeks, so we scheduled the shooting for 5th of October. Of course it never came to be. We continued the show in 2001. 
We somehow pushed through that season and ended up in an awkward position again. There was a meeting to decide where to go from there on 11th September 2001. 
We sat down with the music editor and organizer and were just talking about it all when I looked at some TV screens that were on behind them and I see an airplane hitting the twin towers. I remember saying "Wow, what a movie" and the editor said that wasn't a movie - it was from a BBC feed. We all went quiet. 
Phones went off and when the editor took the call I heard him say "Who attacked America?".
Anyway, we kept on but we had very difficult conditions and not a lot of funds. Jelena Tomasevic won in 2002 and we somehow pushed out two more seasons in a sort of semi-private production. However shows like "Idol" and the "First voice of Serbia" came out with much higher production values and that was the end of 3K dur. The Third channel was shut down as a TV station in 2006. 
And that was the start of the next chapter of your career.
The Third channel was always the appendix of RTS and they always treated us like the station's illegitimate child. First of all we were physically far away from them - we were working in Sava centar while they were up in Abardareva street and Kosutnjak. We were kind of a thorn in their side because we kept making all sorts of things out of nothing and they had trucks, airplanes… It was all passion, energy and improvisation. We made such names as Bicko and Manda, Tanja Peternek, Ivana Bojovic, Sanja Ignjatovic and a bunch of other. I'll be terrible and forget a few names, I'm sure. 
When that channel went down, they were contractually obligated to assign us all in other TV stations and I was on bad terms with director Tijanic at the time because of some press conferences. During that summer he assigned me to an educational science program which I was about as related to as I was with the CERN institute and their search for the God particle. I realized I had ended up there through no fault of my own and only because they couldn't flat out fire me, seeing how I didn't qualify as redundant. 
So I was in a bit of an empty limbo for a time, until I got a call from Kosava television where they were starting a quiz show called "Lancana reakcija" (Chain reaction).
I took the offer and quit my job with RTS. I realized then that it was harder to quit from RTS than to get a job there. You needed more permits and documents than if you were working for MOSAD, CIA or KGB. I had to go to six different offices to get various permits, had to go to some kind of Library in Kosutnjak I didn't even know existed to get a statement saying I didn't rent books. For four days I went all over Belgrade and crossed over 150km in order to be able to quit my job. 
However, after two months working for Kosava, a new owner came into the picture and stated that our working hours at the station would be the same as in his tobacco factory - 9AM - 5PM. I told him I couldn't work that way if my show was at 8PM and that was how we parted ways.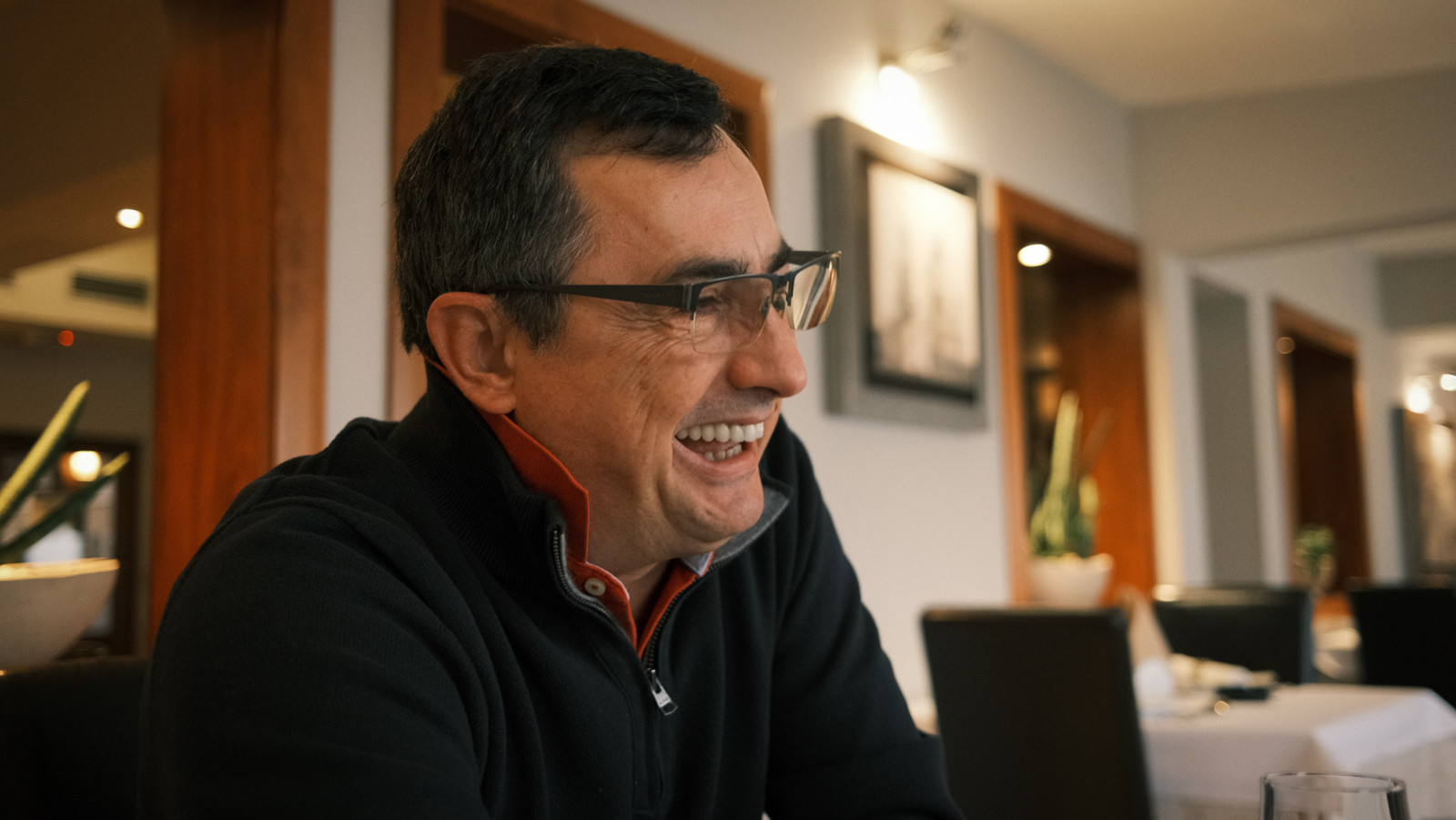 Fate had other plans for you.
15 days later, I got a call from Fox TV to audition for a quiz show host "Are you smarter than a 5th grader". Two days after the audition they hired me and called me in. 
I was greeted by this tall young woman, a chap with a beard who looked like he came from a monastery and another girl who asked me if I had a passport because we filmed in Bulgaria. 
My first thought was that I was on candid camera, but then I thought - no, it was too early for that. They shoot that type of thing in November and December, not now in August. 
Then they explained that shooting in Bulgaria is around five times cheaper and it's the same location where they do their own version of the show, which is why we travel. 
So we went to Sofia for a test shooting, in a sports center which was converted to a studio that looked like a classroom. The audience consisted of 250 Bulgarians and the contestants - the kids and their parents - were with us. Now, Bulgarian and Serbian are a little  bit similar, that's true, but the audience still couldn't understand me. So we had a problem where I'd say something funny and there would just be dead silence and stony faces - even when they applauded, which was kind of funny in retrospect. Eventually they gave them a "LAUGH" prompt in addition to the "CLAP" prompt so we somehow made it work. But nobody I knew believed me when I told them we were filming in Bulgaria. 
We'd sleep in a hotel and shoot around seven episodes every day. That way I did 25 episodes from Friday to Monday, until I couldn't talk. That madness lasted for about a year, after which Fox pulled up its anchor and disappeared. 
You've had so many projects, but radio was always your greatest love.
It was thanks to both radio and television that I became what I am. Radio teaches you to talk and paint images for people in words. 
My parents bought me my first stereo tape player in 1979 and over the following years I spent all my time listening to the radio. I was lucky to listen to some quality hosts and that's how I grew to love it. I still work in radio today - the show "Vojevanje" in Radio S is entering its 10th year of running. 
Radio saw and survived the rise of movies, television and the internet. Its greatest advantage is that everything can go down and you can still listen to the radio with just one or two batteries, and you can listen to it in your car, on your phone, on your smart watch...it's the most available medium even though significantly fewer people consume it nowadays. The difference is that we used to have to race who'd get to the first new album or song, but today anyone can obtain them in a few clicks. But that's why the trick is in the content that a show host on the radio can offer to the viewers to interest them and deliver a message. 
How similar is Voja from "Vojevanje" to Voja from everyday life?
I do my best to be myself no matter what I do. I never wanted to be a "talking head" no matter what assignments I had to do from various circumstances. I didn't always choose the projects I had to do because of various circumstances, but I tried to always stay true to myself. 
It's not uncommon for people to forget what matters, to change narratives or hold something I didn't say against me, while forgetting that a lot of times you can say various things in different ways and at different times. Not everything always has to be stated, some things are implied. Regular people who are able to think for themselves - regardless of whether they're bakers or university professors or come from any other slice of life - will get my meaning. 
There are those who are very critical about the content in modern television.
Usually wine, beer, women and gossip - as even many great names from literature, diplomacy and philosophy have admitted - are the topics that attract them the most. Sometimes more than philosophical conversations and debates. One of the most famous anecdotes about Churchill was that his secretary once noticed his fly was undone and told him about it. Churchill told her "Don't worry miss, there's no way this bird will fly so it's okay for the cage to be open". 
The human mind, no matter how curious it is, is also lazy. Give it some down to earth stuff, don't give me a headache, don't burden me with heavy thoughts. Give me something light and if it's also a bit provocative, crazy and saucy - even better!
For example in America it's now really popular to watch actual police chases. But if you play, say, Othello for people, they'll say "Oh, don't give me that heavy stuff right now, I can't think about anything challenging. Give me something down to earth" and that is that. That's entertainment for people who have struggled with various problems every day of their lives. 
What are your plans for the future?
To stay alive and be healthy. No big plans for now. Even back when I had them, it would always end up as though nature, fate or god heard me and everything went south. Some excellent things I did in life were out of obligation or fortunate circumstances, so I no longer make plans.