"Imperija M", a restaurant for weddings and celebrations in Borca was started by Strahinja Mladenovic with one thing in mind - "The guest is the king". His idea was to offer his guests originality that will reflect the unique nature of every couple of newlyweds or birthday celebrator individually, all at very attractive prices.
You've learned your trade from your parents.
My family had worked in hospitality in Germany for many years. We actually ran the seventh Yugoslav restaurant in Berlin. It was that environment that marked my childhood. I grew up learning all the secrets of hospitality.
When you returned to Serbia, you first started a business with children's playhouses.
I adore children and I wanted to start a business of my own, so the children's playhouse "King" was the logical next step for me. Seeing how we provided top of the line services and still do, our business grew very rapidly. Our playhouses have now been around as a concept for five years or so and have become a serious brand. People who celebrated their children's first birthdays with us are nowadays returning to celebrate their fifth.
As a natural extension of our business, we started a weddings and celebrations hall "Imperija M" in Borca four years later.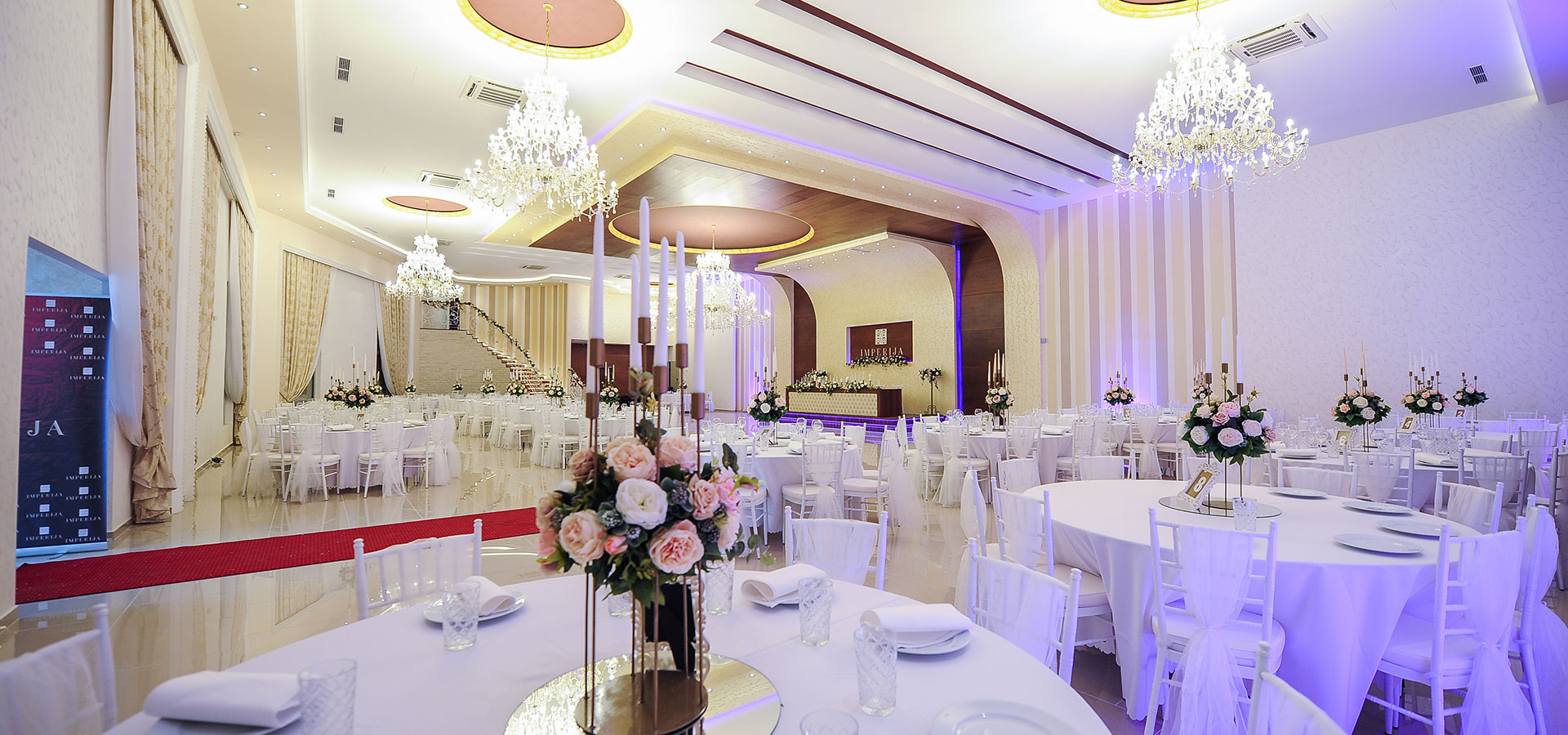 Photo: Imperija M
The formal grand opening happened on January 21st this year.
That's correct. We designed our hall with the idea that it should be a fairytale where every bride will be her own princess, descending gloriously down a set of grand staircases. Our main wish and goal is to fulfill the dream of every bride. To make sure she truly spends her big day in the best possibly way and continues to smile genuinely throughout the whole thing.
What kinds of services do you provide for newlyweds?
When it comes to wedding planning, the bride and groom don't have to be involved in the organization at all if they prefer not to be. Starting from the wedding registrar to the church, arrangement and invitations, we can organize it all for them with our wedding planners. All they need to do is show up for their wedding.
Can you tell us what it's like working with a wedding planner?
The couple tells us everything they'd like in their celebration, at what time and in what way. Then it's up to us to make it happen exactly like that.
So far we haven't failed in delivering everything our clients wished for, no matter how grand it was.
People generally ask for similar things. They want an old-timer vehicle or a limousine to take them to their wedding, white pigeons in front of the church. Of course the unavoidable floral arrangements made with fresh or artificial flowers, for which we have a professional florist.
We also fulfill the couple's wishes in regards to their invitations. They can be luxurious, printed in wood or with metal-engraved letters or regular paperback invitations. Nothing is too good for our newlyweds. All they need to do is choose and then it boils down to agreement and the budget they are ready to provide.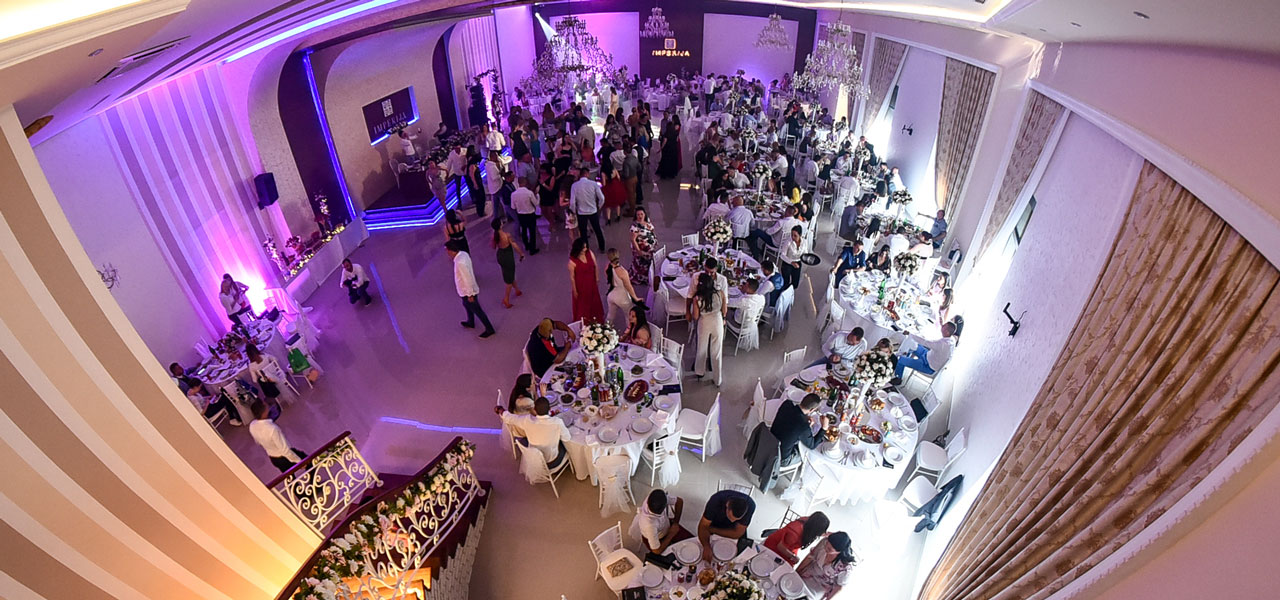 Photo: Imperija M
What were some unconventional requests you've had?
We had a wedding where the bride and the groom had a massive Hummer limousine and they wanted to fly over in a helicopter. It was a young couple from Sweden and they wanted to make all their wishes come true.
The limousine took them to the heliport, then they rode around in a helicopter, landed and came back to the wedding hall. This was all of course photographed and recorded. When the limousine brought them to the celebrations hall, they were greeted by a red carpet with dry ice, so they passed through a mist and it all looked very mysterious and surreal. It was really a wedding to talk about.
We also had a couple from Germany who wanted an old-timer convertible Ford Mustang to drive them around the city. They visited Kalemegdan where they'd first met and fallen in love with. There, they took pictures and we recorded them with drones. Then they rode their mustang to the wedding hall where the registrar was waiting for them.
More and more newlyweds want to go on a ride in an airplane, balloon or helicopter before their wedding and we always make it happen so that they get the best possible experience.
In addition to the hall, what else can the bride and groom look forward to?
They get their newlyweds' suite and the services of a wedding trumpets orchestra as a gift from us. They can retire and rest at the suite while the guests are arriving or to have something to eat or drink, because newlyweds often don't to do that during the wedding. That's why we set a table for them up in the suite including an espresso machine. Of course, after the long day they can spend the night there if they choose.
Also after a city wedding the custom is to take pictures with the guests. This is usually very straining for the newlyweds because they have to stand there for hours while they greet and meet every guest.
In order to make it easier and faster for them, we often set up two chairs between beautiful floral arrangements so that the newlyweds can sit like king and queen while the guests come by and line up behind them to take the picture.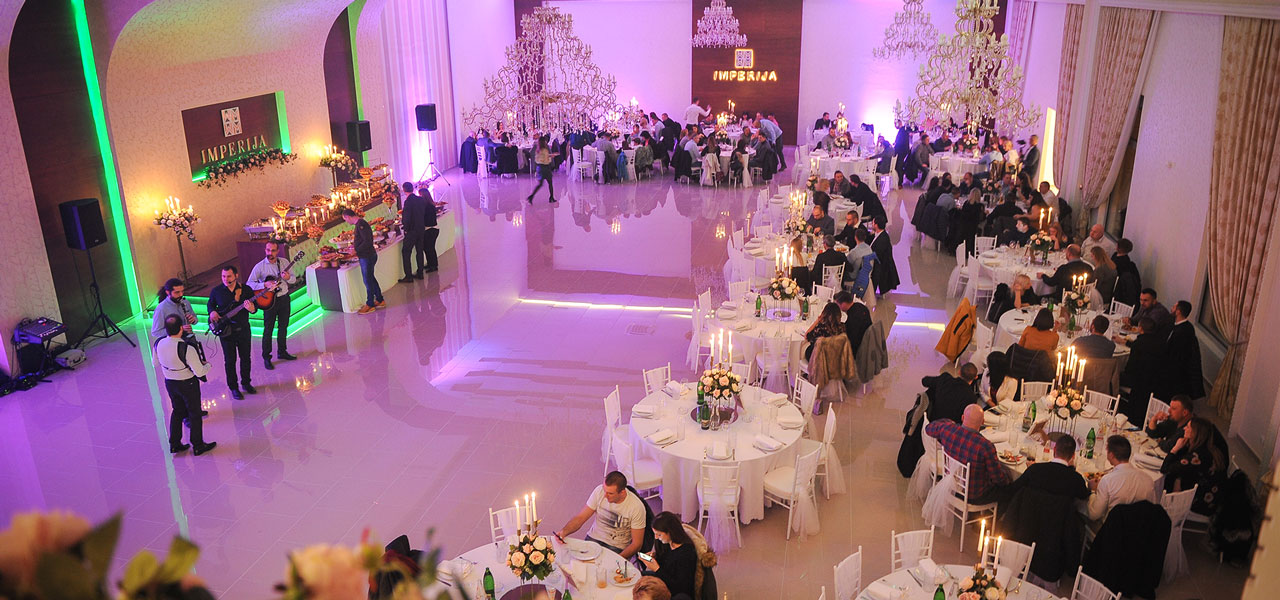 Foto: Imperija M
And then the celebration begins.
After the newlyweds say their 'I do's and dance their fist dance, we organize a fireworks display that can last anywhere between five minutes to half an hour, depending on their wish. After that the wedding guests can go to the podium and dance.
To make things as smooth as possible, we then bring over some bar tables at the podium. We noticed that people often forget their cellphones or something else at their table and when they go back to take it they often don't come back immediately to dance. And also it's hard to dance while holding drinks.
This way people can dance all they like and those who are a bit more shy and prefer to just dance at a table can do so on the podium.
In charge of all of this is our light manager who coordinates the lighting and reacts to adjust the atmosphere to the moment.
Of course the celebration has to be recorded as well.
Photography and video recording are included in the price. We have our own photographer who has to be present at the hall and is at the newlyweds' disposal throughout the day. Whether they need to take pictures at their home, during the wedding or at any other time. If the bride is pregnant, they can take private pictures in their apartment to mark the occasion.
Take a look at Imperija M's video presentation: