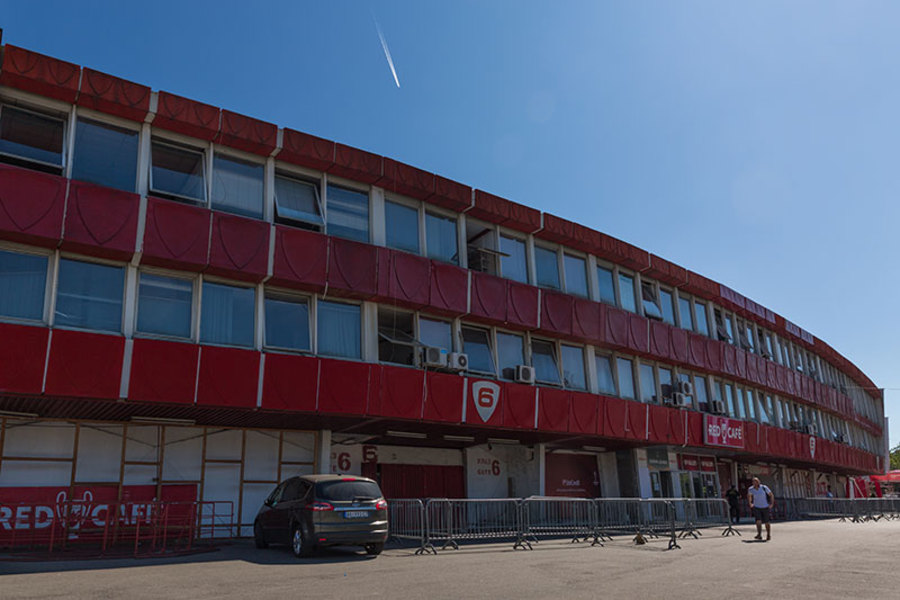 Photo: Pavle Kaplanec
The five 'Star's Stars'
Soccer club Red Star (Crvena Zvezda) has had the tradition of bestowing the title of 'Stars star" to the players who greatly influenced the club's history and who made the club famous around the world. All players except for Dragan Stojkovic played for the club for at least a decade and were in their day team Captains.
The First Star's Star - Rajko Mitic
The legendary Red Star footballer was born in the village Dol near Bela Palanka on 19th November 1922.
Rajko started playing soccer in the fields of Belgrade's settlement Kosutnjak, premiering as a senior for BSK in 1940 against Zemun's 'Vitez'.
His soccer career stagnated during the war, but the second it was over he continued to play soccer and on 3th of March 1945 he began playing for Red Star.
He wore the red and white jersey for a full fourteen seasons, playing the position of the right midfielder for 572 games in which he scored 262 goals.
He led Red Star as Captain, winning six championship titles (1946, 1951, 1953, 1956, 1957 and 1959) and four national cup titles.
His sportsmanship in the field was famous, especially on 7th of April 1958 in the game against Split. Namely around 20 minutes before the game was about to end, a stone was thrown from the audience and hit Bora Kostic in the head, after which Rajko withdrew his entire team from the field. After this action, FSJ penalized almost all the players of the team with 1-month suspension.
He ended his playing career in November 1958 in the cup finale versus the Mostar 'Velez' (4:0)
In 1960, Mitic came to the head of Red Star's executive board and stayed there for a full six years, after which he spent three years as the union Captain-selector of the Yugoslavian Soccer Association.
This soccer grandmaster passed away on 29th of March 2008, leaving an eternal mark on his club and our country's soccer history.
The second Star's Star - Dragoslav Sekularac
"The king of dribbling" and the second 'Star's Star' was born in Stip in 1937. He played for Red Star for the first time on 6th of March 1955. With his club, whose colors he wore 470 times and scored 119 goals for, he won seven national championship titles and five cups. For the state team, with whom he won the Olympic gold, he played 41 games and scored 6 goals.
Sekularac stated that his favorite fact is that in the derbies against their club rival 'Partisan', he maintains a positive win ratio.
He worked as a trainer but with less success than he had as a player, eventually leaving the team from Belgrade's Marakana in the hands of his successor Ljupko Petrovic who went on to conquer Europe and then the world with Red Star one year later.
Sekularac is the idea creator behind Red Star's 'golden generation' from '91 and the first person who wanted to form a team of young and promising players who had yet to be affirmed. He suggested to Dzajic to buy only the highest quality young soccer players from Yugoslavia which he accepted.
Seki has always been the center of attention - he likes to be talked about and there are plenty of anecdotes and fun trivia to go around.  
The third Star's star - Dragan Dzajic
The best player in the history of Yugoslavian and Serbian soccer, born in Ubu on 30th of May 1946.
He came to Red Star after a masterfully played tournament in Valjevo where he was noticed by 'talent hunters' from the country's biggest clubs. After he came to Belgrade, it took Dzajic only six months to earn himself an invitation to Red Star's senior team when he was no older than 17 years. He played debuted on 8th of June 1964 in the game with Podgorica's (then Titograd's) 'Buducnost'.
His first team title came already next year and he will also be remembered as the leader of the generation which was the first in history to pull off a 'hat trick' in the ex-Yu league (1968, 1969 and 1970). He took his fifth championship title in 1973 and he also held up the national cup victor's trophy four times. After he left the most decorated Serbian club, the best left-wing of the world, he also added two years of international soccer career to his resume. He spent 1975 and the following year in France's Bastiais for whom he played eighty matches.
After that, he returned to the red and white club for which he kept playing all the way up to his farewell game on 28th of May 1978 in Mostar.
Statistics say that he played a record-breaking 590 matches for Red Star and scored 287 goals, while he played for the international team 85 times.
After a very successful playing career, Dzajic in 1979 sat in the technical director's chair. 12 years later, after winning the title of European and World champion along with his associates he wrote the most beautiful page in the history of Serbia's club soccer.
In addition to the technical director position, since 1998 Dzajic has also had two mandates and the club president's seat.
Fourth Star's Star - Vladimir Petrovic
Born on 1st of July 1955 in Belgrade, he is known in the soccer world under his nickname 'Pizon', which is the Serbian pronunciation of the French word for pigeon.
His extensive career as a player and then trainer made him one of the most esteemed personalities from the world of soccer in our country. He spent a large portion
Bogata igračka, a kasnije i trenerska karijera učinila ga je jednom od najcenjenijih ličnosti iz sveta fudbala u našoj zemlji. Veliki deo karijere proveo je u Crvenoj zvezdi u kojoj važi za jednog od najmlađih debitanata jer je 1971. godine, kao šesnaestogodišnjak, prvi put nastupio za seniorski tim.
Osvojio je jedanaest domaćih trofeja, pet titula i šest nacionalnih kupova, a veliki žal ostao je zbog izgubljenog finala kupa UEFA 1979. godine protiv Borusije iz Mehengladbaha.
Posle jedanaest godina na Marakani, otisnuo se u London, gde je za tamošnji Arsenal igrao jednu sezonu. Inostranu karijeru nastavio je u Francuskoj igrajući za Brest i Nansi, odnosno belgijske velikane Antverpen i Standard iz Liježa.
Ukupno je crveno-beli dres obukao 497 puta i postigao 117 golova, a u dresu sa nacionalnim obeležjem nastupao je 34 puta tokom kojih je postigao pet golova.
U trenerskom poslu takođe je zabeležio zapažene rezultate uglavnom trenirajući Crvenu zvezdu da bi petnaestog septembra 2010. godine, izabran za selektora najboljeg tima reprezentacije Srbije.

The fifth Star's Star - Dragan Stojkovic
Dragan Stojkovic "Piksi" was born on 3rd of March 1965 in Nis, from where he crossed over from the team 'Radnicki' into 'Red Star' in 1986, leaving an eternal mark in the most decorated Serbian club.
Soon after arriving to the Markana, he earned the Captain's ribbon and became one of the best players in the history of the red and white team. He left Belgrade and Red Star in 1990, not knowing that he would face his former teammates in the finale of the European Championship League in Barry.
His path further leads him to Verona, where after just a single season he surprised many by going to Japan - Nagoya - where he achieved cult celebrity status.
For the representation of Serbia, he played 84 times. He participated in two world championships: 1990 in Italy and 1998 in France as well as the continental contest in Belgium and Holland in 2000. His goal in the first quarter finale world cup against Spain was awarded the title of one of 50 most beautiful goals ever achieved in world championship soccer by experts.
After his career ended, he remained in soccer, first as the president of the soccer union of Yugoslavia and as of July 2005 to Octover 2007, he was the president of Red Star. The club achieved notable results during this period. From Red Star, he went East again, to Japan, where he became the coach for Nagoya with whom he won third place in the debutant's season. He was declared the best coach of their League. The culmination of his efforts came later, in 2010/2011 season when his club won the first championship title in their history.
Piksi put on his red and white jersey 116 times and scored 54 goals.
In 1991, Red Star achieves the greatest success in the history of Yugoslavian and Serbian soccer by climbing to the top of the Europe and the world. The best player of that generation (according to the most renown soccer and sports experts) was Dejan Savicevic. Even the biggest laypeople for soccer were in agreement that the popular 'Dejo' deserves all the accolades that a club can award their player.
And who is the 'Sixth Star'?
In addition to these five players, at the 65 years anniversary celebration of the club, on 29th of May 201, the generation of 1991 who won the 'European championship' and the 'Intercontinental' was declared the 'Sixth Star's Star'.
One of the reasons why this title went to the entire generation is because after the original five there was not a single player who played for longer than 10 years. For that reason, Vladan Lukic, the then-president of the club, decided to compromise and award this title to the entire generation to whom it belongs.
The cult of the 'Sixth Star's Star" didn't take in public or among the fans because the title used to be related to a single personality who significantly contributed to the club.