14.12.2018
Zoran Modli: Piloting the radiowaves
He started from one dusty Zemun street, with a firm belief that "sky is the limit" and he was right. Zoran Modli, radio host, became the living legend in our national radio scene. He was a DJ at a time when there wasn't a name for it yet, he worked in journalism and new technologies, wrote books.
But this wasn't enough. Something was pushing him forward, beyond all limitations. He became a pilot, touched the sky and then brought together his two loves and became a radio host in the sky.
What was childhood like for Zoran Modli and did something from that period lead you to your future career?
It led me straight away. :)
My family was small – my mother and I.  My father left early on, when I was three years old. That's why I didn't know much about the outside world. It was usually the fathers back then who took their sons to sports games and events where the crowd is cheering and there's that kind of dynamic. I was mostly involved in home life and played in the street with other children.
However, in my street there were two radio devices, and one of them was in a garage across the street from my house. I would spend time in that garage that belonged to a transportation company, while my mother was at work. There were many trucks in there and this was my world. I would hang out with truck drivers who'd occasionally bring me along on their rounds. I loved it when they brought me to the chocolate factory Nada Stark in Zemun. I'd go there and watch all the sweets get made – it was magic to me, like in that movie "Charlie and the chocolate factory".
Those are my unforgettable childhood moments. Watching the endless rivers of unpacked chocolate. Kind workers in white coat would gather a couple of chocolate bars, put them in a bag and give them to me. I'd return home with my trophy, delighted to have something we kids all craved from the very source.
On the other hand, the radio in the guard's cabin completely fascinated me. I'd listen to it all the time, especially on Sundays when sports broadcasts were on. I'd listen to the voice of Radivoje Markovic, the cheering fans hollering, whistling in the games and that was very exciting to me.
Then, at home I'd make my own radio broadcast. I'd take a wooden marmalade box from the store in the corner and behind it I'd make my own radio world. I'd have bells, cups, various things to make sounds with. I'd broadcast my own music, sing and jabber on about nothing and everything. That's how my love for radio began back then. Because what you want and can't have as a child will stay with you your whole life.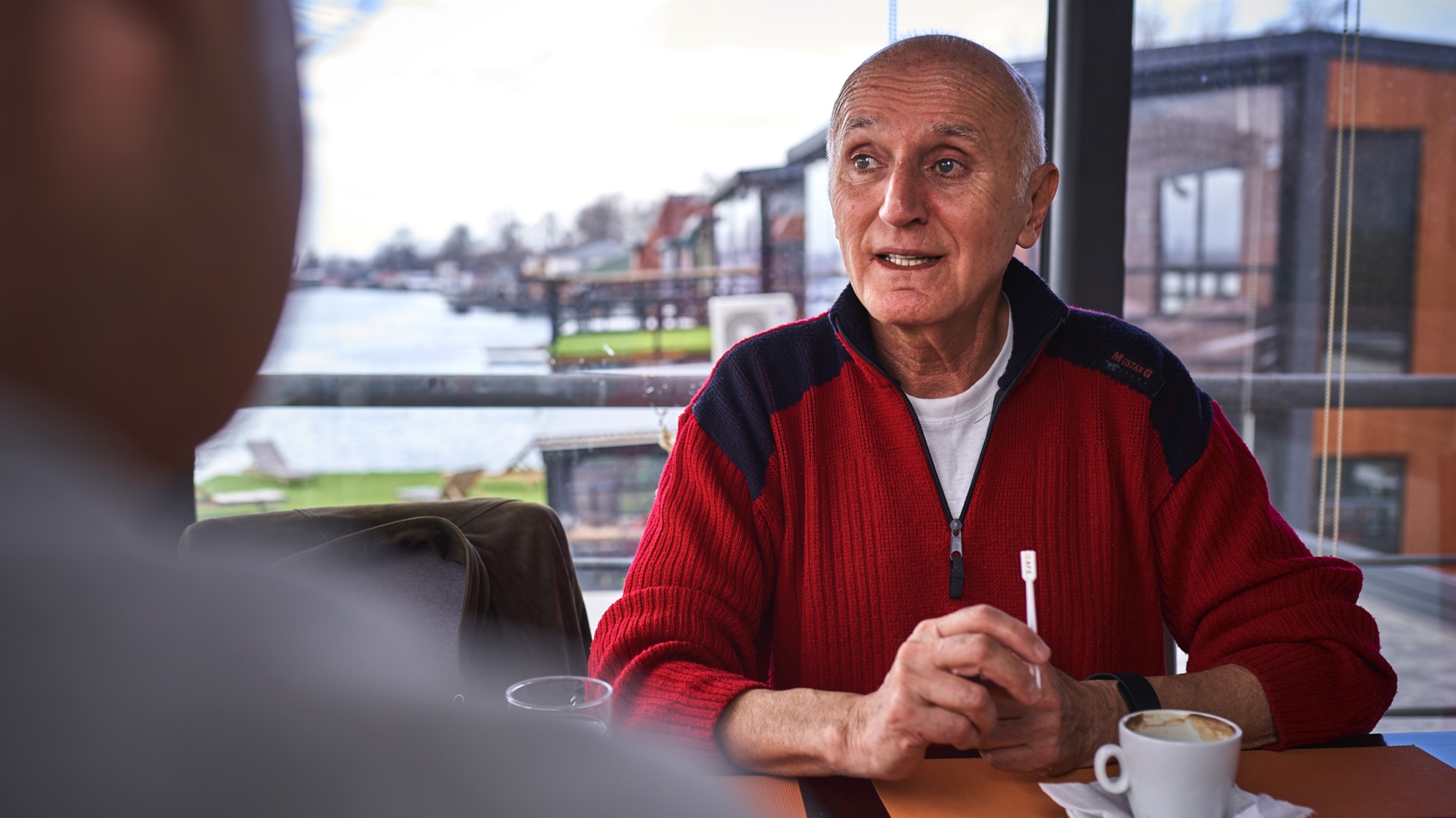 Was a career in the radio what you really wanted as a child?
I wanted all sorts of things. For example, to be a comic book artist. A bit later, I wanted to be a movie director. Then, as a culmination of it all – a cinema operator! My thinking was, as a director you'd make a movie and that's it from time to time. But as a cinema operator you can watch whole new worlds with the audience every evening. In high school, I wanted to be a caricature artist, then a radio speaker and that was the highpoint for me. This closed the circle and turned me back to the radio.
I started peeking into the studios of Radio Belgrade, so I can personally see the people whose voices I've known from the radio for years and who helped me form images about the things they were broadcasting.
The radio host Branislav Surutka was my idol. Sometimes with his broadcasts he could even bring tears to your eyes, when he'd read a touching story about regular people. The kinds of stories written by the reporter of Radio Belgrade, Zivorad Mihajlovic, about everyday folk and their troubles. Once I sneaked into Radio Belgrade and I looked for Surutka. We introduced ourselves and then I asked him if maybe he had one of Mihalovic's texts. He immediately called him and told me to go and meet with him. Mihajlovic then gave me a whole bunch of his texts! I took them all home and read them out loud, trying to imitate Surutka, although my voice never reached the performances of a classic radio host.
Interesting thing was – other than a few exceptions, I never wanted to personally meet the people I admired. I was too afraid to ruin the image I had of them, I wanted them to stay what they'd always been to me – idols  
You began your career as a DJ working with David Albahari in your school days. What was that like and how did it come to be?
 The two of us went to the same high school, but he was a year older than me. We'd play records for our fellow students in our school hall with a worn down floor. Albahari would bring in his record player and we'd all sit and listen to the music, but nobody dared dance in case we'd fall through the floor and into the teacher's lounge under us.
We started working together after I was on Nikola Karaklajic's then very popular show "Sastanak u 9 i 5". It was a big deal to be on the radio even once, let alone two times. I appeared on the show as a listener who had some good records and was willing to bring them in to be broadcast on the show. The word spread and Albahari invited me to play records together, which I was delighted to accept.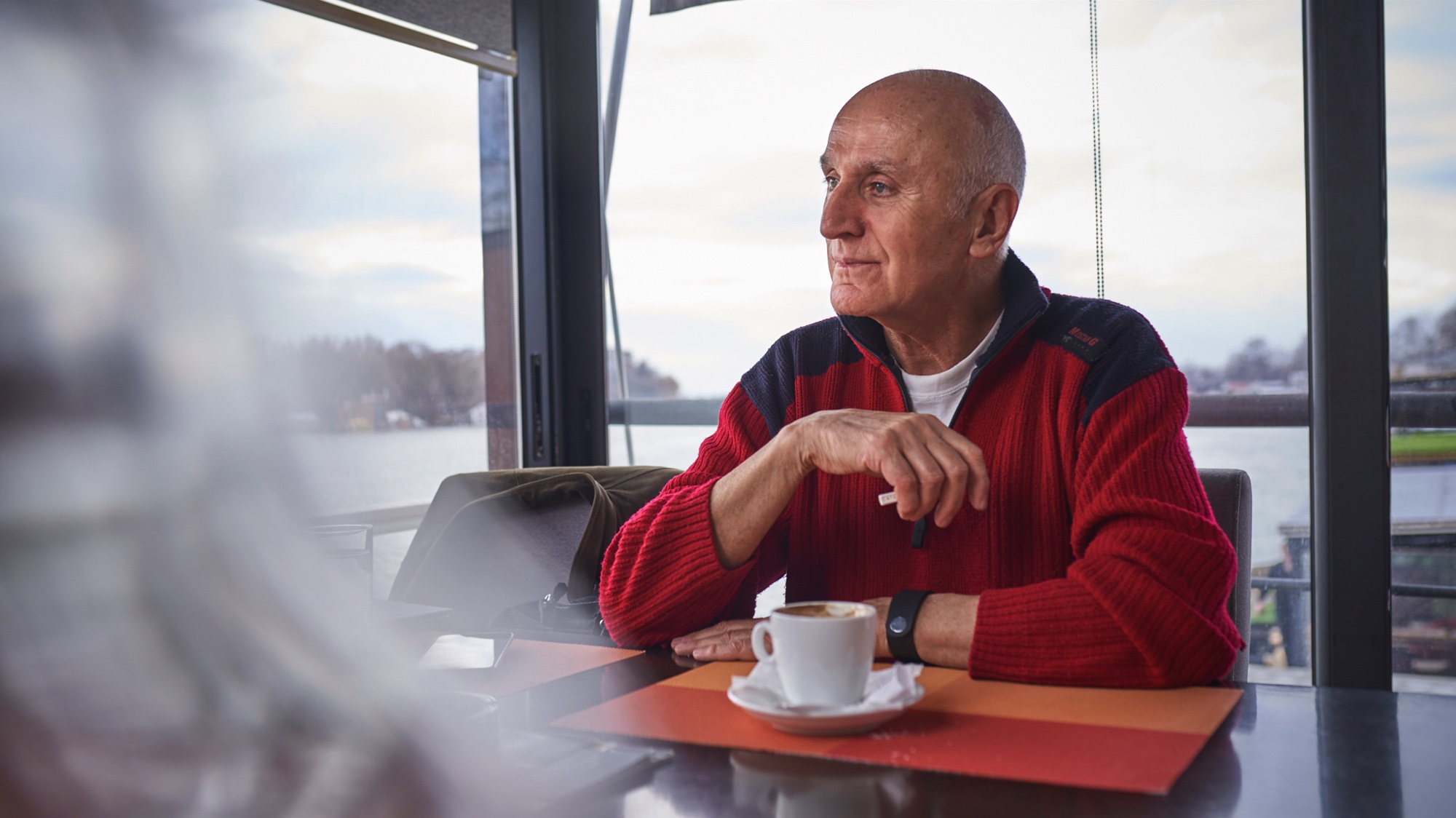 How did you come by the vinyl?
We got the records by saving up our pocket money, and then we'd send it to England to the Papworths company, which would deliver us hit singles. To make sure the post office didn't see what we were sending, we'd mask the money between two indigo papers and send the envelope with an accompanying letter.
I was friends with David until we went our separate ways, which happened after we graduated high school. I went into journalism and to Politika Ekspres and I also started working as a DJ at the "Sinagoga", while Albahari traveled a lot. He occasionally went to England and would tell me about his trip when he got back. Along with all the cultural impressions, there were bizarre events from London's city transportation where he was hit on by "some old guy breathing down my neck". He had a lot of trouble shaking his admirer. :)
At one point you said that it's good that Albahari became a writer and that you didn't go down the same path. However, you've penned many articles, but also great books related to aviation.
I guess I jumped into my own mouth and into the pen and keyboard. :) Still, I don't see myself as a writer, but as someone popularizing a profession that marked my life. My books are about aviation and written for those who'd like to get into that profession and stay there.
Interestingly, I've never written a book about DJ's, although I did toy with the idea. I read the book written by DJ Rosko, the cult English DJ who had his own famous travelling discos but also worked as a radio DJ.
Was Rosko a big inspiration to you?
It was him who inspired me to design my own travelling disco and perform in different cities. I had a small crew, good light show and two cinema projectors (there weren't any video devices yet back then) which I used to play movie clips for my audience's enjoyment and so they don't have to only look at me. I'd jump around and sing on the stage, announce things – just make a visual radio show.
The English DJ Tony Prince and the manner of his performance on the air of the legendary Radio Luxemburg delighted me during my high school days. When I started working on the radio, he was a role model that inspired me in that part of my work. I had the opportunity to meet him too, in the 70s. It was in Zagreb in the Hall of sports, during the big revue of Yugoslavia's DJ's. Tony Prince was a special guest and that was when I had the chance to see him live, although his career back then was already below my 'radar'.
Did you visit the discos back then?
No. I always marveled at the audience that can endure hours in that ear-splitting noise, smoke and crowd that pushes and steps on you. I admired the people who came to see my own shows, wondering how they can bring themselves to come. Even today, when these types of events are taking place in the open, I don't have the desire to go.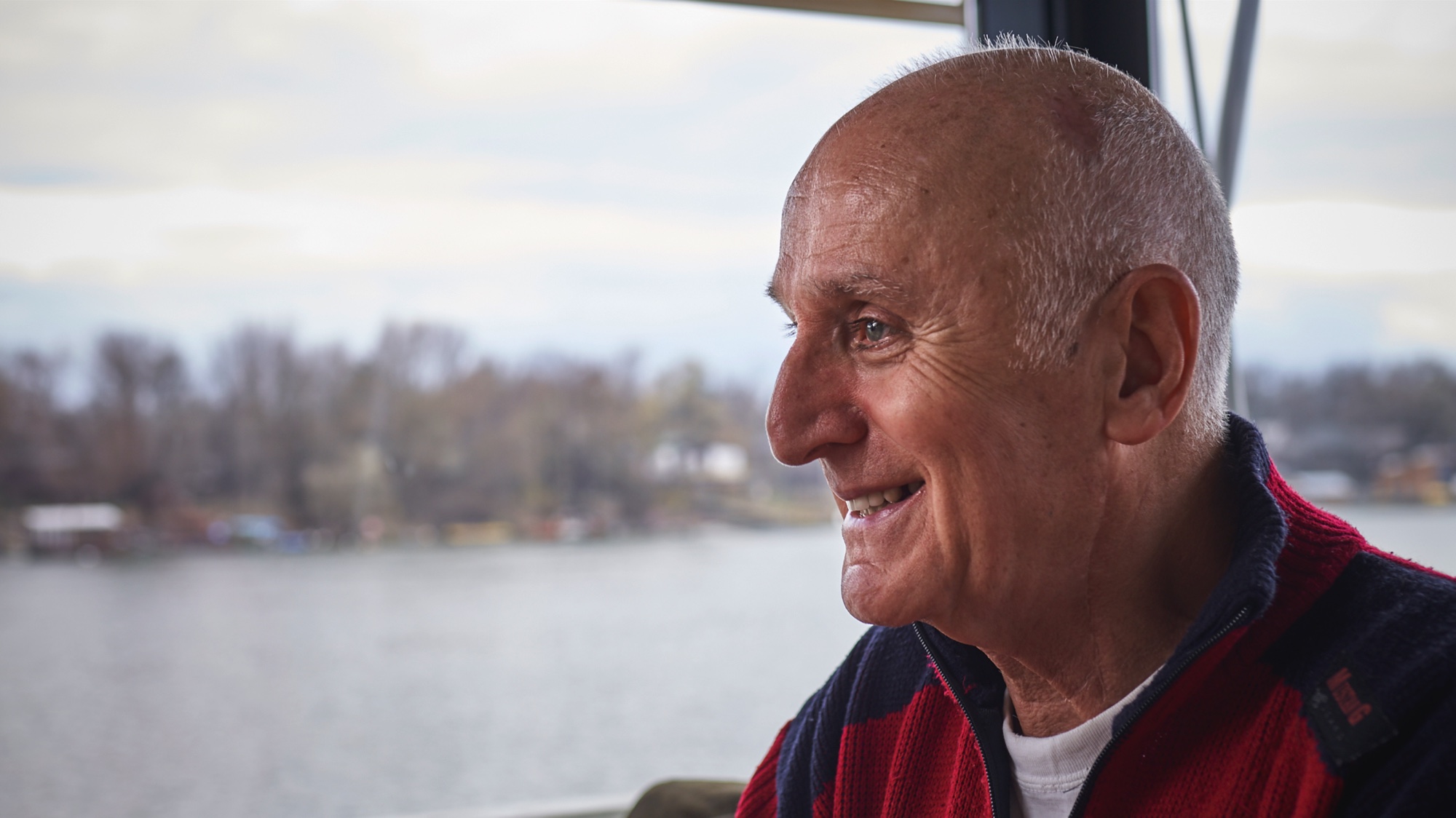 What happened after you finished high school?
I was born and raised in Zemun and I've always suffered from a 'small-town complex'. The Zemun of my childhood was small compared to Belgrade. Everything that happened in Belgrade was a whole new world to me, a kind of glamour that was lost on me. Even when I started working at the Ekspres, I started in the Belgrade column like all beginners, but I wrote for the Zemun chronicle.
Still, I was working for a big newspaper and I had moments in the evenings when I sat by the Sava river next to Branko's bridge and look out into the pier, then a bit higher towards the Congregation church and Albania, at the Belgrade alit in the night. I'd say to myself "Zoran, you are now the king of Belgrade!". I imagined that I was the lord of fate because I was writing about that big city. It seems silly now that there are so many daily papers. Back then, we only had four – Novosti, Politika, Borba and Politika Ekspres. Becoming a journalist was a big deal. The moment you publish several texts, everyone knows you because they've all read them. 
But you were still drawn to radio.
DJs and radio hosts didn't exist back then. I wanted to offer something new and authentic and I thought it would help me a lot to enlist in the Academy for theatre, movie, radio and television, today called FDU. I made it to the final cut, but fortunately I didn't make it any farther. It would've been bad if I had, because my life would've gone in another direction.
However, then the radio host profession appeared. The first ones were Nikola Neskovic with the show "Friends with the stars" and then Milovan Ilic with the "Minimaks" show. In those days, many other things were just starting out. The club "kod Laze Secera" opened next to the Atelier 212. Records were played in Cepelin in Tas, then in Akvarijus, while we – in 1969 – started a disco in Zemun's Sinagoga.
That same year in June Belgrade 202 began work as the first informal radio station where I wrote texts for the evening show hosts for a while. Belgrade was almost forced to start this radio station because shortly before it Radio Avala appeared, lasted for only two weeks and was then shut down, because it was a pirating station. Still, the popularity it had in such a short time showed that the audience wanted something new.
Just a year later, Studio B was started and it worked on a whole different principle from Radio Belgrade. Improvisation was valued and the most appreciated hosts were those who could work without reading from any papers. :) I stumbled into this station thanks to my previous work in the disco. I recorded a half an hour bit and that was that. My long-time wish came true and I started working on the radio.
You've done numerous shows and gained so much experience. What is, in your opinion, the most important factor for a good radio show?
You have to have good content. Of all the radio shows I worked on, the show "Ventilator 202" from the 80's is my biggest success. This show took a new direction in the field of demo music and unknown authors. It was sort of multi-disciplinary and gathered characters ranging from Bora Corba to Sasa Losic, Bregovic and so many other musicians who only became famous later, as well as scientists, aviators and people from the IT world.
On Ventilator, you even shared computer programs with the audience in an interesting way and you were the first to do something like that in our region and to begin popularizing what later came to be known as IT.
I entered the world of technology when I became interested in a toy called ZX81. It was 1983, when I started airing demo videos sent by non-affirmed rock artists alongside worldwide stars.
ZX81 was a 1kb computer into which you had to type a program in order to do anything. This computer was brought to me by a friend who was a JAT pilot at the time, to get my mind off an accident I witnessed. Namely at the time I was a manager in Belgrade sports airport Lisiciji Jarak where a good friend of mine and his student both died in before my eyes when their airplane flew into the ground.
My friend from JAT brought me the ZX81 and inputted the command for starting a flight simulator that I saw for the first time in my life back then. Already in 1983 I got a ZX Spectrum with 48kb and I was completely fascinated by computers.
Back then the magazine "Galaksija" started publishing the extra "Computers in your home" that was edited by Jovan Regasek.
It was he who suggested to me that we should run a segment on the radio of a cassette with the program on it. The listeners could tape that sound and then have the program themselves. And that's how it started. First, we ran a program to repaginate code lines in Basic. It worked, so we continued with other programs for ZX and later for Commodore 64 and Galaxy computers.
Later on we had various interesting guests. Like Borislav Mitrovic-Buc, the man who was the first to write a book on the ZX Spectrum. Then we had a couple of guys who made an instruction manual for this computer, Dragan Tanaskoski and Vlada Jankovic who went on to start the publishing house "Mikro knjiga"
Today there's no longer a point in talking about IT in that way, so in the show ZAIR that I do today we talk about its effects on our life, how it changes us and what's the influence of it all on the civilization as a whole, because everything is interspersed with the mixture of a real and cyber world. That's why we call the show ZAIR.
Aviation, which we only touched on so far, has been one of the most important parts of your life. How did you end up there?
I never personally believed in genetic predispositions, but my father was a famous airplane constructor – something I didn't know about in my youth.
I heard from my buddies at "Sinagoga" that JAT was organizing free flight lessons for sport pilots. JAT started the project as preparation for the opening of their school in Vrsac. However back then I was just starting out on Studio B, worked as a DJ and my life was interesting enough without going to a hangar and learning how the plane flies when it has no feathers. So, I missed that first chance.
Several years later in 1975 I was in the process of leaving Studio B, and a friend of mine told me that there was another call for flight trainees at the Aviation Association of Serbia. We went, I passed my health check and began the course.
If someone had ever told me I'd become a passenger airplane pilot, I would've said "no way"! But once you get started, it just pulls you in more and more. Aviation became the most important thing in my life, while DJ-ing was a way to earn money for flight lessons until I got my first permit.
The only problem was that I came into that world from the world of media. It got me some wary looks and it took them time to accept me. Still, if I hadn't gone into aviation but rather stayed on the radio, I wonder what my life would've been today. Nowadays radio people don't earn very well in the business, the stations are always having financial troubles and barely stay alive.
As a pilot, I could afford myself the pleasure of radio without thinking if I'd get paid for it or not.
In 2002 I decided to transfer my show into the cyberspace and no longer be bound to a single radio station. I make my shows in my home production and allow anyone interested to broadcast them. In Belgrade, that's Radio Laguna which especially pleases me.
As a pilot, you've traveled the world. How does Belgrade compare to other big cities?
I never thought of Belgrade with any special sentimentality. I'll always fondly remember the dusty Zemun streets I grew up in, the factories surrounding us, smelling bad and depositing dust on our windows. We all idealize childhood, but today I wouldn't say it was an especially appealing environment. Still, I loved Zemun as it was and back then the quiet Belgrade of those days was quite the revelation.
But, as one grows up the world seems to shrink around them. Today I can't see a place I could live that wasn't Belgrade.
Vancouver and especially London were very appealing to me. But those places are nice to spend a month or two, and then what? I can't move all my friends there. That's why I always felt I should 'sit where I am'. I like to go and sit on a terrace of a nice raft restaurant on the left coast of Sava near my blocks and watch the airplanes come and go across Ada Medjica, while I type away on my iPad...
What are some future plans for Zoran Modli?
I've decided to reach 1.000th episode with ZAIR, which shouldn't be a challenge. It will happen by the end of 2019. Maybe something outrageously genius will happen as we often wish it would, but that kind of thing doesn't happen on command, but rather when we least expect. When I look in the mirror, I don't see a genius. I have no other option but to keep persevering in what I'm doing and hope for the best in the future.