If you would like an easy and fun way to discover the secrets of our capital city and experience an adventure that you'll talk about for years to come, Segway tours of Belgrade are exactly what you need. Throughout this journey through the city you will not only hear and see countless interesting things, but the entire experience will be fun and active thanks to the unusual two-wheelers that we use to get around.
And before anything else we should say that you don't have to worry about COVID-19 risks during Segway tours because the Segway vehicles are used in such a way that you must maintain a social distance from other members, both in movement and while standing still. The distance between the vehicles be up to 5m.
Segway Belgrade has been in business since 2014, managed and organized by Pedja Ilic, a graduated history professor and a Belgrade-lover at heart.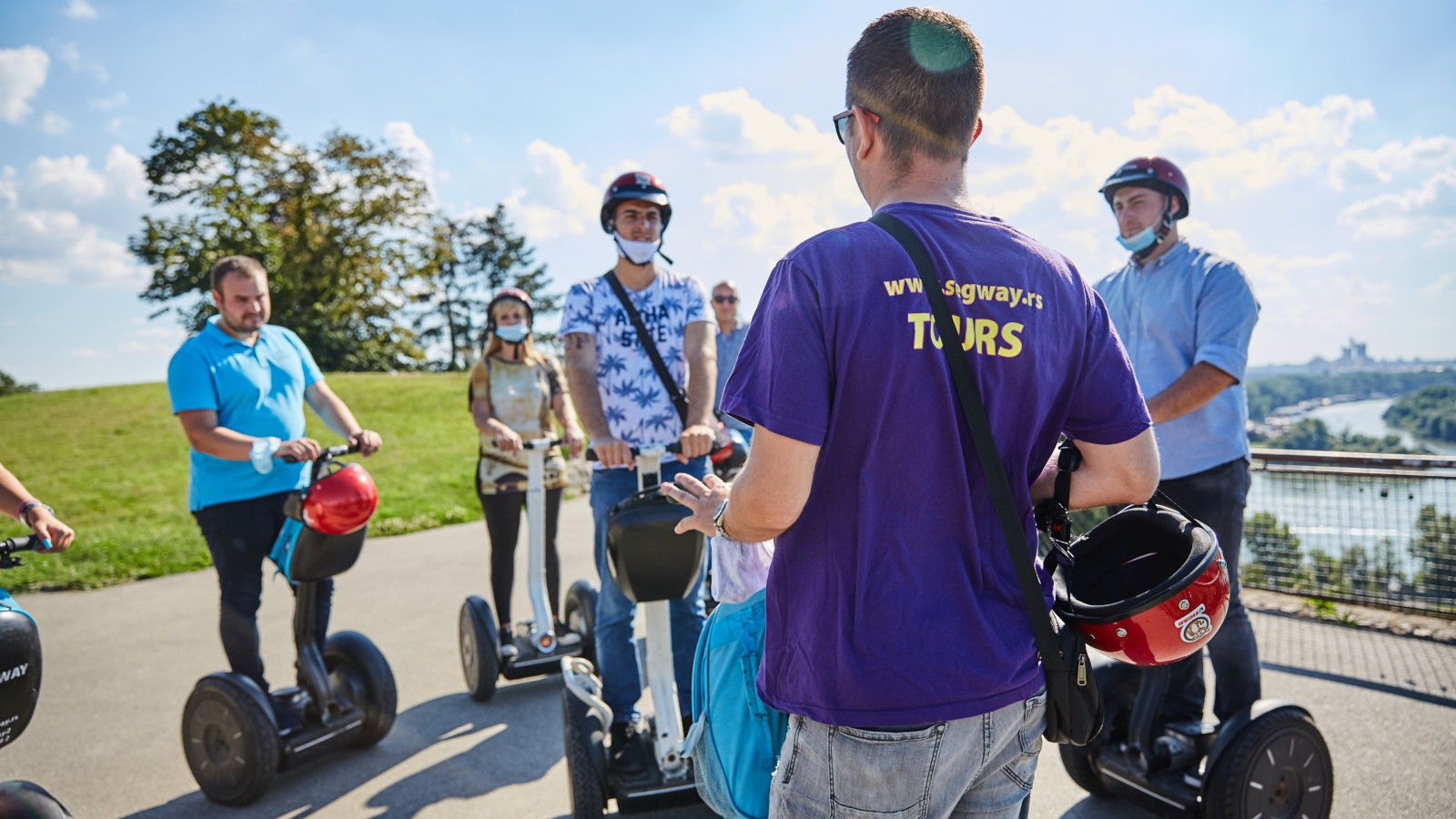 How was the idea of Segway tours born?
My colleagues and I really love our city and everything that makes it unique. I personally know that no matter where I go in Belgrade, I pass by at least one location of huge historical significance. Segway tours were built on the foundation of our desire to reveal to other people - Belgraders and foreigners alike - all the secrets this city holds and that even if you know it like the back of your hand, you can still experience it in a whole new way.
You know, there's almost not a single nation that hasn't lived or passed through Belgrade, leaving their trace. It's a special kind of feeling.
This is a city which, since its construction by the Celts, had been destroyed 44 times, but we still remain living here, because Belgrade has something that no other city has. In one place you can find a wealth of heritage from Jewish, Turkish, Arab, Greek, Italian, Austrian, German and of course Serbian culture.
Everyone has something of their very own in Belgrade, and that's the beauty of it. All you need to do is poke around a little or just look up while walking the streets and you'll discover a whole new world and interesting stories that even those born in Belgrade sometimes don't know. We reveal all of them during Segway tours.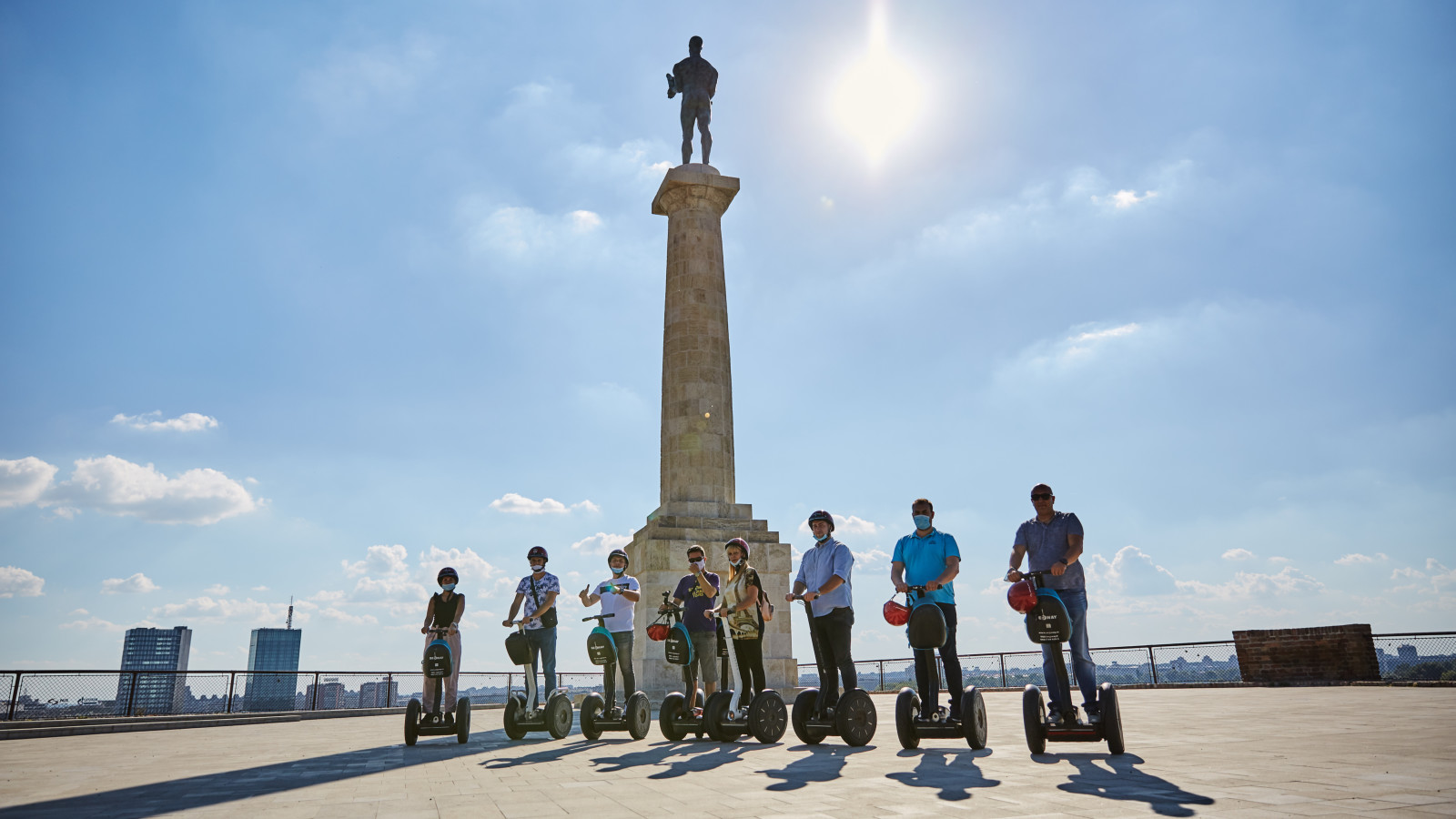 You can experience it all in a relatively short time.
If you wanted to really tour the entire city the way it deserves, you'd need at least seven days of walking around and listening to various stories. In Segway Tours, we bring together the fun and the practical so that our clients can tour the most important points of the city in just three hours and then proceed to enjoy what the city has to offer, or finish their work.
It's interesting that your tours are often gifted as original presents.
People like to give away Segway tours as a birthday gift, or a good way to celebrate bachelorette nights. On top of that, more and more men opt to take their significant others on an intimate tour of the city's most romantic locations instead of a plain old candle-lit dinner. That's not to say, of course, that ladies don't equally take the initiative and bring their significant others on a tour of their lifetime as well.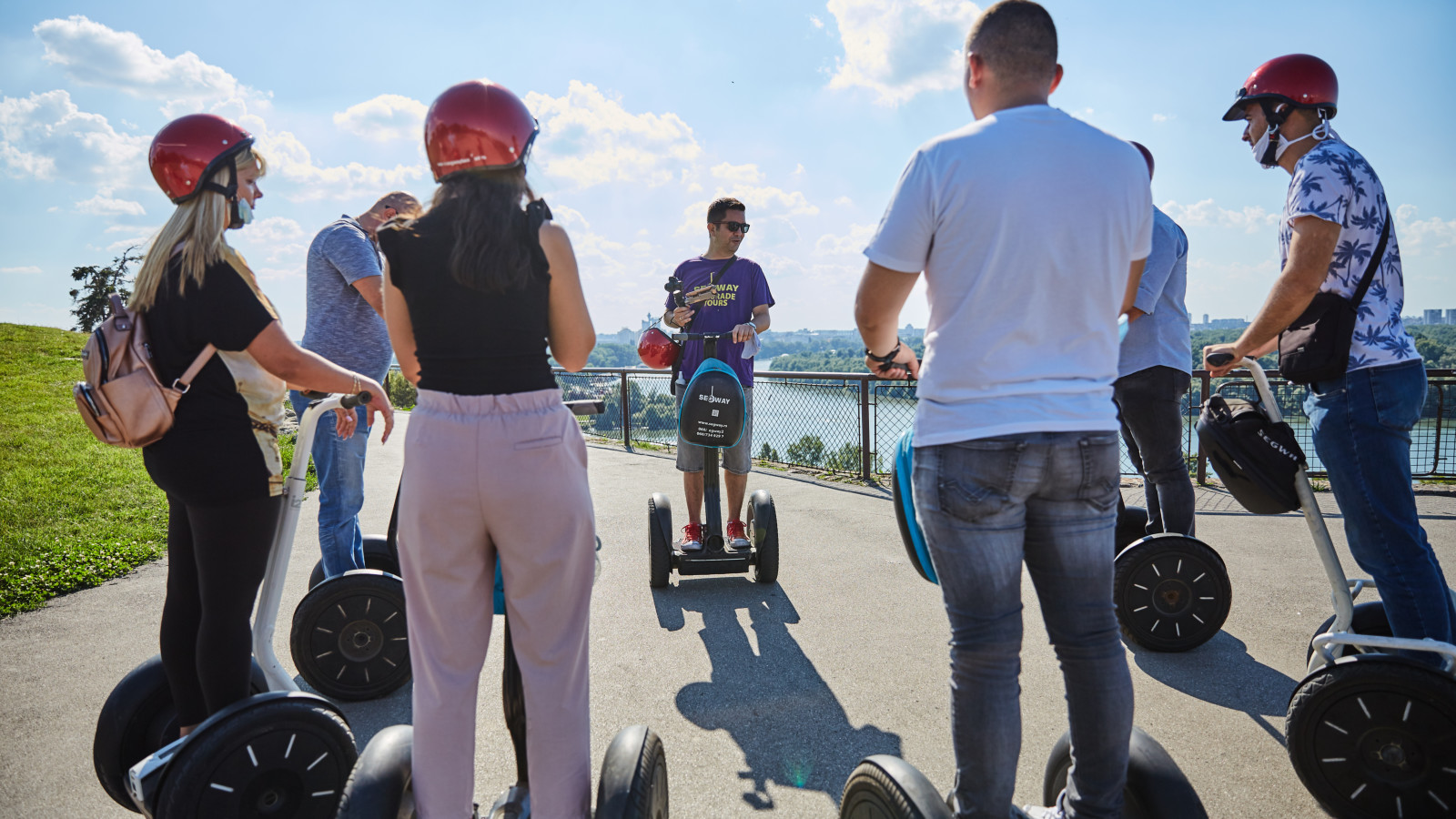 Are there any limitations to using Segway vehicles?
There are a few. In order to be able to drive the vehicle, you should weigh between 30 and 115kg, due to the capacities of the vehicles themselves. Children can operate the vehicles, but only with a note of written consent from their parents and guardians. Pregnant women should also not use them because it can sometimes be a bumpy ride.  
Your tours are equally attractive to foreigners, Belgraders and people visiting the city from anywhere in Serbia. What is it that sets Segway tours apart from other tourist offers in the city?
Before anything else, Segway is just plain fun to use and it's an interesting experience just to operate one. You can't compare it with electric bicycles or scooters, it is very unique.
On the other hand, all regular tours of the city require you to either walk or take some other kind of transportation. Here, you are riding a vehicle so you won't get tired and also you are operating the vehicle yourself and have control of its movements. When we stop at a location so that the guide can present it, you don't have to get off and hold the vehicle, you just stop on top of it and listen.
In short, the Segways can go anywhere that a pedestrian can go, but you don't get tired or end up with sore feet. This means you can tour various interesting places, many of which are inaccessible with other types of transportation. After the tour you are still rested and able to go about your business.
That all is not to mention that Belgrade has so many important side-streets and small squares that are unfamiliar even to people born and raised here. Segway Belgrade is the only tour that guides you through these secret places and gives you interesting history facts and stories about them.
You can also learn where the first soccer match in Belgrade was played and who brought the first soccer ball to the city. Then, we check out the English church, tour synagogues, the birthplace of the state of Israel, or learn what the Ruzica church bell was cast from. During our Segway tours, you can also discover who actually started WWI and where the Sarajevo assassination was planned. You can see where Gavrilo Princip was setting cobblestones in Belgrade as well as see the tiniest tank that participated in battles, or the rocket system that shot down the 'invisible' bomber. On top of everything else, learn about the "Victor" monument, the oldest house in Belgrade and why Vienna's war archive still to this day hasn't released the secret blueprint maps of what's underneath. All that, and much, much more.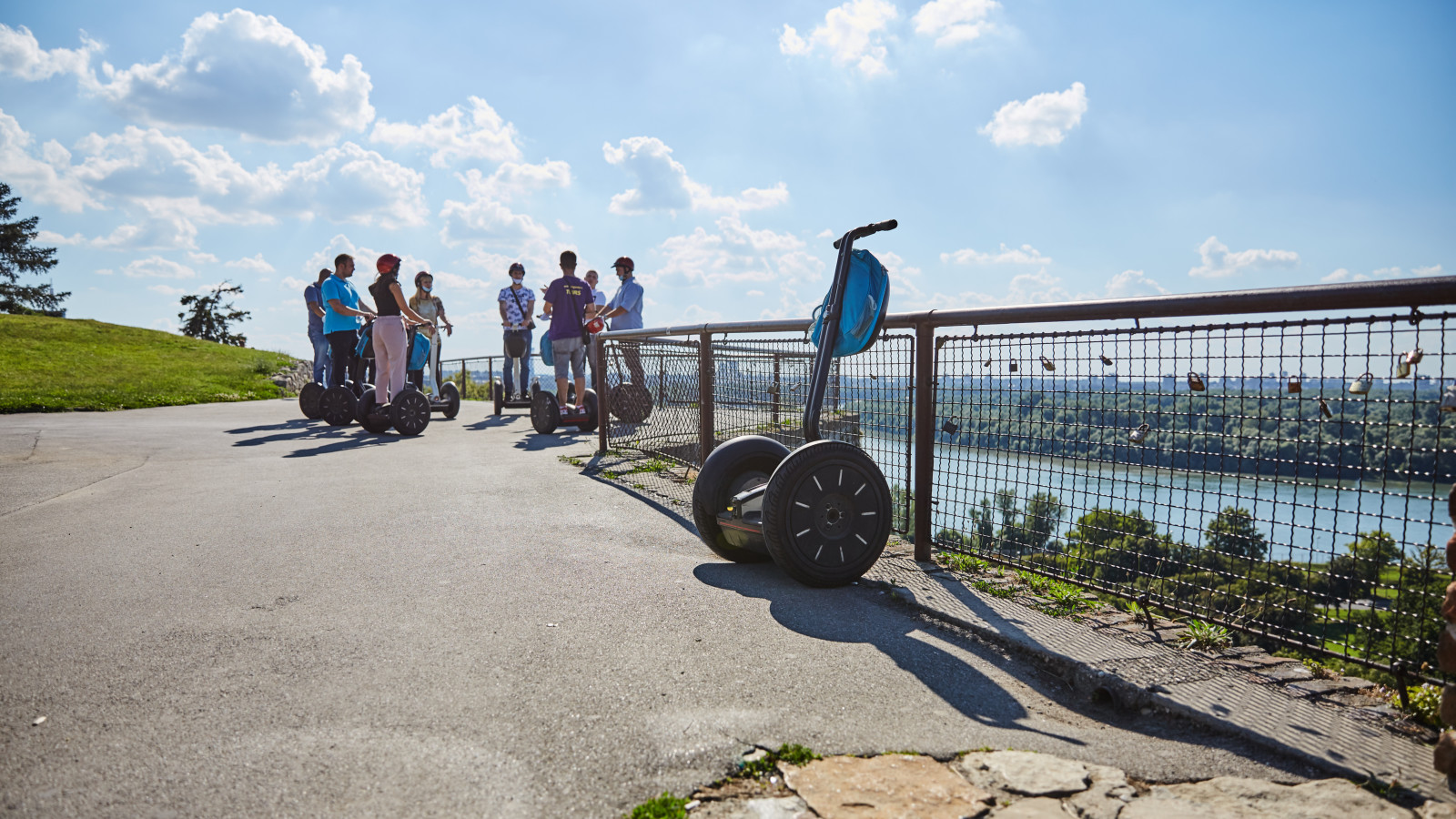 You also work with various hospitality establishments to provide interesting content to their guests.
Certainly. And we continue to add to our list of associates. We invite all hotels, hostels, restaurants, incoming agencies, Airbnb users or tourist agencies to cooperate with us, seeing how they can attain various benefits that way.
For them we specifically create custom-made tours, tailored to the clients' requests, so that they can truly enjoy Belgrade and experience something new and fun. The tours can be in Serbian, English, Russian, Italian, German and we are planning on Hebrew tours soon as well.
On the other hands, personalized tours are an excellent option for companies interested in team-building for their employees, whether in Belgrade or a different city. In these cases, in addition to the personalized tour itself, we also arrange various entertaining content for the activity which, again, depends on the clients' wish.
You cooperate with various companies that hire you for marketing purposes.
Segway draws attention to matter where we go - it's impossible not to see us.
We promote companies and brands by putting their advertisement panels on our vehicles and then cruise established routes, handing out flyers. What makes all the difference is the fact that unlike most other flyer distribution methods, people actually come up to us no matter what city we go to - Belgrade, Pirot, Novi Sad or anywhere else.
We are, of course, always open to the clients' wishes and ideas.
For example, we've done promotions for companies such as Tigar, Vojvodina forests, Microsoft - all completed much to our mutual satisfaction.
Our vehicles were also used to film various commercials. For example, in the home of Zarko Paspalj, we used Segway vehicles to shoot a commercial for the Italian market.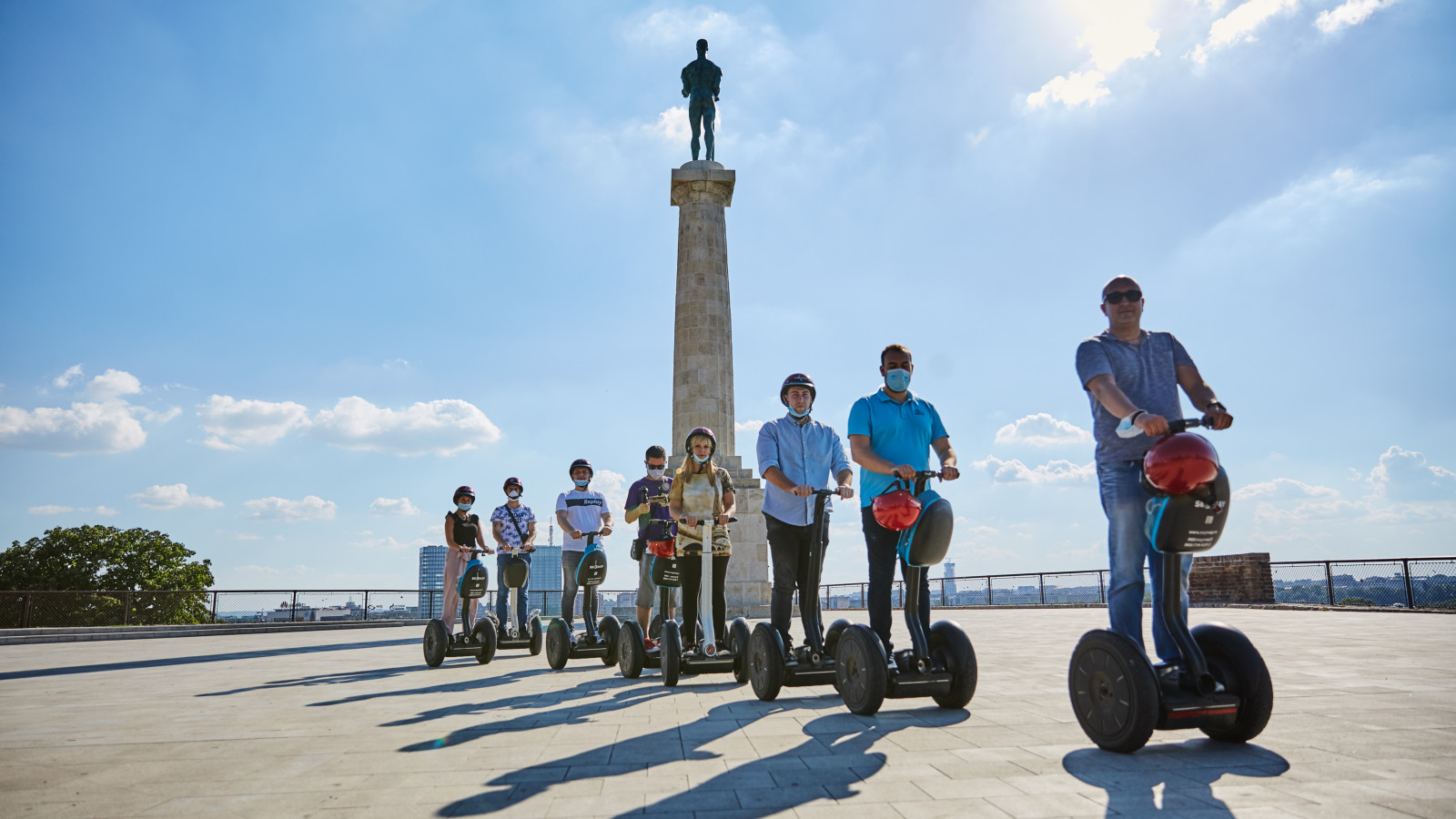 So far you have guided hundreds of different Segway tours, each of which was packed full of interesting events and anecdotes. Can you maybe recall one that left a lasting impression?
Every tour is special and unique in its own way. But I was especially touched by a group of 11 youths who came to Belgrade from Israel to fulfill their grandmother's wish. Namely, their grandmother was born in Dorcol. She was a Holocaust survivor and after the war she went to live in Israel. Her three children combined gave her eleven grand-children, all of whom she taught to speak Serbian and told them stories about Belgrade while taking care of them when they were little. When she was well into her old age, the grandmother gathered her grand-children and asked them to fulfill her wish of visiting Belgrade and seeing for themselves all the places she told them about.
So we looked for the exact spot where their grandfather proposed to their grandmother in Kalemegdan and toured various other places. All the youths recognized many of the locations just from their grandmother's stories.
People who have been on Segway Belgrade tours say they're always happy to return.
Oh, definitely. We get so many returning clients who come back to experience new tours. And we're not talking just people from our country and Belgrade itself, but foreigners too. Especially if they're revisiting Belgrade for several days. They always recommend us to friends as well.