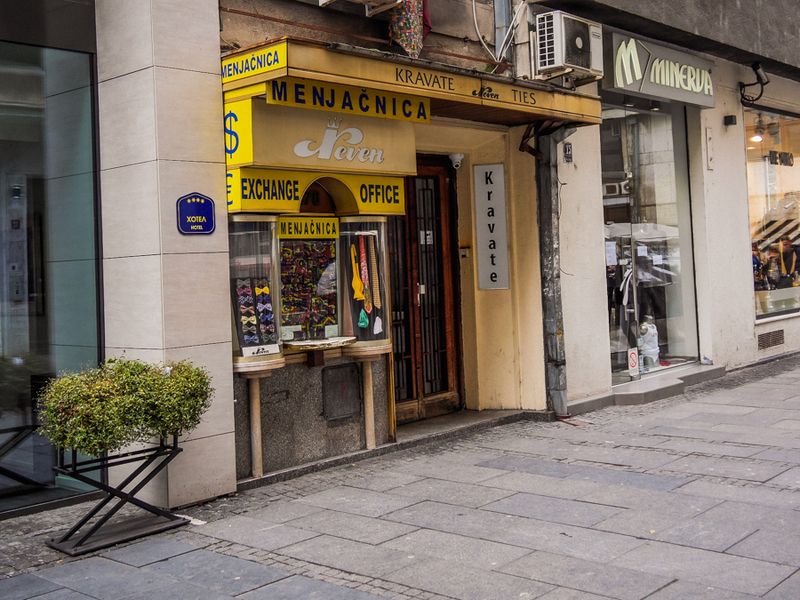 Photo: Nikolina Radovanovic
Neven: the art that you wear
A small window in Cika Ljubina street, up until recently displaying silk bowties, each of which was a work of art, has a 40 years long history. Today this section of the shop is rented, but those who know what they're looking for will find old treasures, refreshed by new euphoria and turned into pictures on silk.
Mr. Neven Vrgoc began his journey right here and it took him from a local (later global) symbol of city prestige to an iconic feature of Belgrade. The idea of unique ties and bowties originated from young Neven's wish to oppose everything that was passing, single-use or forgettable. This idea was born in 1971 when the creator began to make and paint ties with his own hand, at home. He packed them all into a suitcase and started his years-long search for partners, investors and a way to get his ties to their shirts and owners. Seven years later he finally arrives to the shop in Cika Ljubina street, where he set the foundations of his vision which grew into a tradition.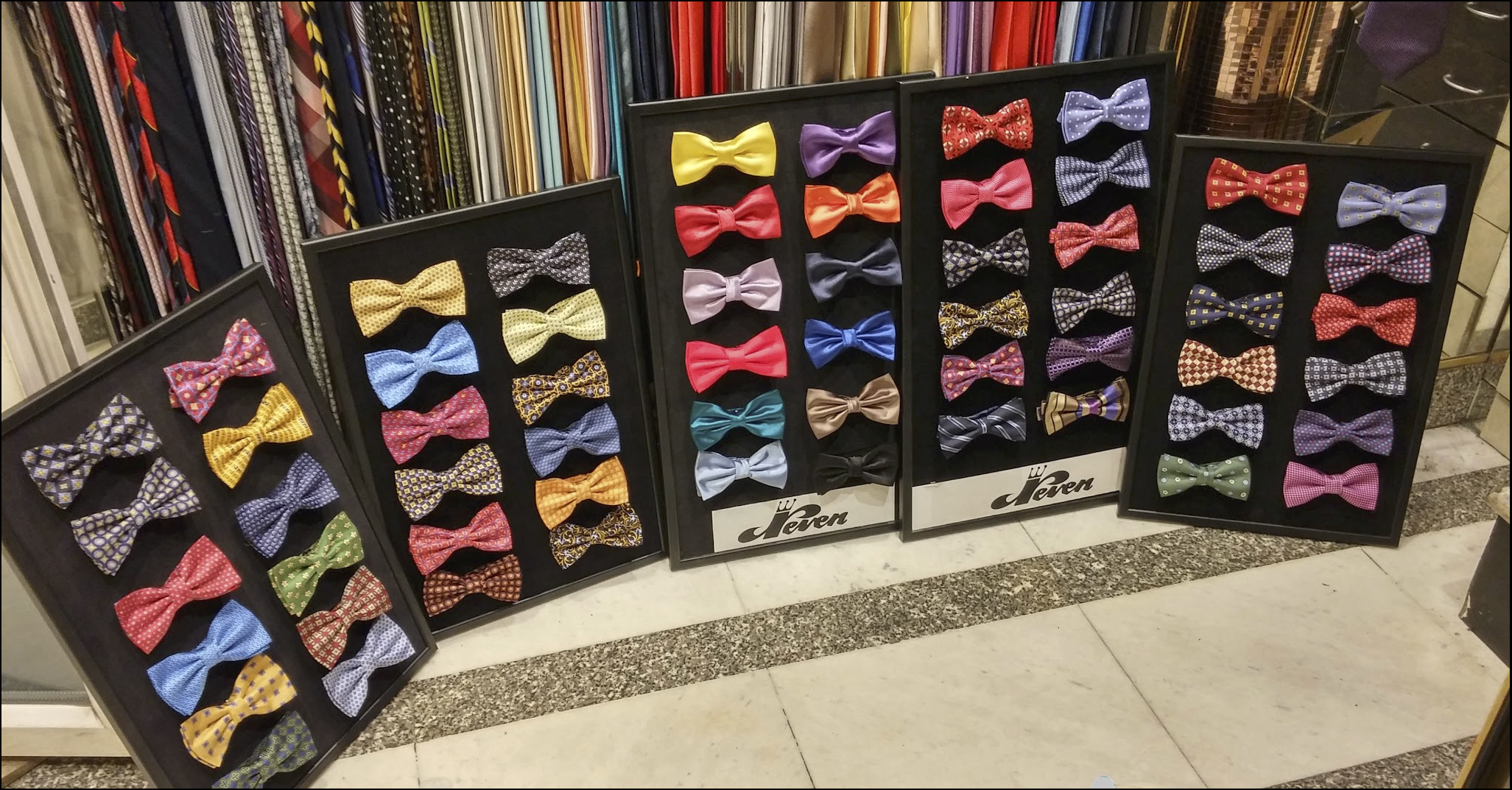 Photo: Kravate Neven
Ties for lovers
Neven had a lot of ambitions that didn't end in this small corner. They had a story behind them far bigger than a piece of fabric and a love for everything beautiful that makes the life worth living. That's why there was a series of poetry evenings, parties, fashion shows and bohemian nights revolving around Neven ties in 80's Belgrade
Among them were pompous field trips that landed Neven's ties into the Guinness book of records, more than once. The first project of this kind was a 23m long tie that impressed all passersby when it got unraveled from the top of a building. The second was done with the help of some assistants, including a surgeon with all their fine instruments. With joint forces and a lot of patience, the crew led by Mr. Vrgoc made the tiniest tie in the world - only 19mm long. The innovation that supported (or invented) the claim that art should be 'worn', took Neven's ties across the ocean. For several years, the Belgrade shop in Cika Ljubina street had a sister location in Beverly Hills, which was when some of the most prominent famous men of that age wore their products.
However, an especially interesting attitude that Mr. Neven had in his work was that he was predominantly creating for...women.
"Women are the true target audience for ties - men usually don't know what they're buying. They're the ones with the ideas, the ones who buy them for their husbands, boyfriends, lovers and use them to tie their partners to them. Because a tie is a totemic medal - it shows someone's interior being and stands on the most sensitive place of our body, protecting our very soul."
Bold vision ahead of its time
Directly addressing the female population is present to this day in certain labels and accessories for women, among which we'd like to highlight the cotton white handkerchiefs 'for wiping tears of joy' that originated as Mr. Neven explained because the ladies should only cry from joy and nothing else.
We can very easily slip into an erotic context, which is something that the extravagant creator toyed with, pointing out that you can judge someone's romantic tendencies and sensibilities by the way they tie and untie their tie - or someone else's. Neven didn't even linger there, but in time he expanded his production to small - but not too small - ties intended for the more intimate parts of the male body. Bear in mind that this project happened in the 80's, when you'd never expect it to succeed with the morality mindset of the time.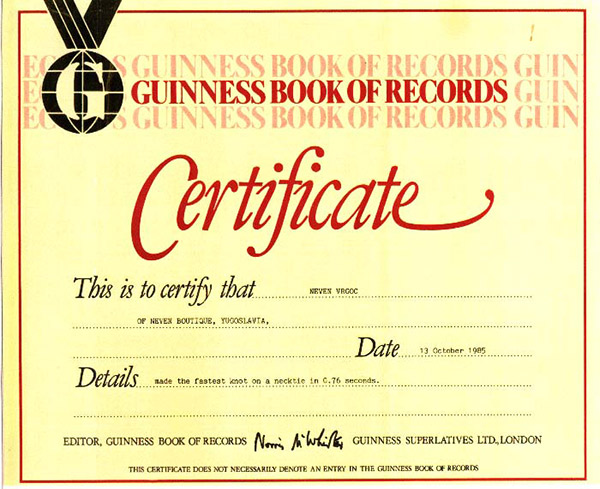 Photo: Kravate Neven - Guinness book of records certificate for fastest tie knot
Fortunately, there were others, less radical ideas which allowed Neven's innovative spirit to fly free and yet found their way to the customers. Here we are talking about fascinating miniature images on ties, painted via brush and inspired by great artists. The backside of the tie would be inlaid with pearls, personalized messages, initials and original labels that would be equally unique as the ties themselves. One of such messages said: "If you don't get asked where you got your tie at least three times, feel free to return it!"
That word of this unusual artist and his work spread around Yugoslavia is proven even further by the fact that Neven lives on, despite his eternal struggle against industrial giants. If you ever found yourself at 15 Cika Ljubina street, you probably noticed thank-you notes that came from such a broad spectrum of fans that it includes such great names as Arnold Schwarzenegger, Yves Saint Laurent, George Bush and many others. This worldwide regard and mutual respect had to be given form in the shape of Belgrade's first fashion carnival and numerous fashion shows in Belgrade and Paris.
The rich and exciting life of this Belgrade sadly came to its end in April 2014. Only one-year earlier Mr. Vrcog promoted his book of poetry "Pesme muzi" which rounded up his career that can't be defined in a single word. What's important is that the idea lives on in the hands of his sons, waiting for you at the same address.