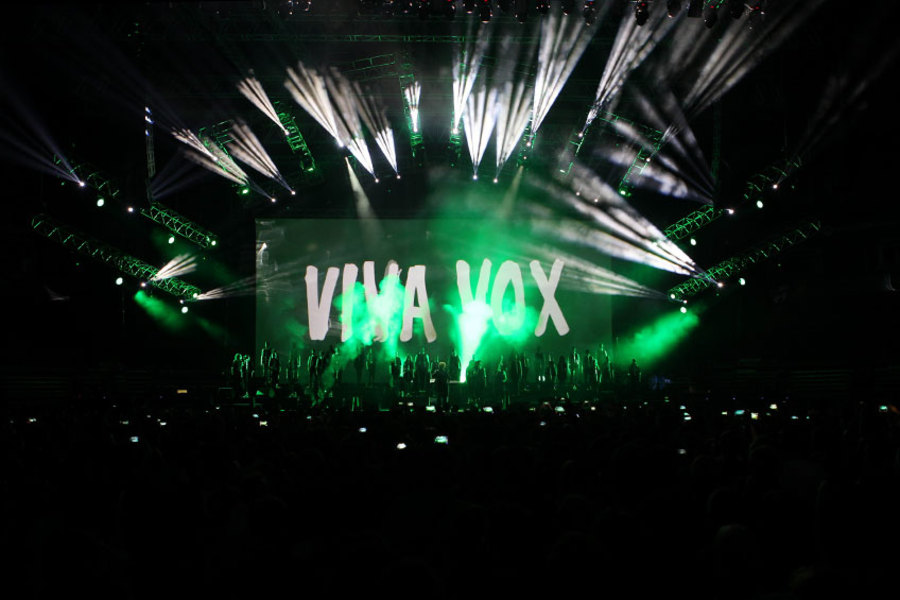 Photo: Bojan Stevanovic
VIVA VOX - more than a choir
If you ever found yourself in Zemun and if, while you were touring its beautiful parks and taverns, you happened to notice a band of jolly fellows making a racket, odds are you witnessed a gathering of Voxians – a special sub-species of the homo sapiens, belonging to the noble Zemun tribe VIVA VOX! And if watching these friendly and cheerful music enthusiasts you found yourself smiling, you should know it was due to their wild and uncontainable positive energy that they are famous for.
Born on Victory day
This energy began to stew back in their student days, in the choir of Zemun high school, where the core of Viva Vox was born. A core compact enough that even graduation didn't end their friendship. Even though they grew out of schools and went to sit in the lines of large amphitheatres, the high-school choir friends gathered around their conductor and music teacher Jasmina Lorin and continued to spend time together singing. At first they worked under the jurisdiction of KUD Branko Radicevic and they soon took a step towards independence and took their fate into their own hands.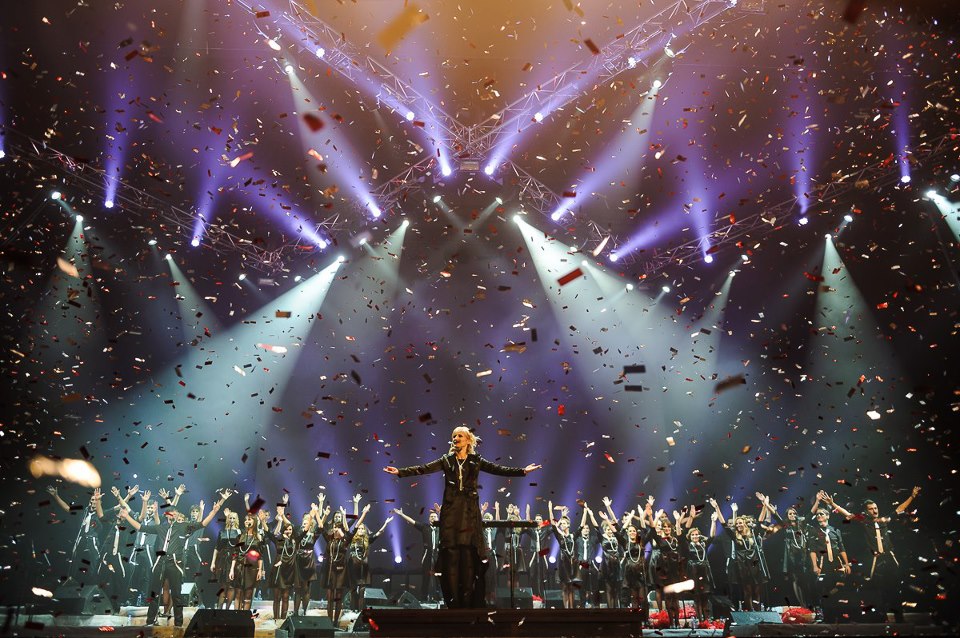 Photo: FB page "Viva Vox"
That's how Viva Vox – the most popular choir in our region – was born on Victory Day 09th of May 2005. However, success didn't come over night. It actually did, but only some years later. In the meantime the group grew and matured. They rehearsed and advanced. The new members almost always came from their friend and family circles, so the synergy just became better. After countless tryouts and rehearsals, lots of effort, time and emotion on 31st of May 2011 Viva Vox performed their cover of the song "Du Hast" by the German group Rammstein and delighted the whole world.
In record time, the ideas and synergies of these kids have won millions of hearts, as proven by seven-digit numbers of YouTube views and very explosive positive reactions in social networks. This was the beginning of their dizzying success of this unique composition.
Acapella covers
Encouraged by success they continued to do what they enjoy the most, to spend time together and sing covers of their favorite songs. In their own unique way – without any instrumental music, only using their voices.
Even the 'drums' you think you hear don't come from a rhythm machines or matrixes. No, the percussions for Viva Vox comes from the beat boxer, the heart of the choir who mimics various percussion noises with his voice.
After their initial success, the choir recorded the intro for the popular show "Utisak nedelje" and showed the audience that their success wasn't a success.
Ambassadors of culture  
After this, the audience was eager for more and Vox fulfilled and surpassed those expectations, by performing a magical concert in the sold-out Sava Centar. Many then said that their success was simply due to their novelty and that Viva Vox won't have anything else to show for themselves, but they were wrong.
Exactly one year later, the Voxians filled Sava Centar not once, not twice, but three times in a row and confirmed their star status. With these fantastic successes, they became the natural choice for what might've been the most important performance of their career.
Not two months later, on the day or Orthodox New Year, they had the honor of representing Serbia in the General council hall of United Nations in New York. They made their country proud! Millions of people tearfully listened to the direct transmission of this amazing performance by these kids who sang with all their hearts songs such as "Tamo daleko", "Ajde Jano", "Mars na Drinu" and others.
It wasn't just the viewers who ended up in tears by the end. As they stated afterwards, many choir members themselves were crying with happiness and pride by the end.
In those days Viva Vox was the hot topic in Serbian media but also in everyday conversations – the Ambassadors of Culture! Pride of their nation! Inspiration and role-models for their generation! These are only some examples of the praise they got from the media – more than well-deserved.
Naturally, the Voxians didn't stop there. Full of enthusiasm, they continued to make incredible performances both in Serbia and abroad.
When the stand-in surpasses the original
Proving that they have all the heart needed to take on the biggest challenges, Voxians stepped up to the game in June 2013 when the Belgrade philharmonic orchestra asked them to perform Beethoven's 9th symphony together for their 90th birthday in Kolarac foundation.
Due to unforeseen circumstances right before their jubilee, the Belgrade philharmonic orchestra lost their choir which was vital for their performance. Despite the fact that classical music isn't in their domain and very few choir members even spoke German and that they had far fewer members than the composition required...Voxians stepped up.
They learned their partitions day and night, helped each other, rehearsed the lines...
The result was described as a point where reality and dreams touched hands. Their performance was greeted by thunderous applause, not only from the audience but from the conducting maestro Muhai Tang and the entire philharmonic orchestra.
Shortly after their venture into the classical music, Viva Vox returned to their own genre in great style. With an explosive performance full of heart, the choir opened the EXIT festival and many members later stated that this was their favorite performance. They performed only 'harder' types of music – which is many of their favorites and which was how they came into fame. The audience was entranced by their performance and they sang along with the choir despite the rain. It was a true, emotionally-charged rock spectacle. A night to remember!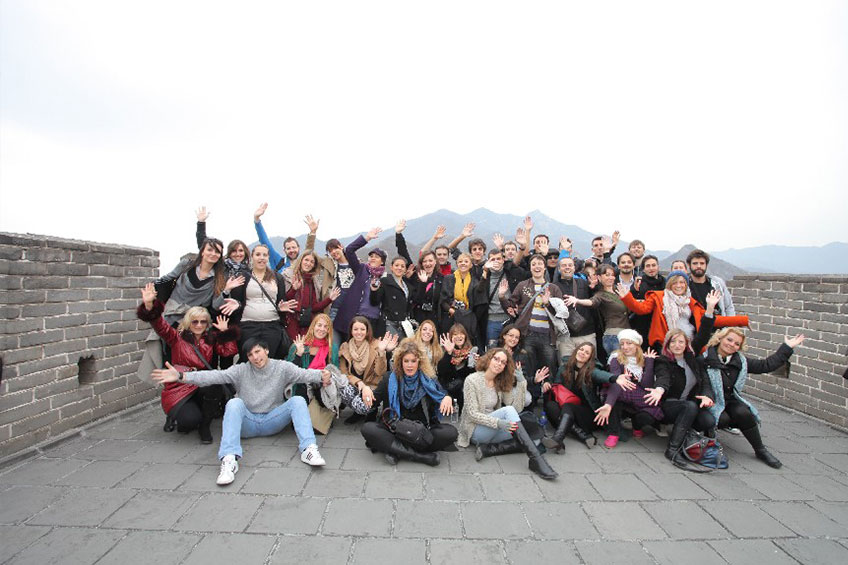 Photo: FB page"Viva Vox" - Voxians at the Great Wall of China
They even won hearts in China
After their wild performance at EXIT, Viva Vox got another difficult and responsible task – to represent their country in the highest diplomatic circles, but this time halfway across the planet – in the Great Hall of the People in Beijing.
As the choir members themselves stated, this performance was completely opposite from what they did in EXIT, because at the start the audience seemed completely emotionless. There wasn't even a courtesy applause which was rather confusing for these brilliant singers who were used to explosive ovations. They looked at each other in disbelief on stage, when deadly silence followed their first number. They only learned later that this kind of reaction was normal in this culture and to be expected.
However, the positive energy of these amazing young men and women would stir up even the coldest audience, so the diplomats from the far East weren't immune to it either. As the concert went on, Viva Vox bit by bit managed to thaw out the audience. The atmosphere steadily heated up and when the block of songs in Chinese came on, the audience exploded. The highest officials of China and many other countries applauded the Viva Vox choir on their feet.
A jubilee to remember
Next came many concerts and working on the first studio album which was promoted in the MIXER HOUSE on the 1st of April 2015. This was all a prelude for the big event that was in frenzied preparation. At full speed ahead, the Voxians organized a concert for their 10th birthday of existence. Months of everyday preparations and arduous practice resulted in a true spectacle in Belgrade's Kombank arena, before an audience of 12 thousand people.
Unlike many of their earlier performances where they made do with what they had, this time everything was brimming with lasers, light and other visual effects. The stage was set up with a video beam. Highest quality audio equipment was tuned for days ahead of the concert. To put it simply, the Voxians did everything imaginable to make a concert worth remembering – they prepared for that day for months.
They completely dazzled the audience with their performance. It was the day that these "amateurs" from Zemun showed Serbia and the world what true professionals should be.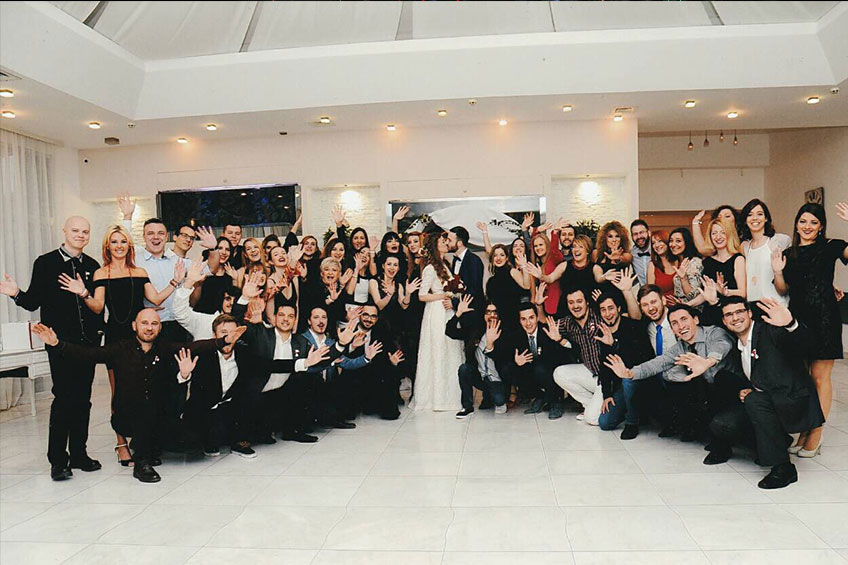 Photo: Photo Kifla - Love as inspiration
Hobby in 400 fingers
When they weren't on stage, the members of this choir were doctors, pharmacists, economists, engineers, attorneys. To them the choir was just a hobby that eventually grew out of the borders of its initial casualness. All these colossal successes were achieved by these folks simply out of their love for music and each other.
Everything they achieved, they did by themselves. From writing the arrangements to organizing and promoting their performances. Sadly, they didn't have any sponsors or assistance from the state or managers – they did it all by themselves, with their own 400 fingers. More than impressive, isn't it?
After the spectacle in the Arena there came dozens of concerts around all the major cities of Serbia as well as performances in nearly all regional festivals – Sea Dance, Bear fest, Arsenal fest...however they didn't face their greatest challenges on stage, but rather behind it.
Some new kids
The oldest members of the choir aren't kids anymore and haven't been for a long time. Life sets more and more demands and challenges before them. As they stated themselves, Viva Vox was their priority in life for a long time, but as time passes priorities changed. Careers develop, families are founded...even though they gave their youth to the choir and made it an institution, they know they won't be able to give it the same amount of dedication and passion forever. At least not as much as they could before. And this choir deserves nothing less than complete dedication.
The grandeur of Viva Vox is best seen in the responsibility that its members and founders feel towards it with the desire that their creation continues its glowing mission even after they have left it. As always, they came together and made the decision to call for a grand audition and, for the first time since their founding day, bring in a larger number of new members.
With dedication and care, they handpicked their successors with the hope that they will be replaced by singers better than themselves. For months they sang together until they were convinced that the new generation of singers has acclimated to their unique energy and is ready for great new victories. Now confident in the future of their beloved Vox, a big part of an entire generation of singers proceeded to pack their equipment forever.
However, whether they are performing or not, they will always remain Voxians, members of the noble Zemun tribe Viva Vox which has grown significantly in recent days. They will still share good and ill. They will still carry each other through life. You can still see them with smiles on their faces, making a cheery racket around Zemun's parks and taverns while infecting passersby with their genuine smiles.
They say good voice travels far and the voice of Viva Vox has yet to echo around the world.