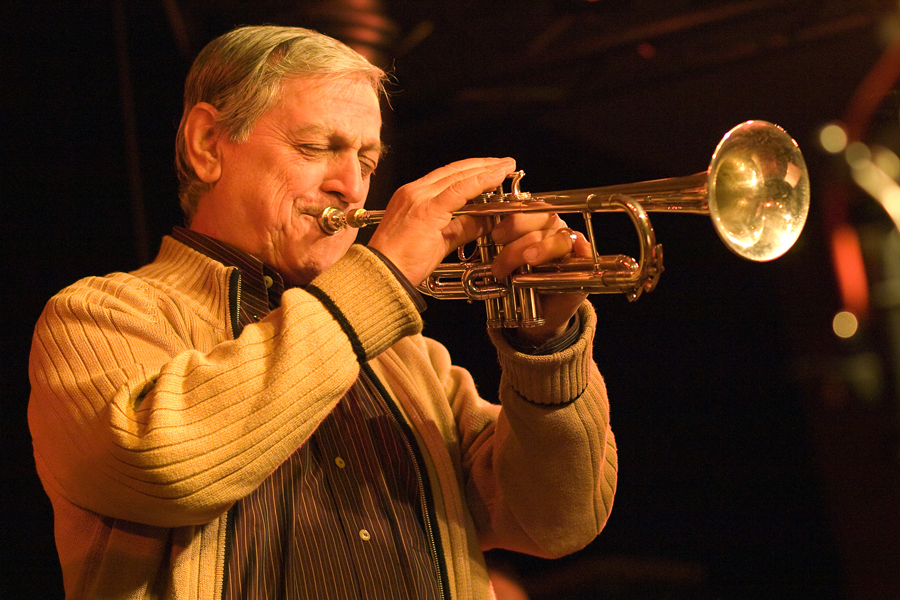 Photo: Wikipedia/OhWeh
Who was the first to discover Jazz in the Balkans?
"You travel all around the world - where exactly can you find jazz and swing? In specific places? "
"No", says Louis Armstrong, also known as 'Sachmo', "Jazz is wherever you find it."
Any average music aficionado would sort Jazz into the New World's accomplishments, but luckily good music does not abide by our country borders or the color of our skin. By the midpoint of the past century, Jazz was widely present in Europe, including the Balkans. These Jazz ensembles consisted mostly out of educated musicians with a flawless sense of rhythm, melody and the specific jazz groove.
The words of great Sachmo held more than just a grain of truth. And once you begin sensing that truth in your early years, it's very likely you'll want to dedicate your entire life to it.
Jazz in Belgrade
This was exactly what happened to the man who, to put it mildly, indebted Belgrade's and the worldwide Jazz scene with his work, Dusan Gojkovic. Born on 14th October 1931, Gojkovic was a famous Jazz trumpet player who knew he found his calling when he first heard the legendary Roy Eldridge.
He immediately wanted to play the trumpet and the decision to start playing music took him from his birth town Jajce (BiH) to Belgrade's music academy. At the time, at only 18 years old, he played with local Dixieland bands as well as the Big Band from then Radio Belgrade.
Already back in the day Dusan's music talents began to take swing outside Yugoslavian borders. Not long after he completed his studies, Gojkovic goes to Frankfurt and records his first LP with their All Stars band. At the same time, he began to cooperate with famous and renown names from the global jazz scene: Kenny Clarke, Pettiford, Stan Getz and Chat Baker become his colleagues and good friends. Even though he was already noticed on the other side of the Atlantic (1958 participated for the first time in New Port jazz festival). Spending time with the great names of Jazz opens many doors for Dusan in his studies in the Boston Berkley college.
What ensued are many new connections and engagement with Maynard Ferguson's band as well as many performances with Sonny Rollins, Woody Herman, Jerry Mulligan and Philly Joe Jones. Once personal role models, now close friends. This exclusive list is also joined by Dizzy Gillespie, Louis Armstrong and Miles Davis.
Still, Gojkovic never gave up the traditions of his homeland.
"It was always in the back of my mind - I'd grown up with our music which is very diverse. You have influences from Macedonia, Turkey, Hungary and a bit of Romani, all mixed together. Once in New York Stan Getz said to me 'Listen, you come from that area. If you are writing and playing your own music, why not use what you know? In America we have our stuff - the evergreen, Gershwin, Ellington. If you want something original, you should make it."
"And that's how he planted the idea into my head...to have a Jazz base but from the Balkans" (Dusan Gojkovic, for his  Vreme interview, 13. 8. 2015.)
This was the exact (musical) moment that brought a new destination for European jazz. The fusion of Jazz and Balkan rhythm and melodies was heard for the first time in Gojkovic's record "Swinging Macedonia" (1966), making the Yugoslavian trumpet player the pioneer of a new style known as "Balkan jazz".
And along with the warm shades of trumpet sound, the precision in rhythm and technique but also the masterful arrangements in his own compositions, Balkan jazz opened up a path for Dusan Gojkovic towards distant lands of Africa, Japan. During his 60 years old career, he performed several times in Serbia - the audience could hear him during his performances in Belgrade, the Nishville festival and Novi Sad's Exit. Styles like free jazz, bebop and swing were his domain and in 2003 he opened a new chapter, inspired by the traditional Brazil music.
Setting new standards of jazz music and creating a unique style that's recognizable for its flawless melody phrasing, Dusan Gojkovic is deserving for putting Serbia in an important spot of the global music scene. "Soul Connection", "Bebop City", "Balkan Blue", "My Dreams", "Samba do Mar" and the inescapable "Swinging Macedonia" are just some of the albums reflecting the incredibly rich career of this pioneer of Balkan jazz.
Even though he's well into his eighties, Gojkovic still actively performs around the world. Playing with the greatest names he became one of them himself, which is proven by the fact that he is the only Jazz player from Yugoslavia whose name made its way into all Jazz encyclopedias.