Photo: Arhivska fotografija
Meet the man who ruled Yugoslavian skies
Legend says that once you find your life calling, the world impossible no longer exists for you. Even when you are feeling low and you realize that perhaps nobody will recognize your effort and sacrifice – you still find a way to persevere.
It gets a bit complicated when you realize that the fate of one of the most respected state companies depends on it. Failure won't be forgiven just like that, and you don't have an option in the first place. Just like a gentleman by the name of Tadija Sondermajer didn't have a choice in his courageous and bold act he achieved during his greatest challenge.
The airplaine engine noise often tore through the skies at the start of the 20's above the Kingdom of Yugoslavia. Tadija Sondermajer was already an experienced pilot when in 1927 he started the national air-company "Aeroput". No sooner had he taken his director's seat and the first problem emerged.
Photo: Wikipedia/C. Janic and J. Simisic, "More than flying" - Belgrade airport and the first airplanes of Aeroput 
The company's activities were halted right from the start, meaning that the company could've possibly went into lockdown right after it was founded. Not wanting to allow this, Tadija and his colleague Leonid Bajdak decided to show everyone the skills and abilities of Yugoslav pilots. He decided to undertake a never-before seen feat in an episodic flight from Paris to Bombay in India.
It was a popular pastime in global aviation at the time to set records in the domain of air traffic. Sondermajer's suggestion was still immensely bold, because nobody had flown such a demanding route before. Tadija and Leonid set off on their adventure on 20th April 1927, highly aware of the challenges posed by flying across endless uninhabited ranges of the Middle East and south-west Asia. Therefore their own aircraft Potez 25 obtained a set of the latest navigational elements of that time.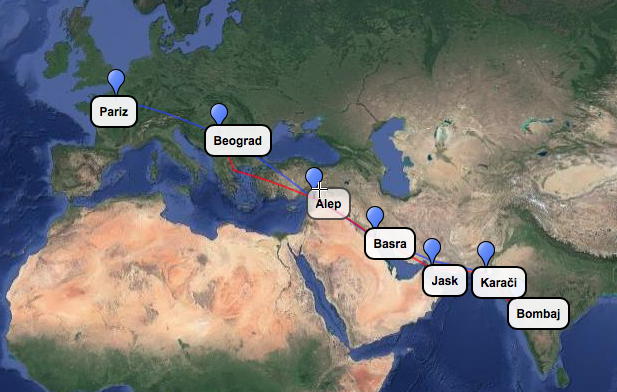 Photo: Google Maps - the route of the first inter-continental flight Paris-Bombay-Belgrade 
It was somewhere along the way between Bagdad and Bombay that the strong winds and desert storms steered them off their course several times. Critical situations occurred on the return trip as well, but after 17800 travelled kilometers, 14 stages and 11 days of flight, Bajdak and Sondermajer finally landed back in Bezanija airport.
There was a lot of dust raised around this feat: the two sky heroes were greeted by almost 30 thousand citizens and it was around that many stocks that Aeroput enlisted over the course of the next three months. Belgrade and Yugoslav print wrote about this event for days, because it was a precedent of sorts in the world of aviation – a precedent that made Tadija Sondermajer famous and rescued his company Aeroput from certain doom.
Who was Tadija Sondermajer?
He was a gentleman who, above all else was the unchallenged ruler of the skyskapes and judging by all a gentleman with an excellent sense of business and marketing. Tadija Sondermajer was born on 19th February 1892 in Belgrade and his father, colonel Roman Sondermajer was back then the first surgeon in the Serbian military. After graduating from the second Belgrade high-school, Tadija's life path led him first to Germany where he enlisted in the architecture section of the Technical college.
This is where the start of the First Balkan war found him. Wanting to help his people during the difficult struggles, Tadija left college and volunteered in the Serbian army.
This was also the first in the long line of his heroic acts. He continued to add to it when he joined the aviation for the first time in 1916. After completing his course in Solun front, Sondermajer continued to independently practice his flying skills which soon earned him the title of a military pilot.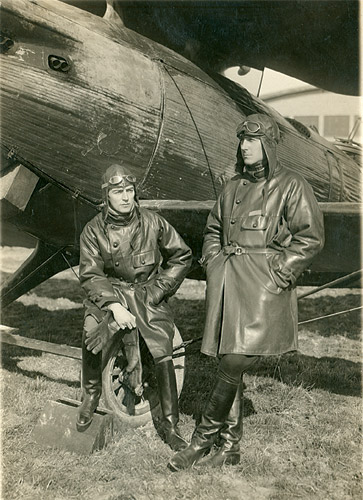 Photo: Wikipedia - Sondermajer and Leonid Bajdak upon their return from the flight Paris-Bombay-Belgrade 
Due to forces of circumstance – more accurately in the form of malaria that seriously harmed his health – Tadija made his way to the battlefields in France. Here he completed aviation-acrobatics training and aviation-sharpshooting higher school. As one of the top airborne sharpshooters and one of the 60 best pilots, he joined the group in charge of the hardest combat missions on the Western front.
Tadija cheated death two times in those circumstances – once his acrobatics saved him against the assault of three German hunters and after his aircraft caught fire after shooting down one of them, Tadija managed to survive somehow despite heavy injuries. This didn't stop him to later obtain a degree in airplane engineering at the higher school of aeronautics in Paris. The thus became the only active hunter-pilot at the Western front. His squadron managed to shoot down 265 Germans total and two of those victories belong to Tadija himself. The French awarded him the Legion of Honor medal for this feat and from prince Alexander he got the Knight Cross medal of honor.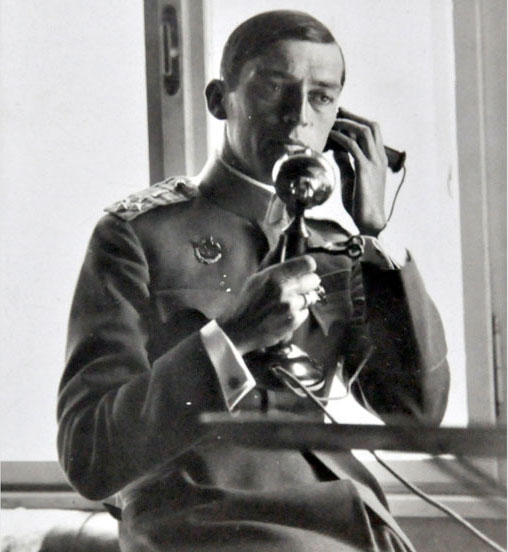 Photo: Novosti
Upon his return to Belgrade, Tadija devoted his time to spreading and popularizing aeronautics and developing civil aviation. That was how Yugoslavia got its first aviation engineer. It was in the period between the two World Wars that Sondermajer earned his greatest honors as a flyer. By breaking records during his flight between Paris and Bombay and after that as the Director of his society he became the most deserving name for developing air traffic in our region.
However, his name wasn't often brought up in public circles at the time. Tadija was still a worldly man with an impeccable reputation and one of the few Serbs wo remained the vice-president of FIA for a full 11 years. Until the start of WWII, the French, Serbs and Yugoslavians awarded him a number of other honors such as: the Albanska spomenica, French War cross and various thanks and acknowledgments for his services in Yugoslavian aviation.
Did the 'heavenly people' truly forget their hero?
The start of WWII meant for Sondermajer an end of an era where he was treated the way he deserved. With new fights came new troubles, especially when in 1941 the Germans arrested him under the suspicion that he was a Jew.
What saved him was his grandfather, who was the bishop in Krakovo at the time, but soon after Tadija also became suspicious to the British authorities. They accused him of collaborating with the German, stripped him of his honors and sentenced him to death.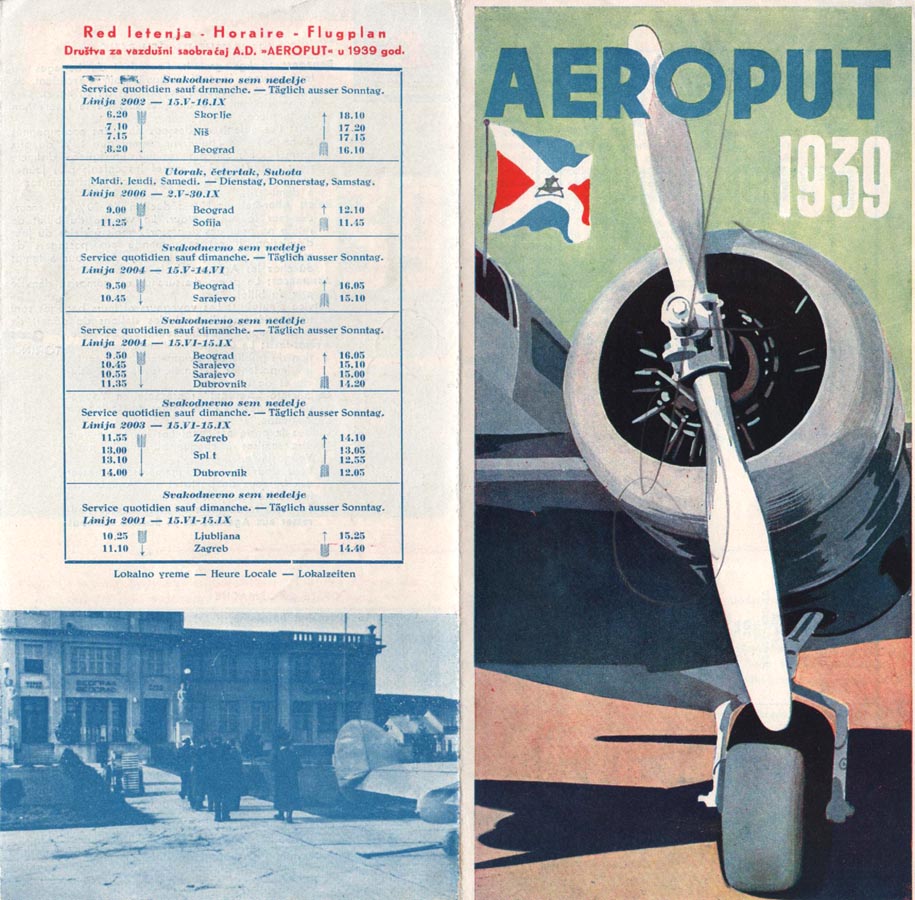 Photo: Timetableimages - Flight order of Aeroput from 1939
How he avoided this sentence is still unknown today. To make things worse, accusations of collaborating with the occupators also come from the Yugoslavian end. This time it didn't even help that Tadija fought in the liberation battles for Belgrade, or that he applied as a volunteer to serve in the military. He was arrested by the end of October 1944, stripped of his rights as a citizen and sentenced to death again.
Tadija's family spent the following year trying to prove his innocence. He was eventually released and his citizen rights were restored, but he was never allowed to sit in an aircraft again.
The only kind of service he was allowed to perform after the power shifted was an honorary service in the construction company "Polet". Here he worked until retirement as an engineer. This was probably the reason why, according to his family, he rarely talked about his life before WWII. The only – and last – acknowledgment he received before he died came in 1967 from the management of his old company Aeroput, now renamed JAT. On the 40th anniversary of the company's existence, Tadija received a bouquet of 40 roses on his doorstep. It was a symbolic number, the number of years that passed since the founding of what is today the only airline company in Serbia but also of one of the most famous flights in the history of aviation.
Photo: Beograd.com - Tadija Sondermajer's bust on the corner of Palmoticeva and Koste Stojanovica streets 
Reportedly, Tadija was immensely touched by this (well-deserved) token of attention. Only 4 months after this anniversary, Sondermajer dies on 10th October 1967 in Belgrade. Since then his name isn't mentioned often, until the management of JAT Airways started an initiative on the 80th birthday of the company to have one of our streets named after him.
The initiative went through and on 1st of November 2017, this forgotten hero's name was given to a street in New Belgrade, in the place of the old Belgrade airport.